Update: Fully refreshed list!
You might be happy with the stock Android keyboard - and for good reason, it's a solid and dependable option. That doesn't necessarily make it the most fun, easy to use or most productive option available. So we've put together a list of some of the best Android keyboards available for download today.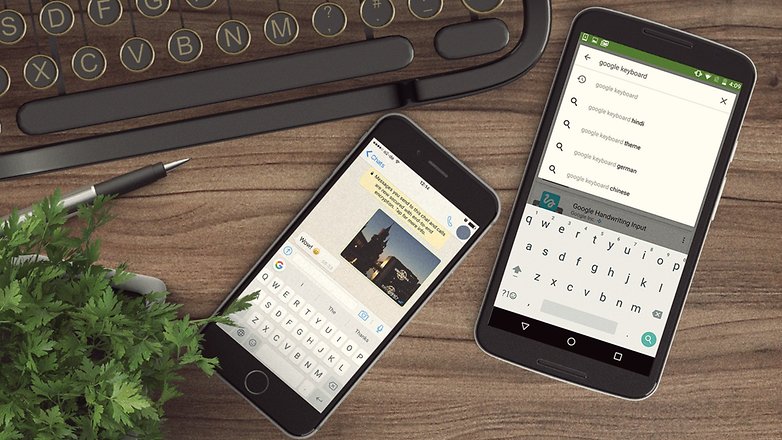 SwiftKey
You're probably familiar with, or at least know about, SwiftKey's Android keyboard app. A few months ago the company rebuilt the entire app to make it smarter with its predictions, as well as adding a couple of other neat features. The main bulk of what you should know though is that it offers predictions for key-by-key and swipe input and a variety of different sized keyboards to fit all needs, you can't freely resize it though, as you can on some.
There's also a good range of default themes you can apply to the keyboard, and if you want more there's a whole theme store where you can buy them individually or in packs. You can also choose to enable a separate number row across the top of the keyboard, or integrate the numbers into the top row of letters. SwiftKey is also a good option if you need to install a number of different languages too.
The thrust of its appeal, however, is in the accuracy of predictions, which will continue to improve as you use it. SwiftKey isn't the most exciting option on this list, but it's been around a long time now and provides a dependable, customizable option.
Add in stats for most frequently used words (and which categories they come from) you can see how much time you've saved by using SwiftKey, so there's enough to warrant checking it out if you haven't recently.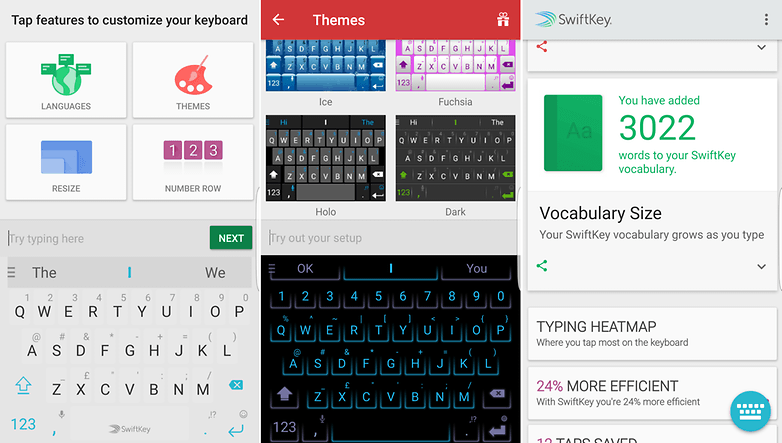 SwiftKey Keyboard

Microsoft Hub Keyboard (Preview)
Microsoft's Hub keyboard might seem like an odd option in this list, but it brings some options that will be of particular interest to users tied into Microsoft's software ecosystem via Office365. You may have also guessed that it focuses more on delivering productivity over fun.
As such, if you sign in with your Office365 account you'll be able to search your documents or contacts directly from the keyboard. Even if you don't, the options shown above the otherwise mostly standard QWERTY include quick access to the clipboard, Web search (Bing, naturally) and thesaurus tools. Perhaps the best part is the ability to get live translations from one language to another as you type.
However, while it's smart in some ways, it's pretty limited in others - primarily the ability to customize the layout or theme. You can switch to a dark theme but that's your only other option and there aren't any size controls for the keyboard at all, which could make it a poor option for larger phones.
It is free though.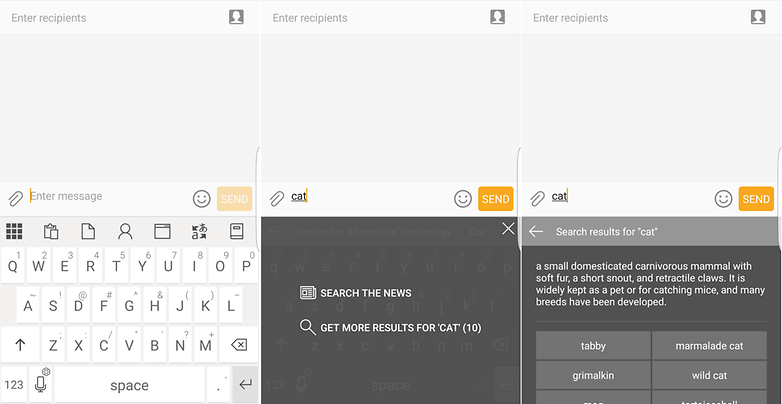 Hub Keyboard, Preview

Swiftmoji
Yes, yes, it is the second keyboard from SwiftKey in this list but it also happens to be one of the better emoji keyboards available on Android. While it's not the same feature-laden affair the main app is, it does offer up predictive emoji based on the words (and context of the words) as you're typing, which comes in handy if you find yourself using them a lot. While it's not perfect, it's pretty good for a free app.
It doesn't offer access to the same level of customization as with SwiftKey, though you can still select from preset color schemes or enable a Dark Mode at night. You also get some of the same stats available in the main SwiftKey app, like taps saved, words swiped, etc.
As with the main app, for the best predictions you'll need to sign in, give it permission to access your messages and use it for a while.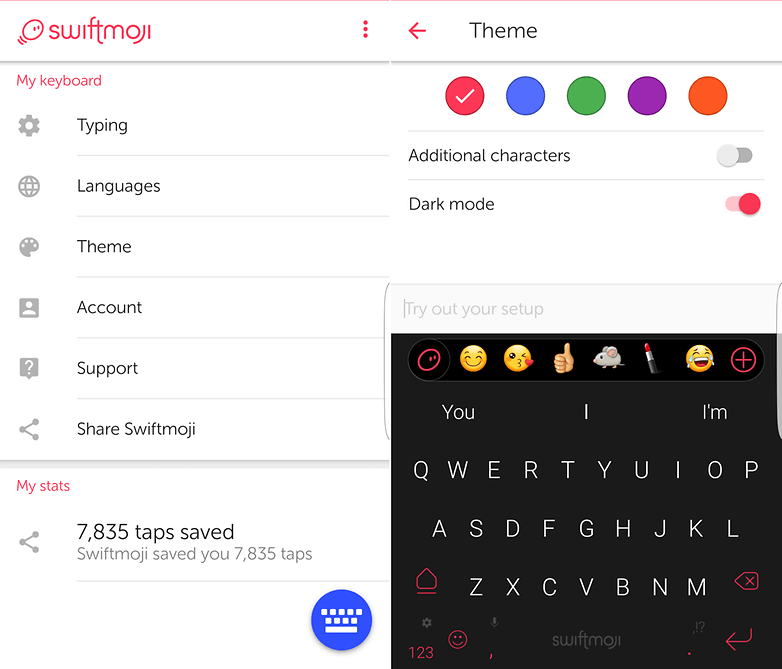 Swiftmoji - Emoji Keyboard

Minuum
Minuum is a little different to others in this list, as rather than employ a swiping method in conjuction with a predictive word engine that's really pretty smart. Its main way of doing this is by reducing the multi-line qwerty into just two lines of characters, which is where the smart predictions come in handy as this means you don't need to hit the right letters very often.
You can, of course, use Minuum in its non-minimized mode too. Here you get the full keypad and numbers, but the main thrust of the keyboard is that small row of minimized keys. You can also access different emoji from both expanded and minimized keyboard modes, and switching between modes is as easy as dragging the keyboard up or down.
It's a potentially unnatural way to use a keyboard when you first try it but, providing you stick with it, you'll almost certainly get faster. Whether or not you'll be able to go back to a normal keyboard so efficiently is a different question. It does offer support for a range of languages and the ability to change the keyboard theme too, and there's an option that changes multiple times throughout the days automatically.
Now for the stinger: it's not free. Well, there's a free 30 day trial, but if you want to keep using all the features after that you'll need to pay $2.99. You should be able to work out if it's useful to you within 30 days though.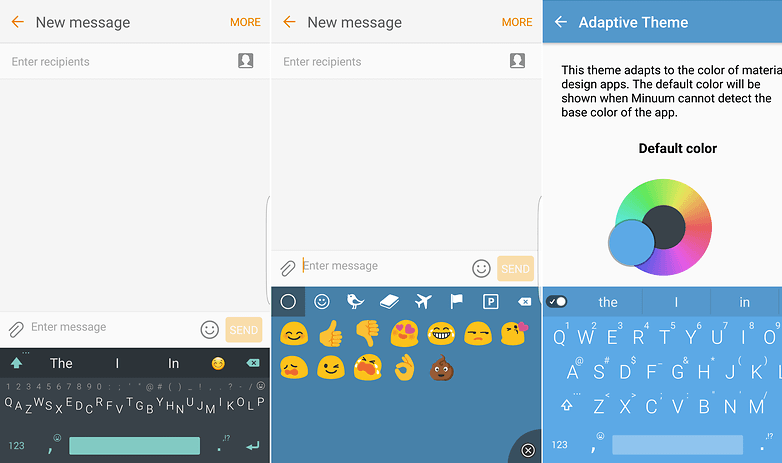 Minuum Keyboard Free + Emoji

Chrooma
Chrooma is one of the lesser known keyboards in this list but it's definitely one of the most customizable. That said, you'll need to either pay for individual in-app purchases or opt for a one-off fee of $2.49 if you want to unlock all of the options. If you do choose to pay for those features or perhaps just want to sync your preferences between devices, you'll need to sign in with a Google account.
Even if you don't pay for anything or sign in with your Google credentials, Chrooma is still fairly customizable in different ways and provides a wide feature set that makes it a good all-rounder. For example, you can input letters individually or use swipe input without needing to change any settings and the word predictions are fairly solid, though not always perfect. Plus it has all the staples like emoji support and a simple night mode.
Perhaps best though is the thought that's been put into accessing the options. Yes, you can go to the main Settings menu within the app, but you don't need to thanks to gesture support for common functions, like switching between one-handed mode with just a swipe of the keyboard in either direction or changing the keyboard color without switching themes.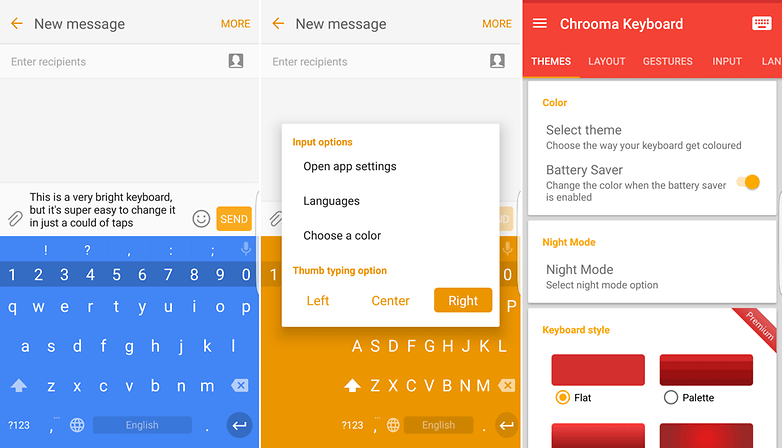 Chrooma GIF Keyboard

Tenor GIF Keyboard
Tenor GIF is probably one of the most fun keyboards in this list, and that's because (as the name implies) it's all about GIFs. That, however, doesn't make it unique. What does make it unique its ability to show them to you really quickly, which means no more waiting around to for GIFs to load only to find you need to tweak your search terms.
It's different to the others ones on the list as it doesn't provide its own keyboard as such. You use whichever one you prefer and Tenor GIF extends the functionality by allowing you to search and insert a GIF by typing the # and then a search term. It supports searching by GIF too.
In this instance, as is my preference, I've used it alongside Swiftmoji. This means I've got access to GIFs, emoji, swipe or type input and a few customization options all within my keyboard setup. You might prefer a more productivity-focused approach though.
If you don't use Swiftmoji, you can still search by GIF by tapping the icon next to the trending tap in the Tenor GIF popup.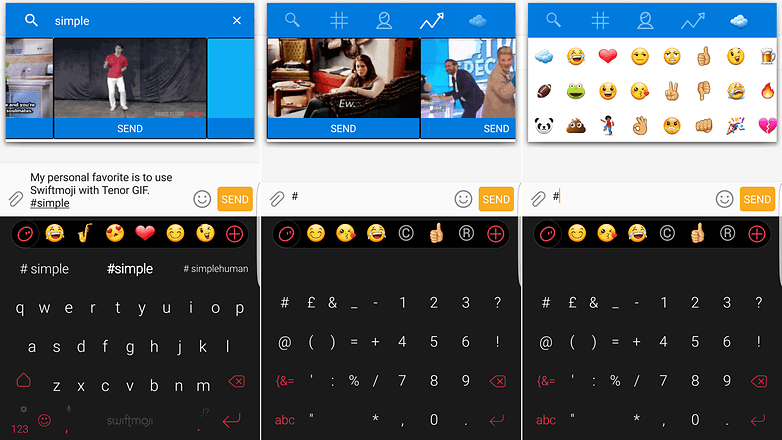 GIF Keyboard by Tenor

What's your favorite Android keyboard? Let us know in the comments below!