Best Android smartwatches of 2018
A number of new Android smartwatches have been launched, catering to everyone's needs and tastes. The big question is: which smartwatch is the right one for you? The options out there are within everyone's reach. Most of the latest wearables are strong performers, which are very well designed and relatively cheap. Now that we've had a chance to complete our full reviews, we've been able to compile our list of the best Android smartwatches available today.
Jump to section:
Best Android Wear: Huawei Watch 2
The Huawei Watch 2 is certainly not the most aesthetically pleasing smartwatch on the market, but it is perhaps the most complete one available to purchase. The strongest entry in the world of Android wearables.
The device boasts a large display, GPS, NFC and support for Android Pay as well as a heart rate monitor. The Qualcomm Snapdragon 2100 chip is designed specifically for wearable users and is supported by 4GB of internal memory for apps and music. Don't forget that it will also be among the first smart watches to be upgraded to Android Oreo.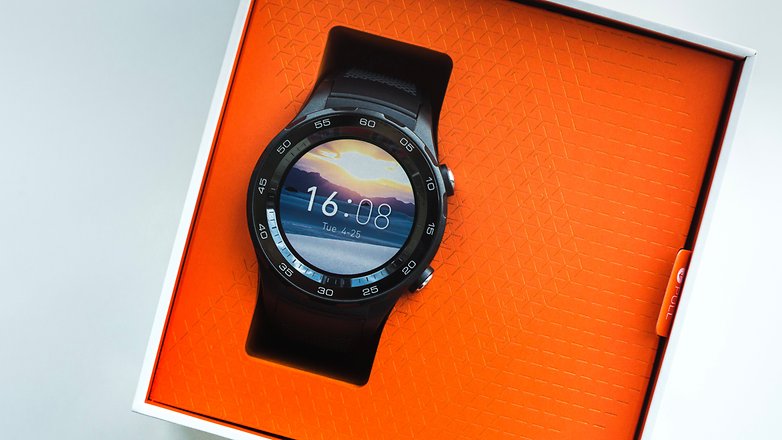 The Huawei Watch 2 also has other advantages. These include the current Android Wear 2.0 operating system, an optional SIM slot for nano SIM cards, and a microphone and loudspeaker for your calls. Not bad for the $259.99 price tag it now has, and it's only going to get cheaper over time.
Huawei Watch 2 technical specifications
| | |
| --- | --- |
| Battery size: | 420 mAh |
| Screen size: | 1.2 in |
| Screen: | 390 x 390 pixels (326 ppi) |
| Android version: | Android Wear |
| User interface: | Stock Android |
| RAM: | 768 MB |
| Internal storage: | 4 GB |
| Removable storage: | Not available |
| Chipset: | Qualcomm Snapdragon Wear 2100 |
| Number of cores: | 4 |
| Max. clock speed: | 1.1 GHz |
| Connectivity: | LTE, NFC, Bluetooth 4.1 |
Most stylish Wear OS smartwatch: Emporio Armani Connected
Taste is quite subjective, but the AndroidPIT editorial team agrees on the Emporio Armani Connected: this is the most beautiful smartwatch on the market. The manufacturer, which belongs to the Fossil group, puts the usual hardware including heart rate monitor and the latest version of Wear OS in a slim stainless steel case with a rotating crown - which also functions as a scroll wheel - and two buttons, which can be freely assigned.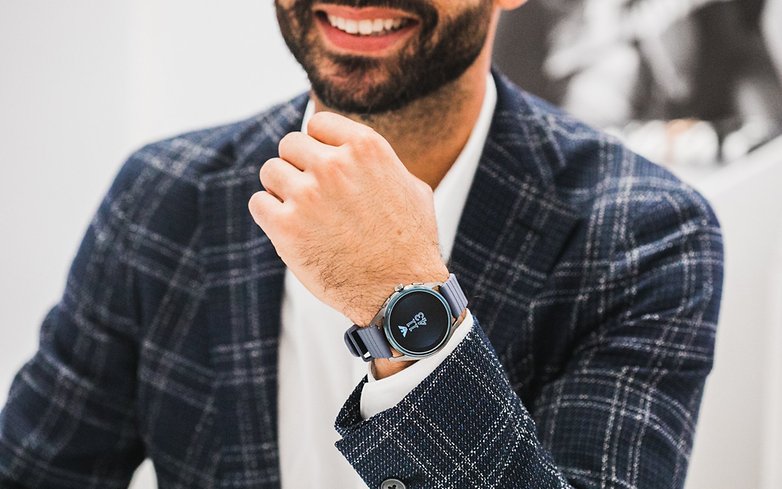 Emporio Armani offers the Smartwatch with bracelets made of plastic, leather and metal. The watch itself is available in silver, grey and black.
Emporio Armani Connected technical specifications
| | |
| --- | --- |
| Screen size: | 1.8 in |
| RAM: | 512 MB |
| Internal storage: | 3 GB |
| Removable storage: | Not available |
| Chipset: | Qualcomm Snapdragon Wear 2100 |
Best Tizen smartwatch: Samsung Galaxy Watch
Samsung justifies the change from Gear to Galaxy with the fact that Galaxy Watch belongs to the its ecosystem of smart devices and "Galaxy" no longer only stands for Android devices. Be it as it may, the basic components of the smartwatch remain the same as the Gear series: The rotating bezel as a control element next to the touch screen is only available from Samsung, as is the Tizen operating system itself.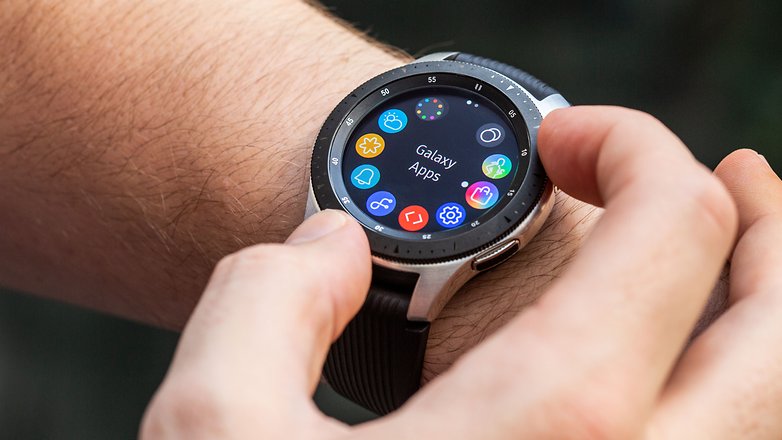 The Galaxy Watch is available in two sizes - 42 and 46 millimeters - and optionally with and without LTE connectivity. The Internet connection via LTE is realized with an eSIM. The Samsung Galaxy Watch costs $280.
Best smartwatch for sport: Fitbit Ionic
Fitbit's smartwatch has not impressed us with its smart features such as voice commands or innovative methods of interaction. But what convinced us was the excellent battery life combined with the incredible number of fitness programs.
If what you are looking for is a connected watch that survives several days of use and has advanced fitness features, the choice can only be Fitbit's newcomer.
Fitbit Ionic technical specifications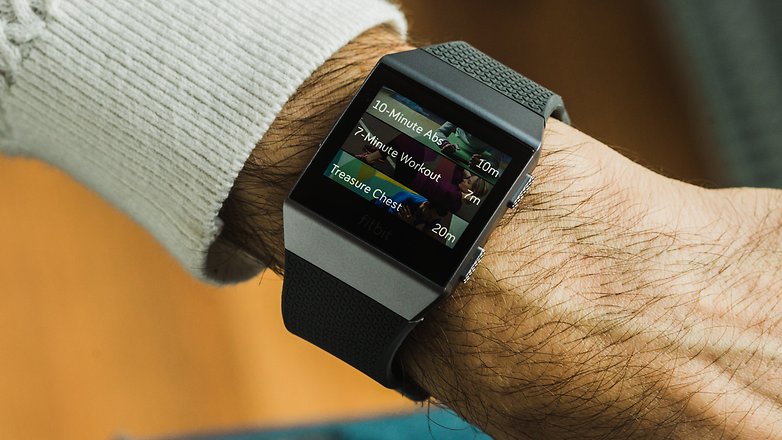 Best smartwatch for Swimming: Samsung Gear Sport
The latest offering from the Korean company does not differ much from the previous Gear, indeed it lacks some of its predecessor's sensors. On the other hand, Gear Sport is the most suitable for swimming thanks to its resistance to diving up to 5 ATM and programs dedicated to swimmers.
Gear Sport is also perfect for outdoor enthusiasts thanks to the presence of GPS and step counters. You'll be able to monitor your steps and weather conditions as well as being able to play back your favorite MP3 files without having to rely on your smartphone. Like the Gear S3, the operating system is Tizen OS.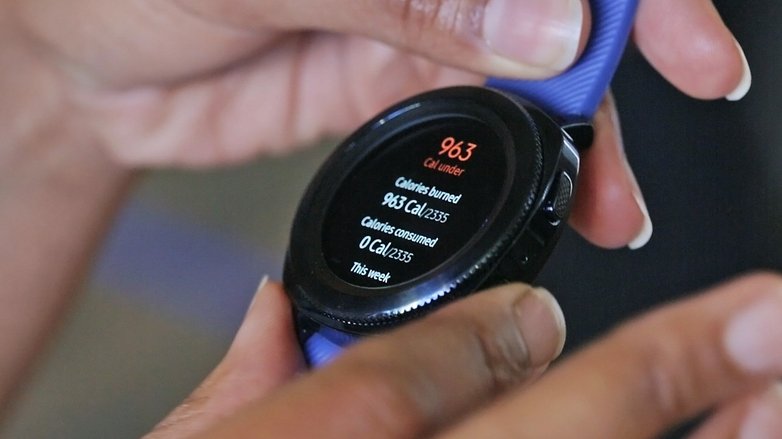 Samsung Gear Sport technical specifications
| | |
| --- | --- |
| Dimensions: | 42.9 x 44.6 x 11.6 mm |
| Weight: | 50 g |
| Battery size: | 300 mAh |
| Screen size: | 1.2 in |
| Display technology: | AMOLED |
| Screen: | 360 x 360 pixels (302 ppi) |
| RAM: | 768 MB |
| Internal storage: | 4 GB |
| Number of cores: | 2 |
| Max. clock speed: | 1 GHz |
| Connectivity: | NFC, Bluetooth 4.2 |
Best battery life: Huawei Watch GT
A smartwatch has to be charged every night? Not the Huawei Watch GT! With this Smartwatch it's enough to dig out the charger every two weeks, even with continuous heart rate monitoring. The key: Watch GT doesn't work with Wear OS from Google, but with its own software called LiteOS. Although it has fewer functions, it does what it can without any problems.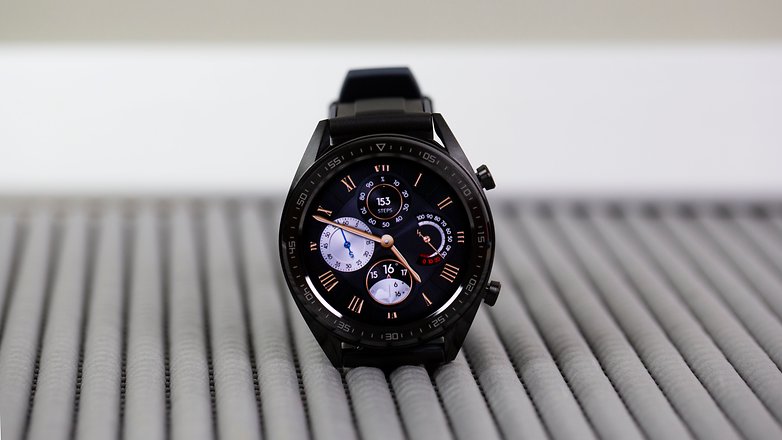 The Huawei Watch GT is operated via the touch screen and two buttons. The watch is available with two different bracelets - leather or plastic - and in two colors - black and silver. Best of all, the Watch GT isn't even very expensive.
Do you own any Android wearables? Which would you say is the best Android smartwatch? Tell us what you think in the comments.