Update: New free strategy games added
In our list of the best free Android games, we look at the some of the Play Store's most impressive free-to-play titles across a number of genres. The games are sorted by category to make it easy to find the type of games you're looking for. Head to the best free Android strategy games section to see our latest picks.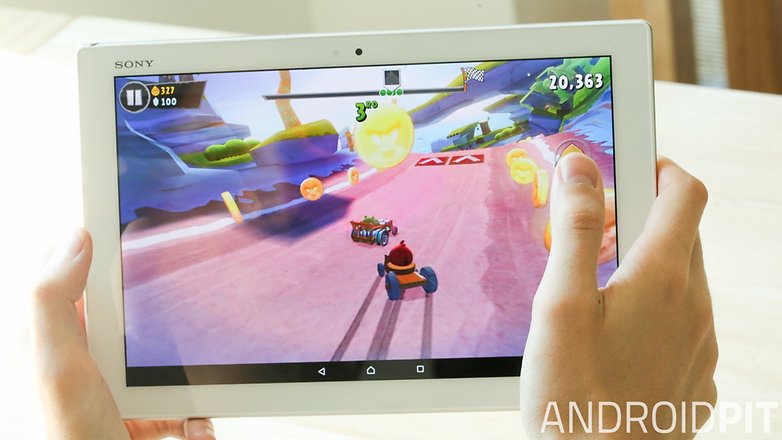 Jump to a section:
Best free Android strategy games
Subterfuge
Subterfuge is one of the best multiplayer gaming experiences you can get. It's challenging, it's nerve-wracking, and it's perfectly suited to smartphones.
Subterfuge is a strategy title where each game takes place over the course of a week. You are charged with taking control of the ocean using a fleet of submarines: the more outposts and factories you control, the more submarines you can generate, which means more firepower to seize further outposts. It's a familiar setup, but because the events take place in real time there is a constant threat that opponents could be sending submarines toward your bases even while you sleep.
It's a race to see which player can generate enough 'Neptunium' (one of the game's resources) first and, to succeed, your diplomacy skills and interactions with other players are as important as your tactical prowess. Don't miss it.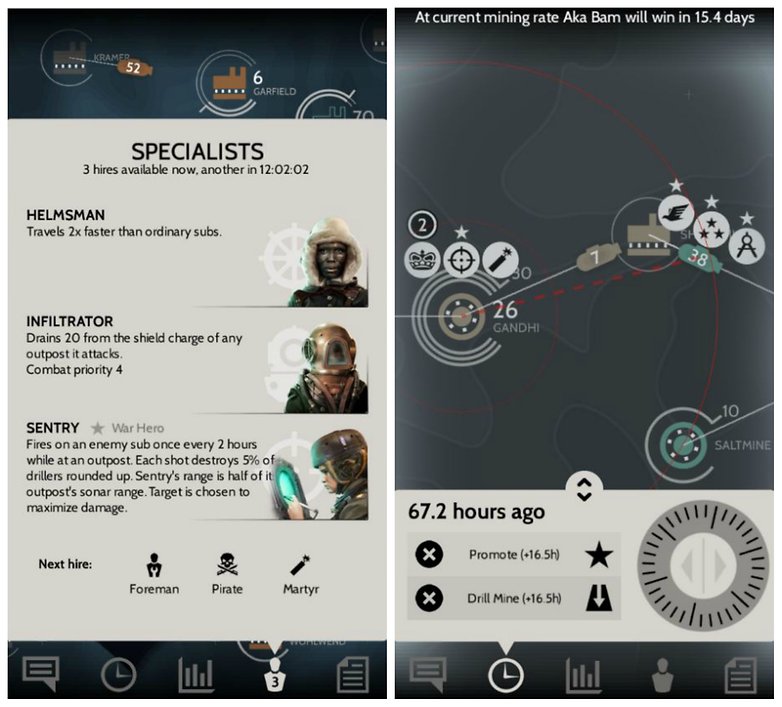 Subterfuge

Clash Royale
Clash Royale comes from the creators of the ever-popular Clash of Clans, and it's sure to steal more hours from your life. It plays something like a cross between a MOBA and a tower-defense title, and it's a highly addictive concept.
In Clash Royale, you take part in one-on-one battles with other players from around the world. You must throw down troops to destroy three of your opponents towers before they do the same to you. However, these towers are only accessible via two lanes which your army must travel along.
The majority of Clash Royale's gameplay revolves around trying to use resources effectively. Each creature has their own unique strengths and weaknesses, so it's your job to pick the right guys for the job and make sure your opponent doesn't outmatch you.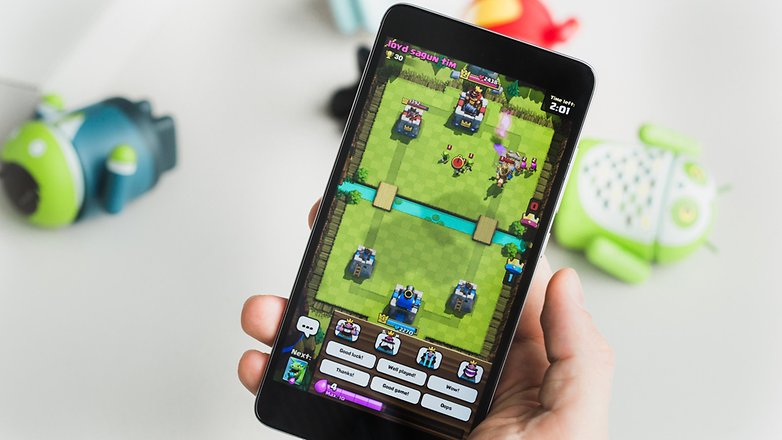 Clash Royale

Vainglory
This multiplayer online battle arena (MOBA) is as good to play as it is to look at, and while there are the inevitable in-app purchases, the core game is free to play. The game makes it across to Android after a successful run on iOS, and if there's a better developer name than Super Evil Megacorp, we'd love to know what it is.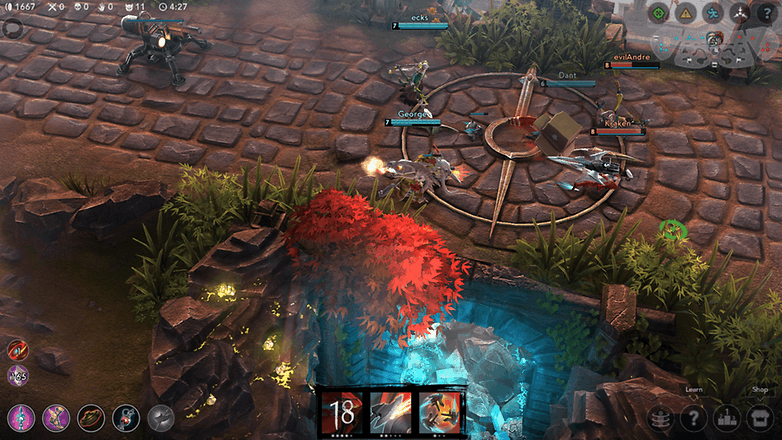 Vainglory

Best free Android FPS and third-person shooter games
Dead Effect 2
It may not be wholly original or game-changing, but Dead Effect 2 brings the polish and shine of console first player shooters to Android. Wander around a space station that's riddled with the undead and test your problem-solving skills as you try valiantly to survive.
What really makes this game worthy of inclusion on our list is the graphics. They are simply stunning. If your device is up to the challenge, there's no way you won't be impressed the visuals that Dead Effect 2 has on offer. The controls and mechanics can be customized, so be sure to check out the options for doing that if they feel a little lightweight or clumsy to you.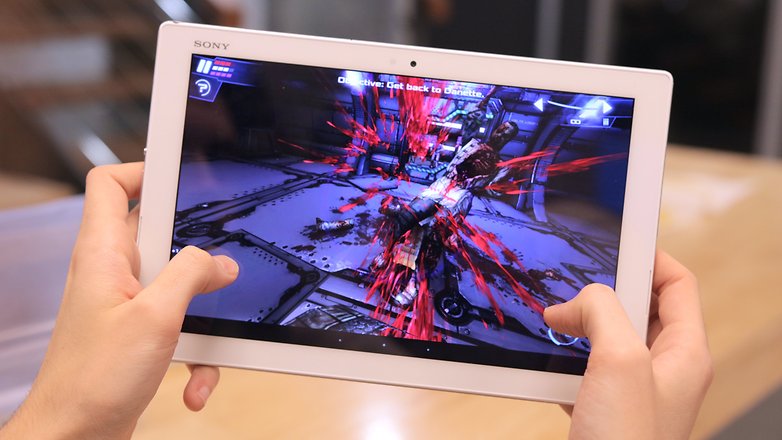 Dead Effect 2

Dead Trigger 2
Following the success of their first game, MadFinger Games released Dead Trigger 2, which is so zombielicious you'll be asking for more blood and guts after just a few minutes of playing. You must travel through various undead-infested areas of the world, killing as many zombies with your jam-packed artillery of weapons. It's positively disgusting, and that's why we love it.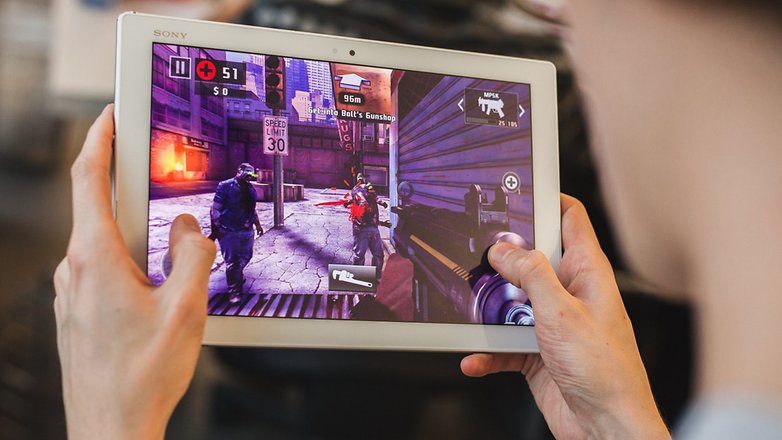 DEAD TRIGGER 2

Hopeless: The Dark Cave
Horror, comedy and cuteness combine to great effect in this shooter about a small group of incandescent blobs in the middle of a dark cave, trying to fight off an endless horde of dark-dwelling monstrosities.
There is no end to the game as such, you just collect coins to upgrade your weapons arsenal for the next go, and do your best to keep the cute little fellas alive. The game is not for the faint-hearted because watching the brave blobs get swallowed up one-by-one by the darkness can be heart-rending.
Hopeless: The Dark Cave

SHADOWGUN: DeadZone
SHADOWGUN is the best multi-player shooter on Android, and will push powerful Android devices to the limit because of its demanding graphics. There are several classic shooter modes, including Deathmatch, and the Battlefield-style Zone Control. There is also an easy-to-use multiplayer voice chat, to help you better coordinate your team – or yell insults at your enemy.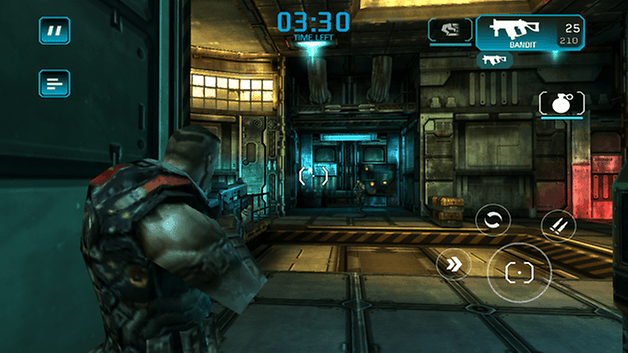 SHADOWGUN: DeadZone

Best free Android puzzle games
Atomas
Give hydrogen the Midas touch with this captivating little puzzler. Simplicity is often best when it comes to puzzle games, and Atomas works on this very simple foundation. You start with some measly hydrogen, and use plus and minus atoms to turn it into helium, then lithium and so on, until you end up with some of those good old precious metals like silver and gold.
It's easy enough to start out with, but it will soon having you Googling the periodic table in a bid to learn where best to place your atoms to trigger the most satisfying chain reactions.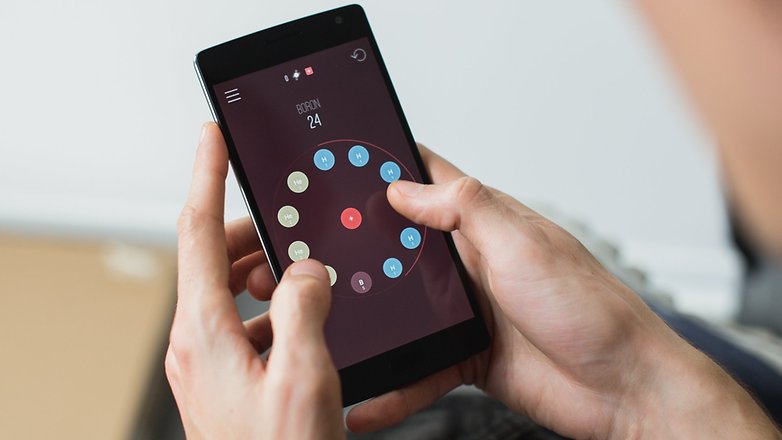 Atomas

Angry Birds 2
After what seems like endless variations on the original, Roxio is back with a whole new iteration of Angry Birds. The game itself is free, but it's attracted some controversy over its approach to in-app purchases: while some reviews say the game is a hoot even in its free incarnation, others say that Roxio is more interested in making you pay than having you play. We'd love to know what you think.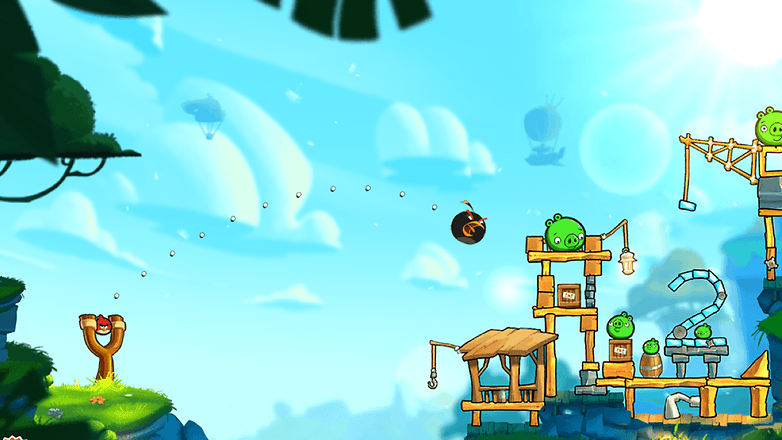 Get Angry Birds 2 from the Google Play store.
Plants vs Zombies 2
Sequel to one of the most successful free-to-play games ever, EA's Plants vs Zombies 2 retains the spirit of the original while adding more zombies, plants and power ups. This colorful tower defense game will suck up a lot of your time (and potentially money, if you want to make use of its in-app purchases), but you are guaranteed fun along the way.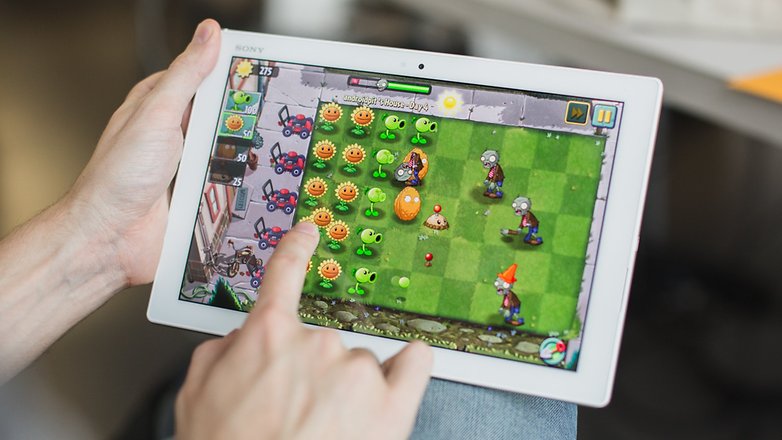 Plants vs. Zombies 2

Wire Defuser
Many puzzle games on Android are of the therapeutic variety; take your time solving a puzzle while everything in game patiently waits for you. You can forget about all that in Wire Defuser, a tense, time-limited puzzle game in which you must dispose of bombs before they blow.
There are more than 80 levels in the game, and once you've conquered it you can unlock a hardcore mode. It's well presented too, with the bomb dials and knobs looking like something straight out of 80s action movies.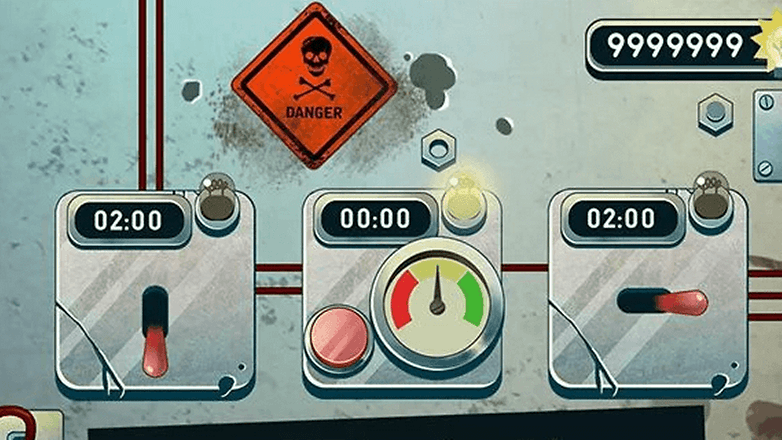 Wire Defuser

ZigZag
Puzzle games that look like they belong on trendy design websites have been pretty commonplace since the fantastic Monument Valley, and ZigZag is the latest to jump on the bandwagon.
Despite its looks, ZigZag is more of a reflex-based game than a puzzler; you guide a ball along thin zig-zagging paths and have to time your taps right to stop it falling off the edge. It's a simple, great-looking game for those quick-fix sessions.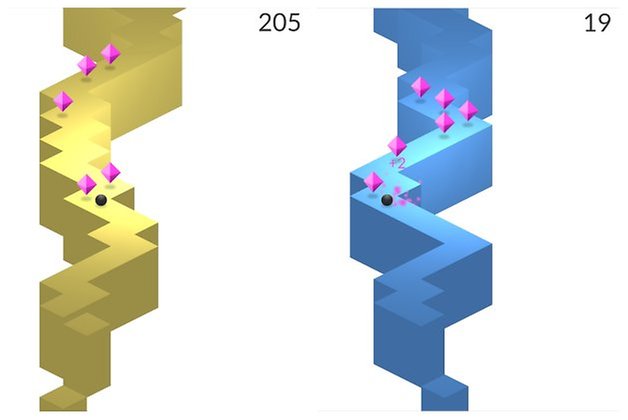 ZigZag

Crossy Road
Falling somewhere between Frogger and infinity runners Temple Run and Subway Surfers, Crossy Road is a cute game that's great for quick-fix sessions. So great, in fact, that it won a Best quickplay game award at the International Mobile Gaming Awards.
The longer you survive, the more gold you earn, which allows you to unlock new characters to traverse the endless 3D pixel-blocky world. It's old-school and new-school, charming and challenging, and we love it.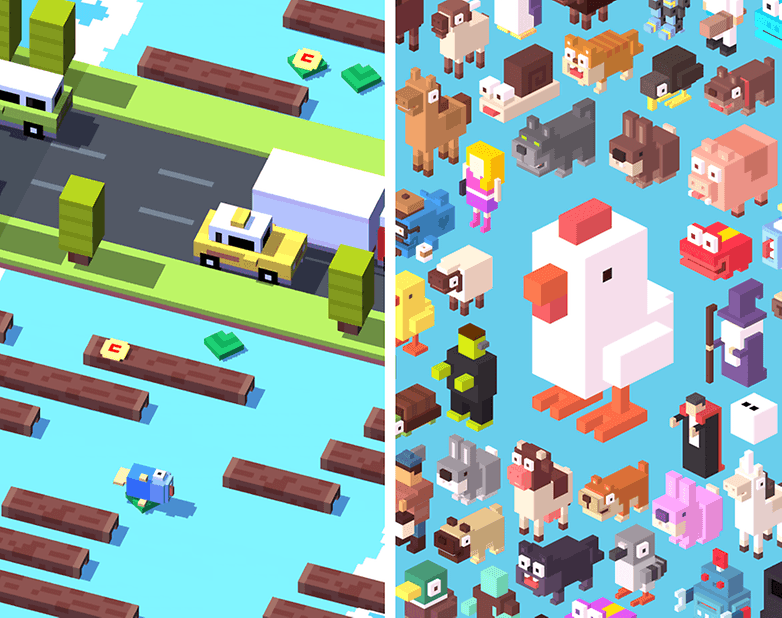 Crossy Road

Skyward
It may look suspiciously similar to the wonderful Monument Valley, but give Skyward a chance (it's free, after all) and you'll see that it offers something quite different.
You control a red and a blue circle, which you must rhythmically guide through Escher-like levels that are falling away behind you. If you take too long, the circles shrink to nothing. It looks fantastic, and there are no in-app purchases, so you get the full experience for free.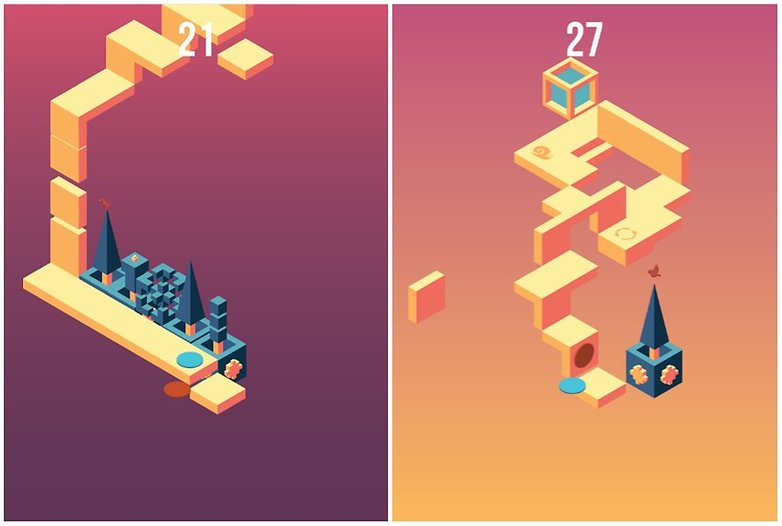 Skyward

Candy Crush Saga
Candy Crush is beyond a game, it's a cultural phenomenon. The game is based on the concept of Diamond Mine, where you connect colors together in series of three to make them explode. It's a tried-and-tested idea dating back to the days of Bejeweled, but something about the psychedelic world of Candy Crush has caught millions of peoples' imaginations.
What's more, Candy Crush Saga often gets festive for holidays, so you'll have unique features for Christmas, Valentine's and Easter.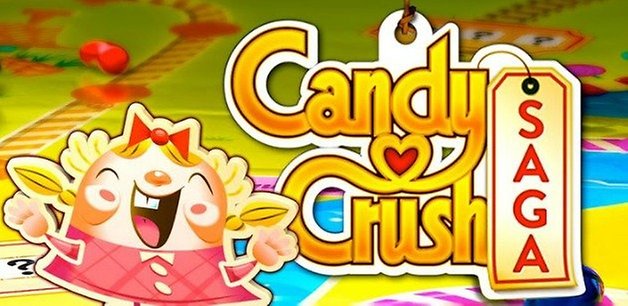 Candy Crush Saga

TwoDots
We hope you haven't forgetten how to connect the dots since your childhood, because this game asks you to use that set of skills all over again.
TwoDots is an Android favorite (and sequel to the immensely popular Dots) in which you have to combine a certain number of colored dots in a limited number of moves in order to progress up the ladder of levels, which currently carries an absurd 510 rungs. The game design is really nice and minimalistic.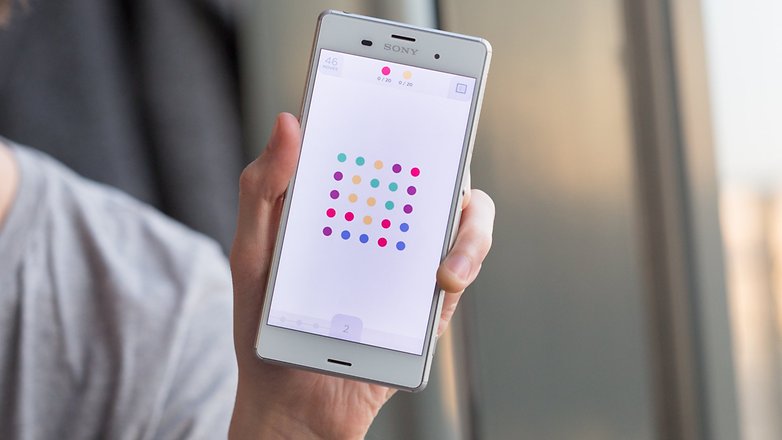 Dots: A Game About Connecting

Fruit Ninja
Fruit Ninja has also been around for years now, but it is still just as addictive as it was when it first hit the scene. Swiping your finger – sorry, ninja sword – across the touchscreen to dish out deadly attacks to, erm, fruit, and watermelons, bananas, peaches will fall by your blade.
Slice your way through your five a day while creating combos and making highscores in this infinitely satisfying arcade game.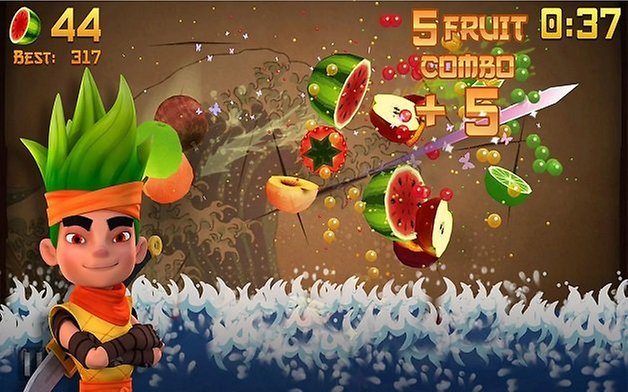 Fruit Ninja®

Cut the Rope series
Cut the Rope is a veteran game by Android standards now. The aim is to feed the monsters by cutting free the candies that are teasingly hanging on ropes over their heads. Sounds weird? Yes, it is, and it's utterly brilliant for it.
Cut the Rope 2 adds a host of new characters and locations, while Cut the Rope: Experiments adds 200 new levels. All for free. You can't say no to that, can you?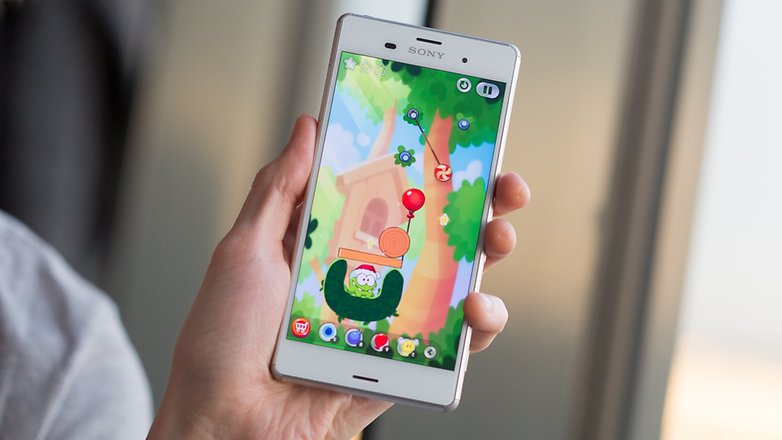 Cut the Rope FULL FREE

Cut the Rope 2

Cut the Rope: Experiments FREE

Best free Android racing games
Traffic Rider
The first person motorcycle game that rewards you for close calls. The handling feels realistic and is achieved by moving the device as if it were a steering wheel. The settings are incredibly detailed with a crisp picture even at high speeds.
Once you finish a circuit under the time limit, you unlock a new map. As you progress, you can unlock up to 20 motorcycles with different handling, power and braking.You get extra time for getting close to other drivers, so it pays to take some risks.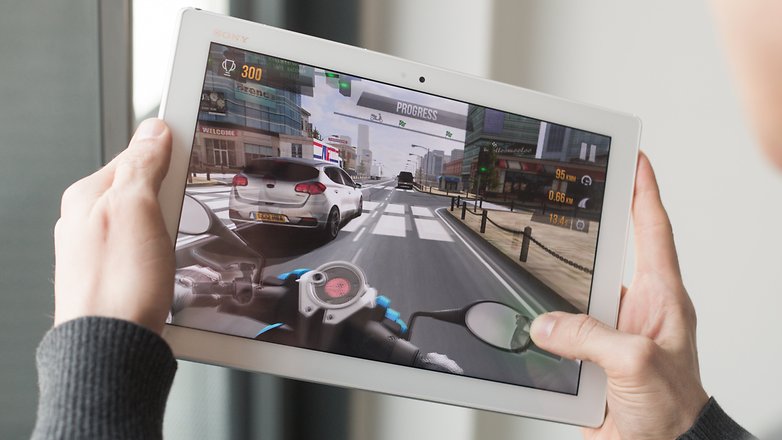 Traffic Rider

Asphalt 8: Airborne
If you are into racecar driving, look no further than Asphalt 8: Airborne, a favorite arcade game among Android users. Why do we love it so much? It's free for a start, and you get to choose between real-life cars that you've always dreamed of driving – from Lamborghinis to Ferraris – ripping them down courses in various stunning locations.
If you have a competitive streak, you can drive in career mode, which takes you through eight seasons and 180 events.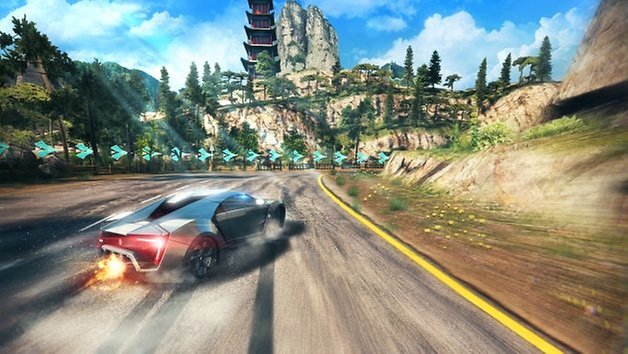 Angry Birds Go!
Angry Birds has more or less taken over the world, taking the form of soft toys in our bedrooms, breakfast cereals, and now Mario Kart-style racing games. In Angry Birds Go! you choose from a variety of Angry Birds characters and race your way through fanciful terrains while shooting random objects at your opponents.
Just like with Mario Kart, the controls take some time to get used to at the beginning, but soon you'll be slinging those birds down the race track with ease.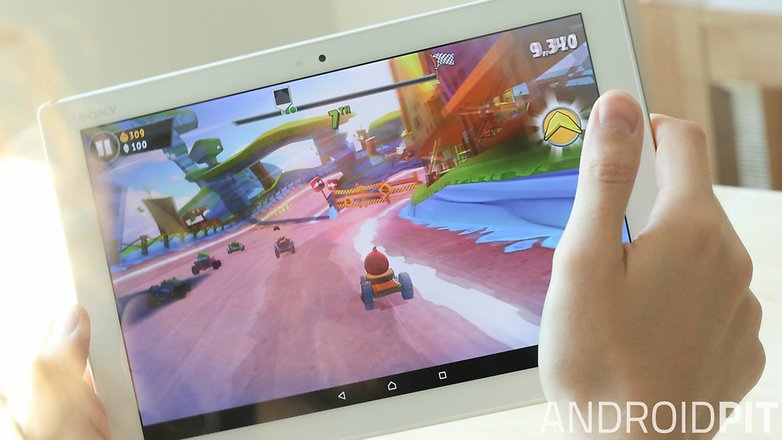 Angry Birds Go!

Driver Speedboat Paradise
We don't know what speedboat racing and the mafia have in common, but these two things get thrown together in Driver Speedboat Paradise. Made by Ubisoft (who also made the Driver games, hence the odd title) and featuring the kind of vibrant graphics that'll make the most of a pretty Galaxy S6 display, Driver Speedboat Paradise is a fun little thrill ride which can be enjoyed for free.
As you win races, you get the chance to customize your boat to make it ride faster and look better, and you can even unlock new clothes and houses for your rider (though we should warn you that some of these things come as in-app purchases).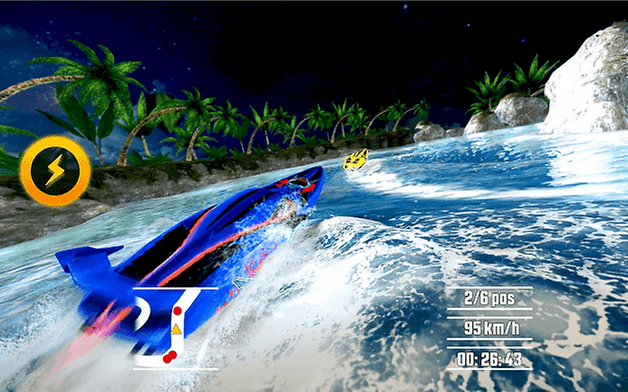 Driver Speedboat Paradise

Best free Android sports games
Skiing Yeti Mountain
Skiing Yeti Mountain has all the hallmarks of free Android classics such as Flappy Bird and Timberman, namely Lo-fi graphics, excellent controls and addictive gameplay. In Skiing Yeti Mountain, you control a skier as he or she navigates a mountainside course, by tilting your finger at the bottom of the screen.
The challenge comes from staying between the right and left posts, avoiding obstacles and trying to reach the bottom of the course as fast as you can. It's easy to learn and difficult to master, and the short nature of the courses ensures that you fail often and keep coming back for more.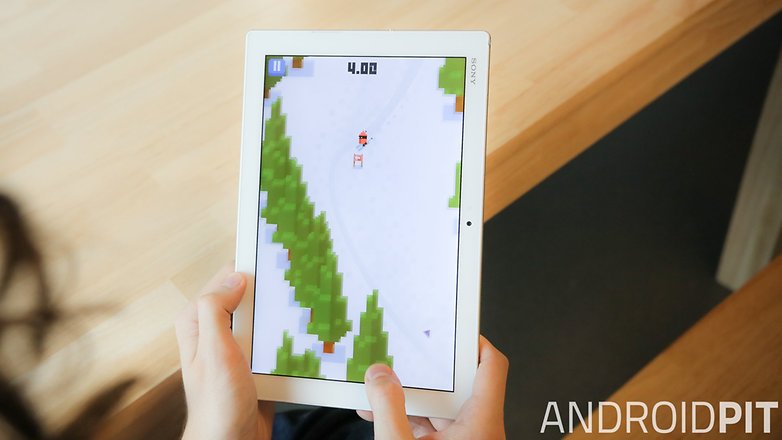 Skiing Yeti Mountain

Wrassling
This hilarious and beautifully minimal game sees you control a flailing 'Wrassler' made up of about 20 pixels, competing in an endless royal rumble match. It's all against all in the ring, as opponents keep jumping in, and attempting to throw their rivals out by windmilling their arms around.
The Commodore 64-style graphics and haphazard-looking gameplay make this game both charming and hilarious. As you reach certain scores, you can unlock hats for your wrassler and fight bosses, on your path to becoming the wrassling champion of Slamdovia (the home of Wrassling, apparently).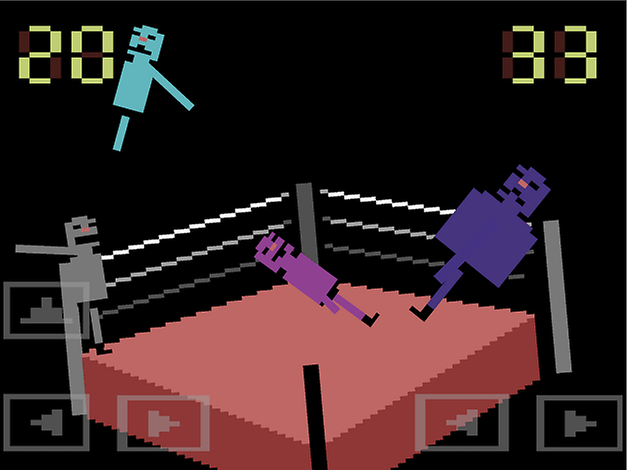 Wrassling - Wacky Wrestling

Best free Android RPG games
Final Fantasy: Record Keeper
Despite its clunky menus and the fact it sometimes feels like a loading-screen simulator, Final Fantasy: Record Keeper provides some great Final Fantasy nostalgia. It lets you replay some of the most memorable moments from previous games in the franchise in a bid to restore the records that uphold the kingdom, which are inexplicably fading from existence.
It's a no-frills role player game with energy-based play that lets you build a team of five characters using familiar faces from all over the Final Fantasy universe. There are tons of different weapons, armor and abilities to acquire and customize your characters with, and the retro graphics and music are sure to evoke some favorable memories. Just enter with a little patience, because those loading screens are a blight.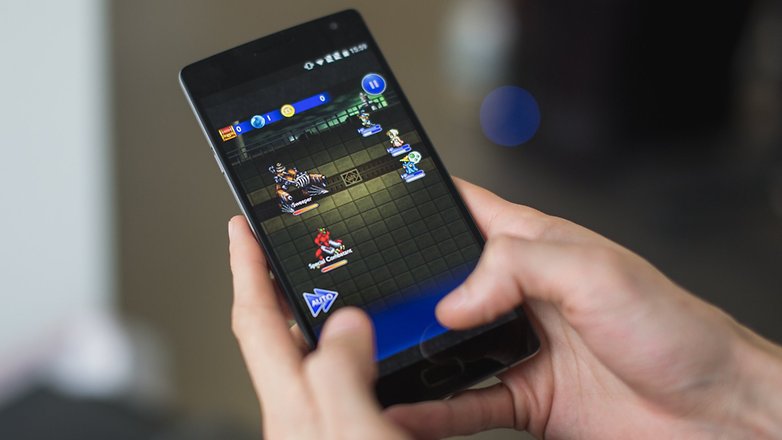 FINAL FANTASY Record Keeper

Forsaken World Mobile
Forsaken World is a Massively Multiplayer Online Role-Playing Game (MMORPG) that's been a huge hit on PC, and it's a sign of just how far Android has come that it's just as exciting on mobile devices.
It delivers everything you'd expect from the genre – loot, dungeons, classes, loot, fighting, loot, boss battles and loot – but you'll need to allow plenty of time to download it: the file's massive and the developers recommend that your device has 2 GB of RAM for best results.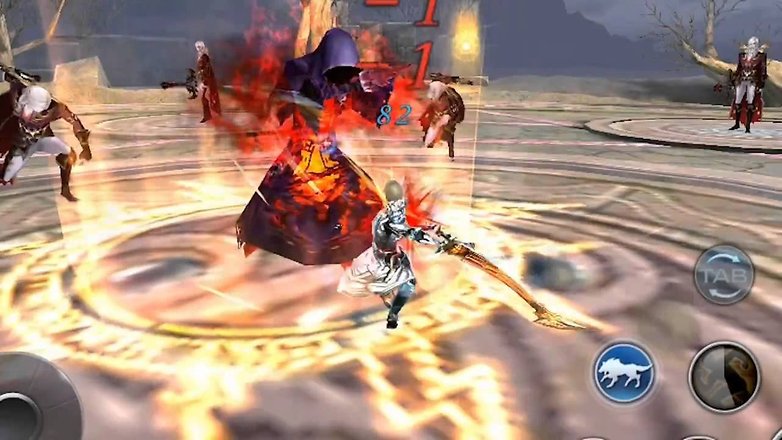 Get Forsaken World Mobile from the Google Play Store.
RPG Clicker
Clicker games are synonymous with smartphones, and there is an absurd number of them out there. RPG Clicker is the latest in a long line, but its charming pixellated visual style and fantasy-RPG elements make it stand out. Take your hero out on quests, hunt for treasure, and take on bosses when you're ready.
As you'd expect, the gameplay is all about the tapping – tap to move, tap to fight, tap to level up. A compulsive combo of classic RPG and relentless touchscreen-tapping.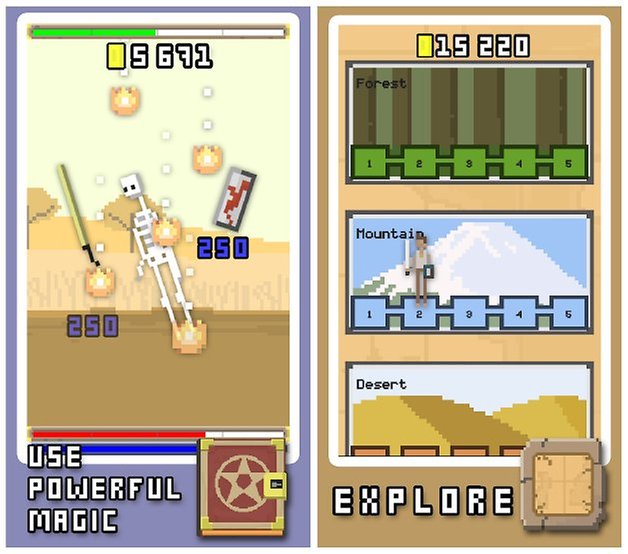 RPG Clicker

Dungeon Hunter 5
The most recent installment in the demonically popular Dungeon Hunter series offers an interesting new twist on the dungeon-crawling hack-and-slash formula. It has a similar main quest to previous games, as you and up to three of your friends slash and spell-blast your way through piles of monsters to save the Kingdom of Valenthia.
There is spellcrafting, leveling-up and boss-fighting in abundance. However, the most interesting new feature is the new 'Strongholds' multiplayer mode, in which you build a base, train a monster army, and then take on other players and their strongholds. Clash of Clans had better look out!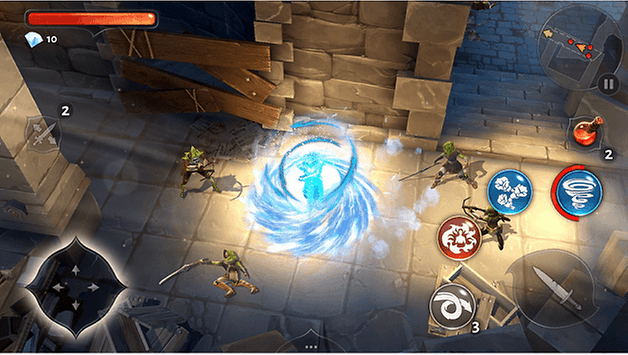 Best free Android quiz games
New Words With Friends
This Scrabble clone changes the classic board game from something you sit down and play with your grandparents, to an online experience where you can play several people simultaneously and take your turn whenever you like.
The new version tracks your performance, showing you your scores relative to other people, the longest words you've played, and your overall win-lose record. There is now also an in-built dictionary feature, so next time you gain points with a two-letter word you don't understand, you can find out what it actually means.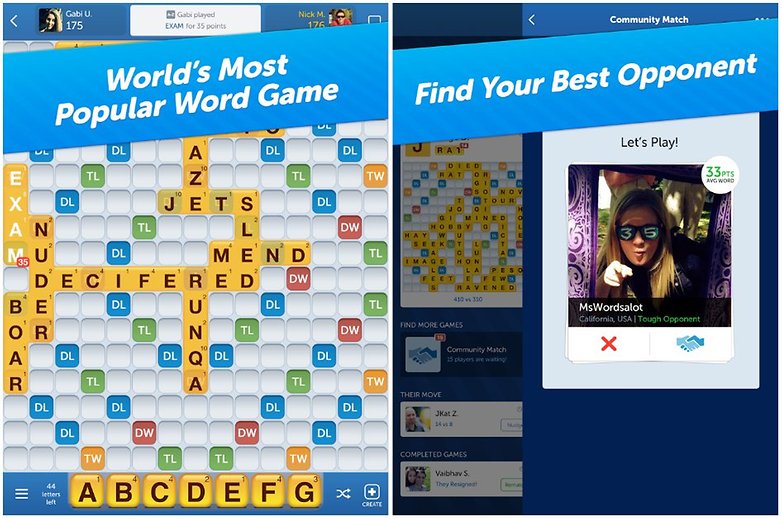 Words With Friends – Play Free

Words On Tour
The second wordy Zynga game on this list is a bit less conventional. Think of it as a free-for-all word search meets Tetris. You complete levels by creating words out of letters that are adjacent to each other in the grid.
You don't have to create words in straight lines either, which means your mental muscles will be flexed if you want to gain maximum points. There are power-up tiles and traps hidden in the game, and you can take your progress online to compare yourself against your friends and rivals.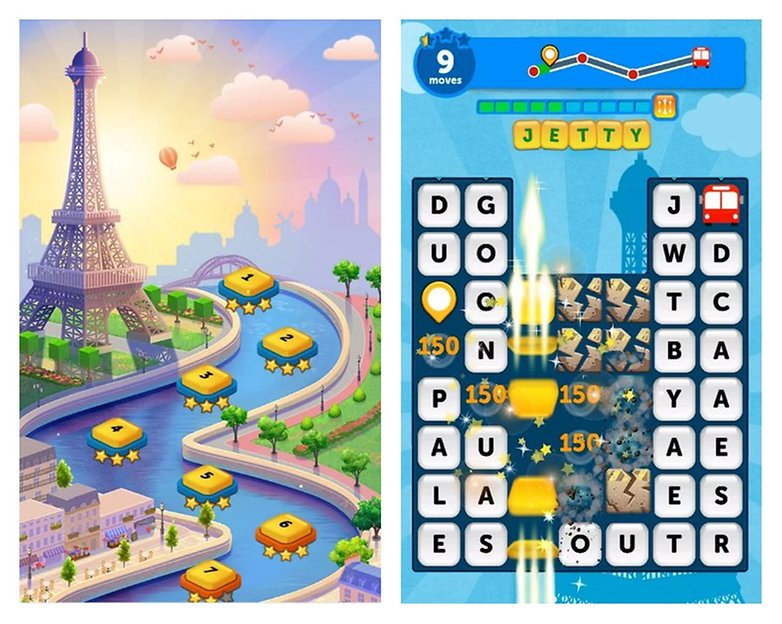 Words On Tour

Icomania
Another cult classic: Icomania is simple, but keeps you entertained. The game shows you a series of icons and you have to guess which movie star, cartoon, place or other type of thing in the world it is. If you get stuck, we've got all of the answers in our forum.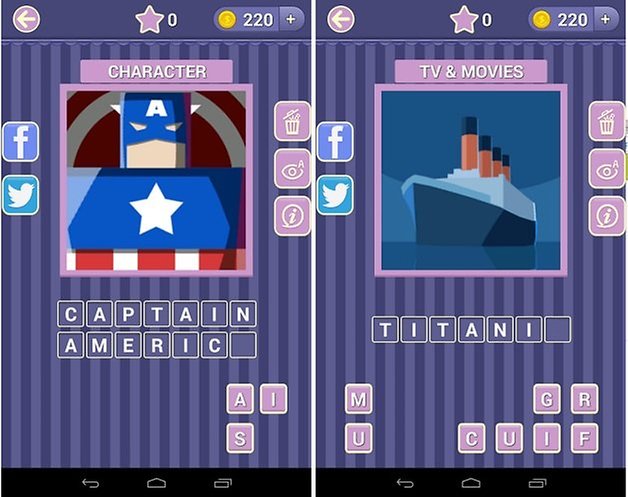 Icomania

QuizUp
QuizUp landed like a bomb in 2014, revealing that everyone's a sucker for a good trivia game. The sky's the limit for the number of categories, with new ones added daily. It's not just your usual 'sports, films, history' fare either, with categories ranging from Android, to Harry Potter, to Batman. You can also play against others from around the world to compete on the global leaderboards.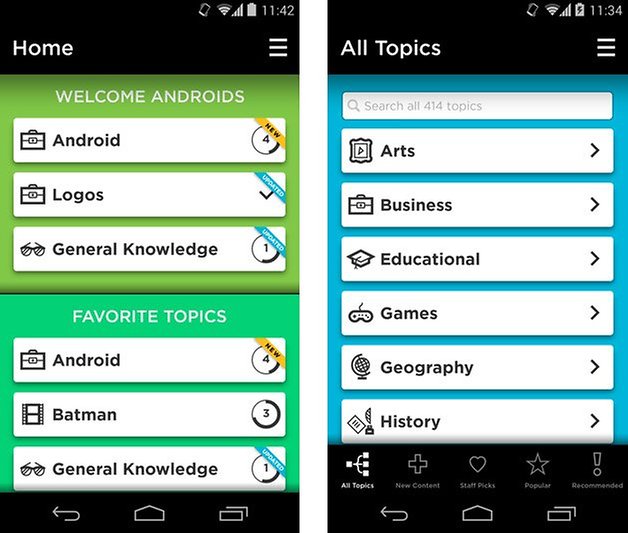 QuizUp

Best free Android party games
Hardest Game Ever 2
Hardest Game Ever 2 is not the hardest game ever, but it is one of the most fun. It's based around a series of frantic minigames such as Mario Party or the WarioWare titles.
It's great in short bursts, but it's not ideal for tablets because the resolution is quite low. Also, it's kind of crass, and might be a bit unsavory for some people. If you can stomach it, give it a try.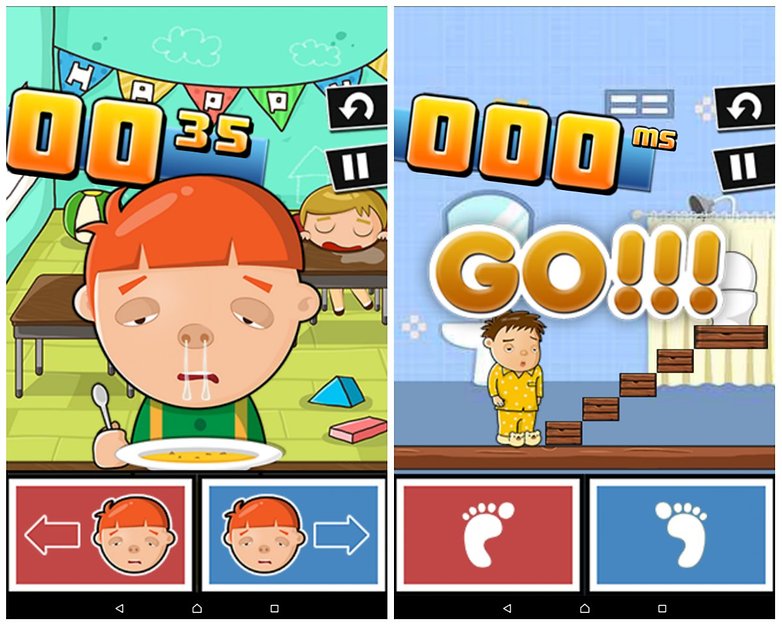 Hardest Game Ever 2

Other free Android games
Piano Tiles 2 (Don't Tap 2)
If you want a challenge with some fun music that you create, then Piano Tiles 2 is your game. It's easy to get started and the rules are real simple, hit the black tiles as they fall down the screen. This updated version of Piano Tiles (Don't Tap the White Tile) allows you to play against other players around the globe in Hall mode. You can start competing against others the minute you start playing.
You can make a perfect harmony if you master the rhythm. The game has a ton of fun songs like Jingle Bells or Happy New Year, as well as traditional classical songs from Beethoven, Mozart, Tchaikovsky and many more. You can play it without sound, but where's the fun in that?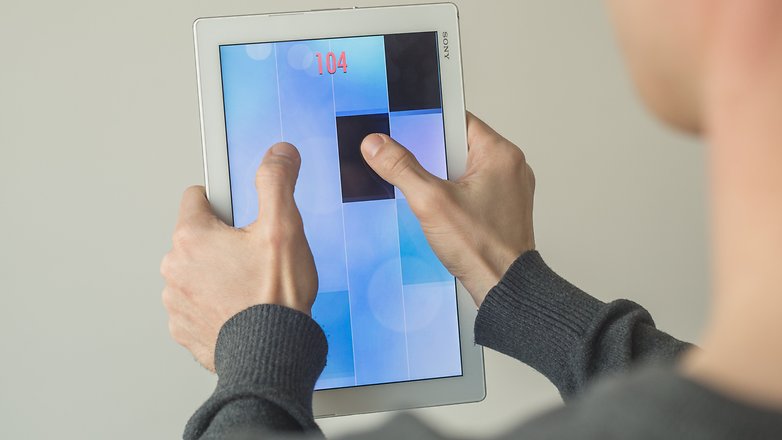 Piano Tiles 2™

Twist
If you're looking for a serious challenge, Twist might be for you. The goal is to get a ball down a tunnel that you must twist so that the ball stays on the tiles. But you have to be quick with your clicks and very accurate as well. Twist is easy to learn but hard to master; get on a roll and you will really have a blast.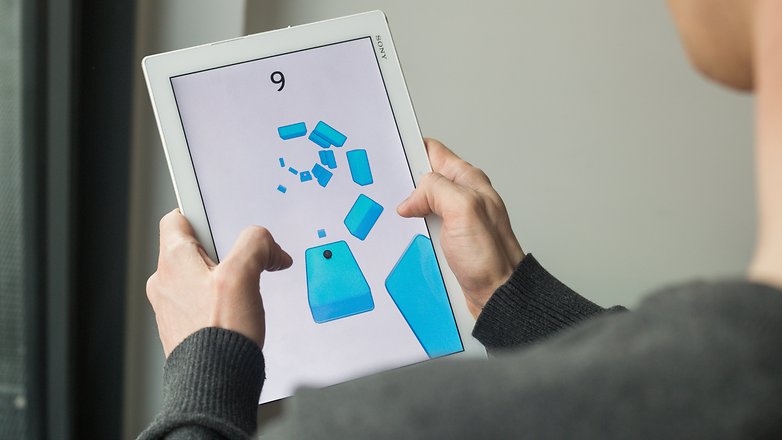 Twist

Brickies
Noodlecake Studios is known for Android hits Devious Dungeon and Zombie Road Trip Trials, and Brickies is another great game in its roster. As the name suggests, brickies is a 'brick-breaker' title where you control paddles on the top and bottom of the screen and are tasked with bouncing a ball against objects in the center to destroy them.
Featuring a plethora of levels, power-ups and a three-star rating system like Candy Crush and Angry Birds, it's certainly got that addictive free-to-play quality, but what sets it apart from the competition is the visual design. It houses a wonderfully consistent cell-shaded aesthetic, and though you could be forgiven for thinking it simplistic, the carefully selected color palette, shapes and effects reinforce the quality in the production.
Though it 'only' has 50,000 downloads, Brickies has the long-lasting formula and strong design to make it a classic.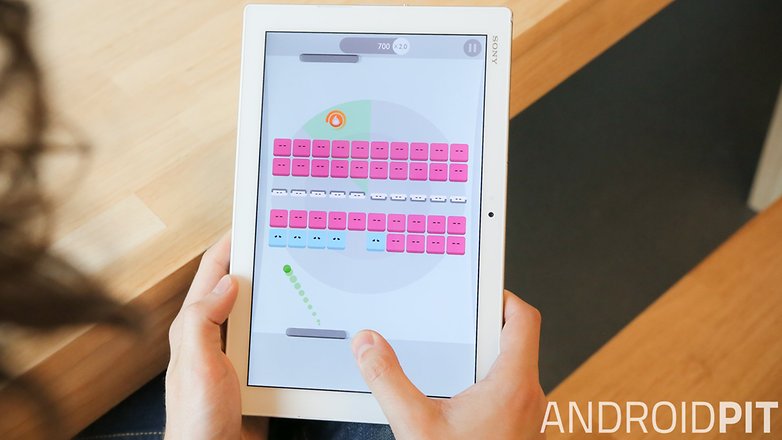 Super Monsters Ate My Condo!
This Jenga-meets-hyperactive-Japanese-arcade-game is as crazy as it sounds, which can largely be attributed to the fact that it's made by Adult Swim games (creators of the legendary Robot Unicorn Attack). In Super Monsters Ate My Condo! apartments floors of various colors drop down from the top of the screen, and it's your job to swipe them away into the mouths of the correspondingly-colored monsters sitting in wait.
If you leave the monsters unfed for too long, they get angry, and you don't want to see them angry (well, you probably do, but it'll lead to you losing the game). There are power-ups such as acid, nuke and dog to help and hinder you, as well as various game modes, unlockables and online scoreboards.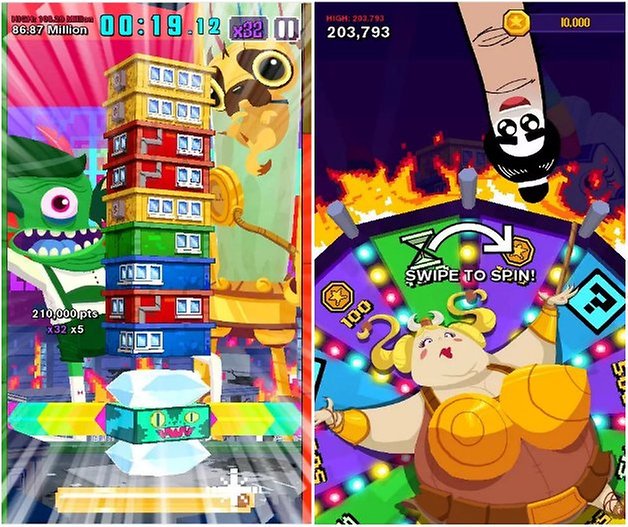 Super Monsters Ate My Condo!

Winter Walk / Autumn Walk
These two games have a simple gameplay premise – you need to keep a Victorian gentleman's hat on his head as he goes for his afternoon constitutional – but are immediately endearing, thanks to the pixelated art style and the top-hatted protagonist himself.
As the weather conditions worsen, you'll find it more and more difficult to keep his hat on, even though mechanically all you need to do is hold your finger on it. The two games are similar, although in Autumn Walk you have to hold onto an unruly dog on a leash too, and you can buy new outfits to make your gentleman look quite the dandy!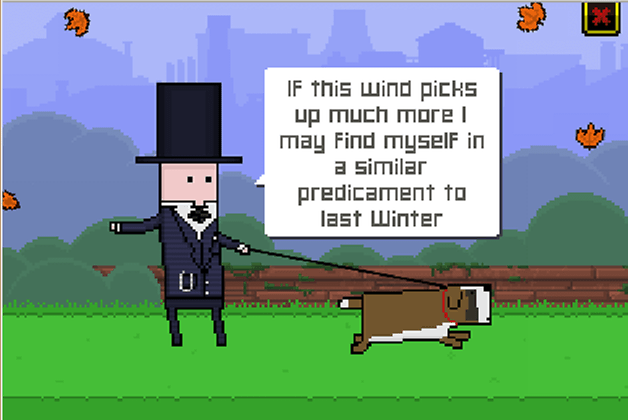 Winter Walk

Autumn Walk

Do you agree with our list? Have you discovered any free Android games that we haven't mentioned here? Let us know about it, and it might just make the list one day.
MOST POPULAR ARTICLE
| | |
| --- | --- |
| 1 | Samsung Galaxy S8 price, release date, specs and rumors |
| | |
| --- | --- |
| 2 | WhatsApp beta gets Gboard GIF support |
| | |
| --- | --- |
| 3 | OnePlus 2 Android update: OxygenOS 3.5.8 rolling out without Nougat |
| | |
| --- | --- |
| 4 | Android 7.0 Nougat update overview for smartphones and tablets |
| | |
| --- | --- |
| 5 | Best Android camera phones: which are the top on the market? |