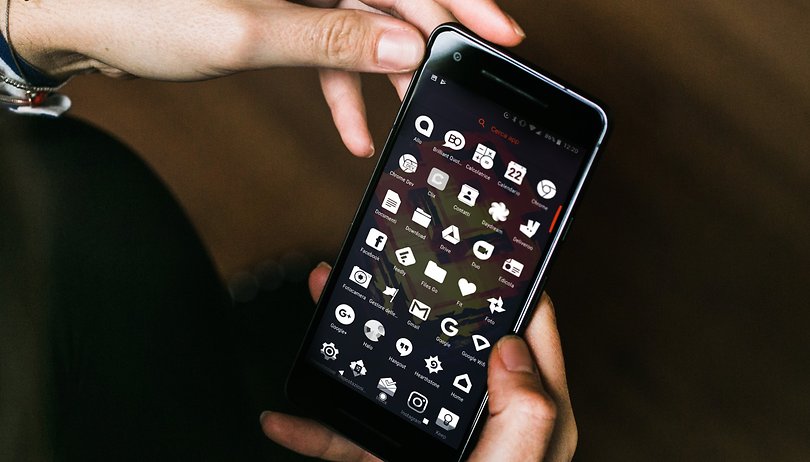 Customization heaven: the best icon packs for Android
Update: More and newer packs added!
There are many ways to personalize your Android smartphone or tablet, from changing the wallpaper to adding new ringtones or fonts, to installing a custom launcher. But did you know you can also personalize the app icons on the home screen and in the app drawer? In this list, you will find some of the best and most unusual packs available.
What is an icon pack?
An icon pack is an application that replaces all your icons with customized ones. In general, they're very simple to install, and you can do that in the same way as you would any other app. The one difference, however, is that if you want to test out a few different icon packs to find your favorite, you'll want to install a launcher first to make the process easier.
If you don't have one yet, something like Nova or Apex Launcher, can be installed from the Play Store for free. Once you've found the icons you like, you can always change your launcher, as long as they're not an integral part of it.
Click UI
There are many icon packs out there that look similar to Click UI, but this one has a fair claim to being one of the first to introduce icons with subtle long shadows that give them a sense of gentle motion.
The app has a super-simple icon-request tool included for any of your favorite app icons that are missing. You can also use it to set your background and lock screen wallpapers too, though there are better apps for this.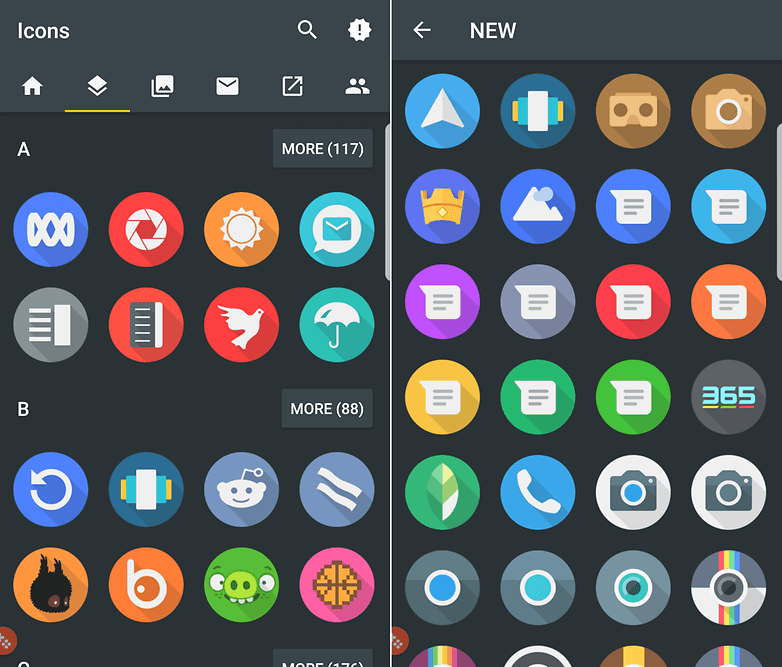 Compatible launchers: Nova, Apex, Action, Go, Solo, Trebuchet, Smart, Aviate, Next, KK, Nine, Blur, Unicon, ADW, and most others that have icon pack support. A launcher isn't essential to use this app.
Size: 12.55 MB
Price: $0.99
Retrorika
Bringing smooth vector graphics with a retro swing to Android, Retrorika takes material design and runs 30 years of cigarette smoke through it. Each icon brings a unique take on the original design, too; it's a passion project, with a great attention to detail, and it's for this reason that it makes it into this list.
Retrorika is one of the best icon packs for giving your device that paradoxical retro feeling but at the same time retaining a modern feel to your phone. Like some of the others here, you can also set your wallpaper with the app.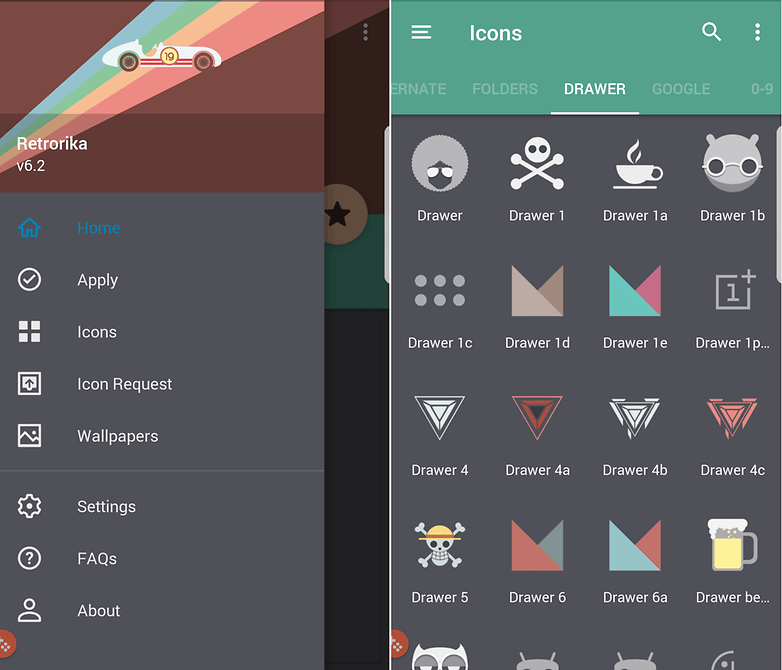 Compatible launchers: 29+ launchers, which probably includes yours too. Some functionalities don't work on certain launchers, as detailed in the app description.
Size: 23MB
Price: $0.59
CandyCons
Bringing Material Design icons with a little handcrafted tweak is CandyCon's forte. The pack has 1070 icons at last count, including multiple color choices for some of the more popular ones.
There's also the obligatory icon request feature on the rare occasion you don't see the icon you're looking for. It strictly sticks to the Google Material Design color schemes, and includes around 20 wallpapers. Fans of Muzei can still use that app to modify wallpapers too, which is nice.
All you need to do, like the others that require a launcher, is navigate to the settings and hit Apply.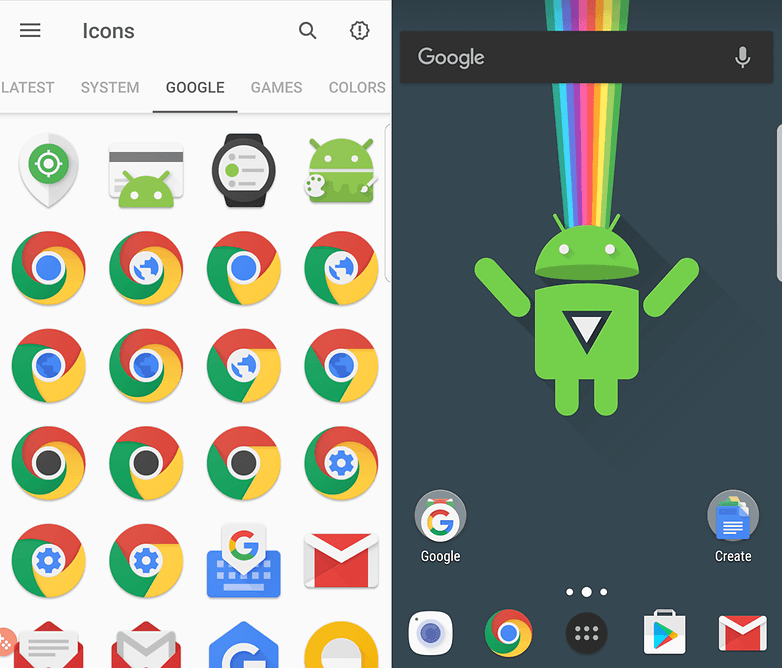 Compatible launchers: Nova, Apex, Action, ADW and many more launchers supported. Requires a launcher to work correctly.
Size: 18 MB
Price: free
Atran
Atran is going to be a fast-favorite for anyone that likes unified circular icons with a retro filter-like appeal.
With more than 4,000 icons (and 30 HD wallpapers), there's plenty of value for your $1 and more are still being added all the time. You can, of course, request any that you're missing.
If you're looking for icons with a little texture, Atran is worth paying for.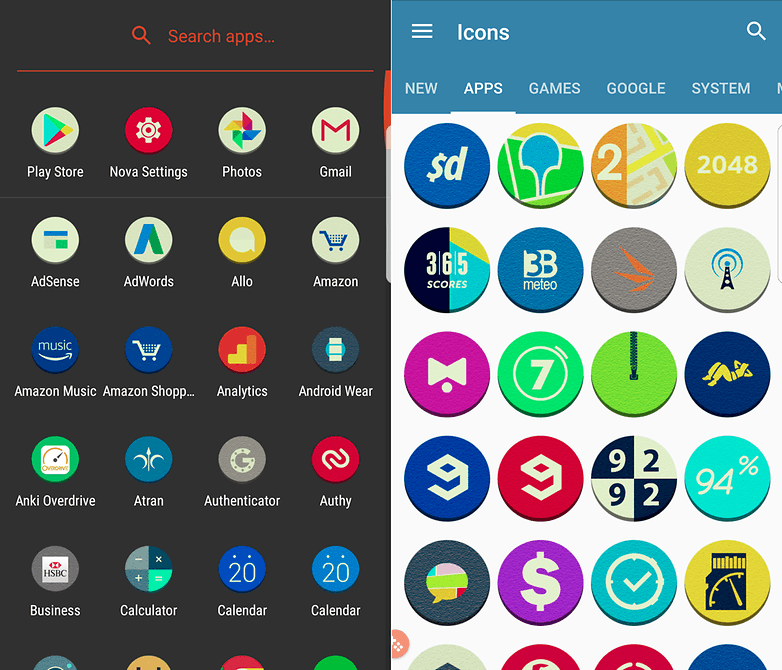 Compatible launchers: Action, Adw, AdwEX, Apex, Atom, Aviate, Everything.me, GO, Inspire, KK, Lucid, Next, Nine, Nova, Smart, Solo, TSF, CM Theme Engine, Bubble Cloud Widgets and "many more"
Size: 58.25 MB
Price: $0.99
Tigad Pro
This is another icon pack that's unlikely to appeal to everyone's design sensibilities, but if you've got a penchant for 3D and want a little more depth in your icons, check out Tigad Pro.
In total, there are more than 7,800 custom-designed icons in this pack, all with a 3D design, and it supports applying them directly or via most of the most popular Android launchers. Like most of the others in this list, it provides a number of different wallpapers that work well with its icons too within the app.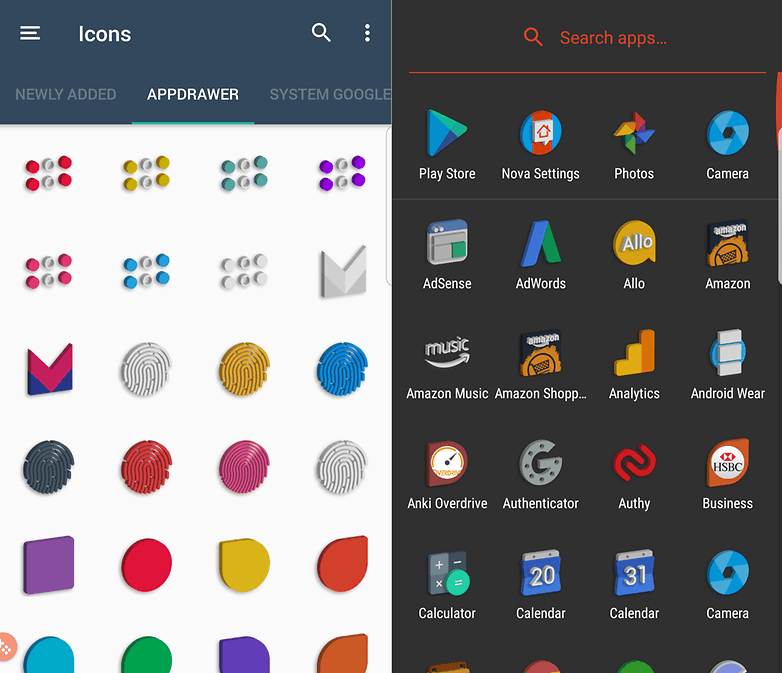 Compatible launchers: L, Lucid, GO, Next, Apex, Action Pro, Nova, ADW, Holo, Holo HD, Aviate, Smart, Mini, KK, Solo, Epic, Inspire, Nine, Atom, Nemus, S, TSF Shell, LG Home (some issues), ThemerCM Theme Engine, Launchy Widget, Trebuchet, Unicon, maybe more
Size: 74.79 MB
Price: $0.99
Ruggon
Icons that look like they've been dragged through the dirt - why not? This icon pack has an aesthetic that matches its name - rugged and grunge-inspired. Despite that, the icons have a certain appeal to them, especially combined with the 89 themed wallpapers that are included in the app. Ruggon will definitely give your phone that stylish post-apocalyptic look with its 3560+ HD icons.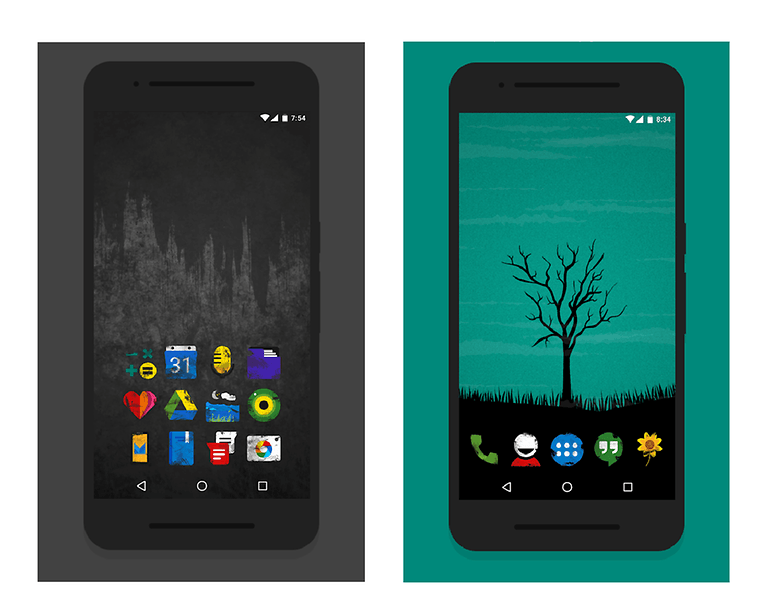 Compatible launchers: Nova, Apex, ADW, Action, Go, Smart, Solo, Aviate, KK, Nine, Holo, Lucid, Evie, Next (classic mode only), TSF Shell (icons only), Unicorn
Size: 74 MB
Price: $0.99
Zwart - Black Icon Pack
If you miss the Stamped Black Icon pack, which is no longer available on the Play Store, Zwart's Black Icon Pack by Randle is a great replacement. It offers a minimalist monochrome look that suits pretty much every smartphone. On top of that, the app has cloud wallpapers and offer Muzei support. There are more than 5000 icons available already, but if there's one you can't find on the list, you can always request it through a tool provided in the app itself.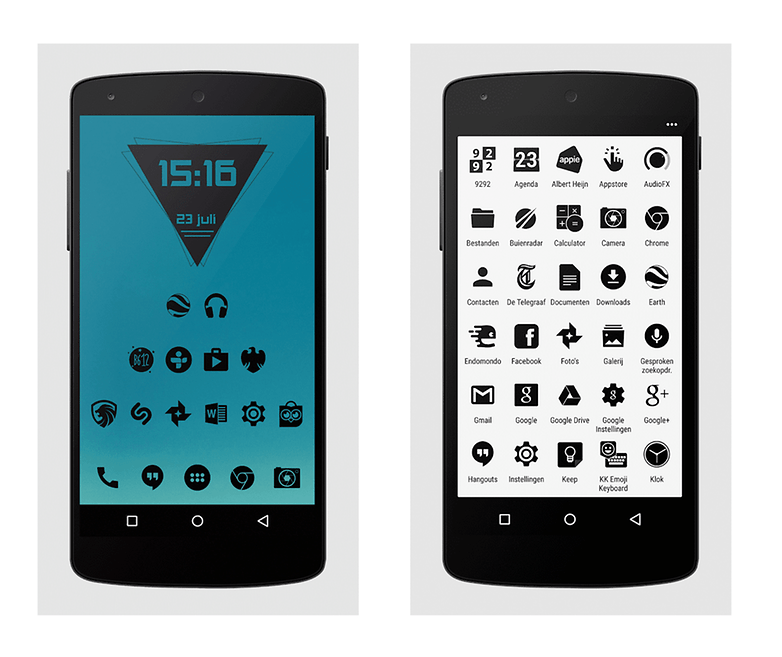 Compatible launchers: Multiple
Size: 27 MB
Price: Free
Dark Matter
If you want to give your phone a bright, fresh new look, Dark Matter is a great choice. Don't be fooled by the icon pack's name - it is the opposite of dark. Colorful and cartoony, it is one of the most distinctive-looking packs on this list. It offers more than 3000 icons and 30 QHD wallpapers. Like Zwart Black Icon Pack, it's also compatible with Muzei Live Wallpapers and has a tool, which lets you request missing icons.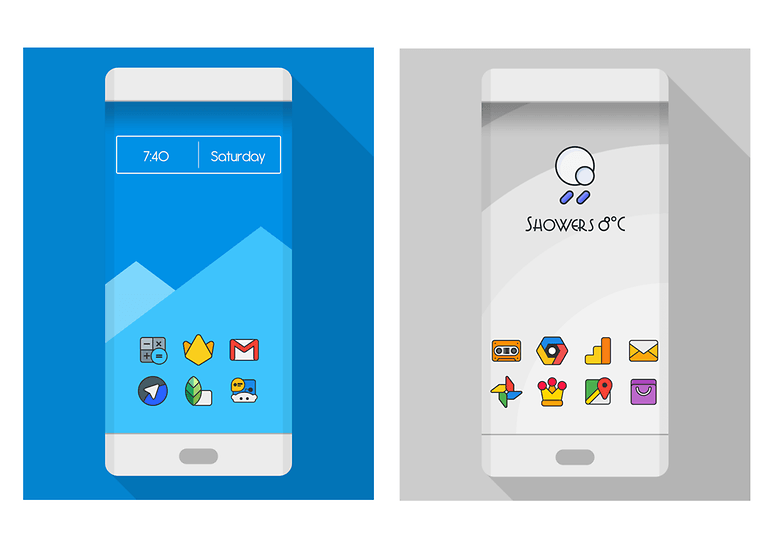 Compatible launchers: Nova, ADW, Apex, Aviate, ASAP, KK, Lucid, Smart, Yandex, Total, Atom, Nine, Next Launcher 3D and others
Size: 11 MB
Price: $0.99
Linebit
If you can't get enough of the vaporwave aesthetic, Linebit is your icon pack of choice. The bright shades of purple, blue and green will bring new life to an old phone, or jazz up your new device. Not only that, Linebit offers a minimalist and uniform design - apps like Chrome, Twitter, Instagram, etc. are instantly recognizable. On top of that, there is a huge selection of game icons too. Overall, there are more than 1500 and more are added with weekly updates. The app also comes with 16 stylish wallpapers to complete the new aesthetic.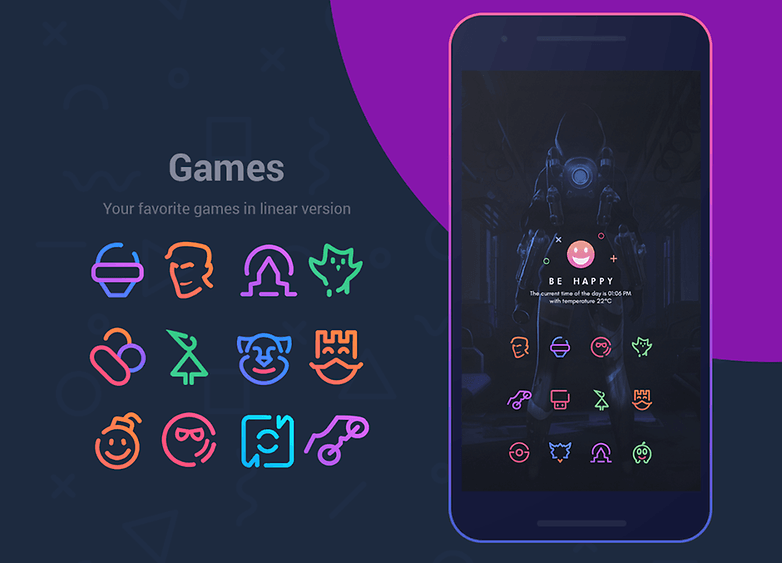 Compatible launchers: Multiple
Size: 27 MB
Price: $0.99
Pixbit
This icon pack is among the more unusual on this list. It brings a retro charm to your modern smartphone with its pixelated icons. A must for retro game fanatics or 90s kids obsessed with nostalgia. Pixbit's icons are colorful and fun, and there's more than 1600 of them, including alternatives which you can select by pressing and holding down on an icon. You can compliment them with some of the 20 Pixel art wallpapers or retro-looking widgets, which are included in the app as well.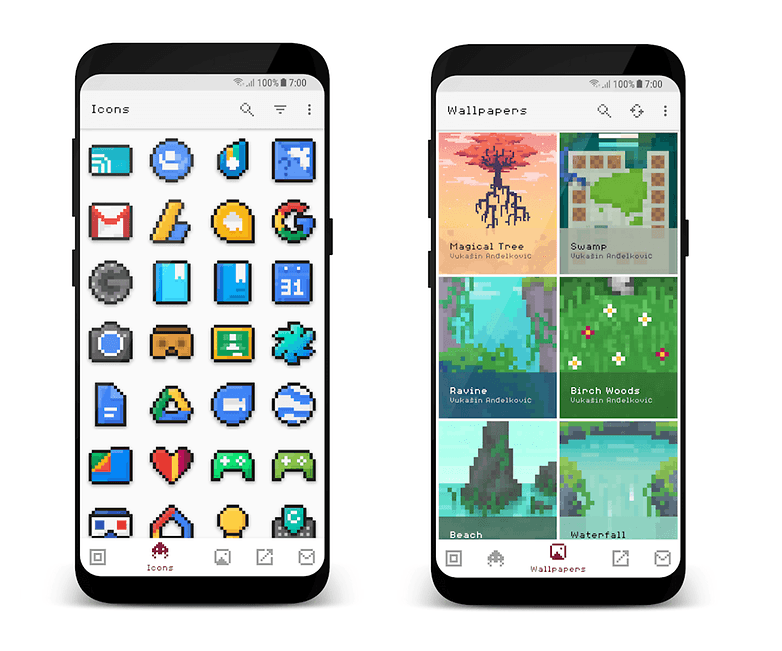 Compatible launchers: Action Launcher, Nova Launcher, Apex Launcher, Atom Launcher, Aviate Launcher, Go Launcher, KK Launcher, Next Launcher, Solo Launcher, Smart Launcher, LG Home, ADW Launcher and more
Size: 10 MB
Price: $1.49
Superhero Icon Pack
If you thought our previous two choices were unusual, wait till you see this one. The Superhero pack might not have many icons available, but it will give some of your apps super powered looks. Ever wanted Captain America as your contacts icon or the Hulk as the face of Whatspp? This is the icon pack for you. The other heroes included are Iron Man, Batman, Superman, Deadpool, Wolverine, Spiderman, Thor and the Flash.
If you don't like text under your icons, it can admittedly get confusing, but for some users that could be part of the fun.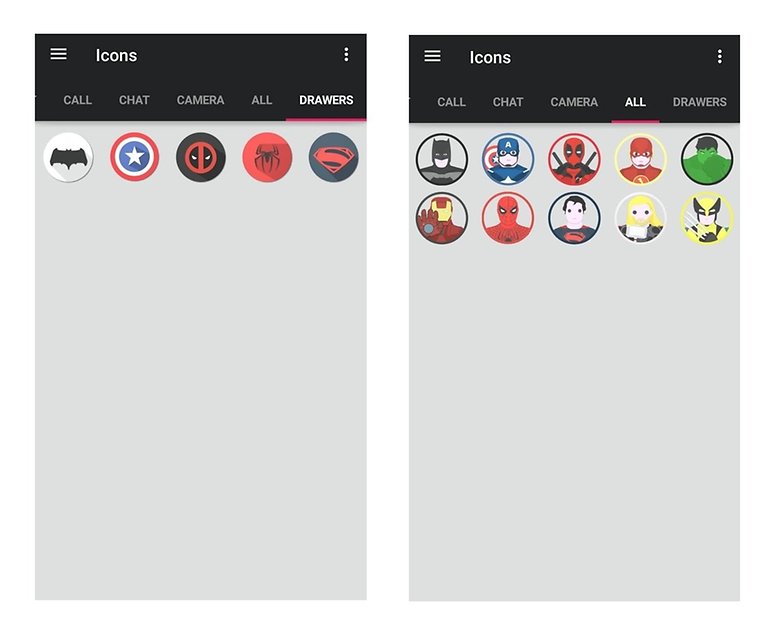 Compatible launchers: Action, ADW, Apex, Atom, Aviate, CM Theme Engine, Epic, GO Launcher, Google Now, Holo, Inspire, KK, L, LG Home, Lucid, Mini, Nemus, Next, Nine, NOVA, S, Smart, Solo, TSF.
Size: 3.4 MB
Price: Free
What's your favorite icon pack for Android? Let us know in the comments below!
Note: this article has been rewritten and updated since its first publication. Comments might not reflect current content.