The Google Play Store is full of wonders, but many of its apps remain undiscovered because they're not eye-catching enough, not PR-friendly enough or just not lucky enough. This list is a tribute to the brilliant but lesser-known Android apps, now including one that turns your phone into a remote control, and a great way to search for movies and TV shows online.
Unified Remote
Unified Remote turns your Android phone into a remote control for your PC or laptop, allowing you to use it as a mouse, keyboard, screen mirror and more.
It offers a number of presets for popular programs such as Spotify, Netflix and VLC media player, meaning you can remotely skip a song, or turn a movie's volume down without going near your computer.
To unlock all the functionality of Unified Remote you'll need to upgrade to the full version, which costs US$3.99, but there is a well-regarded and frequently updated free version available too. For control-freaks like me, it's essential.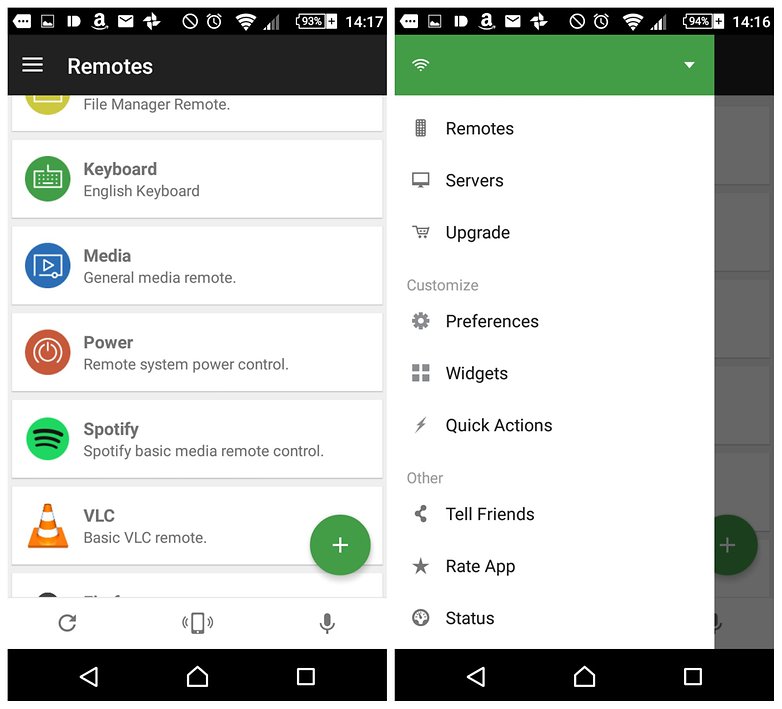 Unified Remote

JustWatch
You might be aware of JustWatch because we have written about it before, but it's still had relatively few downloads for an app that presents such a useful function. If you're looking for movies or TV shows online, JustWatch shows you if they are available and from which – legal – source. Best of all, its brilliant search function includes free TV shows and movies too.
JustWatch is something of a work in progress and it might still be a while before it's completely solid. But if you want a quick and easy way to find high-quality versions of a particular TV show or film or browse through what's currently on sale across the web, give it a go.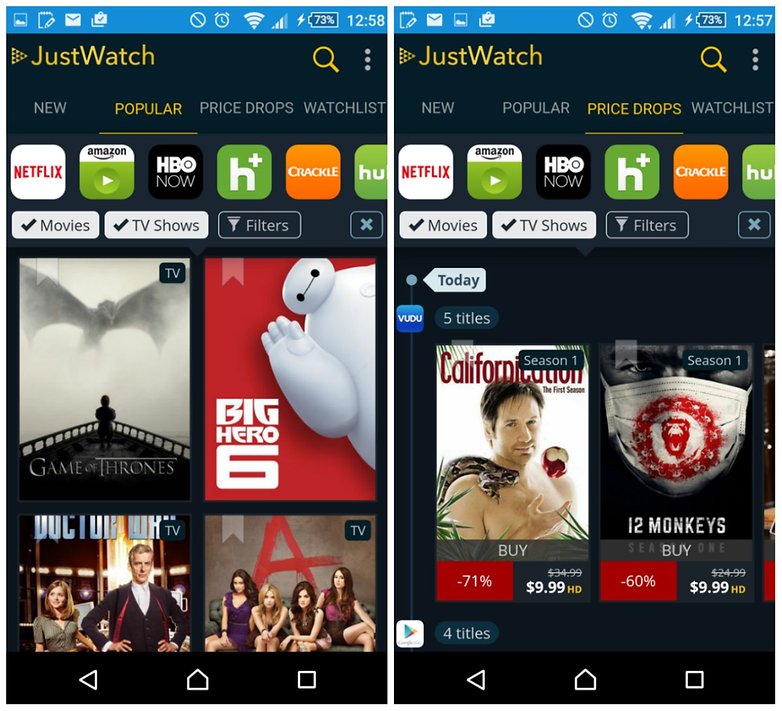 JustWatch - Movies & TV Shows

Portal by Pushbullet
If you're a regular AndroidPIT reader, you've probably heard us rave about Pushbullet in the past, but did you know the Pushbullet team has released an awesome new app called Portal? Portal is a Wi-Fi file transferring app, so you can quickly transfer files from your PC to your phone over Wi-Fi, avoiding data charges and link-following on your phone.
Simply make the connection via a QR code, drag and drop files into Portal on your computer and watch your automatically sorted files appear on your phone. It's fast, it doesn't use your data and it's easy to use. Brilliant.
Portal - WiFi File Transfers

Run Pee
If you're of the micro-bladder persuasion you probably find yourself struggling to get through a film without missing chunks of narrative every time you need to hit the restroom. But what if there were an app that could tell you the best times for a pee break when you wouldn't really miss anything important happening on-screen? Well, there is.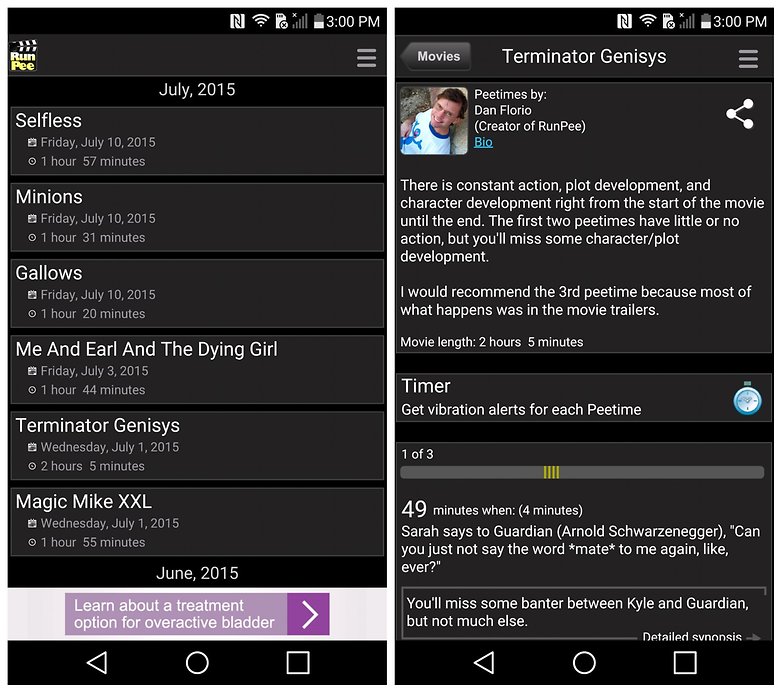 Run Pee can alert you with a timer at the most opportune toilet break moments and provide you with a brief synopsis of what you're missing while you're out of the theater. You'll get pee break durations, recommended pee breaks and breakdowns of why a particular pee break is a good or bad choice. Welcome to the future, my friends.
RunPee.

Hooks
If you love knowing what's going on – but don't want to invest the time or energy into constantly paying attention – then Hooks is the app for you. Hooks lets you set up notifications for basically anything you care about: it's kind of like a DIY Google Now. Choose from existing recipes (to borrow an IFTTT term) or request new ones.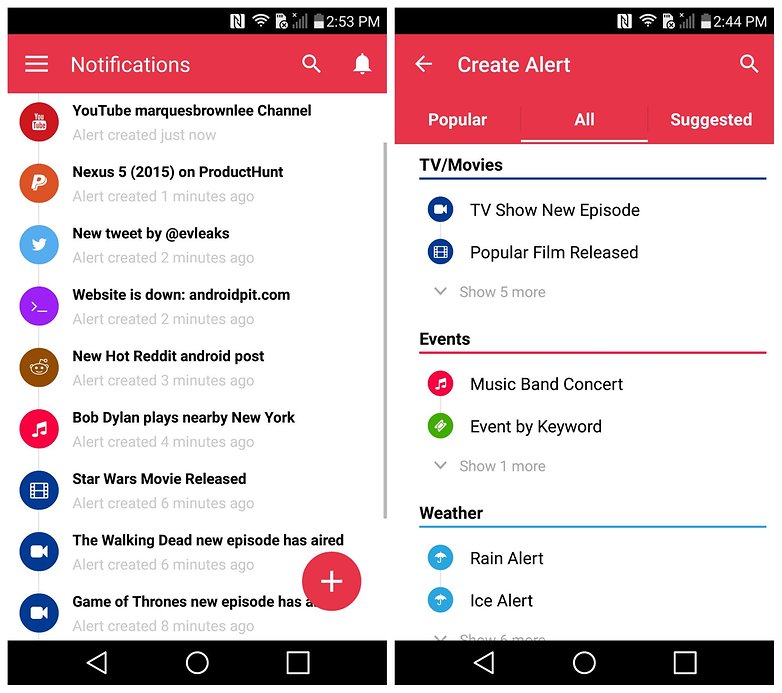 Sure, it takes a little while to set up, but one you've done it, you'll always be informed about the stuff you care about. You can set up notifications for shows you like that are about to start, sports team goals, Twitch streams, lottery results, weather, concert and festival info, horoscopes, shipment tracking, new online courses – whatever.
Challenger Comics Viewer
Comics are a perfect fit for the increasingly vivid screens that feature on new phones and tablets. There have been plenty of attempts to faithfully bring the comic/graphic novel experience to Android devices, but this is one of the best. Challenger Comics Viewer is a free app with no ads, which lets you view comics in countless formats.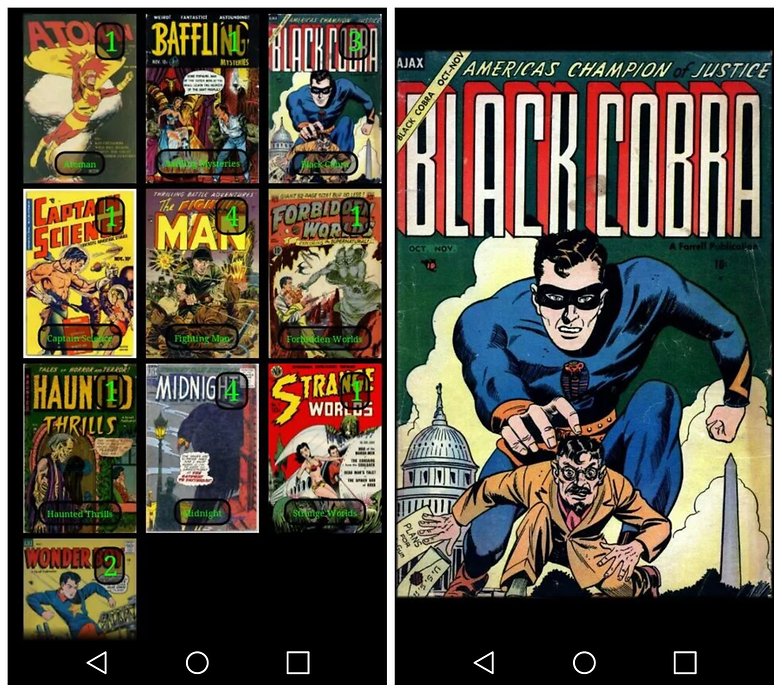 You can pinch-to-zoom, change viewing modes, and adjust settings like contrast and brightness to optimize whatever you're reading for your eyes. Nothing quite recreates the experience of holding an actual vintage comic in your hands, but Comics Viewer gives it a great shot.
Challenger Comics Viewer

SleepBot - Sleep Cycle Alarm
Put the accelerometer in your Android phone to the best possible use. SleepBot - Sleep Cycle Alarm monitors your movements in bed when you're asleep. This app tracks fluctuations between deep sleep and light sleep cycles throughout the night and lets you set an alarm window in which it wakes you up when you're in a light sleep phase.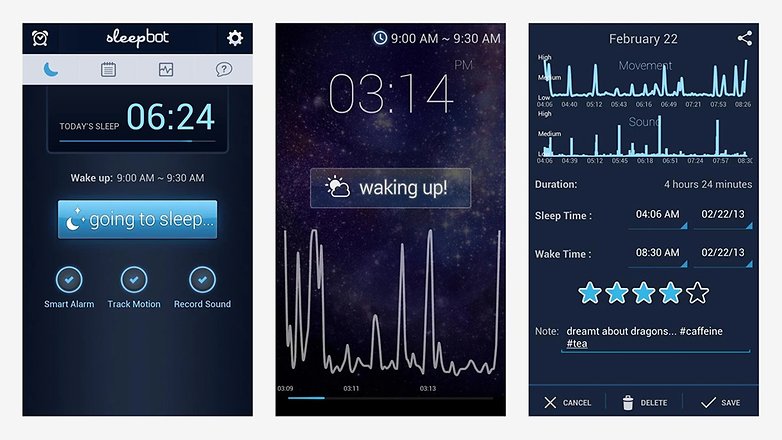 There is scientific evidence to suggest that waking up during a light sleep phase can be better for your well-being than getting an extra couple of hours sleep, so this alarm clock could be a life-changer. Even just knowing what your sleep patterns are like can help you plan a more restful night's sleep.
SleepBot - Sleep Cycle Alarm

Secret Escapes
If you're a fan of deal apps and sites, don't miss Secret Escapes, an app that offers deals all around the world for up to 70 percent off the original price. It's free and also offers an offline mode so you can select reservations while when not online, plus you can set reminders for upcoming sales.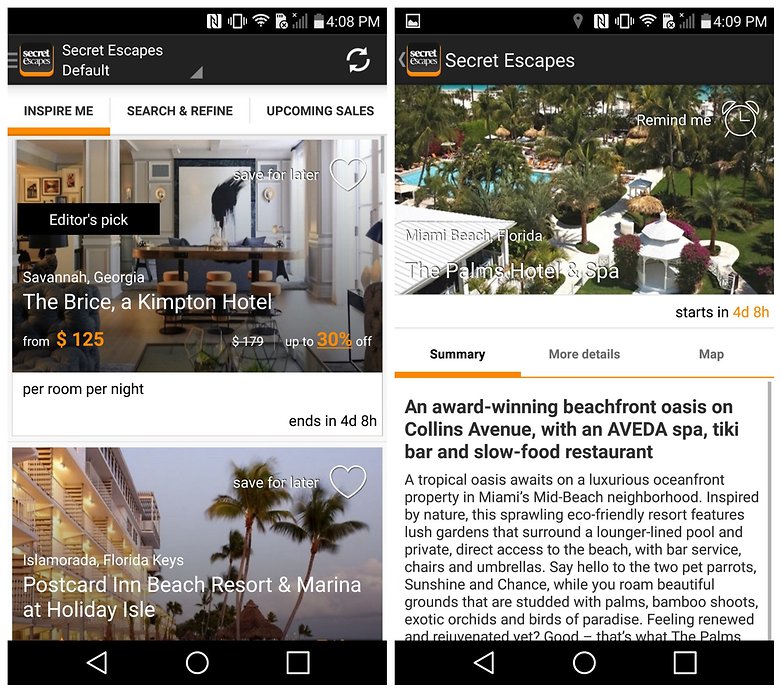 You can choose from hand-picked hotels and holiday destinations up to a year in advance, be inspired with great recommendations and make use of the last-minute feature for those quick weekend getaways. Now you really have no excuse not to take a holiday.
Secret Escapes

Ask Me Anything - Reddit AMA
Last but not least on our list of apps that don't get enough recognition is Ask Me Anything - Reddit AMA. This is the official Reddit app that exclusively features interviews between people of interest (celebrities, inventors, sports stars, politicians) and the Reddit community. The best part is: you're the interviewer.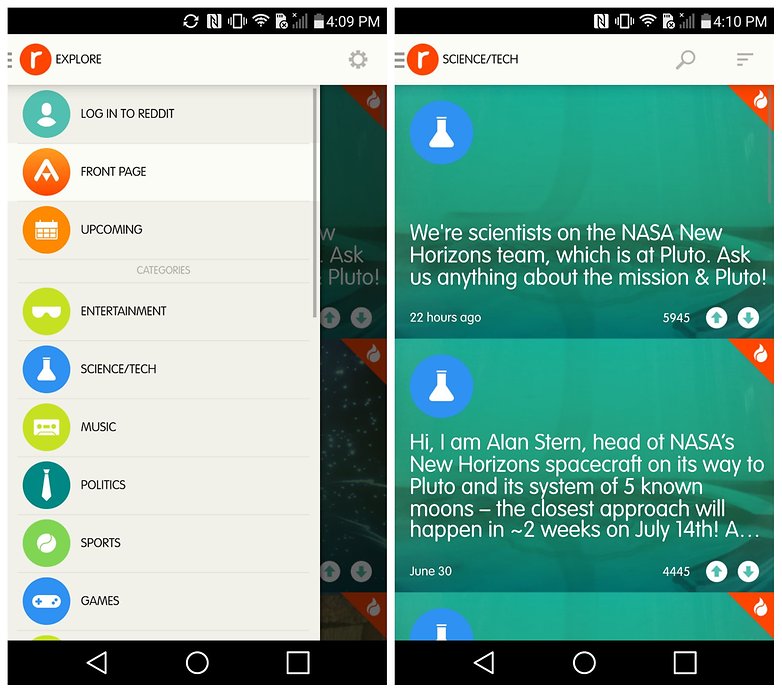 Ask Me Anything - Reddit AMA is perfect if you find the wormhole that is Reddit a daunting. The AMA section is one of the most popular and informative parts of the entire site, and the AMA app puts it right at your fingertips. It lets you choose from a bunch of categories, track upcoming AMAs, read old interviews, ask your own questions and be alerted when a particular interviewee is active.
Ask Me Anything - reddit AMA

Have you tried any of these? Which unknown Android apps have you discovered recently? Share your tips in the comments.