Fortnite 7.01 closes in for the kill with sword and shotguns
Fortnite is the biggest game on the planet right now and you bet Epic Games wants to keep it that way. How? By continuously updating the game with new content such as skins, weapons, loot, challenges and more. Season 7 has just had it's first patch, so let's take a look at everything that's new with Fortnite.
After the routine downtime, Fortnite is back with the first fresh update to the frosty 7th season that saw an iceberg collide into Fortnite island, bringing an Arctic environment into the game, with new frozen areas to explore and battle in.
There can only be one!
Good news for all of you who studied the blade while your schoolmates were busy partying - swordfighting has come to Fortnite in the form of a new weapon previously teased via the Ice King outfit in promo art.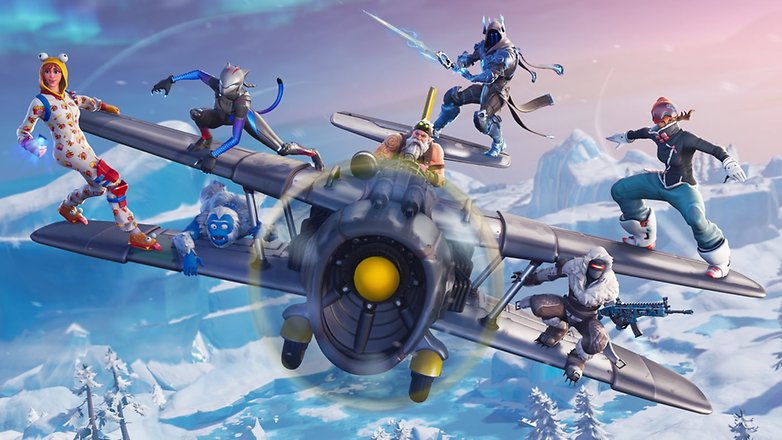 Epic Games has rather cheekily named the sword Infinity Blade, after making headlines for pulling their Infinity Blade mobile games from Apple's App Store. The sword is a Mythic melee weapon that deals massive damage (75 damage to players) and can even destroys structures in one blow! An alternate fire mode enables a powerful leaping attack to smash through objects and damage opponents on landing.
There's only one Infinity Blade per match and the player that draws it gets a range of other bonuses including increased Health and Shield (and increased regeneration to boot), increased Speed, and a vampiric-style health boost upon vanquishing an enemy. As a downside, the Blade can't be carried with other items...you drop your inventory when you pick it up, and drop it if you pick up another item.
Epic Games has hinted that it can be found in Polar Peak, embedded into a pedestal. Should you not be first to find it, you can always loot it after defeating the wielder.
Close Encounters comes back
Short-range combat appears to be a theme in the new update, with the latest Limited Time Mode. Shotgun variants are the only allowed weapons, Jetpacks are everywhere, and the Storm closes in quickly, resulting in short, around 15-minute matches. Previously, the LTM was pulled due to players complaining about the high prevalence of 'Sky Bases' or ultrahigh buildings, in the mode. Not sure if that will not be an issue this time around.
Has Epic Games decision got anything to do with the success of popular jetpack shooter Armajet? Either way, it's perfect for action junkies looking for fast, intense battles on Fortnite Island.
Fortnite Creative
Fortnite's sandbox Creative mode is still in early release, so while there may be some issues, features are still rolling out. The Block, a showcase that displays your creations to other players, gets a 5th island to build on. Also Rifts have been introduced, which lead to 4 featured Islands created by the community, playable under their own rules.
Epic is also tentatively rolling out an Island Code system. A limited number of players in the Support a Creator program can give out Codes that players can enter at the aforementioned Featured Rifts to go to the created Island designated by the Code. The created Islands can be published to social media channels, and Epic Games intends to roll out the feature to a wider number of players once the initial kinks have been ironed out.
Fortnite's Creative Mode is already available for those who buy into the Season 7 Battle Pass, but it will be opened to all players on December 13th. Once you're in, you'll be able to control what happens on your Island with a special Phone item.
The new Battle Pass
Naturally a new season entails a new Battle Pass. Epic Games have announced that over 100 new exclusive rewards are ready for you to unlock, including the weapon and vehicle Wraps and new skins. The price? Still steady at 950 V-bucks.
And much, much more...
Those are the main content changes to Fortnite Battle Royale, but there's a lot more going on including balance adjustments, bug fixes and convenience tweaks. The PvE Save the World version is getting some tweaks too, plus a new Ralphie's Revenge rifle weapon. To get the full list of changes to all modes, you can comb through Epic Games' extensive patch notes.
Want to play Fortnite on your Android phone? Get it here.
What do you think of the latest changes to Fortnite Battle Royale?