Jul 11, 2013 9:59:06 AM via Website
Jul 11, 2013 9:59:06 AM via Website

[download market] google play
[app name] Signal Guard
[app url] http s://play.google.com/store/apps/details?id=com.duoduosoft.signalguard (Pls Remove the space between 'http' and 's')
Make sure you are connected !
No signal?
How to check signal when your phone is hibernating?
Signal problem for your parallel imported cell phone?
Need alarm when signal lost in the basement, elevator or tunnel?
Please read following information, when you have these questions.
Features:
Real-time monitor of cell phone signal.
Alarm for signal lost in the elevator, basement, computer room,tunnels
and for signal problem of parallel imported phone because of network
incompatibility.
Three ways to remind you: automatic sound, vibration and LED.
Automatically repair your signal and make your phone work.
Record all events and you can check later.
Support the network of Global mobile operators.
Support all the Android system models in the market.
Support real-time monitor of signal even when your phone is standby.
Function:
1) automatically repair when signal is lost or abnormal.
2) three ways for alarm: sound, vibration, LED.
3) New icon showing signal value in the status bar.
4) double-row icon display of signal.
5) record network failure and repair information.
6) support for real-time monitoring of signal when standby or hibernation.
[Version History]
V2.2.1.00 updates (20130710):
1.Fixed some bugs.
V2.2.0.00 updates(20130609):
1. Added support for Samsung mobile phone(I9300,Note2...)"not registered" condition signal repair.
2. New export LOGBOOK to text file(Pro version only).
3. Added 2G3G lock function exemption tips.
4. Modify some of the UI operation interface.
V2.1.2.00 updates (20130424):
1.Fixed the starup bugs.
V2.1.1.00 updates (20130311):
1.Unlock 2G/3G locking function .
V2.1.0.00 updates (20130315):
1.New 2G/3G radio locking(Pro version only) .
2. Fixes some bugs.
V2.0.1.00 updates (20130220):
1. Fixed CDMA 2G network force close bugs.
2. Improved signal numerical algorithm.
V2.0.0.00 updates (20130215):
1. New feedback module for communicating instantly with developers.
2. New icon showing signal value in the status bar.
3. Monitoring during sleeping (Pro version only).
4. New automatic mode for sleeping monitoring (Pro version only).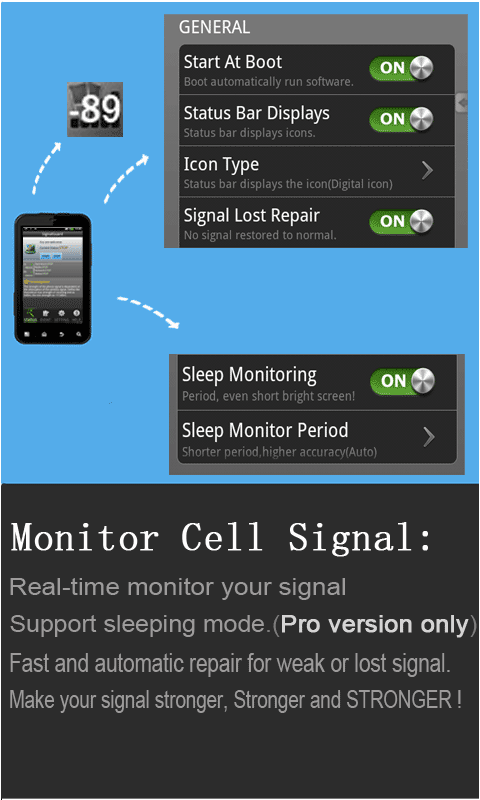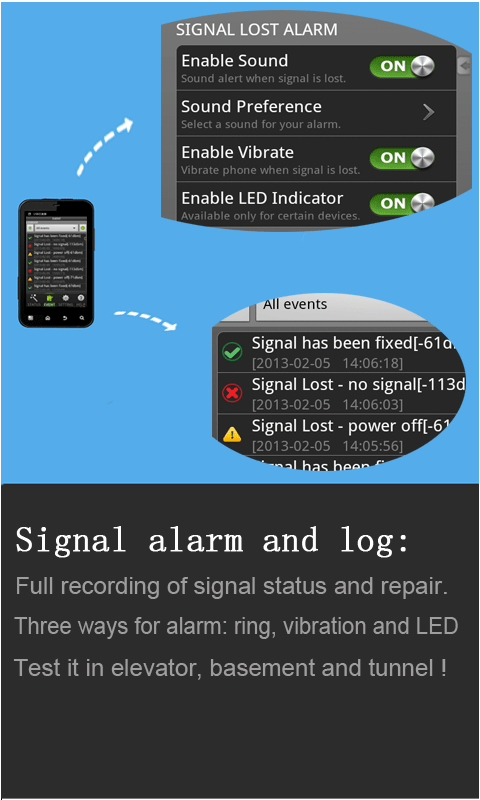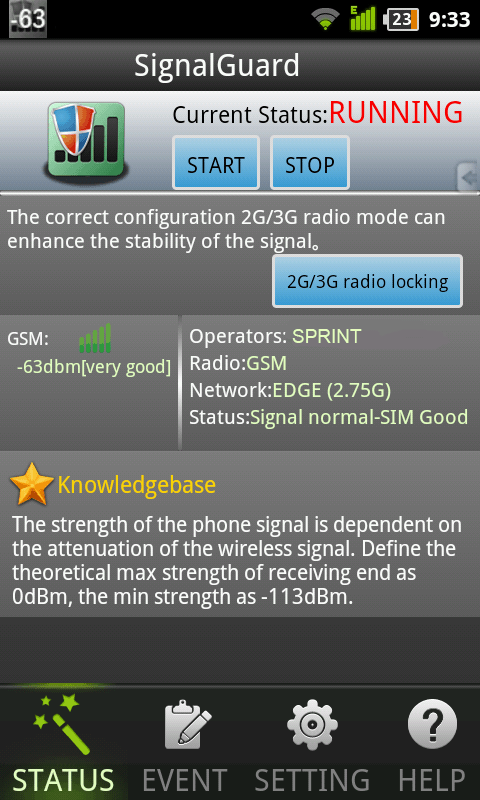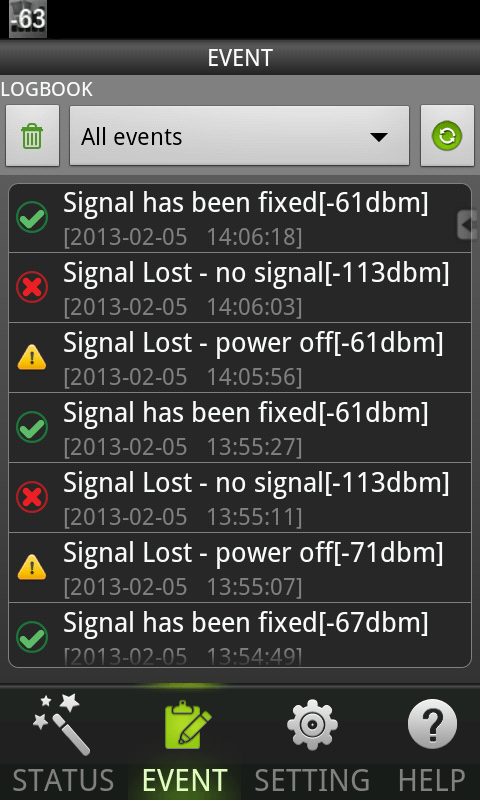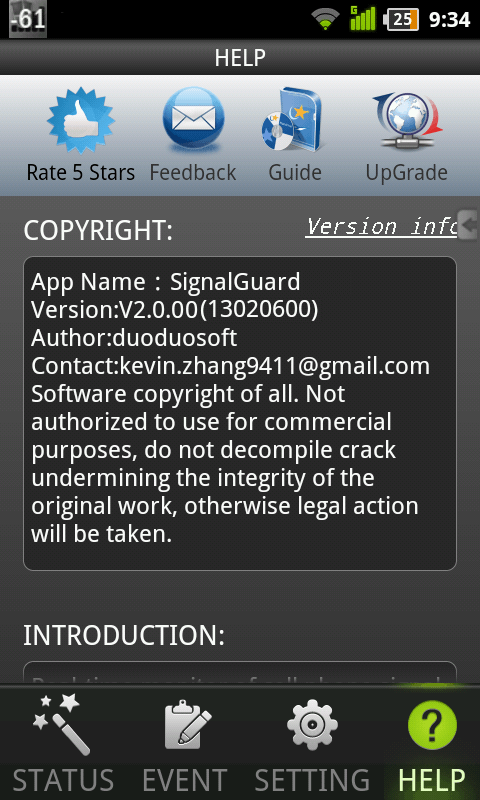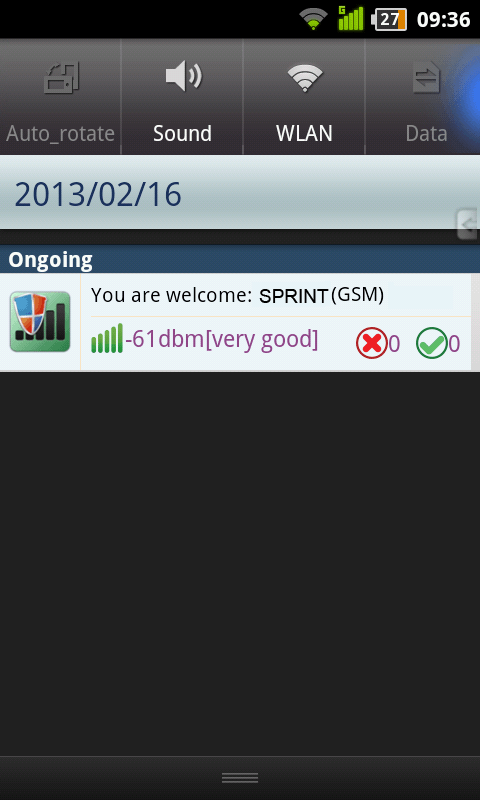 [download market] google play
[app name] Signal Guard
[app url] http s://play.google.com/store/apps/details?id=com.duoduosoft.signalguard (Pls Remove the space between 'http' and 's')
For questions and suggestions, please contact me through the Reply or by Gmail(kevin.zhang9411@gamil.com). Thanks for your support