Oct 3, 2018, 12:07:28 AM via Website
Oct 3, 2018 12:07:28 AM via Website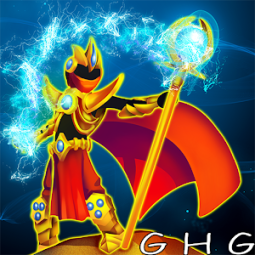 The Stickman Wizard is a unique arcade game in which you will have to fight for a magician against a large number of opponents.
Everybody dreams of carrying a magic staff, and now it is possible to find it from the stickman, and now he will use his strength and capabilities to fight with enemy soldiers.
Now you can download The Stickman Wizard on Android and go through a new adventure. Stickman became a true master of magic along with a staff.
As it turned out, the staffs are able to create real miracles and shoot magic balls.
Ahead is waiting for you to meet with a huge number of enemy goblins, orcs, archers, swordsmen, spearmakers, as well as magicians and others, ready to go for everything to win.
Each opponent has his own skills and characteristics, some of them can be teleported thus dodging our shots, somebody runs up and explodes thereby undermining us, somebody can tear off his head and throw at us and many others that you learn by playing in The Stickman Wizard.
But our magician has his magic staff with whom he is ready to meet his enemies. Each staff has its own characteristics play a game and find out what.
The staffs can shoot explosive, poisonous, icy, fiery, black holes and many other magic balls.
What would last longer and survive in the game is armor and helmets that will protect you from enemy attacks, as well as you will be helped by skills that can heal and also destroy the enemy and protect our hero.
This game is a wonderful combination of beautiful explosive effects and realistic physics.Features:
✔15 staffs with different characteristics
✔For more than 50 outfits to protect
✔More than 30 skills for attack and defense
✔More than 20 opponents with different characteristics
✔Realistic physics
✔Excellent graphic design
Download: play.google.com/store/apps/details?id=com.GreatHappyGames.TheStickmanWizard