[Update] Galaxy Note 3: leaked pics show an angular prototype Now that the Galaxy S4 has been out for quite some time, tech fans are turning their focus to a highlight to be presented by Samsung at its next big event: the Galaxy Note 3. A new prototype has emerged on the internet which has been simultaneously presented by two sources.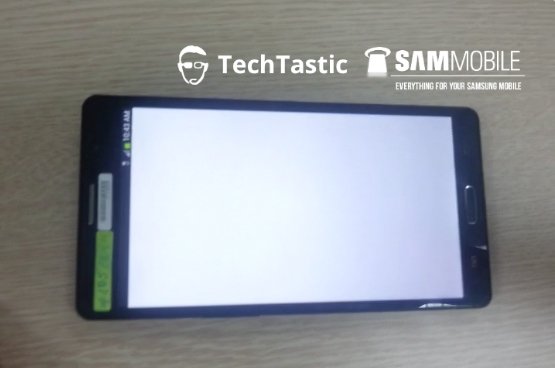 SamMobile and TechTastic as it appears, were able to feast their eyes upon the upcoming Galaxy Note 3...or at least a prototype of it. As shown in the pictures, this device has been decked with a huge display, like we had expected. In terms of its design, Samsung lived up to its reputation and didn't take any innovative steps: the hope of something new in this field had been eradicated just a few weeks back. That being said, the angular look of this device did surprise us.
Both online magazines are quite certain that what you see here is by no means one of the devices from the Galaxy Mega line. They argue this by pointing out the high display resolution, the edges and the thin frame encircling the display. This doesn't sound like a very relevant explanation, especially since the product images of Mega seen so far present a device with a very thin frame as well.
It's interesting to point out that neither of these sources could confirm the existence of an S-Pen function. Without this feature, this device could hardly qualify as a Note model. That being said, there's no clear view of the back-side which means that it's impossible for us to comment on this any further. Another question that comes to mind is whether or not the Note 3 will come with the first fingerprint scanner, on which we've had no recent information. As for some sideline news: Samsung is openly working on a successor to its Galaxy Camera. This is said to come with a breathtaking 20.9 MP.
Here are the technical specifications that we've accumulated from the rumors so far:
Apparently a snapdragon 800 processor with 2.3 GHz and an Adreno 330 GPU or even a Exynos 5 Octa-Core
13 MP back-facing camera, 2 MP front-facing
Android 4.2.2 and TouchWiz
a 5.99'' full HD AMOLED display with a thin frame
3 GB RAM
[Update: Tues. June 6th 2013, 3:35 PM]
The GforGames magazine has just published a picture that is apparently the Note 3 compared to an ancient looking Nokia and some other unknown Samsung device. The supposed Note 3 that appears in the middle looks just like the one presented yesterday from Techtastic and SamMobile. Could this really be the upcoming stylus-packing model from Samsung? (GforGames via Phone Arena)