Android Lollipop was said to significantly increase battery life. This was observable on some devices, but in many cases, battery life was even worse than on KitKat following the update. With Android Marshmallow, Google seeks to improve battery life further with its new Doze feature. I've been monitoring the Nexus 5's battery life since it was upgraded to Android 6.0 earlier this week to see whether it really makes a big difference to standby time.
Which type of driving games do you prefer?
Choose Adventure game or Arcade game.
Oops! Seems like something went wrong. Reloading might help.

Oops! Seems like something went wrong. Reloading might help.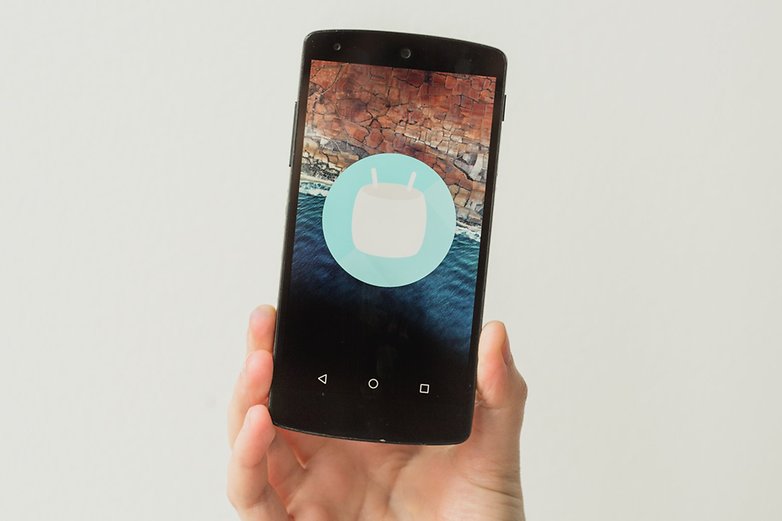 Lowest price: Google Nexus 5
Best price
What is Doze?
Doze is a power-saving feature primarily concerned with reducing processing and network activities while a device is not in use. It works in conjunction with another Marshmallow feature known as App Standby to limit the synchronization of apps in the background.
Theoretically, Android Marshmallow should be more capable of identifying when the device is in use, and needs to refresh or update data in order to benefit the user, and when it's not.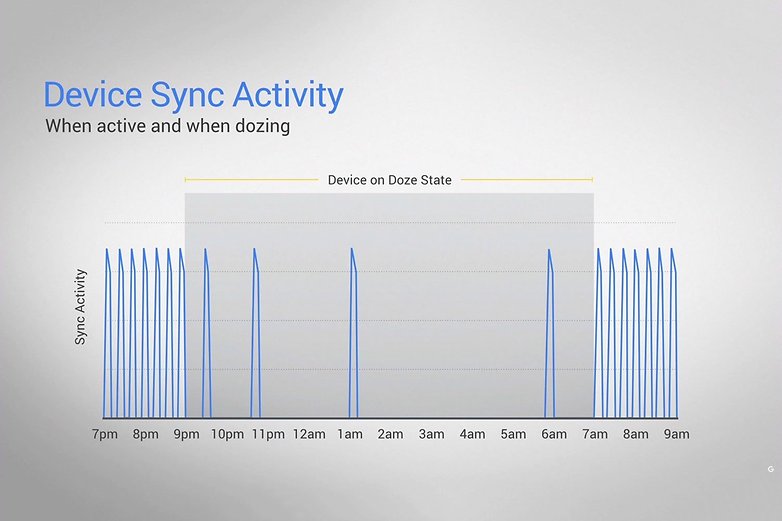 Does Doze work?
The Nexus 5 strikes me as a good litmus test for the success of Doze because of its much-maligned battery life. This particular Nexus 5 is the one we got our hands on two years ago, so it's safe to say it's received some heavy use in its time.
At the start of this test, I charged the device to full capacity. I had the screen on for about 20 minutes, but left the phone in standby for most of the rest of the test. The Wi-Fi remained on, and the device was not in airplane mode. The point is to monitor how successful the phone now is at holding the charge in the background. And, well, it's good.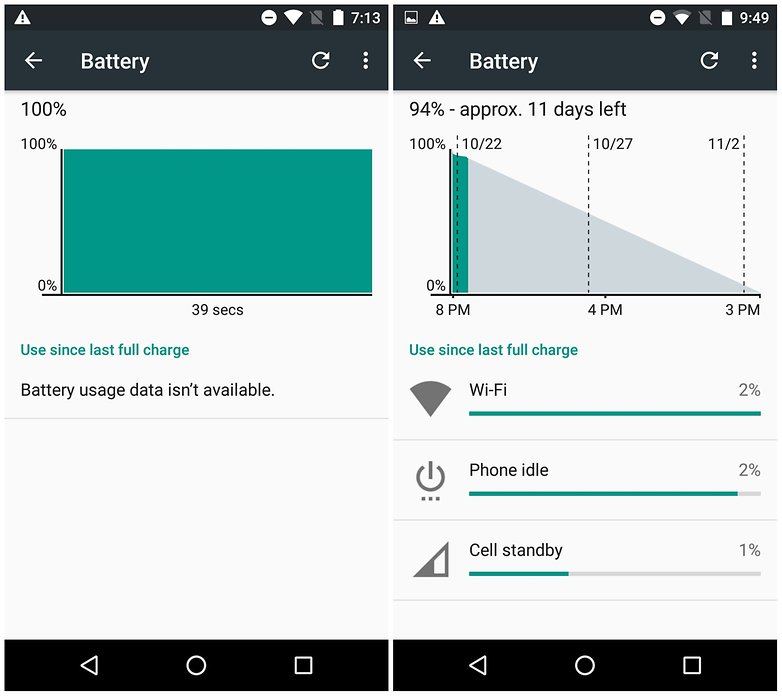 After about 14 hours, the Nexus 5 battery had dropped by around six percent.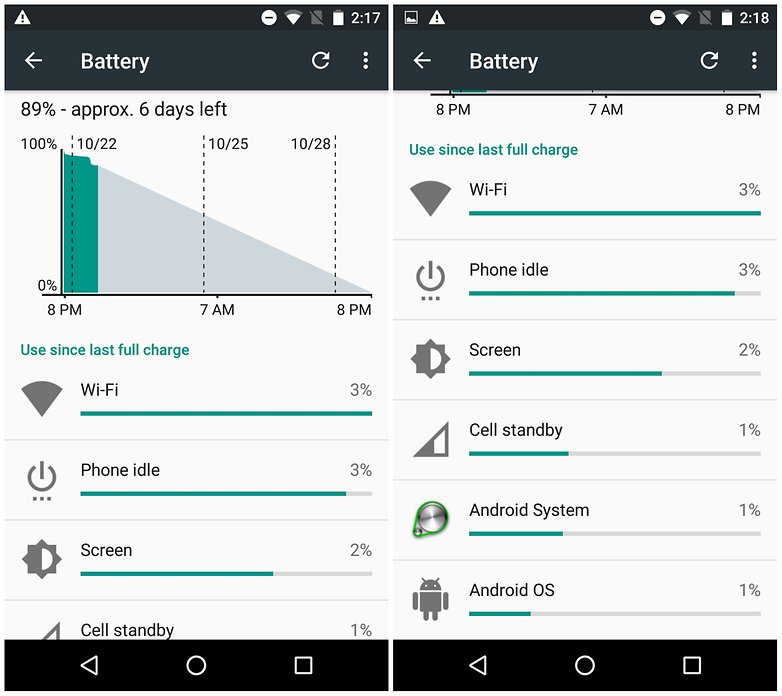 In the next 4.5 hours, I used the screen for a further 10 minutes, and the battery life fell by a further five percent. So the display being on for around 10 minutes uses almost as much power as the phone being in standby for 14 hours. Not bad.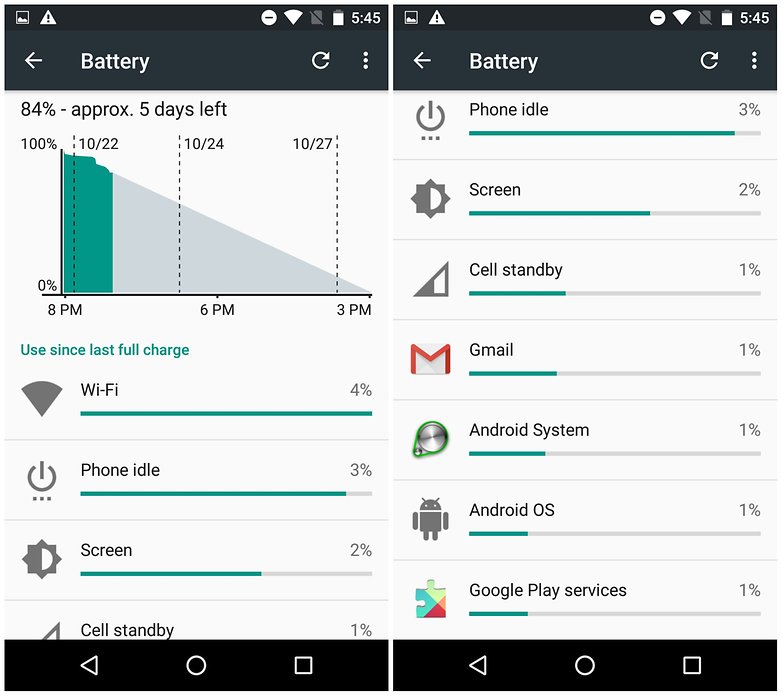 By 6 PM on the second day, the battery life was hovering at around 84 percent. The usual suspects, such as Gmail and Google Play Services, crept into the list of apps that had been using the battery.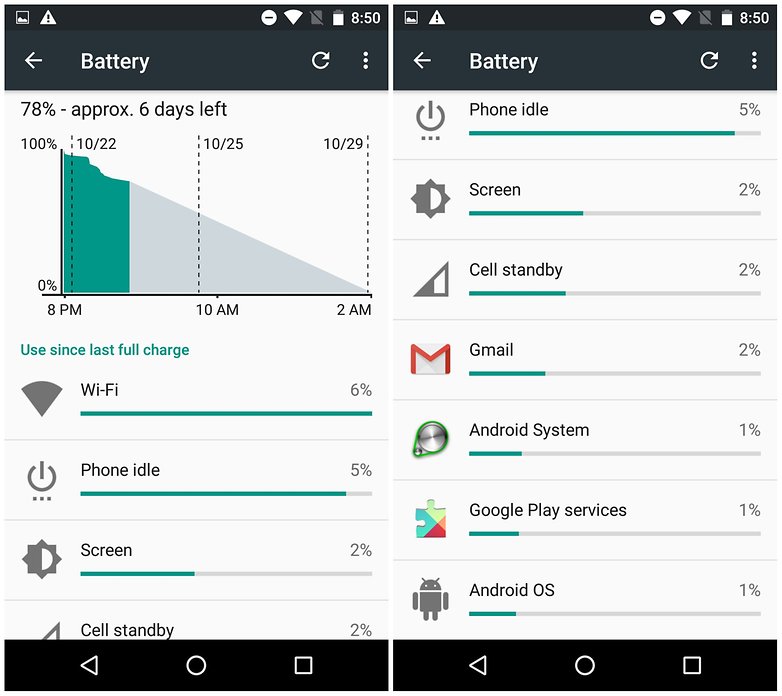 On the following morning, 15 hours later, the device was at 78 percent battery. This tells us that the Nexus 5 uses about 6 percent of its battery life during 14 hours in standby. In these circumstances, the Nexus 5 on Marshmallow could last for more than a week on standby, without problem.
This is quite remarkable for a device that is two years old. The battery level could drop by about 15 percent in the same time on Lollipop.
We will put the Nexus 5 through some battery benchmarks to update our review in the light of its upgrade to Marshmallow, but it's already clear that Doze improves its standby time. We'll also be testing how other devices fare with Marshmallow installed once updates begin rolling out.
Have you updated to Marshmallow yet? How has the battery life of your device been affected? Let us know in the comments.