How to show the Wi-Fi password on Android
So you want to see the Wi-Fi network password through your mobile phone? The original settings on Android don't actually allow this, but if you root your Android smartphone, you can find the Wi-Fi password. We'll show you how to do just that.
Perhaps you just simply want see the password to your Wi-Fi network on your phone without having to dig out the router and read the password off the box? Or perhaps the Wi-Fi password isn't written anywhere else and this is your last resort? Whatever your reason, don't worry: with root access, you can access the unencrypted conf- file that contains the Wi-Fi codes.
Jump to:
Top tip: If you have a router in your apartment, you can also give guests access to the Wi-Fi network without a code: press the WPS Push button on the router and activate WPS Push on the Android smartphone so that the connection is established without Wi-Fi password. A word of caution though, this feature doesn't work with iPhones.
Step 1: root your phone
The file with the Wi-Fi access code is located in an area of ​​the file system that is only accessible with a rooted Android device. You will find out how to root your smartphone in the following article:
Step 2: explore the root directory
Find a file manager that displays root content. For this example, we used Amaze. The preinstalled CyanogenMod file explorer couldn't open the conf- file as a text file and was thus unsuitable.
First, you must authorize the file explorer to open the root directory. The option is at the bottom of the app settings. Next, go into the directory tree following the path: data > misc > wifi. In this folder, find the file named wpa_supplicant.conf. This file contains all the networks in the plain text. The Wi-Fi passwords are also displayed here.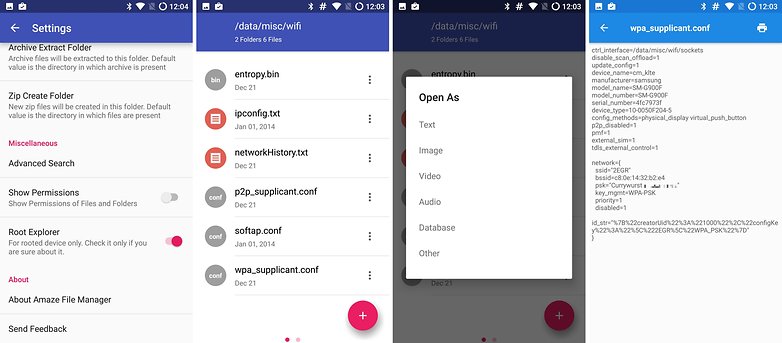 Alternative: see your Wi-Fi password through an app
The Wi-Fi Key Recovery app can display your stored wireless passwords, assuming it's given root privileges. This makes it superior to normal Wi-Fi management, which you can see in the screenshots below.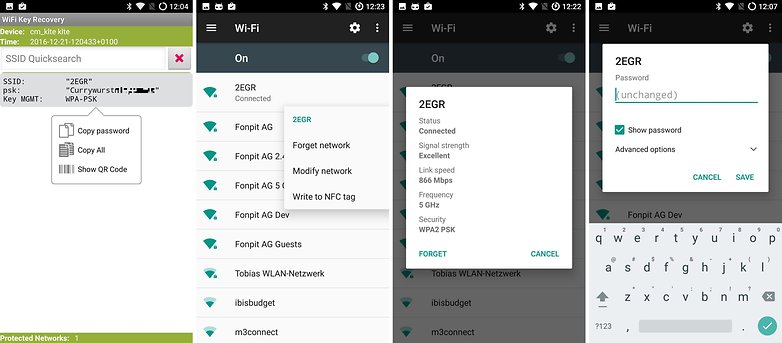 Have you rooted your phone to remind yourself of your passwords? Or do you use another method?