Lenovo Moto G4 Play review: a simple smartphone with good battery life
The Moto G4 Play is the newest member of the G4 family. This device Lenovo's attempt at offering a no-frills, inexpensive smartphone. If you're looking for a simple phone at a cheap price, this could be the one. But, can it really meet the needs of the average user? Find out in our final review of the Moto G4 Play.
Have you ever heard of PETYA?
Choose "I don't think so." or "Yes, I think so.".
Oops! Seems like something went wrong. Reloading might help.

Oops! Seems like something went wrong. Reloading might help.
Good
✓

Removable battery

✓

Splash-resistant

✓

Good battery life

✓

Dual SIM
Bad
✕

Poor speaker

✕

No fingerprint reader

✕

Long charging time
Moto G4 Play release date and price
The Moto G4 Play was released in the US on September 15, 2016. It is available from Motorola, unlocked, for $129.99. The normal version is available at the same price through Amazon, though Amazon also offers an unpleasant $100 version which displays ads on the screen. There is only one model of the phone, which has just 16 GB of internal memory and 2 GB RAM. If you don't mind spending a little extra, you can always expand the memory with a microSD card up to 256 GB. The phone is universally compatible with all major US networks (Verizon, Sprint, AT&T, T-Mobile, etc.). Simply insert your SIM card into one of the two slots on the phone.
Moto G4 Play design and build quality
The design of the Moto G4 Play isn't very striking. As the most inexpensive of the phones in the G4 line (which includes the Moto G4 and G4 Plus), it doesn't have a metal unibody. Instead, the back panel of the phone is plastic wrapped in a metallic-looking plastic frame. The faux metal makes the phone look a bit more sleek, but it will be more susceptible to cosmetic damage when dropped. It's not all bad though. One of the best parts of the phone's design is that the battery is removable. This is a huge plus for many users.
One of the best parts of the phone's design is that the battery is removable.
The Moto G4 Play is the most lightweight and compact among the G4 line smartphones, weighing in at only 137 g and with dimensions of 144.4 x 72 x 9.9 mm. It is easy to use one-handed. The power button and the up/down volume button below it are on the right side of the phone. The power button is textured, so it is easy to distinguish.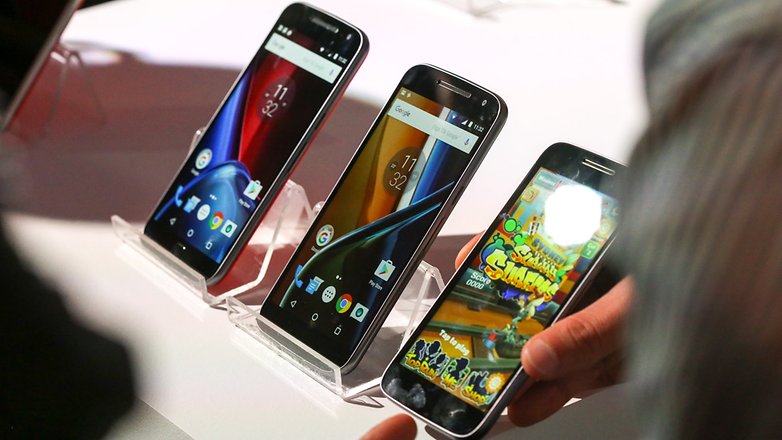 The 5 inch display is half an inch smaller than the Moto G4. There's a lot of empty space on the front of the phone, particularly at the top and bottom. On the front of the device, you'll find the phone's only speaker, the microphone, a 5 MP camera and the navigation buttons. What you won't find is a fingerprint reader, disappointingly.
The Moto G4 Play is the most lightweight and compact among the G4 line smartphones.
The back of the phone pops off really easily, so you can add a SIM card, microSD card and remove the battery quickly. There's a little gap on the bottom next to the charging port that allows you to stick your fingernail under the back panel to pop it off. The back panel is home to a microphone, an 8 MP camera and the LED flash. The headphone jack is located on the top of the phone.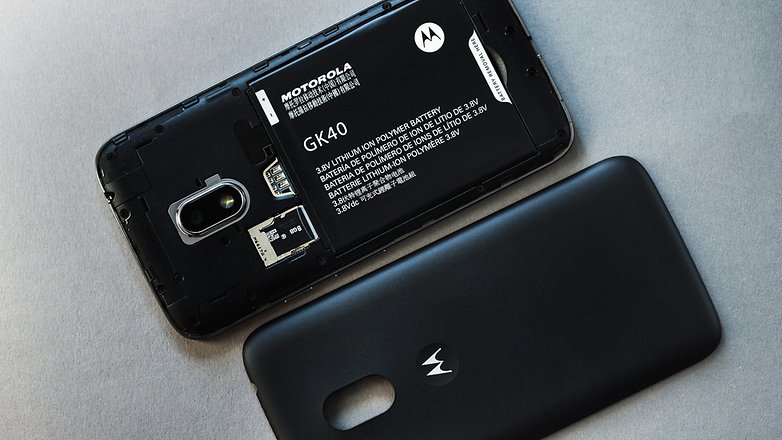 Another feature we can't overlook is that the phone is splash-resistant. The phone has a nano-coating that repels water, so you can spill, splash, and play in the rain as much as you like. During our test, the phone was dropped from a table with no damage. In the box, you'll find a manual and the charger. What you won't find are any headphones, not even a cheap pair.
Overall, the Moto G4 Play is ergonomic and fairly well put-together for a plastic phone. To make up for the lack of fingerprint reader, the phone is splash-resistant and has a removable battery. Not a bad trade-off.
Moto G4 Play display
The 5 inch Moto G4 Play is small enough to use one-handed. Its IPS LCD screen has a 1280 x 720 resolution display with 294 ppi. The resolution is fine for this price range, but it is possible to find other phones in this price range with higher resolution.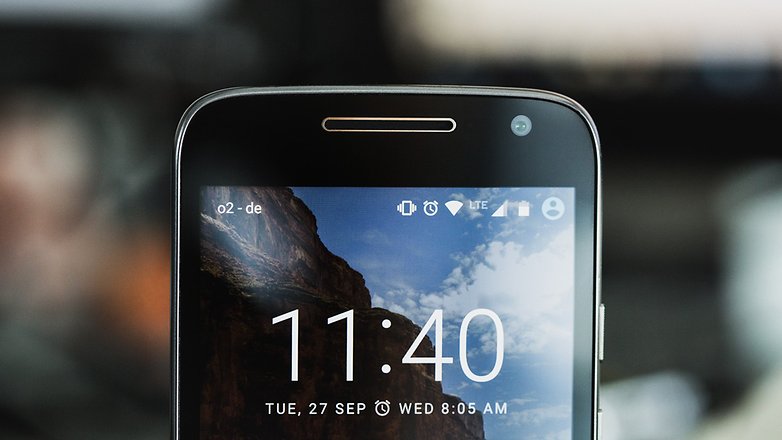 The HD display is bright enough to be readable under direct sunlight if you turn the brightness up all the way. If you want truly vivid colors, you can go to Settings > Display > Color mode and choose Vibrant over Standard. This is a bit too much saturation in my opinion, and I would prefer something in between the two color modes. To protect from scratches, the screen is made with Gorilla Glass 3.
The screen will be perfectly satisfactory to the average user, but those who care about having the best quality display for videos and games should look at purchasing another phone.
Moto G4 Play software
The Moto G4 Play comes out of the box with Android 6.0.1 Marshmallow, and feels very much like stock Android. We don't yet know exactly when it will happen, but the Moto G4, Moto G4 Plus and the Moto G4 Play are next in line to get the Nougat update.
The software is basic, no frills and not too many pre-installed apps or special features. But the phone works as it should, without too many delays or crashes. Even the camera app opens quickly.
The phone comes with Android Marshmallow and very little bloatware.
Once you put your existing SIM card in the phone, transferring your apps and data is a breeze. If you hold your finger down on the home screen, you will find you have several customization options for wallpaper, widgets, and other settings. Getting "settled in" with the phone is really intuitive, and only takes a few steps.
Moto G4 Play performance
The Snapdragon 410 quad-core processor supported by an Adreno 306 GPU along with 2 GB of RAM makes the phone run smoothly for daily use. You can have about three apps running without experiencing a slow down, but with any more than that you'll start to notice the difference. You can't expect much more from a low-end device.
In spite of that, we tried out a few games (Real Racing 3 and Hill Climb Racing), which didn't crash or overheat the phone. Long playing sessions might result in some slow downs though. Just calling, messaging, watching videos on YouTube and scrolling on Facebook doesn't over-exert the phone. If you're used to a high-end phone, you'll notice the difference, especially when launching Chrome.
If you want to learn more about processors, check out our processor comparison article.
| | | | | | | | | |
| --- | --- | --- | --- | --- | --- | --- | --- | --- |
| Device | 3D MARK SS ES 3.0 | 3D MARK SS ES 3.1 | 3D MARK ICE SU ES 2.0 | GEEKBENCH 3 - SINGLE CORE | GEEKBENCH 3 - MULTICORE | PC MARK WORK PERFORMANCE | PC MARK STORAGE | GOOGLE OCTANE 2.0 |
| Moto G4 Play | - | 53 | 4356 | 511 | 1298 | 4084 | 3968 | 1415 |
Moto G4 Play audio
The Moto G4 Play was not designed to give an impressive audio experience. There is only one speaker, which works during calls, but is very quiet and distorted. If you listen to a lot of music on your phone without using headphones, you will not be pleased with the quality of the Moto G4 Play's mono speaker. During calls, the microphone distorted my voice a bit, but the person on the other end could still understand what I was saying. The phone does have an FM receiver, but that's not a big plus in the age of digital music streaming services.
The audio quality is a weak point of this device, but it's just one of many things Lenovo compromised on when designing such a low cost phone.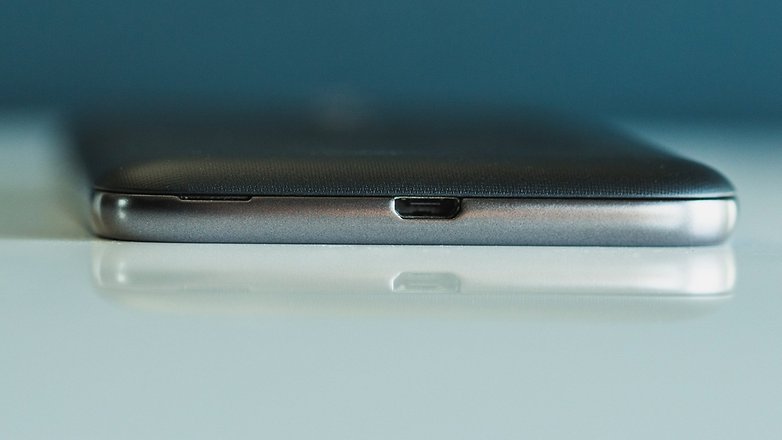 Moto G4 Play camera
The main camera had 8 MP, and LED flash, and an f/2.2 aperture. On the front, there's a decent 5 MP camera for selfies. The camera app is basic. You can choose from Photo, Video, and Panorama modes, plus an HDR setting. When taking a photo, tap an object to bring it into focus, and adjust the brightness by dragging the sun icon up or down.
With good lighting, the quality might surprise you.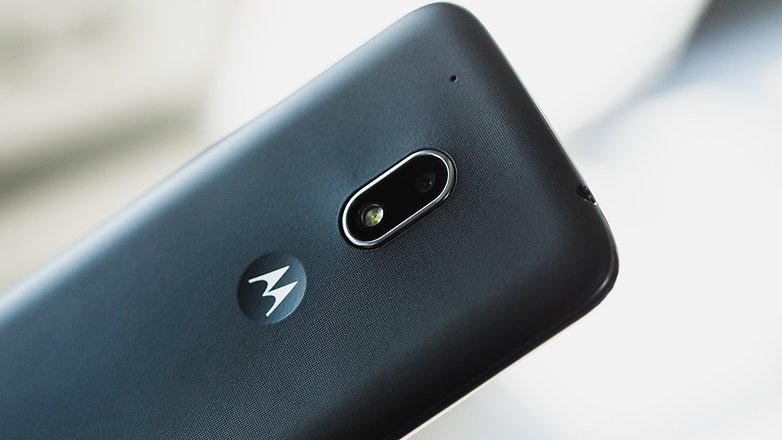 The rear camera isn't fantastic. With good lighting, the quality might surprise you. Skin tones tend to be true-to-life with the selfie camera, which is nice. Otherwise, photos are blurry and full of noise. For this price, you can't expect much more.
Check out all the photos we took with the Moto G4 Play here:
Moto G4 Play battery
The Moto G4 Play has a 2,800 mAh battery to power its Snapdragon processor and HD display. I could get through a whole day of normal use without having to recharge. I used it for calls, texting, email, a few games of Real Racing 3, some YouTube videos and social media without any worries.
The battery is long-lasting. Unfortunately, it takes a long time to charge. I once plugged it in at 2:30pm with 24% battery left, and by 6:20pm it was only at 92%.
Moto G4 Play technical specifications
| | |
| --- | --- |
| Dimensions: | 144.4 x 72 x 9.9 mm |
| Weight: | 137 g |
| Battery size: | 2800 mAh |
| Screen size: | 5 in |
| Display technology: | LCD |
| Screen: | 1280 x 720 pixels (294 ppi) |
| Front camera: | 5 megapixels |
| Rear camera: | 8 megapixels |
| Android version: | 6.0.1 - Marshmallow |
| RAM: | 2 GB |
| Internal storage: | 16 GB |
| Removable storage: | microSD |
| Chipset: | Qualcomm Snapdragon 410 |
| Number of cores: | 4 |
| Max. clock speed: | 1.2 GHz |
| Connectivity: | HSPA, LTE, Dual-SIM , Bluetooth 4.1 |
Final verdict
The Moto G4 Play was designed to be a simple, cheap phone. If you want something inexpensive for normal daily use, it gets the job done. It's splash-resistant, with a long-lasting removable battery, and it's dual SIM. But it also has its drawbacks, like the mono speaker and the lack of fingerprint reader.
The key to evaluating the value of the phone, however, is the price. The Moto G4 only costs $50 more ($129.99), and you get a faster Snapdragon 617 processor, half an inch bigger and better resolution display and a 13 MP rear camera. If you only replace your phone every two years, you should lay down the extra $50. By the time year two rolls around, you won't regret having the better hardware.
What do you think of the Moto G4 Play? Do you think there are better phones at this price point?