Nokia 8 Review: An interesting flagship with room for improvement
After presenting the Nokia 3 , Nokia 5 and Nokia 6 and the Nokia 3310, HMD Global presents the Nokia 8. With a high-end configuration, pure Android and cooperation with Zeiss for the camera, the Finnish manufacturer intends to outshine Samsung, LG and more. But is this really the case? Find out in our in-depth review of Nokia's first flagship.
Have you ever heard of PETYA?
Choose "I don't think so." or "Yes, I think so.".
Oops! Seems like something went wrong. Reloading might help.

Oops! Seems like something went wrong. Reloading might help.
Good
✓

Very good battery

✓

Overall performance

✓

Dual video/livestream

✓

Stock Android
Bad
✕

Poor camera

✕

Outdated design

✕

No LED notification
Nokia 8 release date and price
What HMD Global has accomplished is impressive. It has brought the Nokia 3310 to the market, as well as three Android smartphones since July 2017. The Nokia 8 is the Finnish manufacturers first high-end smartphone, aiming to rub shoulders with the market leaders: Samsung's Galaxy S8, LG G6 or OnePlus 5.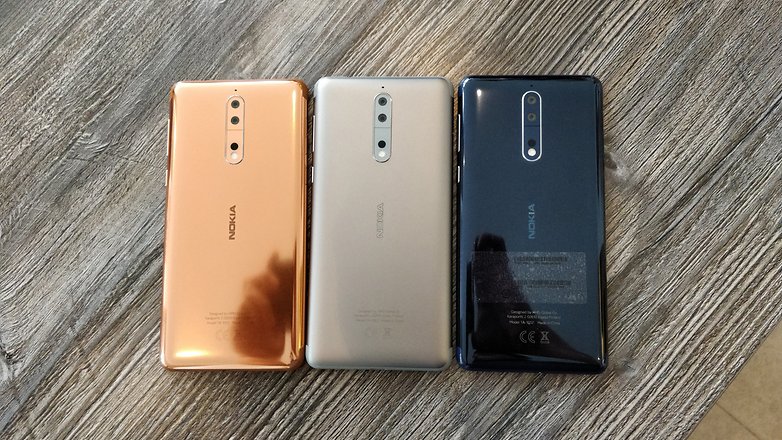 Available since September 8, 2017, you can buy the Nokia 8 in copper, gray and blue with a single or dual slot for the nano SIM card. Price wise, the Nokia 8 is around $600.
Nokia 8 design and build quality
The Nokia 8 looks pretty cool, but it lacks the charm of the Galaxy S8 or LG G6. Despite this, upon handling the phone you can see the workmanship invested in this, even if it doesn't quite compare to the competition.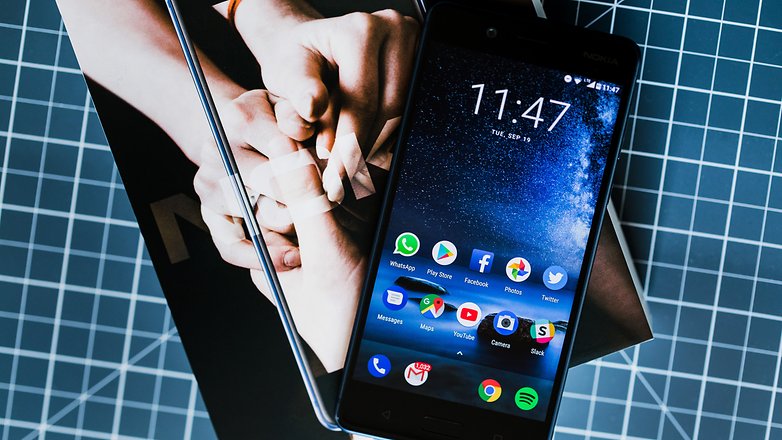 The case is aluminum, and it sits well in your hand with slightly rounded corners. The Gorilla Glass 5 layer also has rounded corners, and the space between that and the screen is barely noticeable. Sebastien Ulrich, General Manager of HMD Global, assured me that although it is made of 6000 series aluminum, it's not easy to bend, unlike the iPhone 6 which showed signs of weakness shortly after it's launch. Apple has opted for aluminum 7000 series for the iPhone 6s and iPhone 7 because it has zinc, guaranteeing more strength. According to HMD Global, the engineering of the unibody requires 22 hours of work.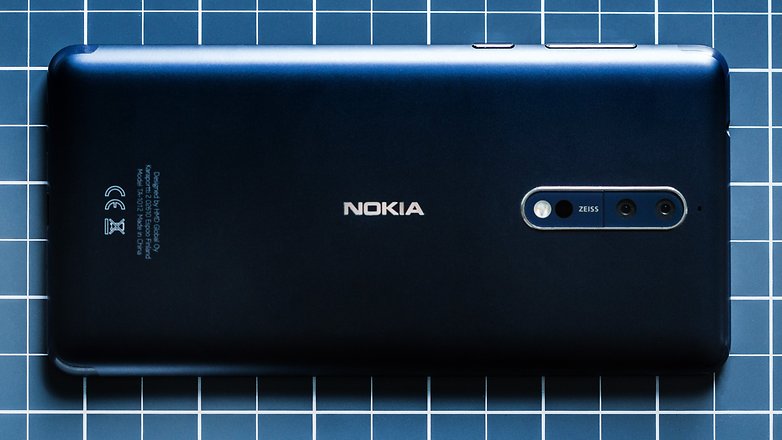 On the front of the phone, you'll find a fingerprint sensor that also acts as the home button. On either side of the phone are two buttons for navigation (return and multitasking). I must admit I was a little disappointed about the responsiveness of those two buttons, and also about the lack of LED notification. If you're used to this feature, it may take some time to get used to not having it anymore.
On the back of the Nokia 8 is the logo, and above is the camera, which is a product of their cooperation with Zeiss, which became official on July, 6th 2017. The director of HMD Global assured me that the camera and the software algorithms were a result of both of their efforts.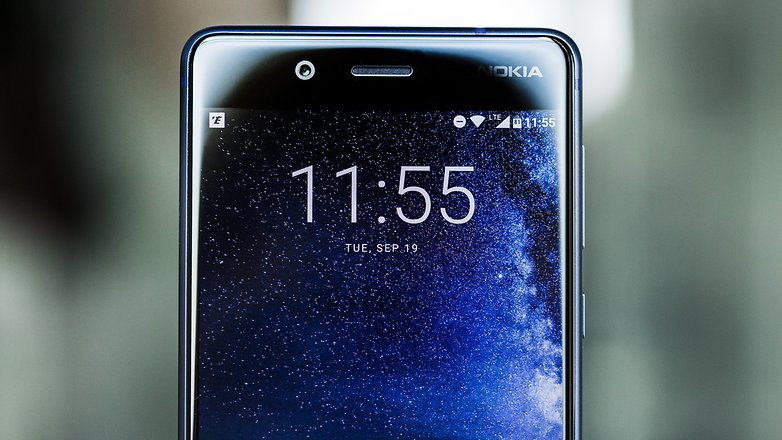 Overall the finish of the Nokia 8 is quite impressive, however, both the matte and the polished version tend to become dirty with fingerprints. But this a common problem amongst most smartphones. In terms of design, the Nokia 8 doesn't make me shout "I must buy it!" but the handling of it is great thanks to its compact size. Another element that may be missed by some is the IP54 certification that protects the device from water splashes, or the IP67 or IP68 that would allow it to be completely submerged in water, like with the Galaxy S8 or the LG G6.
Nokia 8 display
For its first high-end smartphone, HMD opted for a 5.3-inch IPS display and uses a QHD resolution of 1440 x 2560 pixels. We do not have an 18:9 format or curved edges. The maximum brightness of the screen is 700 nits. To compare, the screen (IPS) LG G6 reaches "only" 600 nits, the screen (AMOLED) Galaxy S8 reaches 1000 nits.
This screen has an Always On feature. Like LG's smartphone, part of the screen switches on when a notification is received, with visible information. If you do not need this feature, you can simply disable it in the options.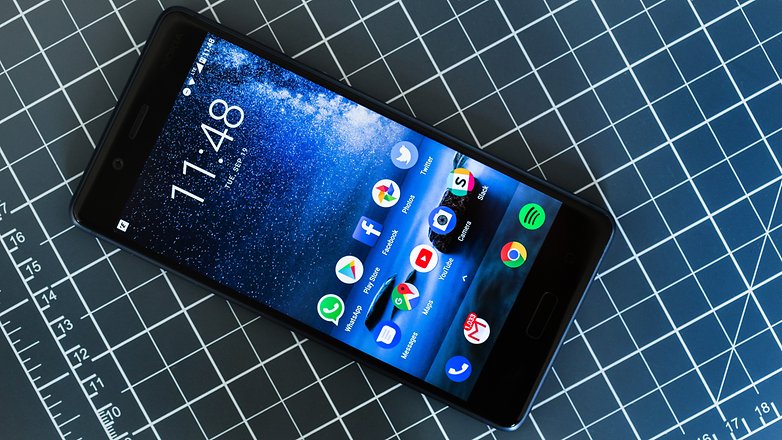 The screen has a very good contrast, balanced colors and excellent brightness, even in sunny outdoor conditions. The QHD definition is also great, and you can make use of virtual reality if you have a compatible headset.
Nokia 8 software
As we've seen in other models, Nokia smartphones use Stock Android. The one we tested uses Android 7.1.1, with the most recent security patch. We noticed that although there were only Google applications on the phone, 15 GB of the 64 GB memory was already used. If you are a regular user of Stock Android, you'll really appreciate the Nokia 8 experience.
From the main screen, if you scan your finger to the right, and Google maps appears. The process is perfectly fluid and applications open quickly. The smartphone also functions well when multitasking, and does not show any signs of overheating even under heavy use.
Android Oreo will arrive quickly on the Nokia 8
However, during my test I observed some bugs, that I was surprise by considering this is meant to be a flagship. I have seen some unexpected application closures (Facebook and camera) that I would probably attribute to the fact that this is a pre-production model. The last update received in mid-September appears to have partially addressed these issues.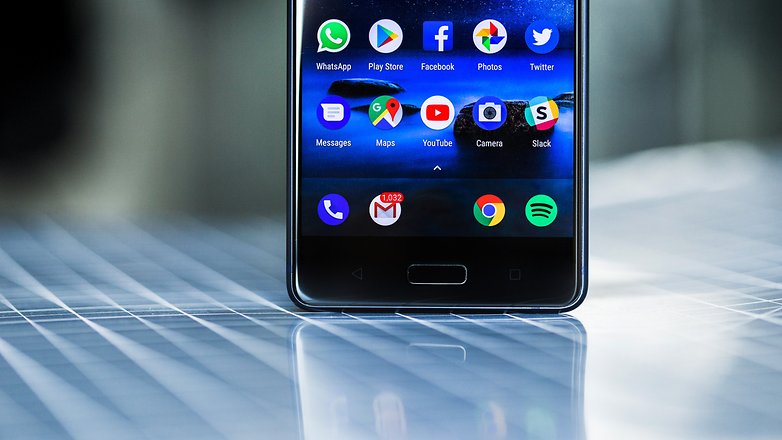 If you buy the Nokia 8 or another device from HMD, you will have security updates for at least 2 years, and these can be deployed quickly thanks to Stock Android. Sebastian Ulrich mentioned in autumn 2017 that Android Oreo would arrive quickly on these devices. A beta is already available, which supports this statement.
Nokia 8 performance
To be considered a high-end smartphone, there are certain features that we automatically expect. With its Snapdragon 835, 4 GB of RAM and 64 GB of internal memory (UFS 2.1), we have a smartphone that I would say is on par with the Galaxy S8, for example. If 64 GB is not enough, you can increase the size up to 256 GB with a microSD card.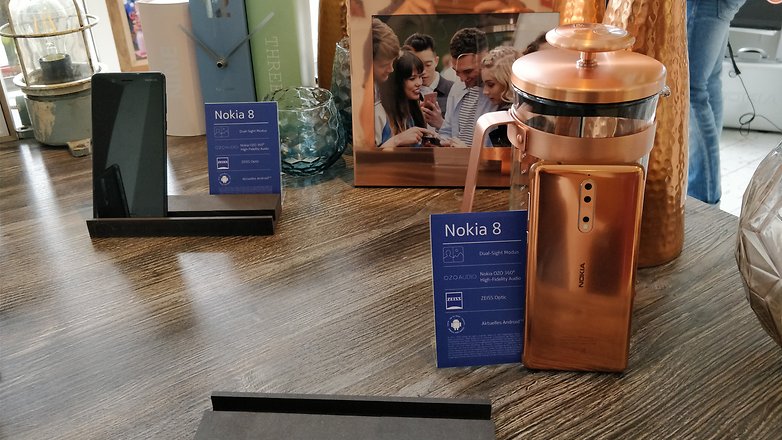 I felt as though the Nokia 8 was reliable, and I enjoyed using it from day-to-day. The smartphone perfectly supports all uses (including games like Need for Speed No Limits) for everyday (chat, internet use). It's also worth mentioning that the Nokia 8 is not compatible with Daydream.
In our table below, you can see how the Nokia 8 contends with the smartphones we have tested so far. Not surprisingly, due to its configuration, it is one of the best.
Nokia 8 benchmark comparison
| | Nokia 8 | Samsung Galaxy S8 + | HTC U11 | Xperia XZ Premium |
| --- | --- | --- | --- | --- |
| 3DMark SlingShot ES 3.1 | 3496 | 3.132 | 3599 | 3.245 |
| 3DMark SlingShot ES 3.0 | 4580 | 3336 | 4.129 | 3697 |
| 3DMark Ice Storm Unlimited | 40584 | 28742 | 40034 | 40286 |
| Geekbench Single Core | 1930 | 2014 | 1905 | 1898 |
| Geekbench Multi Core | 6540 | 6479 | 6454 | 6294 |
| PCMark Work Performance | 6902 | 5094 | 6787 | 6338 |
| PCMark Storage | 4823 | 4772 | - | 4989 |
| Google Octane 2.0 | 11086 | 10,440 | 11928 | 11.086 |
Nokia 8 audio
As we've seen previously, the sound of the Nokia 6 is unfortunately not up to scratch. Fortunately, with its single speaker, the Nokia 8 is an improvement, however, it's didn't impressive me, and you will find that there is some horrible distortion at high volumes.
As for the audio output, those of you who care about good sound and own high-end headphones will be satisfied with this. You may as well throw away the headphones that come in the box. Regarding normal calling, the Nokia 8 scores pretty well, and the network coverage is good (even in the subway).
Nokia 8 camera
Like Huawei / Honor, there is a dual camera consisting of a RGB sensor and a monochrome sensor. Both offer a maximum definition of 13 megapixels. At the front, above the screen, there is also a 13 MP RGB sensor. To create the camera, Nokia has renewed its partnership with Zeiss, the German manufacturer of high-end photo lenses.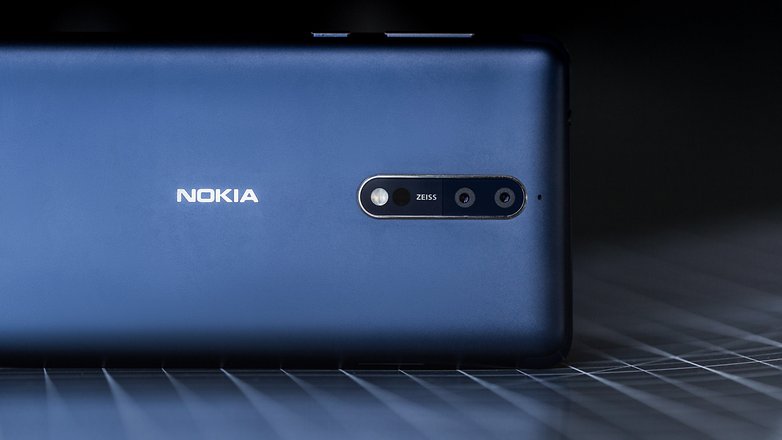 Nevertheless, the reality is far from the promises of the brand and the quality of the shots is quite disappointing for a smartphone that wants to compete with the best in the market. Even in excellent light conditions, the photos lack sharpness, precision and contrast. Fortunately, the color is accurate, so it is not quite a disaster. The overall result is still far from the level of its competitors.
As a video enthusiast, I appreciate the quality when changing from one camera to another: thanks to the use of the same sensor at the front and back, you can enjoy the same level of quality during video recording. HMD Global speaks to influencers and offers them a new feature to tell their stories on video.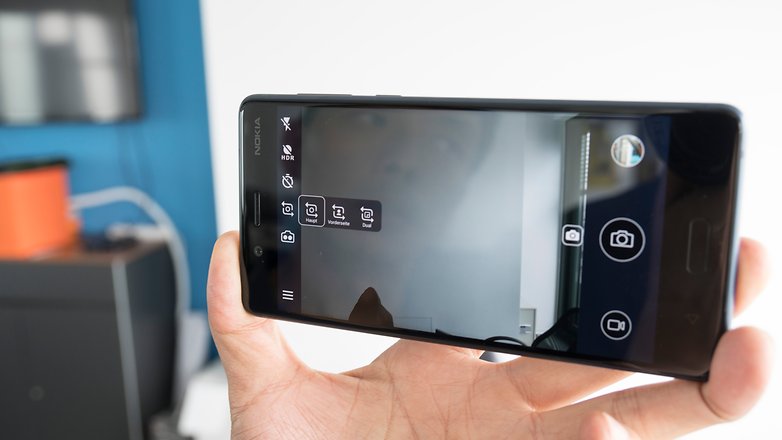 What is Bothie? This is an image feature where you can take a photo or video with the front or back camera simultaneously: a useful feature for Facebook live or Youtube. This would allow you to conduct interviews with the Nokia 8.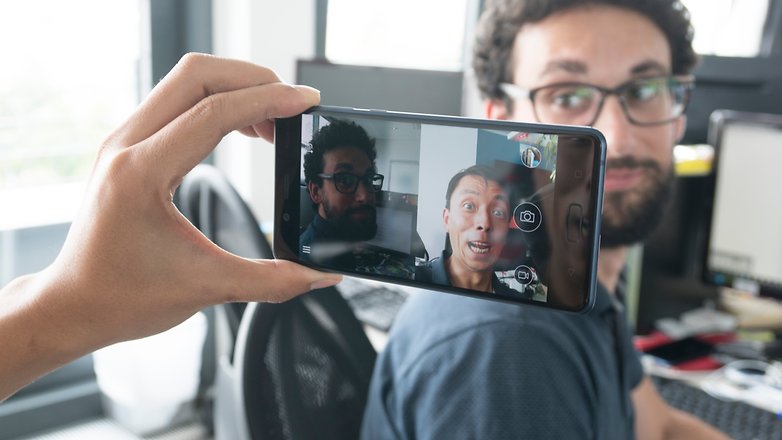 A good video must have a good sound quality. Thus, the manufacturer uses OZO audio camera technology, which gives this 360 camera not only an excellent photo quality but also 3D sound. In practical terms, this means that the 3 microphones of the Nokia 8 can be configured in a way that turns it into a directional microphone. In the application, we find 3 configurations: Surround where all the microphones are used, then front and back in which it is possible to configure the microphones. In practice, it works well and the videos produced by the Nokia 8 are of better quality than the photos.
Nokia 8 battery
The Nokia 8 battery has a capacity of 3090 mAh. The Nokia 8 is among the best for battery life. Even with heavy use of the phone, sending regular messages via WhatsApp, emails, calling and playing videos and games, you can expect the battery to last a long time.
If you use your phone less than I do,you will even exceed the day and a half of battery life. In our PCMark benchmark test, the Nokia 8 has lasted for almost 11 hours, more than the Galaxy S8 or the HTC U11.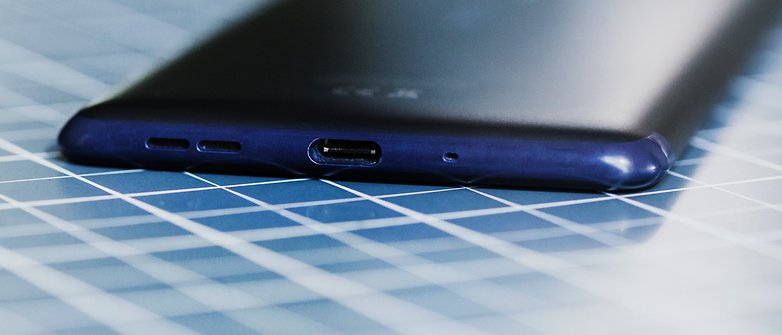 Quick Charge 3.0 allows for fairly fast charging, around 50% in around 30 minutes, but it is unfortunately not possible to recharge the wireless device because of the aluminum case.
Nokia 8 technical specifications
| | |
| --- | --- |
| Dimensions: | 151.5 x 73.7 x 7.9 mm |
| Weight: | 160 g |
| Battery size: | 3090 mAh |
| Screen size: | 5.3 in |
| Display technology: | LCD |
| Screen: | 2560 x 1440 pixels (554 ppi) |
| Front camera: | 13 megapixels |
| Rear camera: | 13 megapixels |
| Flashlight: | Dual-LED |
| Android version: | 7.1.1 - Nougat |
| User interface: | Stock Android |
| RAM: | 4 GB |
| Internal storage: | 64 GB |
| Removable storage: | microSD |
| Chipset: | Qualcomm Snapdragon 835 |
| Number of cores: | 8 |
| Max. clock speed: | 2.45 GHz |
| Connectivity: | HSPA, LTE, NFC, Dual-SIM , Bluetooth 5.0 |
Final verdict
Overall, I enjoyed using the Nokia 8 and it is an interesting first flagship for the return of the Finnish brand. Admittedly, the design does not have the wow factor, compared to the Samsung Galaxy S8 with its infinity screen, however, I can see the appeal of this phone and know that many people would be happy with it. My favorite element has to be the Bothie video feature, as well as the battery life and the quick updates.
However, the Nokia 8 is a smartphone leaves a lot to be desired. In addition to the lack of IP68 certification, its biggest drawbacks are the quality of the camera which is clearly not at the level of its competitors, and small software bugs interrupt the overall experience. Updates may solve this problem easily, however its more challenging to improve the quality of the photos. It's price is not necessarily the most attractive, either, especially when you consider the alternatives on the market.