PUBG Mobile gets new modes in latest update
2018 is shaping up to be a really great year for mobile gamers. After the arrival on the Play Store of Final Fantasy XV Pocket Edition and the announcement of Fortnite for mobile, another highly anticipated title has finally been released on Google's store: Player Unknown's Battlegrounds.
One of the most famous games for consoles and PCs, Player Unknown's Battlegrounds (popularly known as PUBG), has finally arrived on Google's Play Store. Time to jump into the fight and win that chicken dinner!
Update: version 0.4.0 of PUBG Mobile adds new features
Tencent Games now is rolling out version 0.4.0 of PUBG Mobile, n roughly 242MB update that brings new modes, a new setting, and some optimizations for the popular battle royale game.
Arcade Mode is a less crowded way to battle
First up is Arcade Mode, which lowers the number of players on the map from 100 to 28. Instead of the regular variety of weapons available in battle royale games, Arcade Mode picks one of six types for players to use for the entire match: shotguns, sniper rifles, all weapons, melee, pistols, and item heaven.
This stripped down mode is meant to attract new players and ease them into PUBG Mobile. A good choice for those who might find the full-fat game mode full of confusing options and too many opponents.
Training Grounds helps newbies git gud
Another helpful mode for beginners included in the update is Training Grounds. While in Training Grounds, you cannot die or take damage. This mode lets you easily try out all of the game's weapons and vehicles. Unless you leave early, you get 30 minutes to play around in Training Grounds and are joined by several other players.
New dusk setting and optimizations
Now you can select to play in 'dusk', a twilight setting that reduces visibility and makes the game a little tougher. The dusk is not available in Training Grounds, however.
Finally, the update includes over 20 optimization tweaks, which should help the game run better on a variety of devices.
To help you get started after downloading the game, we've put together a great list of tips and tricks for it:
And that's it. You are now ready to launch from the plane with your parachute and duke it out with 100 contenders to be the last one left standing.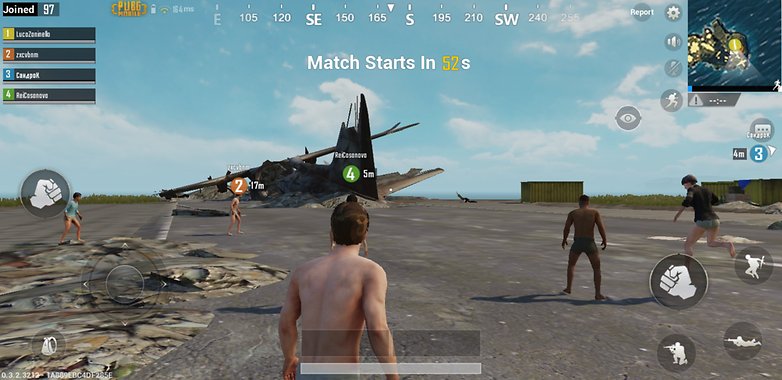 PUBG Mobile

Let us know in the comments if you've been able to try it out, and what you think about the mobile port of this hit game!