PUBG Mobile update: first person, emotes, armory and more
One of the greatest modern games, Player Unknown's Battlegrounds (popularly known as PUBG), arrived on Android earlier this year and has proved a smash hit. Even better, this mobile version of the popular battle royale game is being well-supported, and a bunch of new features have just arrived with the latest update. Time to jump into the fight and win that chicken dinner!
Update: version 0.6.0 of PUBG Mobile adds first person, emotes, new features
The new update is dubbed v0.6.0 and is available on both the Android and iOS platforms. The latest version was recently available to some players as a beta for a few days, but is now official and confirmed by Tencent and PUBG on Twitter:
Welcome to #PUBGMOBILE060! Royale Pass, 1st Person Perspective, Mini-Zone, Weapon Finishes, Airplane Finishes, Armory, Pistol Slots, Tier Protection, Room Cards, and more is now live on both iOS and Android! Parachute in: https://t.co/FA20uki8Wr pic.twitter.com/BnXD79QTIv

— PUBG MOBILE (@PUBGMOBILE) June 19, 2018
What's new in PUBG Mobile 0.60: the highlights
First person view: Immerse yourself in the vision of your avatar and play in first person in the classic view popularized by Doom back in the day.
Arcade Mode - Mini-Zone: 100 players enter a smaller zone with triple weapon spawns. Matches last 20 minutes. Since this is Arcade Mode, it does not impact rank.
Armory: A dedicated menu to see weapon stats and compare them.
Royale Pass: Completing daily and weekly missions gives you points that offer increased access to crates.
Airplane and Weapon Skins: The player with the highest Royale Pass level in a match gets to choose the plane skin. Weapon skins unlock via crates.
Emotes: Clap, taunt and laugh at other players.
New items in the shop, items can also be gifted: show your friends how much you appreciate them.
Asian character models: Finally. Given PUBG's popularity in Asia, I'm surprised it took this long.
Melee weapons can destroy tires: takes me back to my carefree teen years.
Individual teammates can be muted: there's always someone you wish you could shut up
Bug fixes and tweaks: Most significantly among these, you can no longer damage your teammates with a car.
Although the team behind PUBG Mobile announced the update officially, its availability will depend on your region, so if you don't see the update available for your device, just sit tight, you probably just need to wait for the rollout to reach you.
To help you get started after downloading the game, we've put together a great list of tips and tricks for it:
And that's it. You are now ready to launch from the plane with your parachute and duke it out with 100 contenders to be the last one left standing. It's the best battle royale experience on Android, at least until Fortnite arrives to potentially knock PUBG off the top.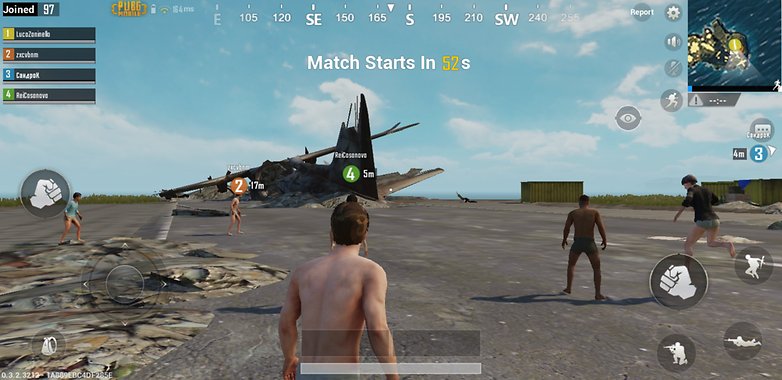 Let us know in the comments if you've been able to try it out, and what you think about the mobile port of this hit game!