Razer Phone review: by gamers, for gamers
The gaming specialists break new ground with the introduction of an Android smartphone specially designed for gamers. Simply named the Razer Phone, the new device is meant to appeal to users who want to enjoy games, videos and music of the highest quality. In our full review you will find out whether Razer was able to convince us with its debut into the smartphone world.
Have you ever heard of PETYA?
Choose "I don't think so." or "Yes, I think so.".
Oops! Seems like something went wrong. Reloading might help.

Oops! Seems like something went wrong. Reloading might help.
Good
✓

Powerful hardware

✓

Very fluid operation

✓

Powerful stereo speakers

✓

Good battery life
Bad
✕

Camera not (yet) convincing

✕

No IP certification

✕

Loudspeaker cover attracts dirt
Razer Phone release date and price
The Razer Phone is available to order from the Razer Online Store. In certain countries, it is also available from the network operator "3". For the time being, Razer's first smartphone is aimed at 10 selected countries in the North American and European markets.
Although nowadays it's not unusual to see a premium smartphone debut with a price of almost $1,000, Razer's first offering is somewhat less expensive. With a US price tag of $700, it's quite acceptable considering the hardware we examine further down and in line with the price in Europe (€749.99) and the UK (£699.99).
The Razer Phone bucks the trend by not coming in various confusing combinations of memory, color, and available sizes, including different display resolutions. If you want a Razer phone, you get THE Razer Phone with Qualcomm's latest and fastest processor, 8 GB RAM and the 5.7-inch Sharp IGZO display, which offers a maximum refresh rate of 120 Hz. Razer squeezes all this into a casing that reminds me of a pumped up Nextbit Robin.
Razer Phone design and build quality
Some may call it old-fashioned, others would say that the Razer Phone's design takes a backseat to other priorities, catering to the needs of its target group. The Razer Phone's specifications are focused on maximum performance, a display with the highest refresh rate, a large battery for long running times and loud and good audio reproduction, rather than a front-filling display with rounded display corners.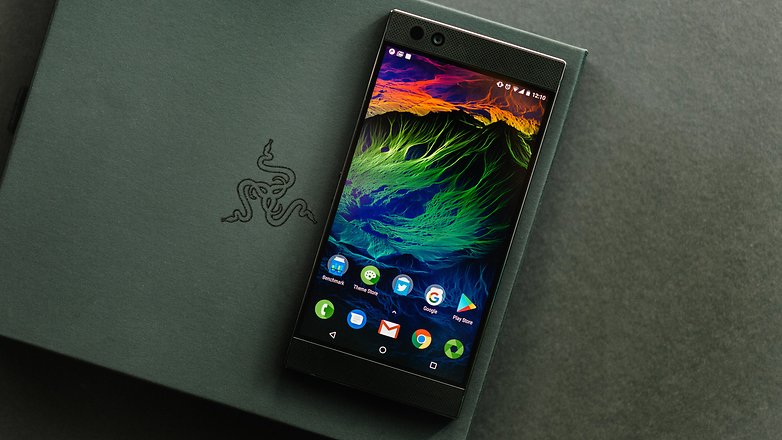 From a distance, you might even think that the Razer phone is a Sony Mobile 2017 version 2.0, because the smartphone adopts and even expands the Sony Xperia smartphone's angular design, which is an unsung feature of the Sony Xperia range.
Like the Sony Xperia XZ Premium, which I recently described in an in-depth review, the Razer Phone can stand upright. Even better than the Xperia XZ Premium, the Razer Phone can also be set up in landscape mode without an additional cover or stand. It's clear that a light push or even an air blast is enough to break the balance of the Razer Phone, but I personally liked the solid and angular design of the Xperia XZ Premium. If you don't like the angular design, you will most likely not like the look of the Razer Phone. But you can't please everybody, and inevitably some commentators will argue over the Razer Phone's "old school" design.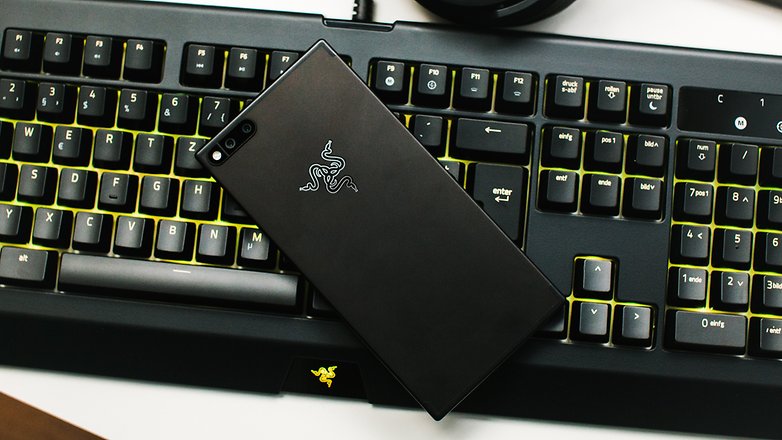 The quality of the Razer phone's workmanship is undisputed. The aluminium housing is very robust and our test device was not creaking or groaning in any way during the whole review period, even when pressed at critical points. But it lacks the now-common water splash protection.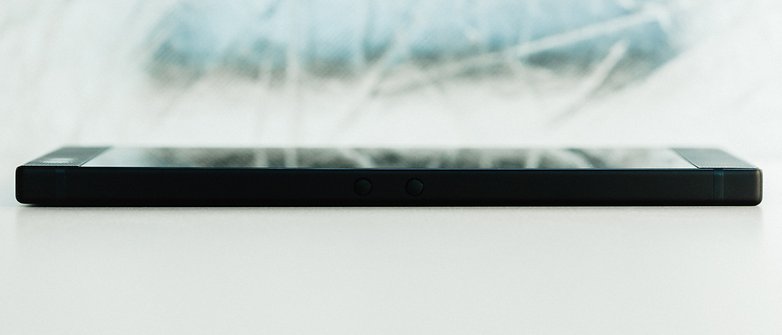 Razer Phone display
Gamers have very sensitive eyes. If the display does not react within a fraction of a millisecond, or if it does not show frame rates above 100 Hertz, the gamer will complain about jerky images. Razer knows their fanbase and takes no risks with their first smartphone. The Razer Phone integrates a display from the Sharp IGZO series, the same screen technology is already used in Razer's notebooks, which features a maximum refresh rate of 120 Hertz.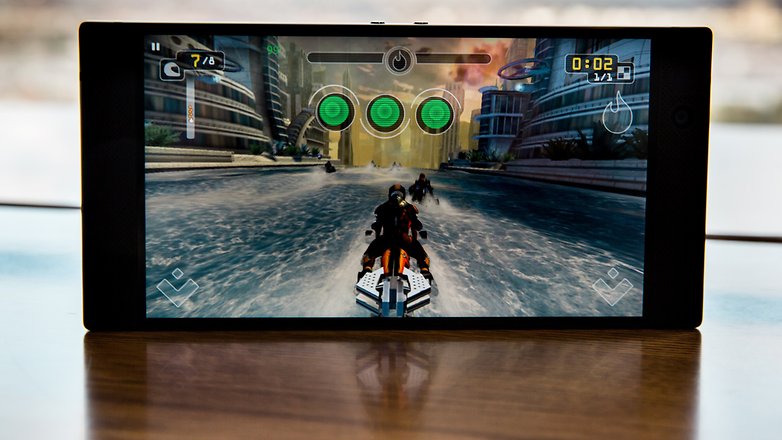 What the display, together with the rest of the equipment, is capable of delivering can only be experienced if you hold the smartphone in your hand. Even if you select 90 Hz refresh rate in the display settings, the display looks much smoother during fast scrolling through apps than on comparable top smartphones 2017. The FPS counter (how many images per second are displayed) can be activated in the developer options via overlay. The small frame counter is reminiscent of FRAPS, the frame counter and screen grabber for Windows.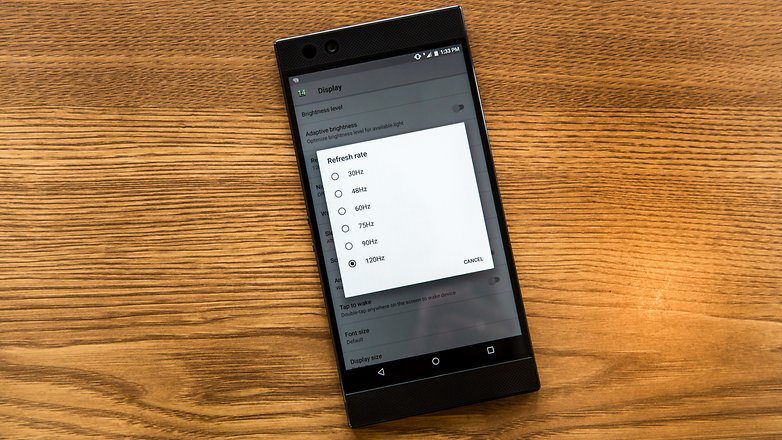 At the PC, high frame rates are quite understandable, because in combination with input devices such as a mouse, gamepad or keyboard, a fast display with a high frame rate is important for accurate and responsive playing. Most of the time, however, only hardcore gamers from a professional eSport clan notice this. The normal user will hardly notice any difference in a match of Hearthstone, Pokemon Go, etc. In theory, at least.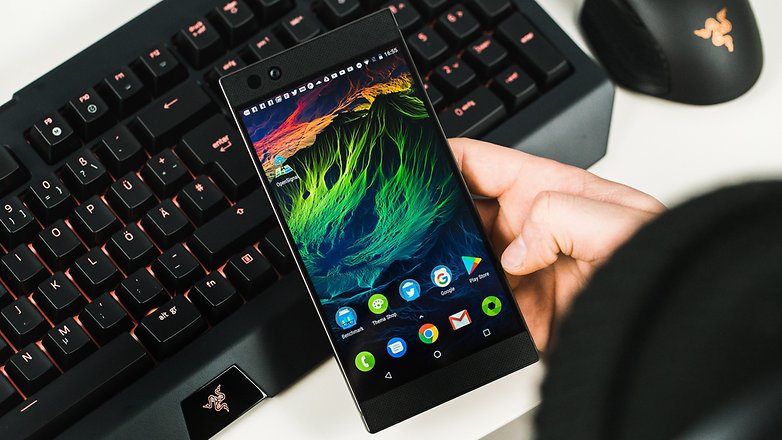 Currently, the Razer Phone's high refresh rate of the IGZO display can be seen mainly as a feast for the eyes. As soon as there are more Android games that output more than the usual 60 fps, it will become more of an advantage.
Razer Phone software
When it comes to software, the Razer Phone relies on Google's Android operating system, which is not surprising, since the heads behind the cloud phone have also switched to Razer with the acquisition of Nextbit by the gaming specialist. Tom Moss and Mike Chan are former Google employees and so are naturally very familiar with the Android mobile operating system.
The Razer Phone will welcome you with Android 7.1.1.1 when delivered. In my conversation with Tom Moss and Eric Lin, I was promised an update to Android 8. x Oreo for the first quarter of 2018.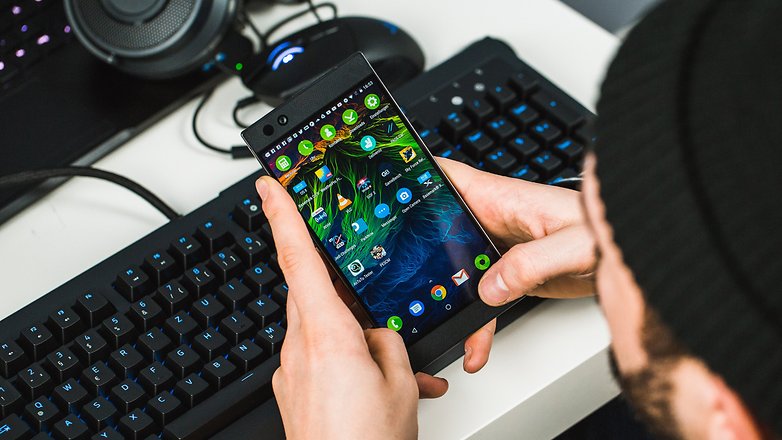 The Razer Phone has received a minor update since our hands-on. The Android version hasn't changed and the security patch level remains unchanged at the September 2017 level, so Razer will have to increase the frequency of updates before their fans start to complain loudly.
In the base, Razer uses Stock Android, which has been extended by a special version of the Nova Launcher. Tom Moss from Razer affectionately calls this version "Super Nova", because it offers the Google Assistant and can be adapted with free themes from his own Razer store. Of course, most of the themes are on the subject of games, including future releases.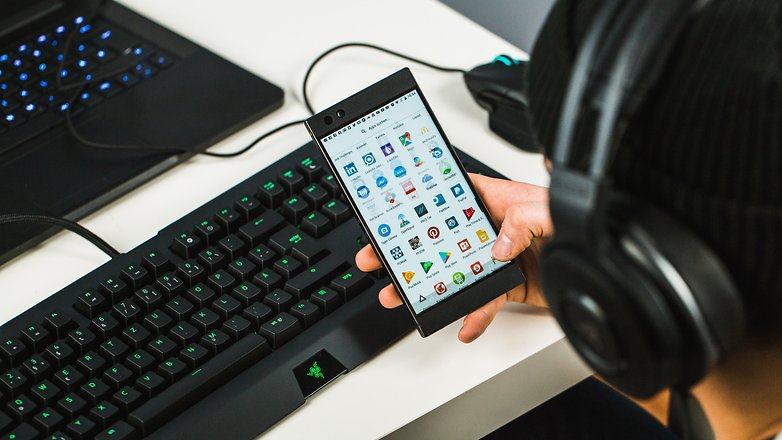 In order to get an added value from the high refresh rate, Razer works together with games publishers, who will be eager to free their apps and games from the framelock.
The first launch titles for the Razer Phone include Final Fantasy XV Pocket Edition by Square Enix, Tekken Mobile by Bandai Namco and World of Tanks Blitz by Wargaming.
Because gamers want to customize the finer points of a gaming system, the Game Booster is another software that allows you to configure the clock rate of the Snapdragon 835 as well as the display resolution and repetition rate. In addition, it is possible to activate edge smoothing via anti-aliasing.
All of the Game Booster's set settings mentioned above can be individually applied to individual apps. Those who prefer to make a global adjustment have to choose between the power or energy saving modes for their profile.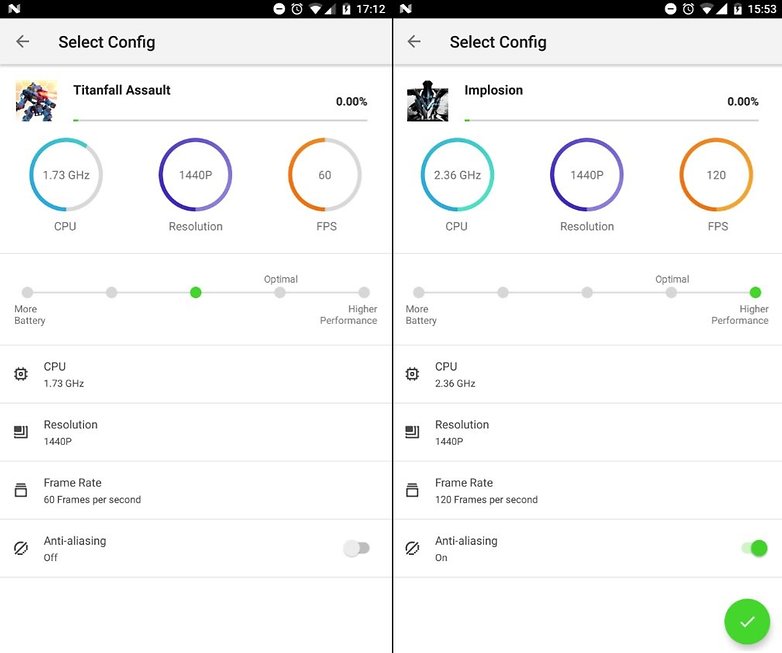 Razer Phone performance
The Razer phone's hardware features mentioned above are indeed impressive on paper, but in comparison to the competition they are mostly identical. As with PC gaming, Razer can only use the hardware offered by chip manufacturers such as Qualcomm and co.
Inside the Razer Phone is the fastest Qualcomm processor currently available on the market. The Snapdragon 835 still has 8GB of RAM and 64GB of internal memory in the form of UFS chips. The memory can be extended by up to 2TB via MicroSD cards.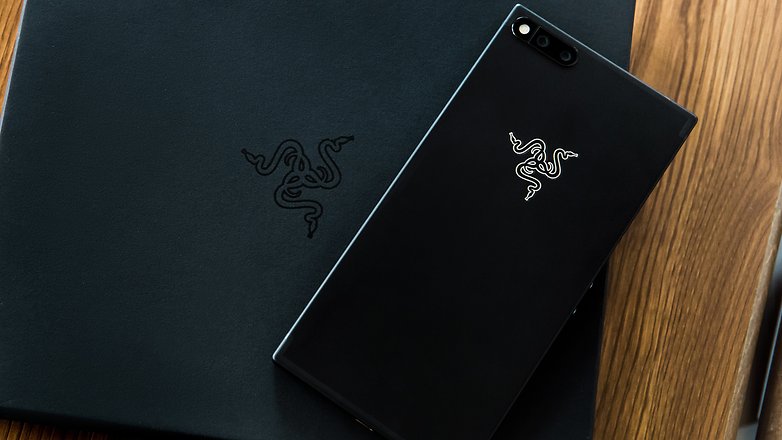 The features alone, which are comparable to those of the maximum configuration of the OnePlus 5, should be enough to be able to play along with the current smartphones in terms of performance. But Razer doesn't want to just play along. The ambitions are higher for the gaming specialist and its fans. You want to get the maximum possible performance out of the hardware, so that the demanding gamer gets a maximum of frames at maximum detail level.
Razer has definitely achieved this goal with his first Android smartphone, as you can easily see in the benchmark comparison table.
Razer Phone Benchmark results
| | 3D Mark Sling Shot ES 3.1 | 3D Mark Sling Shot ES 3.0 | 3D Mark Ice Storm Unlimited ES 2.0 | Geekbench CPU - single core | Geekbench CPU - multicore | PC Mark Work Performance | PC Mark Storage |
| --- | --- | --- | --- | --- | --- | --- | --- |
| Razer Phone | 3.563 | 5.009 | 41.867 | 1.939 | 6.744 | 7.332 | 4.552 |
| LG V30 | 3.585 | 4.523 | 38.824 | 1.921 | 6.354 | 6.200 | 5.042 |
| Google Pixel 2 XL | 3.571 | 4.732 | 37.844 | 1.867 | 6.263 | 7.190 | 4.458 |
| Samsung Galaxy S8 | 3.174 | 3.217 | 27.330 | 1.983 | 6.402 | 6.135 | 4.644 |
| OnePlus 5T | 3622 | 4.242 | 40.813 | 1.956 | 6.701 | 6.738 | 4.846 |
According to Tom Moss, Razer was able to use the technical know-how accumulated over many years in heat dissipation for the Razer Phone. A heat pipe and two-layer heatspreader ensure that the smartphone does not overheat in continuous use and under full load. In fact, the Razer Phone proves to be resistant to heat death even under full load and only got slightly warm in my hands while playing.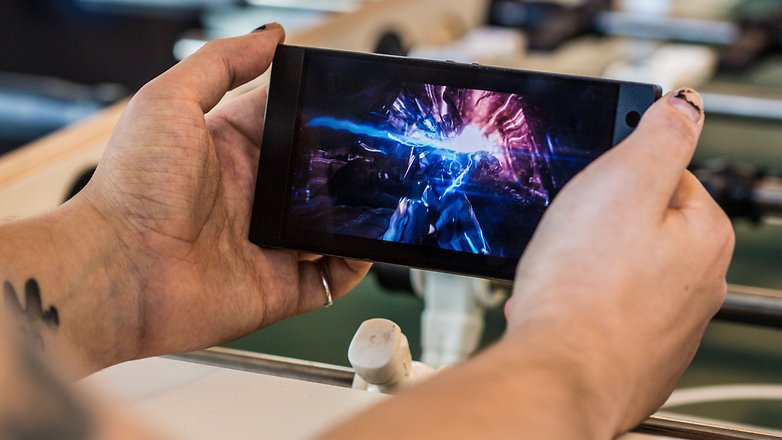 Razer Phone audio
The Razer Phone doesn't just want to be understood as a pure gaming smartphone. It is intended to provide the player or even normal smartphone users with good media playback capabilities. The two forward-facing speakers blast music, game audio and video soundtracks directly towards the user. The output directly on the smartphone is Dolby Atmos certified. The certificates are good, but I was still pleasantly surprised by the volume of both speakers.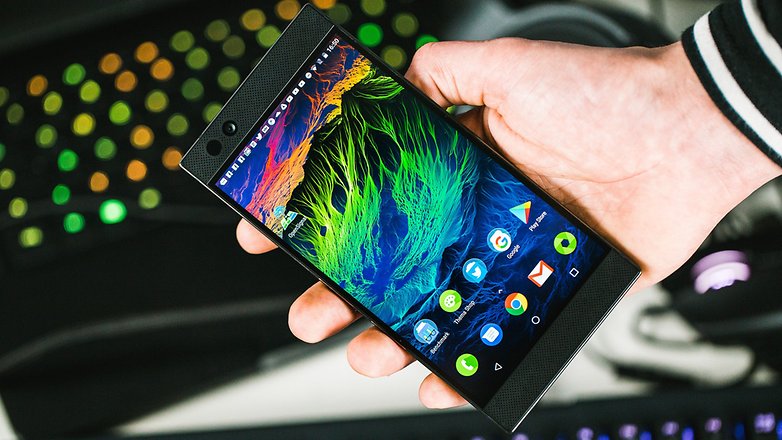 Bad news for fans of the good old headphone jack, because the Razer phone doesn't have a 3.5mm jack on the phone itself. To connect analog headphones, there is a USB type C dongle, which has a THX-certified DAC inside.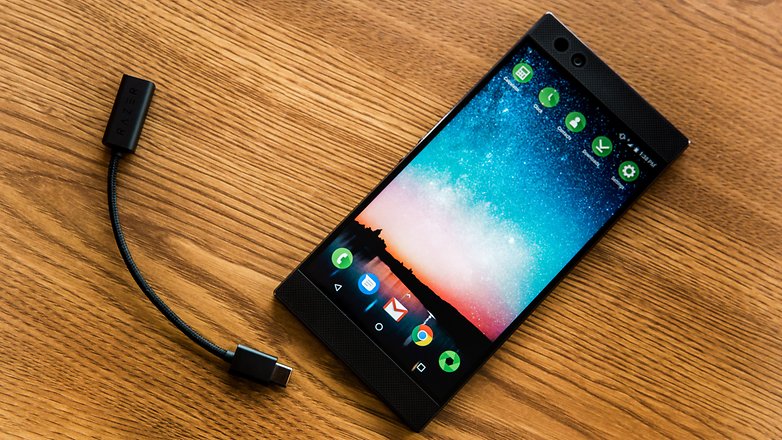 If you don't want to listen directly to the speakers and you don't want to use cable headphones, then there might be a third option with the Razer Phone—Bluetooth 4.2 with aptx support. The Razer Phone we tried did not come with aptxHD and Bluetooth 5.0.
However, since other smartphones with similar hardware configurations can offer Bluetooth 5.0 and aptxHD, it is quite likely that the manufacturer will still be able to provide these features via software update when it's time to upgrade the Razer Phone to Oreo. Unfortunately, Razer hasn't confirmed this yet.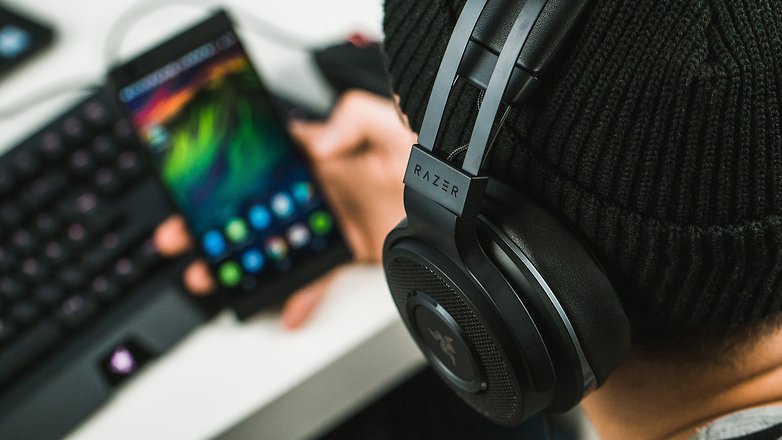 When it comes to sound output directly from the smartphone's speakers, no one can hold a candle to the Razer Phone. With a dB-Meter-App we have tested how loud the Razer Phone can be. With the YouTube audio test, the Razer Phone reached a maximum of just over 100 decibels. None of our other test devices reached this value.
Razer Phone camera
Of course, you also have to be able to create photos or videos with the Razer Phone. In the main camera, Razer is following the trend towards a dual camera solution a la Apple, Samsung and co. In plain language, that means a wide-angle and a telephoto lens are available. Both image sensors offer a maximum resolution of 12 megapixels and are supposed to match that of the Galaxy S7. The wide angle lens is the full beam lens with an aperture of f/1.75 and the telephoto lens with an aperture of f/2.6.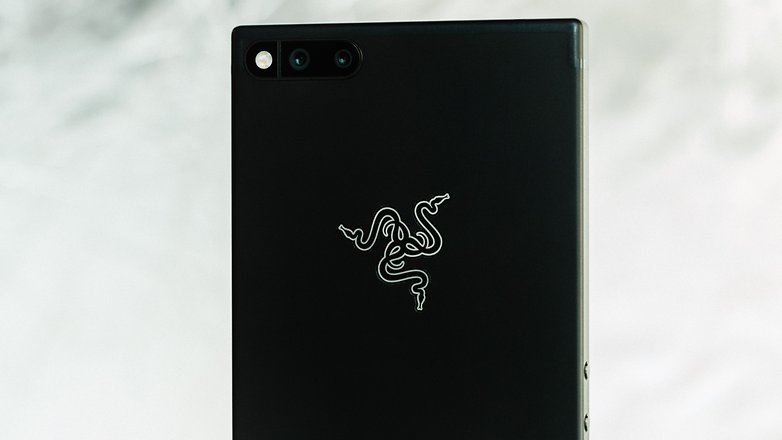 For selfies, the Razer Phone has a camera with a maximum resolution of 8 megapixels and an aperture of f/2.0 above the display, without autofocus.
Unfortunately, the quality is only average, but even Razer is very aware of that, so much so that the CEO of Razer had already announced at the launch event that they will improve the camera by means of software updates. For this reason, we will refrain from testing the cameras in the Razer Phone for now.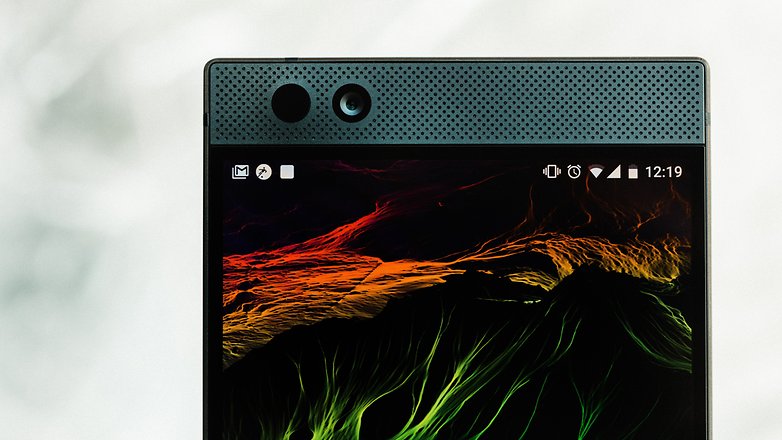 Razer Phone battery
Another critical element of smartphone hardware is the battery. Razer has installed a 4,000 mAh battery in the smartphone. Purely from the battery capacity, the Razer Phone ranks at the level of a Huawei Mate 10 Pro.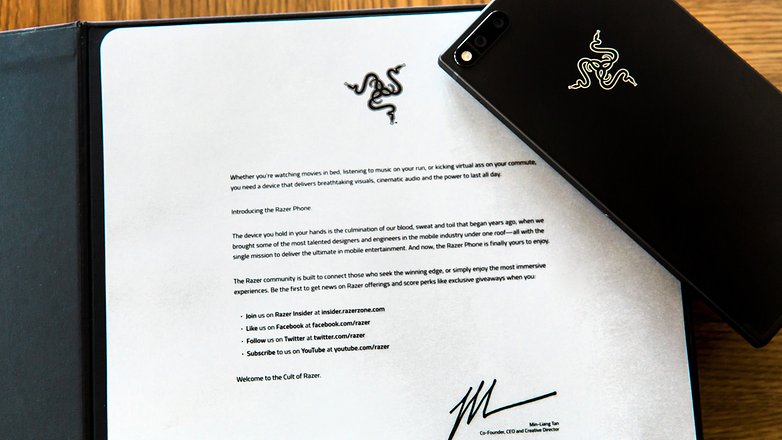 With the 4,000 mAh rechargeable battery, the Razer Phone achieved a full working day in the performance settings (1,440p, maximum 120 Hertz and full SoC clock rate) with a remaining battery display of just under 15%. However, if you use the Game Booster to let only selected apps or games run on the display at 120 frames per second, and leave most apps at 60 fps, the Razer Phone manages something over 1.5 days without a visit to a power outlet.
Instead of "only" using QuickCharge 3.0 like 99 percent of the smartphone competition, the battery of the Razer Phone can be charged with QuickCharge 4+. Qualcomm created the new charging technology just a few months ago as an update to QuickCharge 4.0, and until now only ZTE wanted to use Qualcomm's latest high-speed charging technology for the Nubia Z17.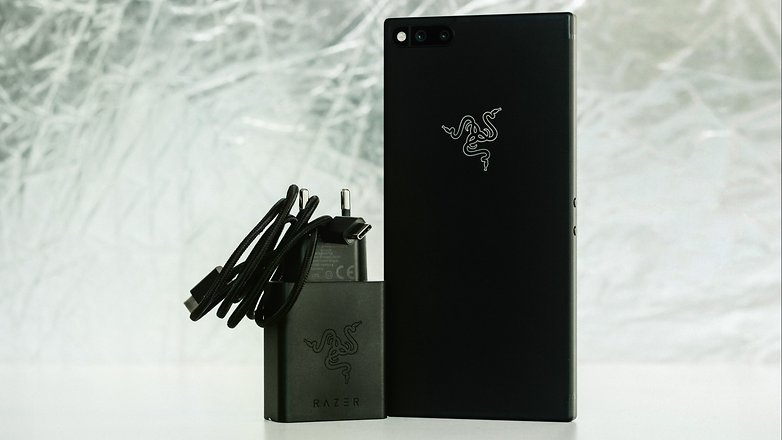 As an advantage over QC4, Qualcomm states that the devices become less warm during charging, the loading speed is up to 15 percent faster and the overall efficiency is 30 percent better than with Quick Charge 4. The Razer phone was charged from zero to 85 percent after a full hour of testing, but only with the appropriate charger.
Razer Phone technical specifications
| | |
| --- | --- |
| Dimensions: | 158.5 x 77.7 x 8 mm |
| Weight: | 197 g |
| Battery size: | 4000 mAh |
| Screen size: | 5.72 in |
| Display technology: | LCD |
| Screen: | 2560 x 1440 pixels (513 ppi) |
| Front camera: | 8 megapixels |
| Rear camera: | 12 megapixels |
| Android version: | 7.1.1 - Nougat |
| User interface: | Stock Android |
| RAM: | 8 GB |
| Internal storage: | 64 GB |
| Removable storage: | microSD |
| Connectivity: | HSPA, LTE, NFC, Bluetooth 4.2 |
Final verdict
The gaming specialist has recognized that the brand's demanding fanbase don't just need headsets, keyboards, mice and other peripherals, but that they are also playing more and more mobile games. Hence the need for a smartphone with the snake logo.
The Razer Phone also confirms after our final test that it is well tuned to the needs of the gamer community: a large display with high resolution and 120 Hertz refresh rate, stereo speakers with plenty of power and virtual 3D sound with Dolby Atmos certification. Under the hood you get top-of-the-range hardware, which can't be pushed to the limit by gaming apps. For the entire package, Razer then charges a list price of $700 euros, which is acceptable for today's standards.
Unfortunately, there is (still) an irritating flaw in the gamer smartphone, which was developed by gamers: The double main camera is basically wasted with the current status of the camera software despite the IMX260 sensor from the Galaxy S7. The Razer gaming fan who tries to capture the mood at their LAN party will likely be disappointed in low light conditions. That's why we currently have to deduct a half star from the actual 4-star rating for the Razer Phone.
Razer Phone Alternative:
Those who can do without the IGZO display with the dynamic UltraMotion refresh rate, the powerful loudspeakers and the 4,000 mAh rechargeable battery can also consider the OnePlus 5T for around $200 less.