Samsung Galaxy S7 review: back to the good ol' times
The Galaxy S7 is available worldwide. With this handset, Samsung has built upon all the strengths of its past phones and delivered a new standard in mobile technology. The S7 is not perfect but it is a great option if you're on a budget and you want a good Android smartphone. Find out why in our full Samsung Galaxy S7 review. You can also check out our review on the larger version of this phone, the Samsung Galaxy S7 Edge.
Have you ever heard of OSIRIS?
Choose "Yes, I have!" or "Never heard of it.".
Oops! Seems like something went wrong. Reloading might help.

Oops! Seems like something went wrong. Reloading might help.
Good
✓

Strong performance for everyday tasks and gaming

✓

Excellent display

✓

Speed and quality of cameras

✓

Water resistant
Bad
✕

Incomplete microSD card support
Samsung Galaxy S7 release date and price
The Galaxy S7 was released on March 11, 2016, and its price was set at US$699 for the 32 GB model. Now, it's still available and will cost you anywhere between $200 - $500. It comes in a four main color variants: black, white, gold and silver. A 64 GB version is also available in some markets (though not in the US).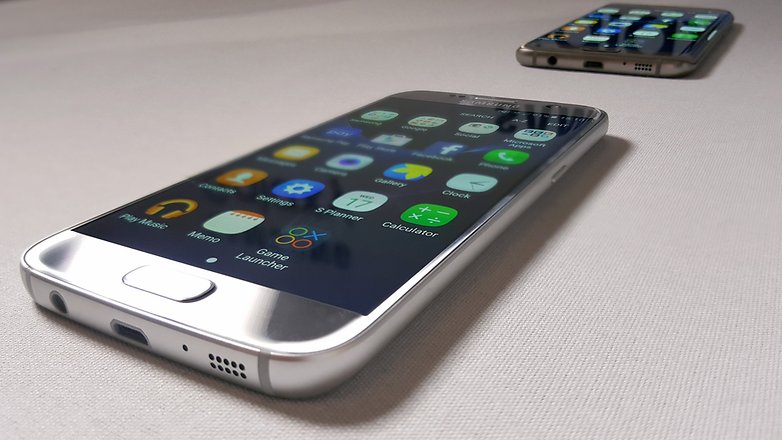 For comparison, the iPhone 6s 16 GB can currently be picked up unlocked for close to the same price – US$680 - US$699 – and the LG G5 will probably start at the same.
Samsung Galaxy S7 design and build quality
Basically, the Galaxy S7 is a minor – but in some ways very important – update to its predecessor. From the outside, you could be forgiven for confusing the two devices, with similar buttons and sensor placements.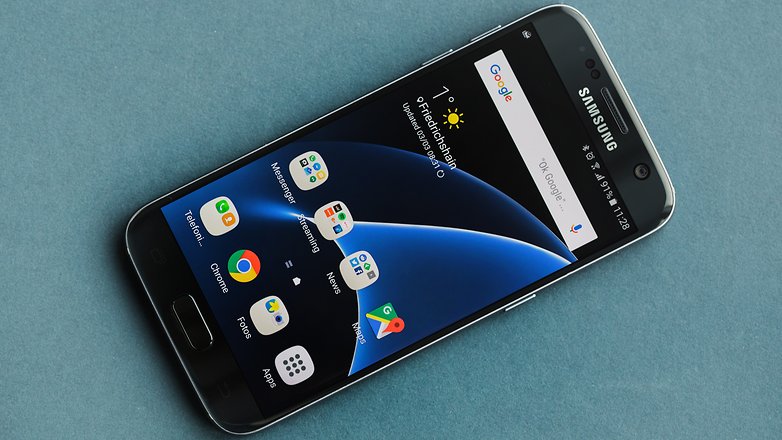 Comparing the S7 to other previous Android phones, it's undoubtedly more compact, featuring a 5.1-inch display, but it is also perhaps a little thicker than most at 7.9 mm (though you would never describe the device itself as thick).
Like the Galaxy S5, the S7 is water resistant. It can survive a quick dip unscathed with IP68 certification: a feature that is also found on the Sony Xperia flagships.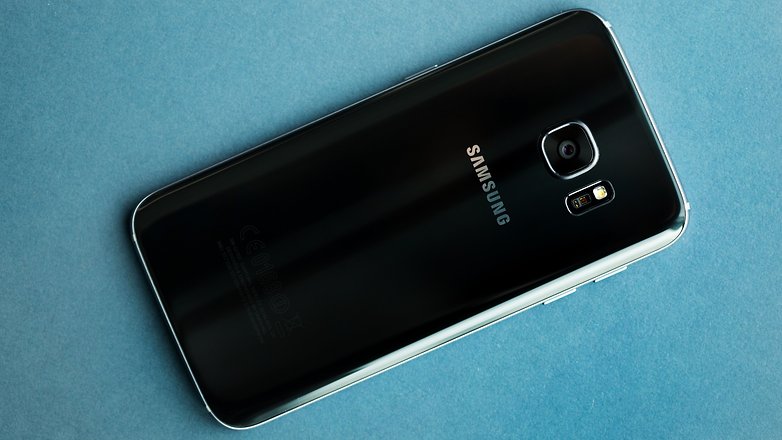 The Galaxy S7's dimensions come in at 142.4 x 69.6 x 7.9 mm with an aluminum frame, and a scratch-resistant layer of Gorilla Glass 4 on the front and back.
It's 1.1 mm thicker than its predecessor, but it's a facet of the design with a two-fold benefit. Firstly, the extra space allows for a 17.6 percent greater battery capacity. Secondly, the camera sensor is less prominent (more on that in a second).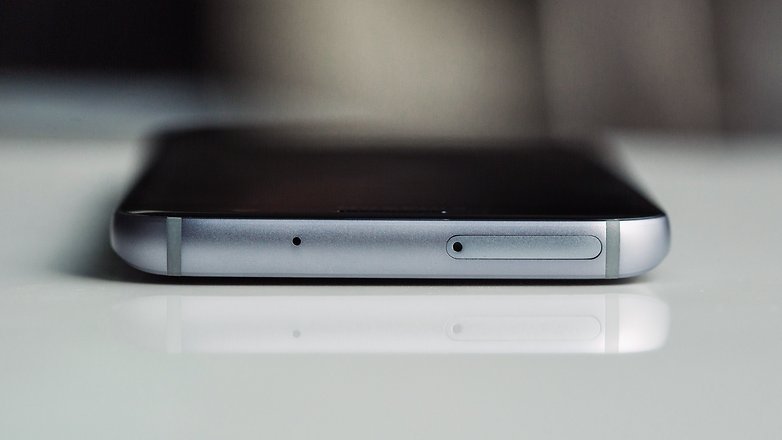 The rear of the Galaxy S7 is where the most visible design changes can be seen. The S7 has laterally curved glass, like that of the Galaxy Note 5, which, combined with its petite frame, provides a sumptuously snug fit in the hand.
Then there's the camera lens. The sensor protrudes by only 0.46 mm, which helps the device to remain flat when lying on its back. It's barely noticeable, really, while the Galaxy S6 camera stuck out a distracting 1.7 mm from the device.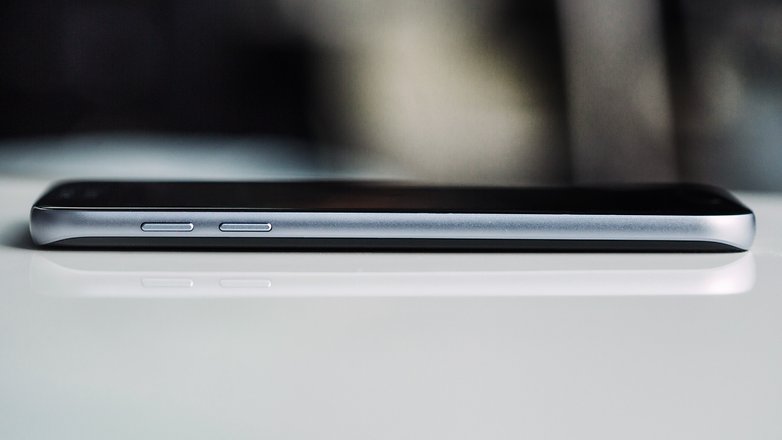 On the front of the Galaxy S7, Samsung remains faithful to the previous design decisions. The proximity and light sensors are found on the top left of the device (next to the notification LED). The loudspeaker for calls is in the center, and the front-facing camera is at the top right. Even the physical home button with fingerprint sensor, centered below the display, is identically shaped and placed as on the S6.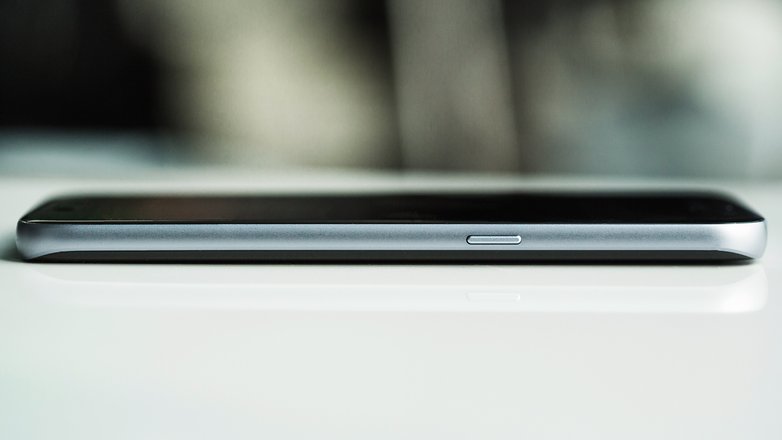 The S7's differences can be understood better with the hands than with the eyes. There are a few small details that have a big impact on the overall design, and it means the S7 is a pleasure to look at and hold.
Display: at the time, one of the best
The Galaxy S7 features a Super AMOLED display with 1,440 x 2,560 resolution: the same specs as the S6. The S7 screen is typical Samsung: that is to say, it's sublime. Thanks to the QHD resolution and 5.1-inch display, a pixel density of 577 pixels-per-inch is achieved, guaranteeing great sharpness and detail.
Likewise, contrast and saturation were of high quality at the time: blacks are true and even in bright sunlight the S7 screen is easy to read. Obviously it isn't comparable to the Galaxy S9 display, but for a cheaper device from 2016, you will be satisfied.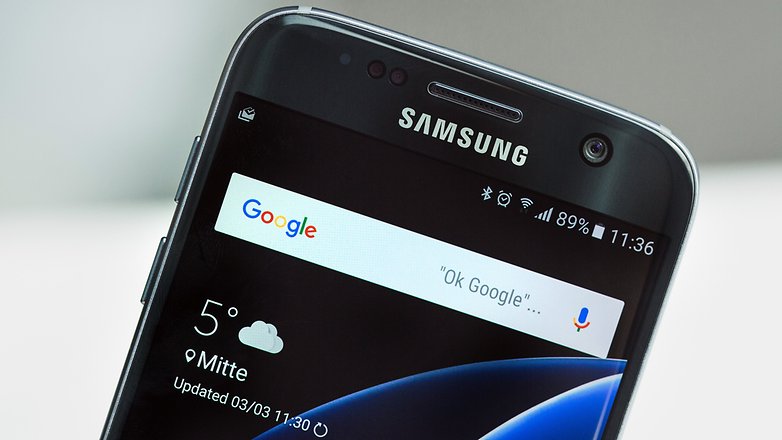 Samsung has provided further optimizations to the Galaxy S7 and thanks to these, the contrast and brightness of the screen can be adjusted depending on ambient light. In very dark conditions, you can watch this transition at work and because it automatically improves readability, it's a worthwhile addition.
Always-on displays are not a new trend
Both the S7 and LG G5 implemented this this technology. Always-on means a portion of the Galaxy S7 screen remains permanently active. This part of the display can contain calendar information, the date and time, notifications and much more. The implementation of this feature caused concerns over the effect it would have on battery life. It's small, but it is noticeable.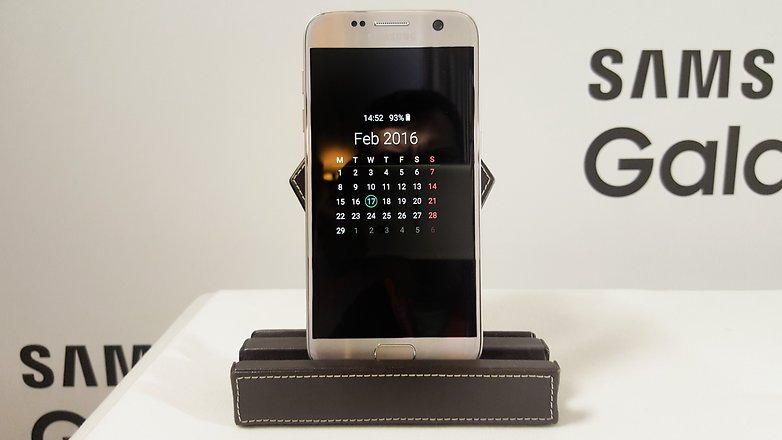 According to Samsung, the always-on function consumes little power because only individual pixels are activated. But I could see the effect it had on battery life, so I disabled it.
Dust and water resistant thanks to the IP68 certification
After a two-year wait, the Galaxy S series is again dust and water resistant. This time, instead of just surviving temporary immersion, the Galaxy S7 is now capable of surviving a depth of up to 1.5 meters for up to 30 minutes.
Thus, it has a better class of protection than the Galaxy S5 and far better than the Galaxy S6, which promised no protection against these elements.
During my test period, I doused the Galaxy S7 a number of times without problems. What is particularly clever is the handset's recognition of wet connections: attempt to plug in your charging cable while a drop of water is in the USB port, and the S7 will prevent the charge to avoid short circuits.
Game Launcher and Vulkan
A new feature introduced by the Galaxy S7 was Game Launcher. This software feature acts as a home for all of your gaming activities.
Installed games are collected here and it also includes other game-related functions such as the ability to take screenshots, record gameplay videos, and post these to social networks.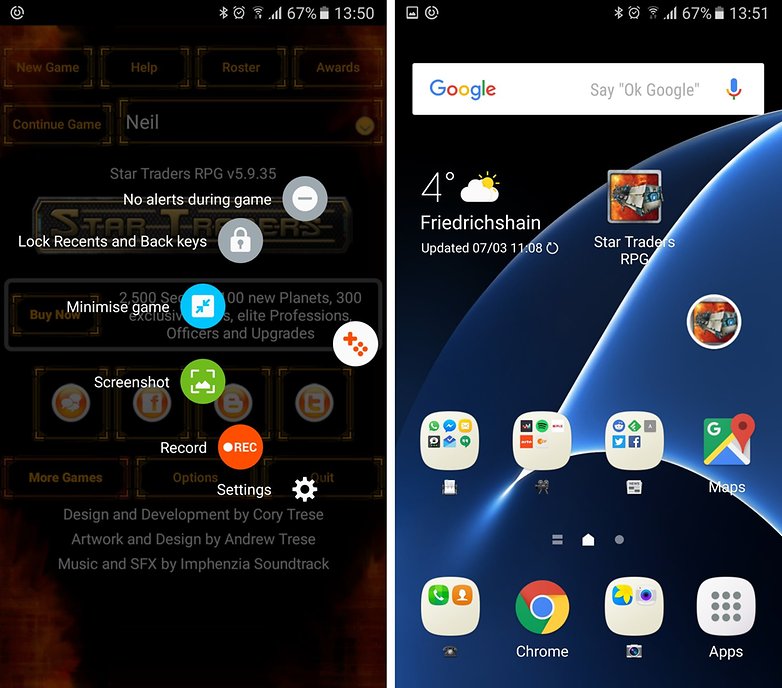 Game Mode may be interesting for more "hardcore" gamers, as enabling this means all notifications can be disabled and all power and resources can be directed to the game in question (a feature which might become even more necessary as the S7 ages).
Since the Galaxy S7 and the Galaxy S7 Edge were among the first smartphones that the new Game API Vulkan supports, we can continue to expect support for modern, demanding Android games optimized for these devices.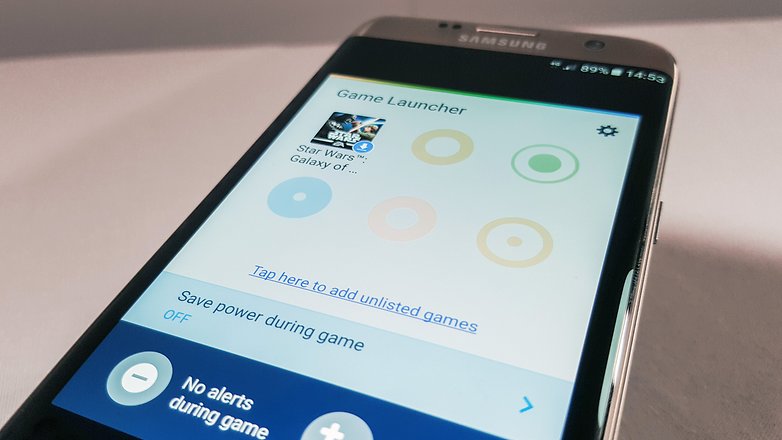 Fingerprint sensor
The Galaxy S7 holds a fingerprint sensor within its physical home button. The S7 supports Samsung Pay What's more, the wireless payment service has the edge over Google Pay, as it is compatible with existing payment terminals.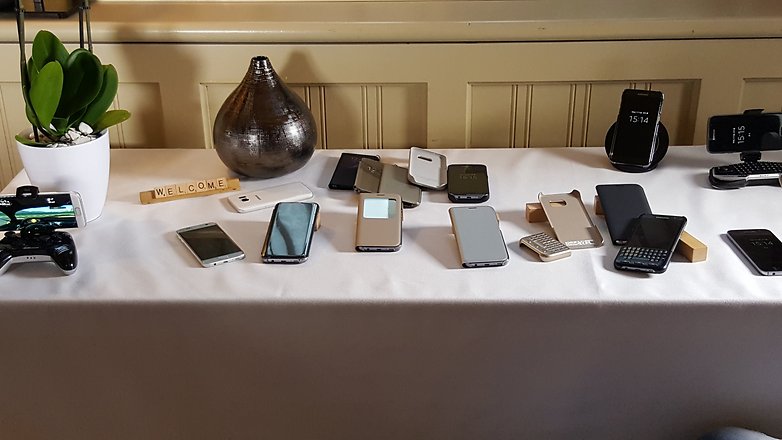 Software
The Galaxy S7 runs Android 6.0.1 Marshmallow out of the box with Samsung's TouchWiz interface. There is little in the way of pre-installed apps and what's there is quite practical. The Galaxy S7 will receive monthly software updates to prevent any security breaches and software errors.
An update to Android 7.0 Nougat has since been rolled out to all S7 devices, bringing with it a range of new software features and performance improvements. Highlights for the S7 Nougat update include device maintenance, which helps you to optimize battery, performance and security, and an improved battery usage meter.
Now, Android Oreo 8.0 is available to newer devices such as the Galaxy S8, but these updates seem to be taking some time, so it is not certain whether the S7 will be getting this software update at all. Even Android P is making progress with the developer preview being released to Pixel devices recently.
In addition to the seven Samsung apps, there are five from Microsoft, as well as Facebook, WhatsApp and a selection of Google Apps. Your carrier will no doubt pre-install its own S7 software to make network-specific adjustments for Voice over LTE support or Mobile Payments.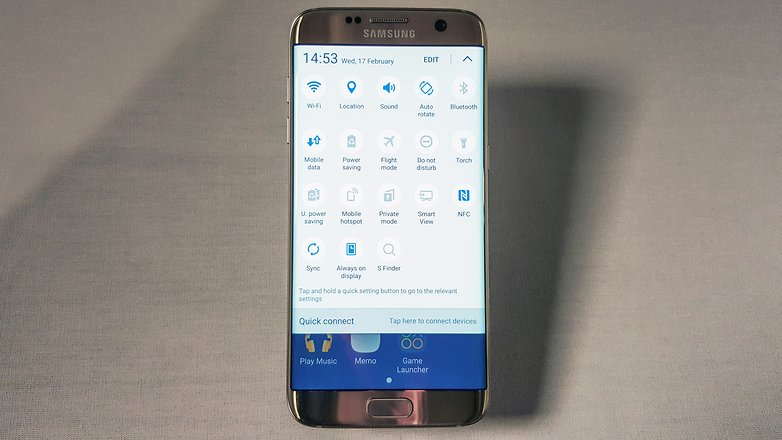 Perfomance: some small problems, but fast overall
The performance of our Galaxy S7 was very fast, but I did experience a few dropouts and crashes. Future updates will likely quash these bugs and increase overall stability. Samsung has delivered a worthy improvement to the already extremely fast Galaxy S6; in many measurements, the Galaxy S7 was at the time, the fastest device we'd tested.
The gaming performance is in the range of the Pixel C tablet, whose graphics chip was produced by the gaming performance experts at Nvidia. Combined with planned software enhancements from Vulkan, I expected a breakthrough gaming experience for the Galaxy S7, though currently there are only a few titles available based on the new technology.
Galaxy S7 benchmark comparison
| | | | |
| --- | --- | --- | --- |
| | Galaxy S7 (Exynos) | Galaxy S6 | Huawei Mate 8 |
| Vellamo Metal | 2743 | 2585 | 2917 |
| Vellamo Multi Core | 3371 | 3192 | 3390 |
| AnTuTu 6.0.4 | 130270 | 76703 | 90040 |
| Basemark X 1.1 High | 31131 | 15134 | 15325 |
The Galaxy S7 we tested was the European version with the Exynos 8890 processor (a Qualcomm Snapdragon 820 version is available in the US and the performance is similar). The new top-of-the-range processor in the S7 includes four plus four CPU cores and Mali-T880 graphics.
If only one or two cores are in use, the Galaxy S7 processor is automatically overclocked to 2.6 GHz, which provides faster performance on most everyday tasks and the heat pipe cooling solution in the S7 prevents thermal throttling in everyday life.
The internal storage is 32 GB UFS 2.0 memory. This flash memory provides very high speeds. With 389 MB / s read and 68 MB / s write speeds registered in Vellamo Metal, the Galaxy S7 is 2.45 and 1.39 times faster, respectively, than the (almost) equally expensive Nexus 6P.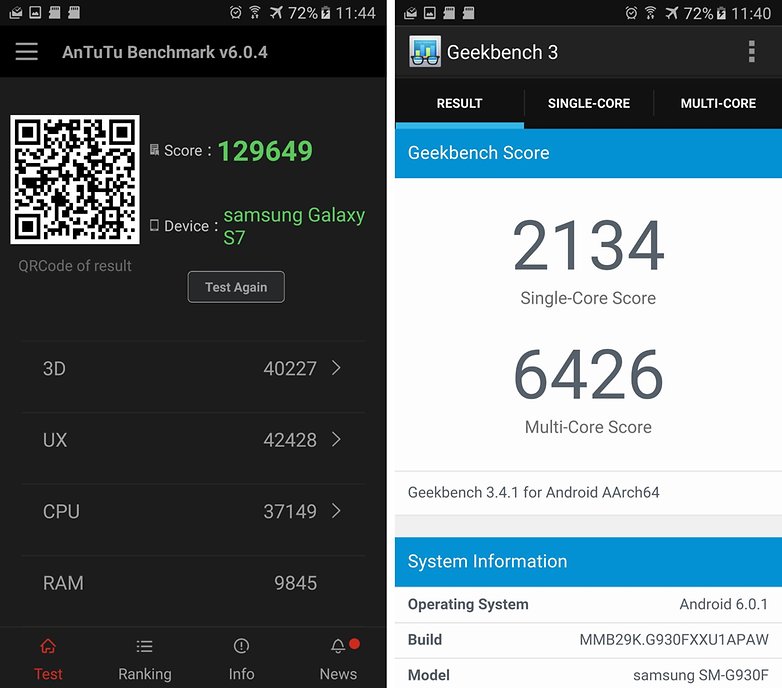 In everyday life, you see this speed showcased when powering up or rebooting the device and, most noticeably, when installing and opening apps. If you're upgrading from an older device, you will notice the difference immediately.
One weak point of the S7 is the small internal memory it comes with, as around 7 of its 32 GB of internal storage space are chewed up before you even install anything. Thankfully, this can be extended by a microSD card to store music, movies, images and even entire apps. Despite this, it does not have the true Adoptable Storage functionality that Marshmallow provides.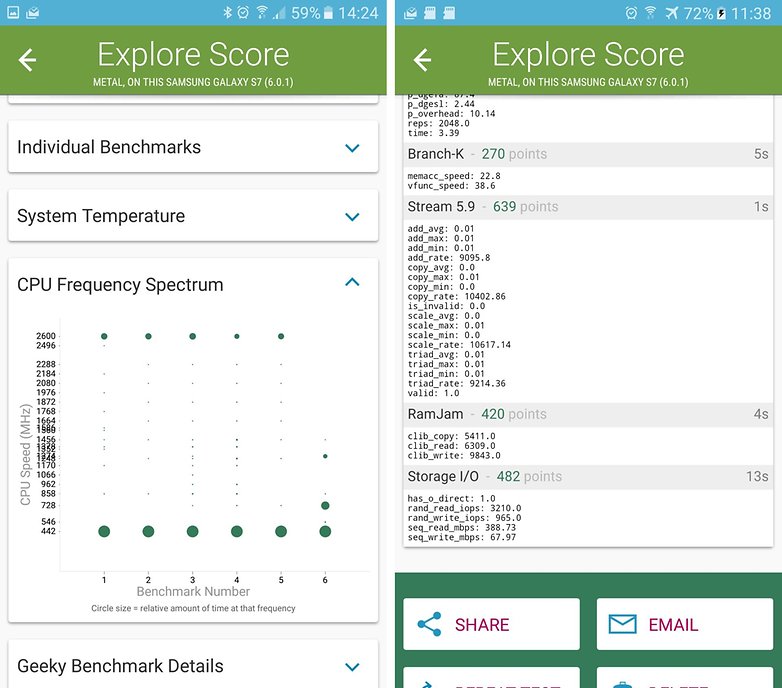 The device we tested crashed once in five days, and another time the TouchWiz user interface had to restart. As Samsung delivers monthly security updates, early patches should improve the already impressive stability.
Audio quality
The built-in speaker of the S7 is loud and clear. It is optimized primarily for audio conferencing, so it isn't so well-suited to the low frequencies that make for better music listening. A pair of in-ear headphones are included, and they come with an extra pair of rubber covers. These offer decent enough quality for listening to music. Using the software equalizer, the sound can be adjusted to your liking.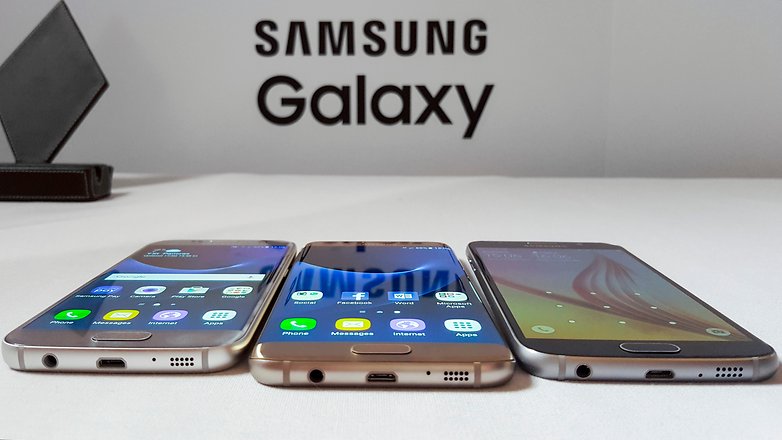 The Galaxy S7 also offers a clever voice-recording app that makes use of the top and bottom speakers to produce stereo recordings. This makes differentiating between multiple voices much easier.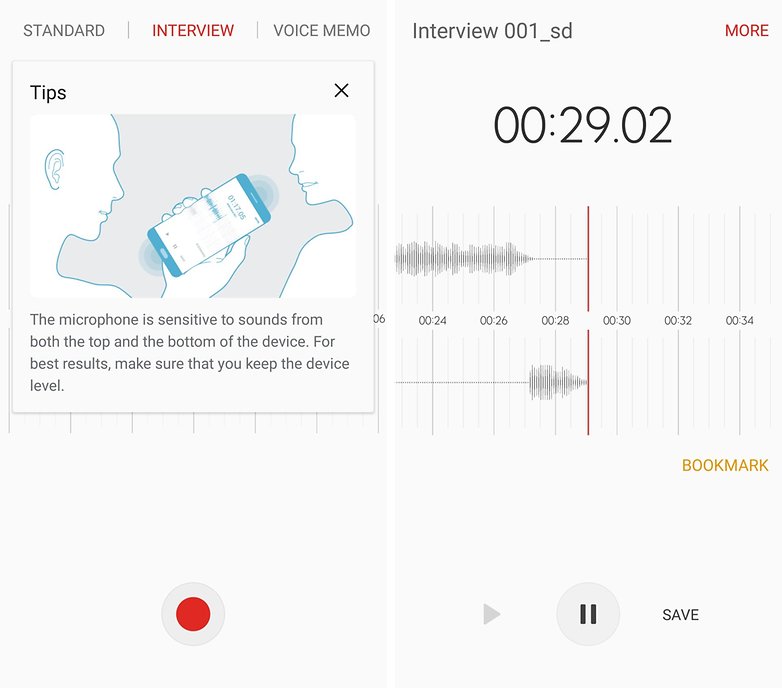 Camera: not bad!
The Galaxy S7 camera was one of the best on the market at the time of our review. Its snappy focus and shutter time, in conjunction with the quick launch feature, make it fun, functional and an undeniable selling point. The results speak for themselves: very few photos do not come out well on the first attempt.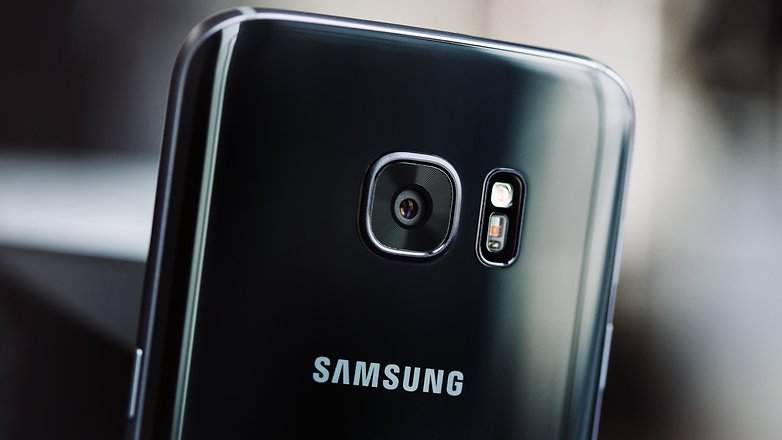 Samsung has reduced the number of MPs on the Galaxy S7's main camera sensor from 16 to 12. Nevertheless, the quality of the photos produced sees a marked improvement. This is mainly because of the dual pixel technology the S7 camera now employs, something that can be found on more expensive Canon SLR cameras. The advantage of dual pixel technology is, essentially, that the autofocus operates extremely fast.
With the shutter, Samsung goes one step further than the Galaxy S6. The aperture size has increased from f / 1.9 to f / 1.7. This larger opening allows more light to be let in, so pictures, particularly in low-light conditions, come out better. Of course, the Galaxy S7 also has an optical image stabilizer, which compensates for unsteady hands.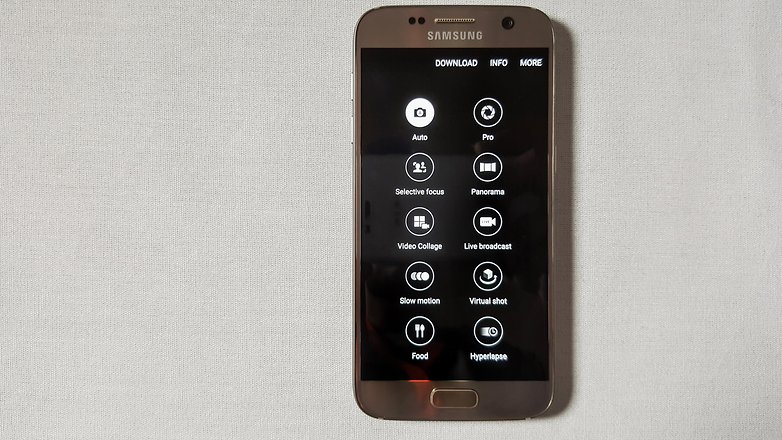 As always, the photo app offers several features which provide a versatile range of exciting and fun things to play with. These include slow-motion and time-lapse imaging, access to numerous presets, as well as fixed focus and exposure values.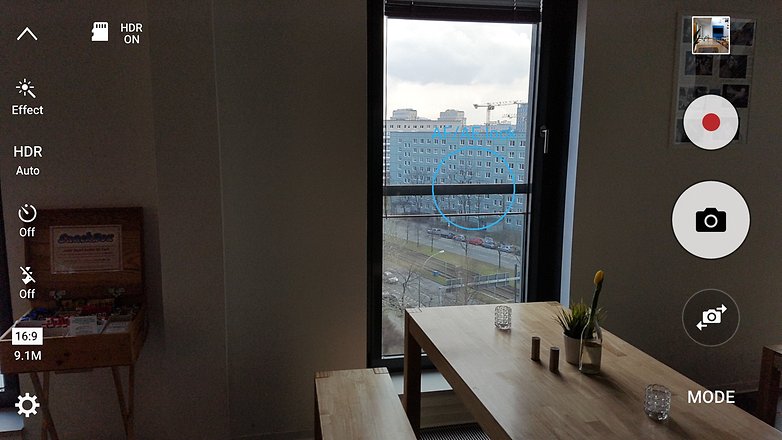 The Galaxy S7 also packs a 5 MP front-facing camera with an f / 1.7 aperture. It, too, delivered amazing results in our test; the dynamic range held up well, even under poor lighting conditions. All in all, the S7 camera is great.
How long does the battery last?
With just one charge, the Galaxy S7 will survive through the day, even with heavy use. In addition, the supplied charger can fully juice the battery in 90 minutes and the energy-saving modes are smart, functioning better than similar solutions found on other devices.
The Galaxy S6's battery was a weak point, and rightly came under fire from many users. Samsung has taken this criticism on board and installed a 3,000-mAh battery in the Galaxy S7, up from the 2,600 mAh found on the Galaxy S6.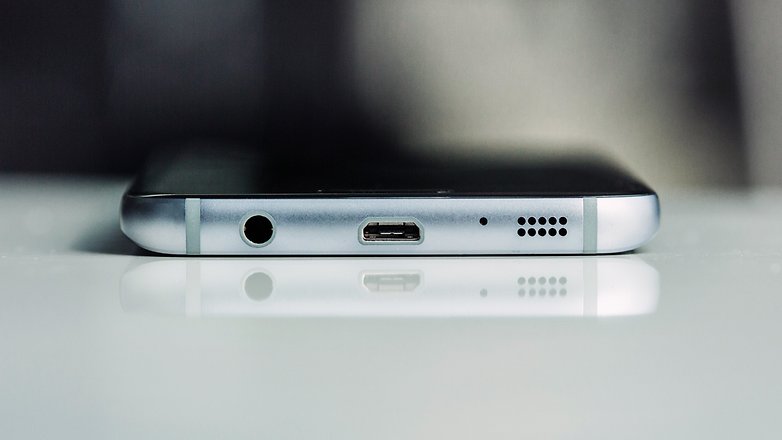 Nacho Nieto, Head of Technology and Platforms at Samsung, explained to us that the battery in the S7 is malleable and, because of this, a 3,000-mAh variant was the only option. The moldable battery can also be customized so that it fills available space within the phone, which was not possible with the battery used in the S6.
Like the Galaxy S6, the S7 also supports wireless charging.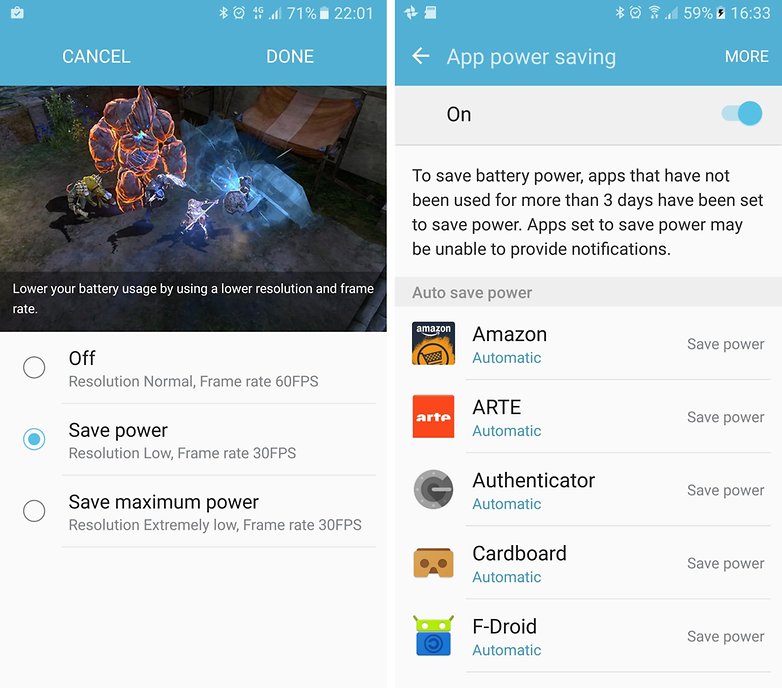 Unfortunately, the controversial non-removable battery that started with the Galaxy S6 is a problem that continued with the S7. In fact, the only flagship to feature a removable battery at the time was the LG G5, and most smartphones nowadays don't enable you to remove the battery, so that's hardly a point against it.
Samsung also equipped the S7 with some software features intended to save battery life. These features keep an eye on when the device is being used and put apps into a deep sleep mode when they have been ignored for three days.
This provides an extended standby time without limiting functionality. When other manufacturers attempted to include similar features, it meant that sometimes messages or emails arrived late, making the feature more annoying than useful.
Samsung Galaxy S7 technical specifications
Dimensions:
142.4 x 69.6 x 7.9 mm
Weight:
152 g
Battery size:
3000 mAh
Screen size:
5.1 in
Display technology:
AMOLED
Screen:
2560 x 1440 pixels (577 ppi)
Front camera:
5 megapixels
Rear camera:
12 megapixels
Flashlight:
Dual-LED
Android version:
7.0 - Nougat
User interface:
TouchWiz
RAM:
4 GB
Internal storage:
32 GB
64 GB
Removable storage:
microSD
Chipset:
Samsung Exynos 8890
Qualcomm Snapdragon 820
Number of cores:
8
4
Max. clock speed:
2.6 GHz
2.15 GHz
Connectivity:
HSPA, LTE, NFC, Bluetooth 4.2
Final verdict
Samsung did a good job of addressing concerns users had with the Galaxy S6. The Galaxy S7 features an increased battery size, improved performance and the return of water and dust resistance, along with the much beloved MicroSD card slot. It's almost as if Samsung wanted to revel in past glories while moving on to pursue new ideals.
The Galaxy S7 surely warrants its asking price. It excels in all the key areas: its camera is the best that we have tested so far; its gaming performance is great and future-proof; its battery life is enough to support heavy use; and it's generally a snappy and smooth device.
Above all, the Galaxy S7 has, thanks to its traditional but polished design, gilded itself with a certain prestige that you only otherwise see with the iPhone - but you get it for much less money. So, there are very compelling reasons why you should consider buying the S7 over its Apple equivalent or a modern mid-range Android.