Samsung Galaxy S8 price, release date, specs and rumors
Update: Presentation date and short videos revealed
The Samsung Galaxy S8 and S8 Plus will be presented to the public in late March. Leading up to the big reveal, however, a lot of information has already been leaked. Here's everything we know so far about the Galaxy S8. The latest news is that Samsung announced the official date for the unveiling of the S8 and S8 Plus. In addition, there are two new leaked videos of the smartphones.
Jump to section:
Samsung Galaxy S8 and Galaxy S8 Plus: a short overview
For the past two generations, Samsung has given us not one, but two S-series smartphones. This year there will be a Samsung Galaxy S8 as well as a Samsung Galaxy S8 Plus. Both smartphones will have Edge displays, so the larger had to change names.
In case you were interested... pic.twitter.com/bpcOFZmOC3

— Evan Blass (@evleaks) February 10, 2017
Samsung has used as much space on the front of the phone as possible for the display. So, the screen size is larger but the device as a whole isn't much larger than its predecessors.
Samsung Galaxy S8 and S8 Plus: price
For the first time, information about the price has come out in a report by mobile-review.com. The prices are unlikely to differ significantly from those of the S7 generation, with a price of around $850 for the S8 Plus and $700-750 for the S8. Other reports indicate the price could even be $100 higher, but regardless, it certainly won't be a bargain in the first few months.
Samsung Galaxy S8 and S8 Plus: March 29 release date
Typically, Samsung introduces new additions to the S-series on the Sunday before MWC in Barcelona. This year, Samsung will present the Galaxy S8 and S8 Plus on March 29. This date was confirmed by the company at MWC. The Galaxy S8 is expected to hit the market in the third week of April.
Samsung Galaxy S8 and S8 Plus: technical specs at a glance
Rumors about the tech specs of the S8 and S8 Plus are fairly consistent and without many contradictions. As such, we have summarized them in the following table to give you an overview of the device.
Specifications
Samsung Galaxy S8
Samsung Galaxy S8 Plus
Type
Phone
Model
SM-G950
SM-G955
Manufacturer
Samsung
Dimensions
140.14 x 72.20 x 7.30 mm
152.38 x 78.51 x 7.94 mm
Weight
unknown
Battery Size
3,000
3,600 mAh
Screen Size
5.8 inches
6.2 inches
Display Technology
AMOLED
Screen
1,440 x 2,560 pixels (576 ppi)
Front Camera
8 MP
Rear Camera
12 MP
Flashlight
LED
Android Version
Android 7.1 Nougat
User Interface
TouchWiz
RAM
4 GB
Internal Storage
64 GB, 128 GB, 256 GB, UFS 2.1
Removable Storage
up to 256 GB per slot (single and dual SIM models)
Chipset
Qualcomm Snapdragon 835 / Exynos 8895
Number of Cores
8
Max Clock Speed
2.5 GHz
Connectivity
Wi-Fi, Bluetooth, GPS, NFC, USB 3.1 Type-C, headphone jack
Since the above information is based on rumors and leaks, the actual specs can only be confirmed after the S8 and S8 Plus are officially introduced.
Samsung Galaxy S8 and S8 Plus: Camera
For several generations, Samsung's Galaxy S smartphones have had good cameras. In 2016, the camera was a highlight, but the competition has since caught up. Samsung should to do more with the Galaxy S8. The camera needs improvement, especially in low light conditions. However, Samsung won't be taking any big steps forward or jumping on the dual camera trend for either the S8 or S8 Plus. The rear camera will have 12 MP.
There will also be an 8 MP front camera for selfies, a welcome upgrade from the outdated fixed-focus 5 MP on the S6, S7 and Note 5. According to the Korean website ETNews, the front camera will have an auto-focus feature typical of rear cameras. Samsung has figured out a way to make it small enough to keep the camera from protruding from the phone, by mounting the actuator on the side of the lens rather than in the middle.
The competition is fierce, so camera improvements are urgently necessary. Most importantly, there must be improvements in low light performance and JPEG compression artifacts. A dual camera isn't necessary, but if major improvements don't happen, the S8's camera will be among the weaker ones of 2017.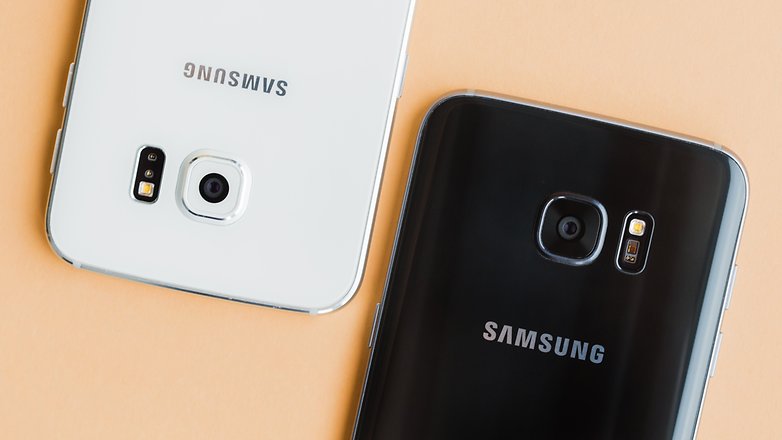 Samsung Galaxy S8 and S8 Plus: display
Display size: The Galaxy S8 and S8 Plus will both have Edge displays. The Galaxy S8 Plus will have a 6.2-inch display while the Galaxy S8 will have a 5.8-inch display. The resolution will likely be 1,440 x 2,960, thus deviating from the classic 16:9 format.
RGB Super AMOLED Quad HD display: The latest rumor is that the Galaxy S8 will be getting an RGB Super AMOLED Quad HD display. According to SamMobile, Samsung is planning to ditch the Diamond PenTile pixel arrangement for one with sharper image quality. An RGB arrangement will bring around 11 million pixels, while the old layout was only around 7.3 million. This will make a profound difference for VR applications.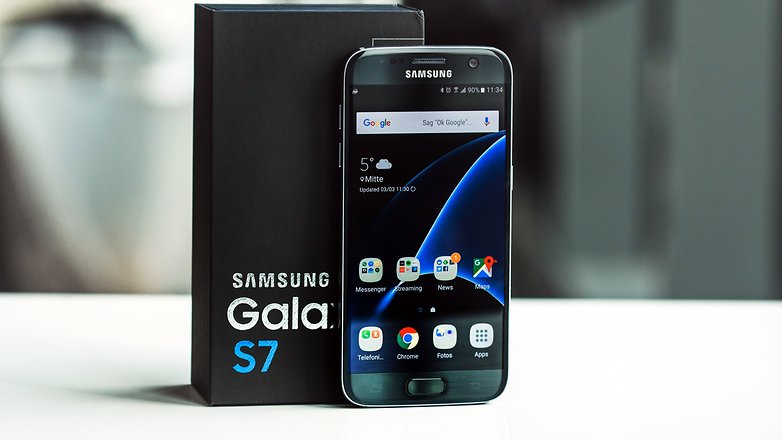 Samsung Galaxy S8 and S8 Plus: audio and other interfaces
Apple renounced the headphone jack with the iPhone 7, but Samsung will not go down this path. Although the Galaxy S8 will have a USB Type-C port, it will also have a 3.5 mm standard headphone jack.
A headphone jack is more important than stereo speakers
What do you think?
As accessories around the smartphone get more focus placed on them, Samsung is rumored to be introducing wireless headphones, similar to the Samsung Gear IconX.
Samsung Gear IconX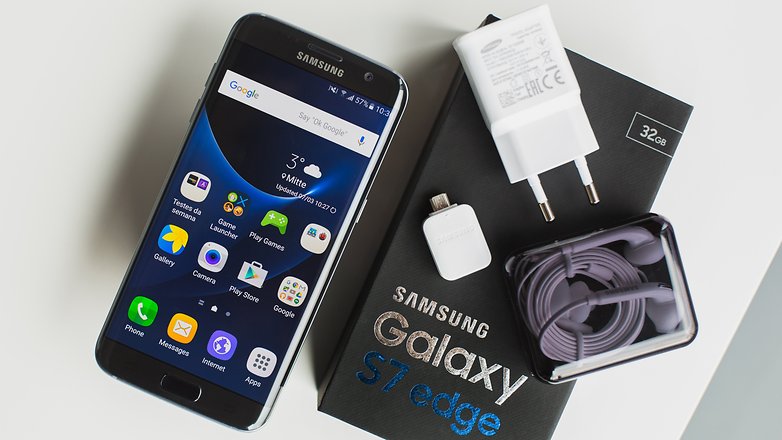 Samsung Galaxy S8 and S8 Plus: battery, processor & RAM
Processor: Qualcomm has recently confirmed that its new Snapdragon 835 mobile chipset will be manufactured on Samsung's 10 nm FinFET process technology, and it's highly likely this will be the processor Samsung will use in the US version of the Galaxy S8. The octa-core processor will be 20 percent faster and 25 percent more efficient than its predecessor, Snapdragon 820. The CPU has four performance cores running at up to 2.45 GHz, and four efficiency cores running up to 1.9 GHz. To compliment all of this, the inclusion of the new Adreno 540 graphics card promises 25 percent improved performance and HDR support. Whether or not this delivers their intended results, only time will tell.
As for Galaxy S8 smartphones sold in other markets, these are rumored to come with an Exynos processor which previously would have been dubbed 8895. It is now suspected to be called the Exynos 9810 (of the Exynos 9 series), as revealed by the LinkedIn profile of an intern at Samsung's Bangalore R&D Institute. Using a different processor in other markets comes as no surprise, as producing devices with varying chipsets is nothing new for the Korean smartphone giant.
Be ready for #TheNextExynos pic.twitter.com/rpod9jVOd7

— Samsung Exynos (@SamsungExynos) February 17, 2017
The SoC in question will succeed the 8890 which powers the S7 and Note 7. The Exynos processor, which is said to be capable of up to 4 GHz speeds, which would provide an estimated 30 percent performance improvement on the Exynos 8890 found in the Galaxy S7 (in some regions) if rumored claims are accurate. The chipset makes use of ARM's newest Mali-G71 GPU, which is rumored to be 1.8 times faster than the Mali-T880 MP12 GPU found in the Galaxy S7.
RAM and internal storage: Evan Blass, the famous leaker, has just shared a specs sheet for the S8 Plus on Twitter, which you can see below. Assuming the S8 and S8 Plus will have mostly identical specs, apart from battery and screen size, this latest information is indicating that Samsung isn't opting for a jump in RAM with either version of their new flagship. The S8 will have just 4 GB, instead going to the next level with 6 GB as many hoped.
Samsung Galaxy S8+ spec sheet. Impress your friends, confound your enemies...with knowledge. pic.twitter.com/lHrHge8BUa

— Evan Blass (@evleaks) February 22, 2017
The Galaxy S8 and S8 Plus will have 64 GB of internal memory, connected with the fast UFS 2.1 interface. The MicroSD slot remains. There may also be a variant that has 128 GB of memory.
Battery: The Note 7 battery doomed the phablet and put the South Korean smartphone giant in jeopardy. We can expect that Samsung will pull out all the stops to ensure that the Galaxy S8 goes off without a hitch. As such, the company won't be pushing the envelope here. The S8 will likely have a 3,000 mAh battery, while the S8 Plus will have 3,600 mAh capacity.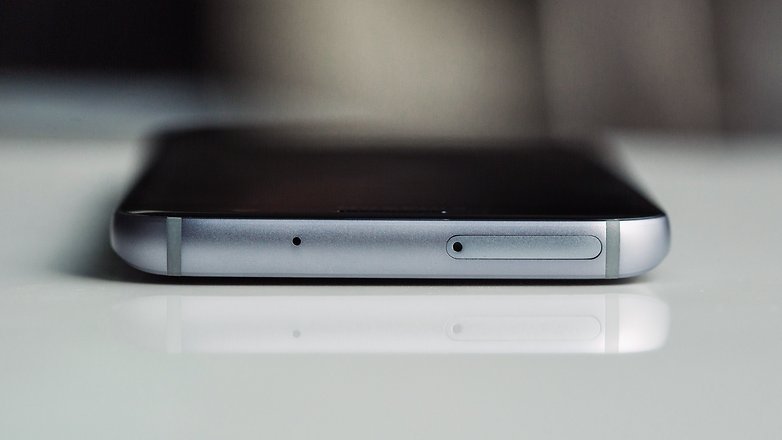 Samsung Galaxy S8 and S8 Plus: design
The technical specs are mostly known, and now the design is quite firm too. Several leaks have shown us the details.
During MWC, a new video made an appearance on Weibo, which shows the Galaxy S8 and S8 Plus. A lot can be seen in this wobbly video, and it gives a good idea of the size ratio between the two devices. You will also notice that the display corners are rounded, like those of the LG G6.
Here is another new video of what is probably the Galaxy S8. The video is brief, but shows the device's screen powered on and being used.
A photo leaked by the famous leaker Evan Blass on Venture Beat shows the device's front and back, and we can assume its authenticity based on his reputation for providing accurate leaks.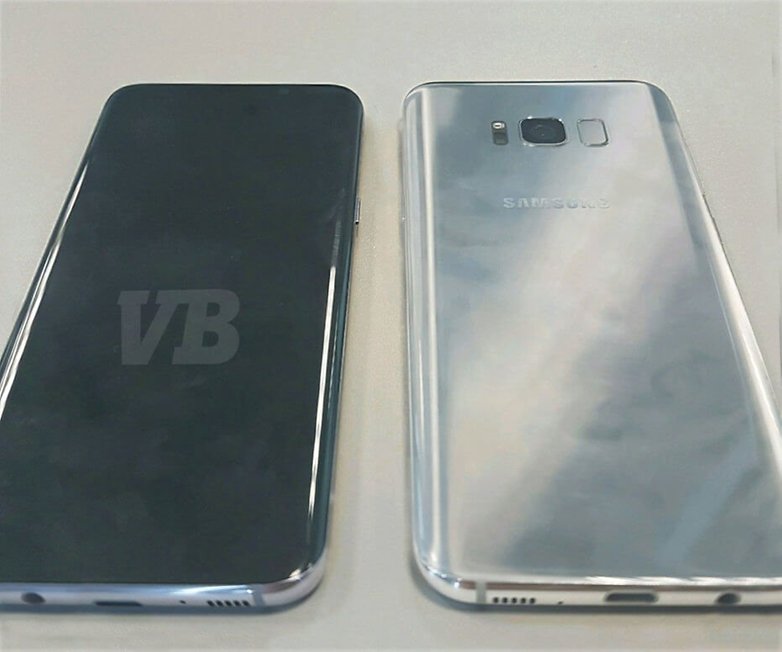 The photo shows the fingerprint scanner placed on the back, just beside the camera.
Another picture focuses on the back of a device case, with a wide opening for the camera, flash and fingerprint sensor. These are supposedly official Samsung cases for the Galaxy S8 Plus and Galaxy S8.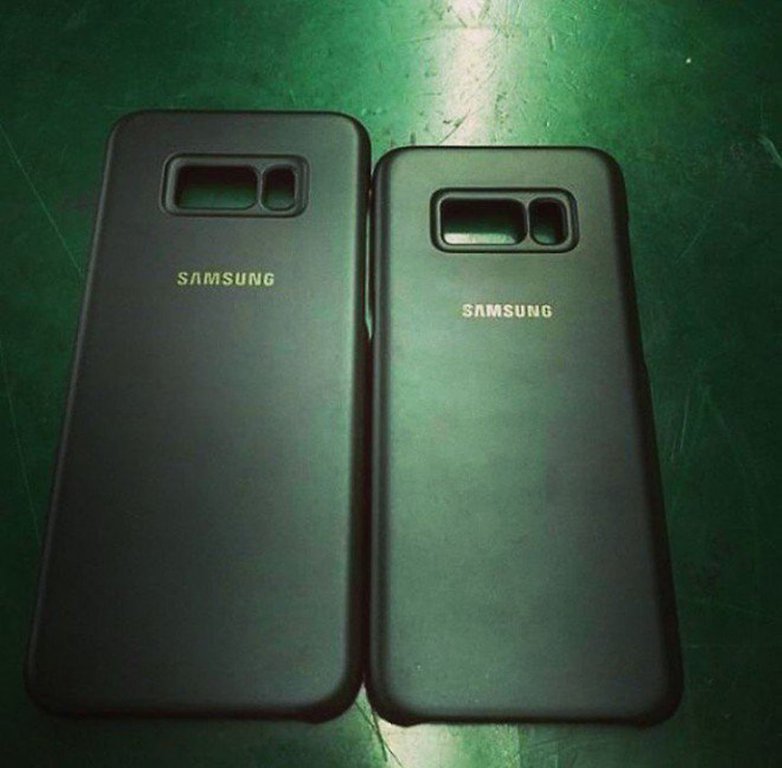 Further indicators of the design are two screen protectors which we saw back in January that are consistent with the design we've seen in leaks that followed, like the two pictured above.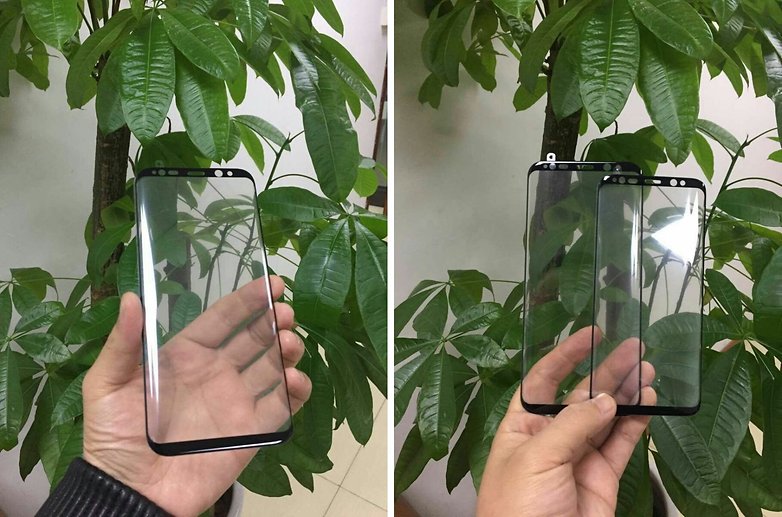 The above-mentioned leaks of cases and protective screens of course inspire designers to create animations and renders of the Galaxy S8. These aren't leaks, but they do give us a nice idea of what the phone will look like based on partial leaks and rumors. This render video from GearIndia and @OnLeaks shows off the S8 and S8 Plus in a full 360 degrees. The renders are supposedly based on factory CADs, so if the source is real, these renders would be highly accurate. In the video you will see the fingerprint reader, USB Type-C port and headphone jack featured. See the video below:
GSMArena says the smaller S8 has dimensions of 140.14 x 72.20 x 7.30 mm. The S8 Plus, on the other hand, measures 152.38 x 78.51 x 7.94 mm, which is significantly wider than the S7 Edge.
Samsung Galaxy S8 and S8 Plus: Bixby digital assistant
We think it is very likely that the S8 will come pre-installed with a digital assistant, Samsung's new equivalent of Siri, named Bixby. There is now possible confirmation of this from a Samsung employee's profile on LinkedIn, which you can see in the Tweet below. The employee is a Principal Program Manager, whose job is to "drive the execution and delivery for Samsung's upcoming AI (Artificial Intelligence) assistant on Galaxy S8".
Samsung Galaxy S8: Guess this pretty much confirms the AI assistant. (from LinkedIn) pic.twitter.com/OmoZX58CFV

— Roland Quandt (@rquandt) January 27, 2017
Furthermore, during Samsung's Q4 2016 earnings release, it was mentioned that AI-powered software and services are an integral part of the company's growth strategy, so the presence of an AI assistant in the S8 is consistent.
Bixby differs from other AI helpers in that it will be a third-party open platform. Bixby will run on many devices, like appliances and wearables, and become the control hub for your smart home. Recently acquired Viv Labs, Inc. and Samsung both agree that AI assistants are the next major revolution in IT.
Recent information from SamMobile is indicating that Bixby may include a few very interesting new features. In addition to being able to support Samsung Pay and integrating with installed apps, Bixby will also have a visual search and OCR tool to use on the camera. It's rumored the camera will include its own Bixby button, allowing it to access a search tool that processes whatever the camera is pointing at. Bixby will analyze the image, and identify any objects or text. Bixby will even help you search for the object, or use the OCR to process any text you point the phone at.
The newest rumor to emerge is that Bixby will be able to support between 7 to 8 languages when it is launched, surpassing the linguistic capacity of AI rivals such as Google Assistant.
Samsung Galaxy S8 and S8 Plus: special features
Samsung Galaxy S8 and S8 Plus: S Pen accessory and possible PC mode
Samsung may introduce the S8 with some accessories. Sammobile says the device may have an S Pen, but it won't have its own holding slot in the device to plug into. It's also possible that Samsung could supply new wireless headphones with the device.
Samsung also may be working on a competitor to Microsoft's Continuum, according to AllAboutWindowsPhone.com. The technology would allow the smartphone to extend itself to an external display, and make use of peripherals like a keyboard and mouse. It would function much like a desktop computer in this way, and in the picture we see that it looks like Chrome OS.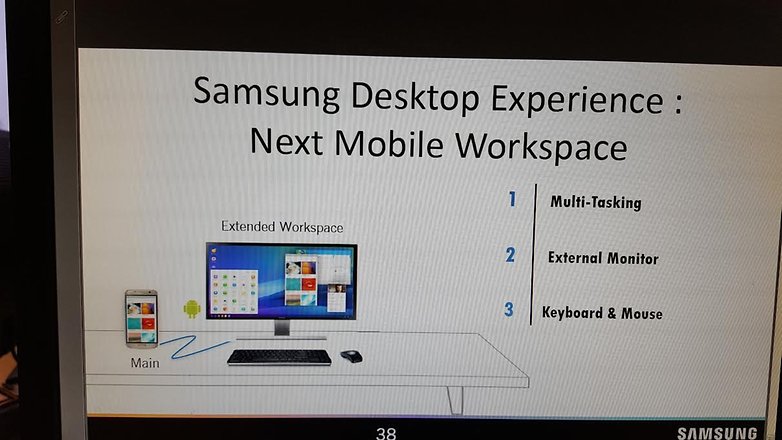 Samsung Galaxy S8 and S8 Plus: iris scanner
The S8 is very likely to feature an iris scanner. The Note 7 was released with one, and it would be a shame to let the feature end there. The iris scanner offers an extra level of security which can't be faked, and an API would allow third party apps to use the iris scanner as a way for users to unlock sensitive files.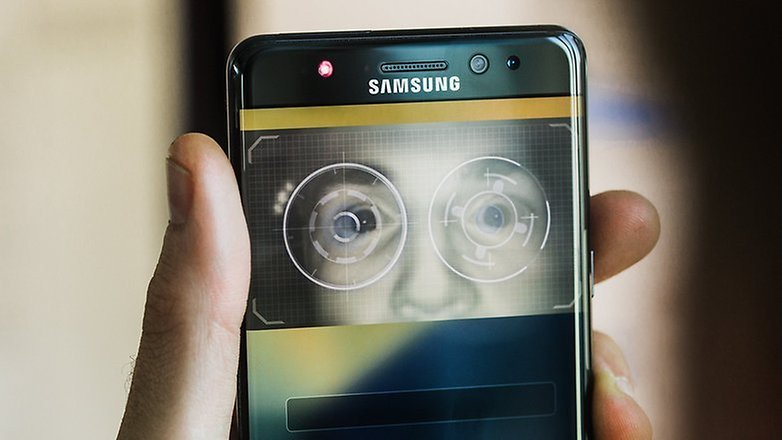 Conclusion: almost all details are known
Samsung tightened security to prevent leaks, but this apparently didn't work very well. Almost all of the details of the S8 and S8 Plus are now known. There is some suspense hanging around the software features, but everything has been said about the hardware specs already.
What are you hoping to see from the Galaxy S8? Do you like the specs and design so far? Let us know in the comments!