Samsung Galaxy S8 price, release date, specs and rumors
Update: All the most recent Galaxy S8 rumors
The Samsung Galaxy S7 and S7 Edge are currently taking the smartphone world by storm. That said, shape is beginning to form around the Galaxy S8, which should appear in Spring of 2017. Here's everything else we know so far about the Galaxy S8 price, release date, specs and features.
Samsung Galaxy S8: price and release date
A first hint into the launch of the Galaxy S8 by serial leaker Ricciolo pointed to February 26 at 7 PM CET in Barcelona, as we saw in a tweet. However, more recent rumors from point to a much later date: there's also a possibility the MWC tradition could be broken in 2017 and the unveiling could be in New York and delayed until April, to avoid rushing and causing any devastating mistakes with the S8 launch. This decision was the result of a global strategy meeting at the Korea HQ of the company, reportedly. If this is the case, it could be May until consumers can have the device in their hands.
We believe that the Galaxy S8 would follow the same price progression as its previous models, which increased over time due to new innovations and evolution of tech specifications. This would place the Galaxy S8 at a $800 price mark. However, this may be too pricey for a flagship device, and Samsung may choose a price mark closer to the Galaxy S7, that being of $700 upon release.
Of course, that price tag is likely to vary around the world (as will the release date) and current rumors suggest that in India, for example, the Galaxy S8 will cost between Rs. 54,000 – Rs. 60,000. According to the somewhat spurious sounding GalaxyS8Info.com, it's due to go on sale in March, rather than April as had previously been reported. It's probably best to take information like this pricing and release date in India with a pinch of salt until a more trustworthy source has information to share.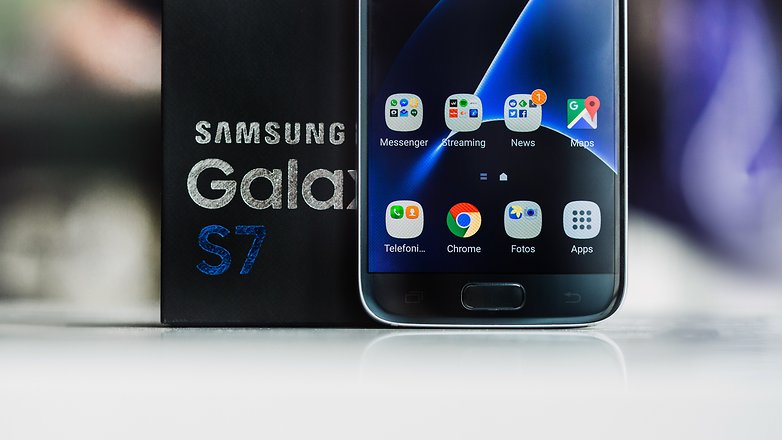 Samsung Galaxy S8: technical specifications
Samsung Galaxy S8: Camera
An insider leak from China says the Galaxy S8 will be getting a dual camera. The primary rear camera will be 12 MP, with a 13 MP secondary camera. With two sensors, you can create what is called a Bokeh effect to help with better depth of field effects. There will also be an 8 MP front camera for selfies, a welcome upgrade from the outdated fixed-focus 5 MP on the S6, S7 and Note 5. According to the Korean website ETNews, the front camera will have an auto-focus feature typical of rear cameras. Samsung has figured out a way to make it small enough to keep the camera from protruding from the phone, by mounting the actuator on the side of the lens rather than in the middle.
AndroidPIT assessment: The rumors about the dual rear camera seem plausible, since there is stiff competition and the S8 will need to stand out against the crowd. Recently, the Honor 6X, a phone that costs just $250, also came out with a dual camera. There also need to be improvements in low light performance, JPEG compression artifacts and the selfie camera.
Samsung Galaxy S8: Display and design
Overall design: The Note 7 may indicate what we could expect with the Galaxy S8. While the S7 made improvements to its design from its predecessor, it had similar specs to the Galaxy Note 5 that had been released six months before. And this follows previous releases of the Galaxy Note series, so the former Samsung phablet generation is usually a preview of the specs for the next Galaxy flagship.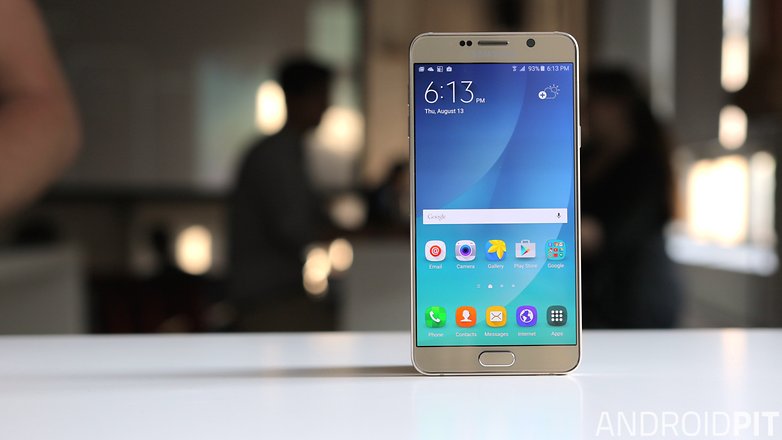 The Galaxy Note 7 more closely shares design DNA with the Galaxy S series, with the convergence of edges – whether large or small – across all Samsung flagships.
A recent (alleged) leak that has been circulating via TalkAndroid may show a prototype for the Galaxy S8. The video in question comes from Samsung's display division, and it's highly unlikely that they would accidentally leak their own phone this way. The screen-to-body ratio for the device is high, a there is virtually no border on the right or left sides of the smartphone.Thin bars at the top and bottom have allowed just enough space for a few small components and the trademark Samsung logo.
Two different sizes: The rumor mill has already suggested that the Galaxy S8 (codenamed Project Dream) will be available in two sizes, and both share a similar design. The model numbers will be SM-G950 & SM-G955.
Samsung Galaxy S8 models are indeed skipping SM-G94* model numbers, will ship as SM-G950 & SM-G955. Know what else is in the works? SM-N950.

— Evan Blass (@evleaks) November 9, 2016
Both of these models have apparently already been tested in China.
more international version is still testing busily too. G950FXXU0APLH G955FXXU0APLH https://t.co/9iQraEwyR6

— 萌萌的电教 (@mmddj_china) January 2, 2017
The larger of two models, the projected 6.2-inch device, has already been christened by the internet as the "Samsung Galaxy S8 Plus." Given its possible size, this model would be bigger than the last Galaxy Note.
The smaller model is rumored to be around 5-inches, making it smaller than the Galaxy S7 (5.1-inches) and the same dimensions as the Google Pixel. This is an interesting strategy for Samsung, but it is a bit of a risky move: if the change from 5.1-inches to 5-inches doesn't bother a lot of people, many people may find a 6.2-inch device to be too big for a phablet.
Edge display: More purported leaked details of the S8 suggest that the next phone in the range will have double-curved edges on the front and back, but that there will be no 'regular' model without a curved screen. There's even some suggestion that the screen sizes could jump to 6.2-inches for the larger model.
The Korea Herald wrote that Samsung planned to consolidate its flagship lineup, with next year's phones being honed down to curve-only displays. This could pave the way for a single Galaxy S8 edge device, the way the Galaxy S line was produced until the Galaxy S5. If this claim proves to be correct, it would mean a significant change for one of the world's most popular smartphone families. A change like this would signify that curved-edge displays had become the more popular choice for Samsung customers.
Videos from Samsung Display on YouTube led some people to believe that the company had accidentally leaked its upcoming flagship, but that seems really unlikely.
RGB Super AMOLED Quad HD display: There are already rumors about a 4K display, or a Bezel-less OLED display, but the latest rumor is that the Galaxy S8 will be getting an RGB Super AMOLED Quad HD display. According to SamMobile, Samsung is planning to ditch the Diamond PenTile pixel arrangement for one with sharper image quality. An RGB arrangement will bring around 11 million pixels, while the old layout was only around 7.3 million. This will make a profound difference for VR applications.
Bezel-less OLED display: The Korean Herald spoke to a Samsung Display researcher who said "Samsung Display would roll out a full-screen display whose display area ratio [...] reaches more than 90 percent next year". The Samsung employee declined to officially confirm this full-screen adoption but there are reports that Apple is working on implementing this technology into its iPhone 8.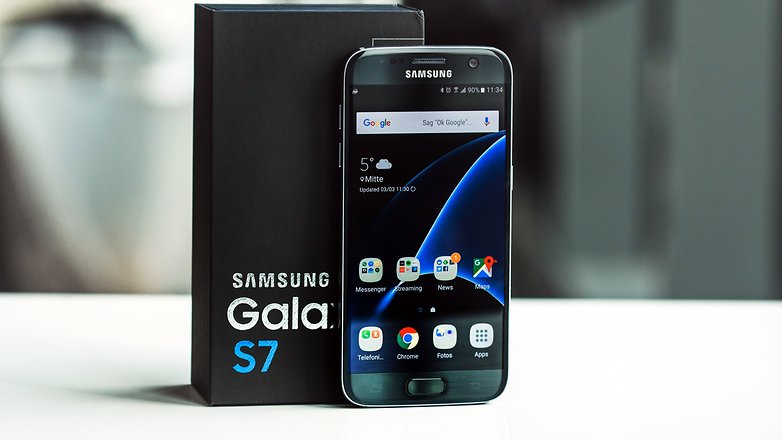 Force touch: According to industry sources, Samsung is considering putting pressure sensitive technology in the Galaxy S8. The technology, also known as Force Touch or 3D Touch, allows software to react to different levels of pressure being applied to the screen with a finger. For example, it can allow pressure to be used to adjust a brightness setting or zoom in on a photo. An anonymous Samsung supplier said, "Samsung is considering adopting the force touch technology partially from the S8 but the full adoption will come in one or two years … It is a matter of time before other major Android smartphone makers deploy the technology that will help enhance user interface." This implies that while the S8 edge may have the hardware technology ready to implement, full software integration could take up to one or two years. Phones that are already using this technology include the iPhone 6s and the Huawei Mate S.
Fingerprint scanner on the back: The S8 will likely leave the home button behind, which could have made it the first smartphone with an optical fingerprint sensor under the display. This isn't expected, though. Synaptics, which has long been the supplier for Samsung's fingerprint scanners, has just announced the release of its Natural ID optical-based fingerprint sensors for smartphones and tablets, which are due to go into mass production in Q2 2017. This will be too late to make it into the S8 before launch, which is why it's not likely to get an optical fingerprint scanner.
What will it get if not a home button or an optical fingerprint scanner? A scanner on the back, of course. A new report says that Samsung will place the fingerprint scanner on the back of the phone, much like the Google Pixel. Samsung hasn't confirmed anything yet, so we'll just have to wait and see.
A "leaked" video from Samsung's display division is highly unlikely to be the S8, but the device shown may indicate a new design inspiration. The video leak circulated by TalkAndroid may have revealed that a physical home button will not feature on the Galaxy S8. This could mean that Samsung may integrate the home button into the glass display, utilizing the latest technology to be released by Synaptics.
AndroidPIT assessment: There's a lot of contradictory information floating around with regard to the display size, a frameless design, and the possibility of only having an Edge variant. The facts remain to be seen, and all we can do is speculate at this time.
Sources: The Investor, Weibo, Weibo, Weibo, TalkAndroid
Samsung Galaxy S8: Audio
SamMobile has confirmed that the Galaxy S8 will not have a standard 3.5 mm headphone jack. And like the iPhone 7, the USB Type-C port will be used instead, meaning you won't be able to charge your phone while using headphones and you'll need an adapter for any headphones you already own.
There is another rumor from Fonearena about the S8 getting stereo speakers, but this is far less likely. Samsung took over Harman Audio, but they said themselves that Harman Audio coming to the Galaxy S Series was just a thought for 2018.
Samsung Galaxy S8: Processor, RAM, and other
Processor: Qualcomm has recently confirmed that its new Snapdragon 835 mobile chipset will be manufactured on Samsung's 10 nm FinFET process technology, and its highly likely this will be the processor Samsung will use in the US version of the Galaxy S8. The octa-core processor will be 20 percent faster and 25 percent more efficient than its predecessor, Snapdragon 820. The CPU has four performance cores running at up to 2.45 GHz, and four efficiency cores running up to 1.9 GHz. To compliment all of this, the inclusion of the new Adreno 540 graphics card promises 25 percent improved performance and HDR support. Whether or not this delivers their intended results, only time will tell.
As for other non-American Galaxy S6, these might come with the Exynos 8895 that was previously rumored. This comes as no surprise as producing devices with different chipsets is nothing new for the Korean smartphone giant.
The Exynos 8895 processor, which is said to be capable of up to 4 GHz speeds, might be used in some of the Galaxy S8 smartphones. The rumored Exynos 8895 would provide an estimated 30 percent performance improvement on the Exynos 8890 found in the Galaxy S7 (in some regions) if the claims are accurate. The chipset makes use of ARM's newest Mali-G71 GPU, which is rumored to be 1.8 times faster than the Mali-T880 MP12 GPU found in the Galaxy S7.
RAM and internal storage: According to information posted on Chinese social network Weibo, the Galaxy S8 will reportedly deliver a 5.5-inch 4K display geared for VR and will come with a whopping 6 GB of RAM. Leaks from China via SamMobile also suggest it could come with up to 256 GB of internal storage, and the leaks corroborate the 6 GB RAM claim.
Battery: The Note 7 battery doomed the phablet and put the South Korean smartphone giant in jeopardy. We can expect that Samsung will pull out all the stops to ensure that the Galaxy S8 goes off without a hitch. So it came as no surprise to us that the company could be looking externally for help with the S8 battery. The Korea Herald reported that a Samsung executive said that the company is "looking at diverse suppliers, including LG Chem" for help with the Galaxy S8 battery. This has not been confirmed by either company, but there are sources who say a deal has already signed between the two. This would not be the first time that Samsung looked to LG for partnership.
Against all expectations, Samsung's subsidiary company Samsung SDI will be responsible for developing the batteries for the Galaxy S8. Samsung SDI had been credited as being responsible for the Galaxy Note 7 battery fiasco, which pushed Samsung to source batteries from its second manufacturer: China's ATL. That said, according to the information coming directly from the South Korean company, SDI and its batteries were not responsible for the Note 7 explosions. Rest assured, the same issues should not impact on the S8 as Samsung has identified the cause of the Note 7 problems and will be releasing a report on its findings in early 2017.
It shouldn't come as much of a surprise that the smartphone will have a fast charging system, as Snapdragon 835 will include the Qualcomm Quick Charge 4. According to Qualcomm, with this system you will get 5 hours of battery life after only 5 minutes of charging. We shall see.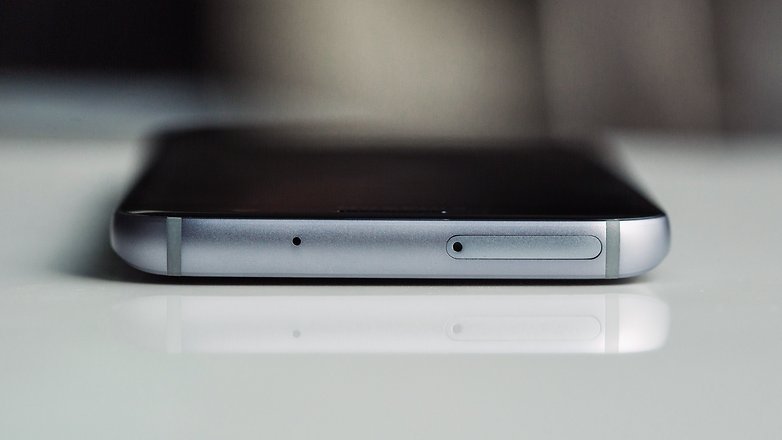 AndroidPIT assessment: The Galaxy S8 will definitely have high-end hardware and impressive performance, but it remains to be seen if it will have the Snapdragon 835, 830 or the Exynos 8895 processor. It is likely that it will have 6 GB of RAM though.
Sources: SamMobile, SamMobile, SamMobile, Weibo, Weibo, Techtastic,
Rumored specs at a glance
The Galaxy S8 is rumored to have the following specs, which include the latest version of Android and the also rumored Snapdragon 835 processor:
| | |
| --- | --- |
| Specifications | Galaxy S8 Specs |
| Type | Phone |
| Model | SM-G950 |
| Manufacturer | Samsung |
| Dimensions | 145 x 72 x 6 mm |
| Weight | 171 g |
| Battery Size | 4,200 mAh |
| Screen Size | 5.1 inches |
| Display Technology | AMOLED |
| Screen | 1,440 x 2,560 pixels (576 ppi) |
| Front Camera | 9 MP |
| Rear Camera | 30 MP |
| Flashlight | LED |
| Android Version | Android 7.0 Nougat |
| User Interface | TouchWiz |
| RAM | 6 GB or 8 GB |
| Internal Storage | 64 GB, 128 GB |
| Removable Storage | up to 256 GB per slot (single and dual SIM models) |
| Chipset | Qualcomm Snapdragon 830 or 835 |
| Number of Cores | 8 |
| Max Clock Speed | 3 GHz |
| Connectivity | Wi-Fi, Bluetooth, GPS, NFC, USB 3.1 |
Samsung Galaxy S8: features
So far, speculations about the features of the Galaxy S8 have had a futuristic note about them. Of course, the Galaxy S7 also had some cool features, like waterproofing. The Samsung S7 Active took its durability a step further. We hope to see the 'shatter-resistant' display on the Active in the Galaxy S8, among other things.
Samsung Galaxy S8: Bixby digital assistant
The S8 will likely come pre-installed with a digital assistant, Samsung's new equivalent of Siri, named Bixby. But, Bixby differs from other AI helpers in that it will be a third-party open platform. Bixby will run on many devices, like appliances and wearables, and become the control hub for your smart home. Recently acquired Viv Labs, Inc. and Samsung both agree that AI assistants are the next major revolution in IT. Samsung may even add a special button to the phone to activate Bixby.
AndroidPIT assessment: Samsung wants to get in the AI assistant game with Apple and Microsoft, and build a platform out of it. Bixby could end up a flop if it doesn't get any unique features.
Samsung Galaxy S8: iris scanner
The S8 will likely feature an iris scanner. The Note 7 was released with one, and it would be a shame to let the feature end there. The iris scanner offers an extra level of security which can't be faked, and an API would allow third party apps to use the iris scanner as a way for users to unlock sensitive files.
AndroidPIT assessment: the iris scanner is a done deal. Whether or not people need it is another story.
Samsung Galaxy S8: goodbye mechanical home button, hello subscreen sensor
For many years, Samsung has stood by hardware buttons in its design, though Android has moved on to using virtual buttons. With the Galaxy S8, we could see a change. Samsung just filed a patent application to recognize swipes on the home button. Then you could maybe launch apps by swiping left or right on the home button. It's not clear whether there will be a mechanical button or not on the S8, as Samsung has not yet chosen a supplier for a button.
AndroidPIT assessment: Apple has said goodbye to the mechanical button, and Samsung is expected to follow suit.
Source: Weibo
Samsung Galaxy S8: a high-resolution Daydream
Google announced at its I/O developers' conference earlier this year that Android Nougat will come with VR support installed in the OS. This platform is called Daydream, and for devices to support it, they have to meet a certain specs sheet defined by Google.
While these specs have not yet been made public, several devices have already been confirmed or even released that are certified Daydream-ready. Among these devices is the Asus Zenfone 3 Deluxe, which has a Full HD display, suggesting this to be the minimum requirement on the display front.
However, the latest Galaxy S8 edge rumor, coming via phoneArena.com, suggests that Samsung wishes to future-proof the device by equipping it with a 4K display. Indeed, the rumored code name for the Galaxy S8 project – Project Dream – points flirtatiously towards Daydream, so a focus on VR does not seem at all unlikely.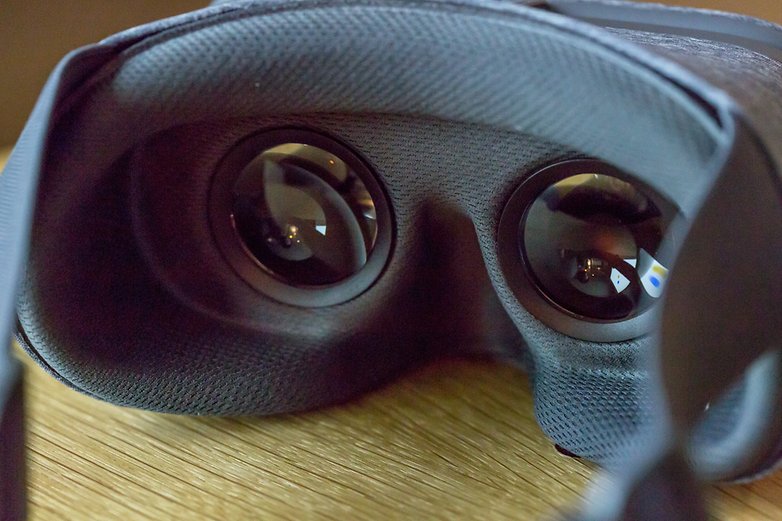 Samsung also recently showcased a 5.5-inch 4K display, suggesting serious headway is being made towards placing such a display inside the next generation of the Galaxy S series.
Samsung Galaxy S8: S Pen accessory and possible PC mode
Samsung may introduce the S8 with some accessories. Sammobile says the device may have an S Pen, but it won't have its own holding slot in the device to plug into. It's also possible that Samsung could supply new wireless headphones with the device.
Samsung also may be working on a competitor to Microsoft's Continuum, according to AllAboutWindowsPhone.com. The technology would allow the smartphone to extend itself to an external display, and make use of peripherals like a keyboard and mouse. It would function much like a desktop computer in this way, and in the picture we see that it looks like Chrome OS.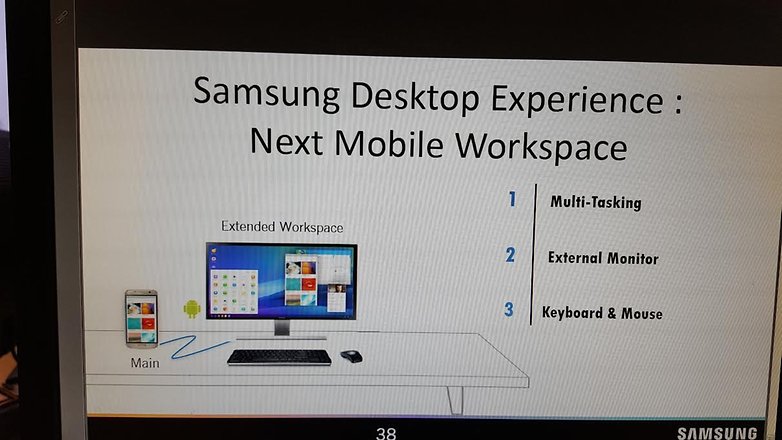 Samsung Galaxy S8: heartbeat-measuring laser
An interesting feature that could accompany the Galaxy S8 is a new laser dedicated to measuring the heart rate through the skin. This came to us via SamMobile from a patent they spotted. The device would perceive the pulsation of the arteries and determine your pulse. You can see the patent below.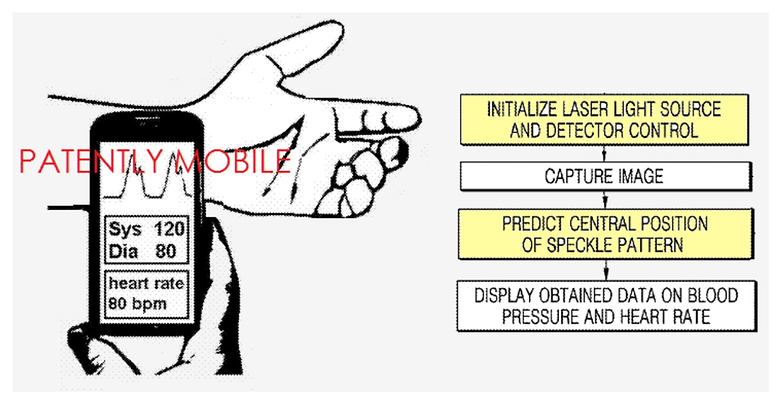 The camera system of the Galaxy S8 could incorporate the iris scanner from the Note 7. This came to us from The Korea Herald, who reportedly spoke to a Samsung official on the condition of anonymity. This source claimed that "Samsung never uses the same camera for its flagship models [...] so there surely will be an improvement" for the S8 camera.
The official also claimed a dual-lens camera – technology we've seen in other high-end flagships this year – could accompany the S8. He didn't indicate whether there will be a different camera system for the rumored variants. We do hope that the S8 won't incorporate too many features from the Note 7.
Another rumor we have for the camera of the S8 is from PhotoRumors. They say the phone could come with a CMOS sensor 1/1.7-inch aperture that could come with a resolution between 18 to 24 MP.
Samsung Galaxy 8: concept designs
We hope to see big changes with the Galaxy S8, and we're not the only ones. The designer Steel Drake threw his hat into the ring for designing the new flagship device and we hope to see some of these in 2017. We've seen some interesting design concepts for the S8 already but we desperately want these.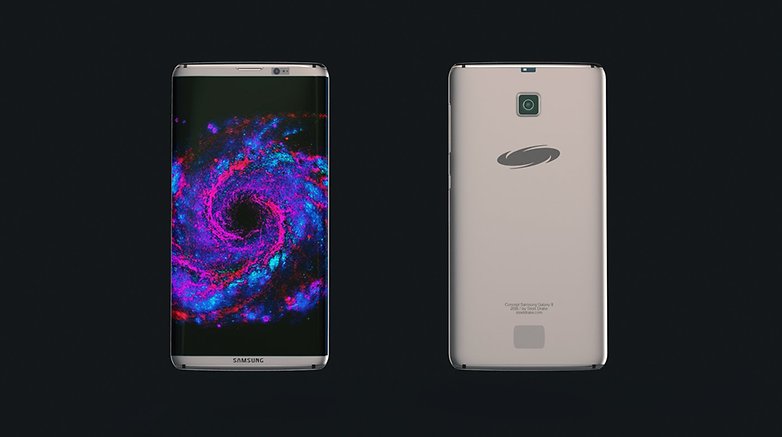 As you can see, the front would have the Samsung logo at the bottom along with the front camera at the top. Missing is the physical home button and fingerprint reader. This makes the screen take up far more of the front of the device and a welcome look for those wanting a better screen experience.
To us, the back of the device in the design renders are equally interesting. The back has a brushed steel look. This would be a complete change from the Gorilla Glass back on the Galaxy S7. At the top of the device Steel Drake also included a projector, which is interesting but probably not practical for a smartphone as it could be too taxing on the battery.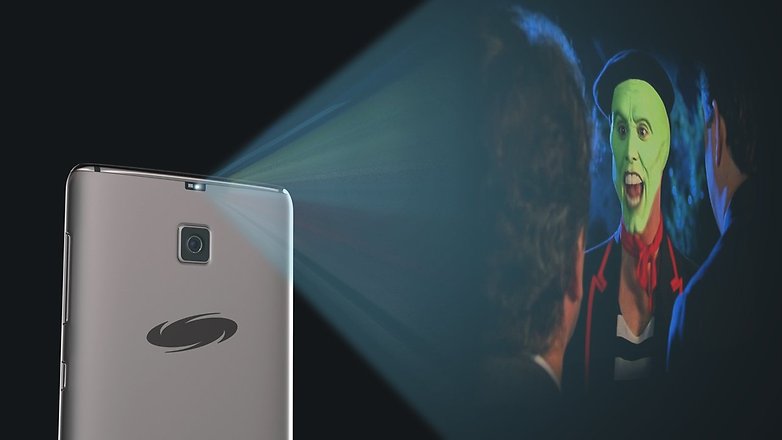 Since these concept designs by Steel Drake are somewhat older, they don't include features like the iris scanner. So, we turn to Veniamin Geskin's designs from December for a fresh look that takes into account the lack of home button.
@GordonKelly just this) pic.twitter.com/EhyT0JqnYD

— Veniamin Geskin (@VenyaGeskin1) 9. Dezember 2016
@GordonKelly maybe better use this image? No button , all screen design etc. pic.twitter.com/NsYPUSHeAm

— Veniamin Geskin (@VenyaGeskin1) 9. Dezember 2016
What are you hoping to see from the Galaxy S8? Let us know in the comments.