Best VR headsets for Android: step into another world
The VR trend has catapulted to a point where Android users now have more choice between headsets from different brands. In this best-of list, we'll go over the better-quality headsets available, which you should consider getting and the particular characteristics of each of them.
Jump to section:
The best VR headsets for Android: too many good options
First, a warning for the myopic among us. Most smartphone VR headsets are unsuitable for people who wear glasses. Your eye area should be as close as possible to the VR headset as possible. Those who wear glasses will find it near impossible to have a pleasant viewing experience, seeing as sometimes glasses frames are bent, there are greasy prints on your lens, clouding your view into the virtual world.
Those who are only slightly short-sighted and have no corneal curvature may possibly get by without their eyeglasses. Especially if a diopter adjustment lens is supported with a small dial. But this is not a solution for every bespectacled user.
The contenders for the top spot in Android VR - Google and Samsung
Currently, there are three VR platforms for Android that require different VR headsets.
Google Cardboard is not only the name of Google's cardboard glasses, but also the name of the platform for which there are many games in the Play Store. Daydream is a more elaborate new release, which also regulates the technical details on the smartphone. With the Gear VR, Samsung has also entered the ring.
Cardboard headsets work basically with most smartphones, Daydream requires the smartphone to be certified, and Samsung limits its platform only to the current high-end smartphones since the release of Galaxy S6.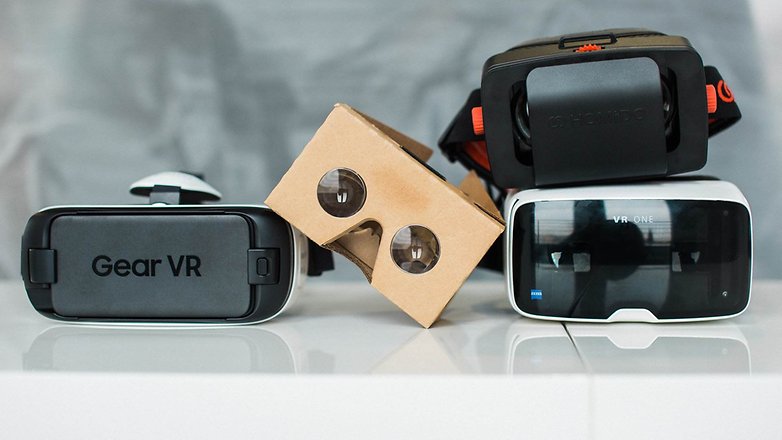 Cardboard
If you don't really know whether virtual reality is right for you, you should try the paper-based Cardboard headset for a cheap introduction into the world of VR.
Numerous versions of these VR glasses are offered by different manufacturers, but the principle is always the same: the frame of the glasses is made from cardboard, and the VR-capable smartphone is simply clamped in front of the two lenses.
A strap to fasten the headset to your head is not always offered for all Cardboard versions, so you need to hold it with your hands. This is unwieldy in the truest sense of the word and, thus, more suitable for VR demos or light apps than for games. All things considered, the VR experience is satisfactory overall, despite the spartan equipment.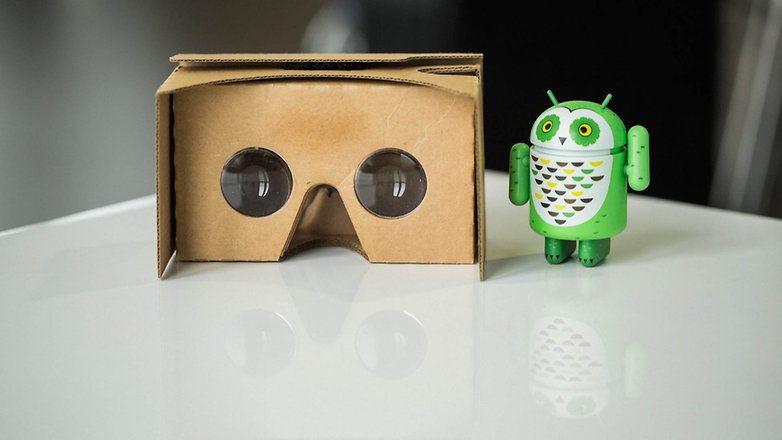 Daydream View
Daydream is Google's more complex virtual reality platform: here, Google defines not only the VR headset, but also demands on the smartphone. Daydream also requires a controller. The platform is now in its second generation and is supported mainly by Google's Pixel smartphones, such as the new Pixel 2 and Pixel 2 XL.
Currently, the only style of VR headsets for Daydream come from the Google and goes by the name Daydream View. In our review of Daydream View, the headset did quite well: the comfort when wearing them and the quality of the platform are very good.
There is still a lack of content, because Cardboard apps don't work with it, but Google is pushing the Daydream platform after the release of the new Pixel phones.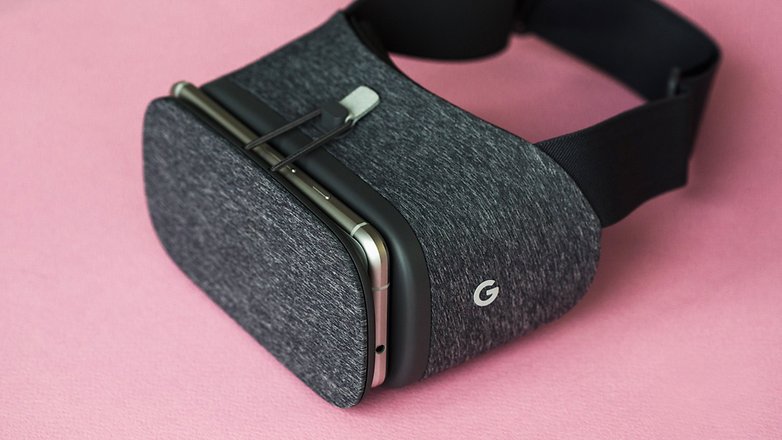 Samsung Gear VR with controller
Together with Oculus, Samsung has developed the Gear VR, its own VR headset, which have two special features: firstly, there's an exclusive Oculus Store, where VR games and apps are available. Secondly, Gear VR only supports high-end smartphones from Samsung.
The latest SM-R324 version of the Gear VR supports Samsung smartphones with microUSB and USB Type-C, which include the Galaxy S6, S6 Edge, S6 Edge +, Galaxy Note 5, Galaxy S7, S7 Edge, Galaxy S8 and S8 Edge.
If you've got the Galaxy Note 8, then you'll want the newer SM-R325 version, which supports the larger phablet.
As an added bonus, Samsung has now added a special controller with the latest versions of the Gear VR.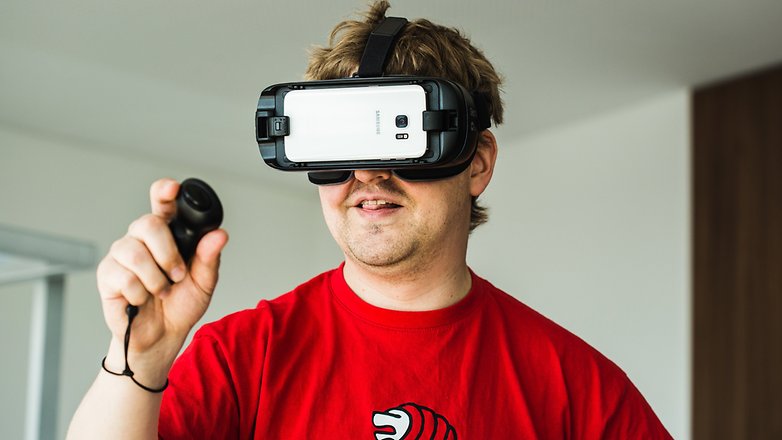 The Gear VR feels just fine and sits comfortably as it is quite light. If it is still too heavy, an additional strap can also be pulled over the head, whereby the weight is displaced.
Originally, the Gear VR platform did not come with its own controller, though things have changed with the introduction of the new generation. The new Gear VR controller has a trigger button, a touchpad with click function and dedicated Home, Back and volume control buttons. It's very comfortable to hold and enables you to easily access Gear VR apps.
All in all, the controller is the highlight of the new Gear VR. If this isn't enough to convince you, well perhaps taking a look at our test will do the trick:
VR Headsets: what's happening outside the Android world
There is indeed a world of virtual reality outside of Android: the concept was embraced by Sony with Playstation VR and HTC with HTC Vive, both of which work on their own platform and software. The entire hype was started by Oculus, which was bought by Facebook, and its Rift headset.
Oculus Rift
The Oculus Rift headset costs around $399 and can be bought on the Oculus store and ships within two business days. The headset also comes with a sensor, a remote, cables, touch controllers and seven free VR apps (available after you set up Oculus Rift + Touch), including Lucky's Tale, Medium, Toybox, Quill, Dead and Buried, Dragon Front, and Robo Recall.
Bear in mind, however that, you'll need a decently powerful PC to run Oculus Rift properly.
HTC Vive
Additionally, the VR headset from HTC, HTC Vive, which was released in April 2016, requires a powerful PC running a software called Steam, which will be your main store for games. At around $510, the headset is more expensive than the Oculus Rift, through it remains the most cutting edge VR headset on the market.
The Vive experience can be enhanced with certain addons, and we particularly recommend TPCast's wireless solution, which eliminates those pesky cables underfoot as you move through virtual worlds.
PlayStation VR
Clearly cheaper are Sony's virtual reality headset, PlayStation VR at $399.99, but you also need a PlayStation 4, which you can buy for $299.99. VR fans also need a suitable camera and, depending on the game, a PlayStation Move controller.
Compared to buying a gaming PC, the PlayStation version is still cheaper. What's more, the PlayStation solution has a big selection of games. More than 100 games are being developed for the PlayStation VR.
Have you fallen prey to VR fever or do you prefer to stay in the real world? Which VR headset do you use? Let us know in the comments.