Best apps for monitoring system performance on your Android device
If you're the kind of Android lover that needs to know absolutely everything about the performance of your Android device then you probably want to monitor your device's performance in real-time. Luckily we've listed the best apps that let you do just this, so you can identify problematic WiFi connections, power hungry apps, irregular CPU behavior or background processes that are sucking up your data allowance and chewing your battery. Here's how to monitor the system performance of your Android phone or tablet.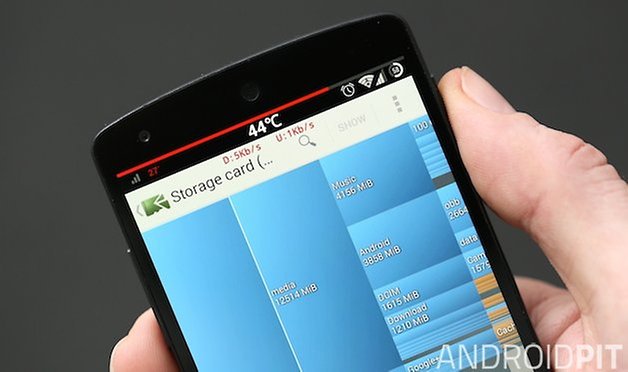 Network Monitor Mini: the great mini widget for your home screen
Network Monitor Mini is a mini network monitor. Go figure. The app allows you to keep a tiny readout of your current network upload and download speeds floating on top of whatever else you're doing. This lets you keep an eye on which websites are chewing your data, and how, in real time. The information can be placed anywhere you like on your screen and you can also set the font, color, ''tap through'' option (instead of opening the app), transparency and more.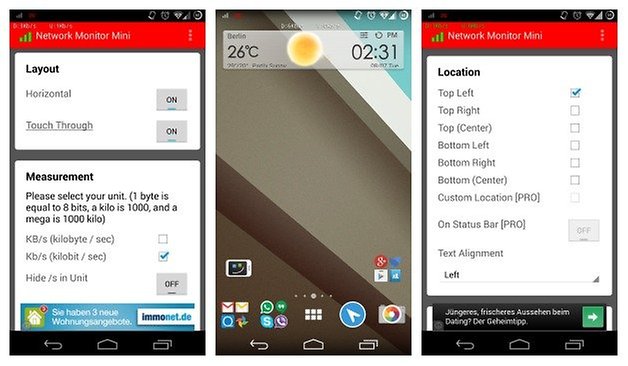 System Monitor: real-time system information
An oldie but a goodie, System Monitor hasn't been updated for a while and it shows in the interface, but the guts are all good, as they say. You can set up resizable widgets to display how your system resources are being used in real time, including current CPU load and a battery and memory monitor (both RAM and SD). There's the usual array of task manager features too. If you want to feel like you're sitting at the engineering panel of Android HQ, this is one of the best apps you need for monitoring system performance on Android.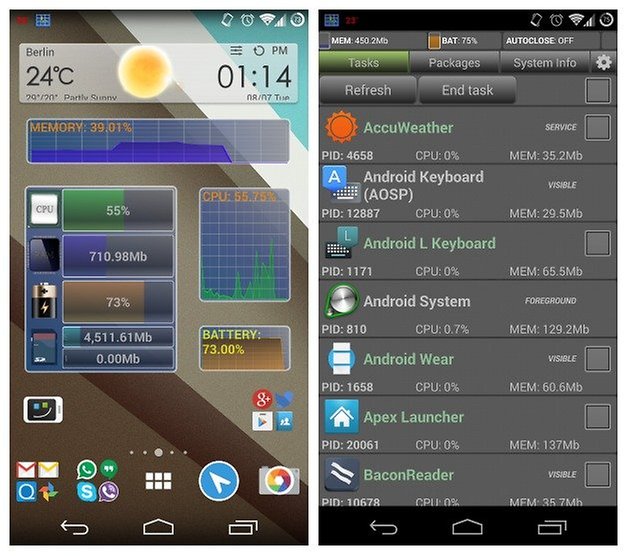 TinyCore: minimalistic widget with the necessary info
If a screen full of system monitoring widgets is a bit too obtrusive for your minimally crafted homescreen aesthetic then TinyCore has you covered. This thing is minimal. And I mean minimal. So minimal that you wouldn't even know it was there unless you were looking for it. TinyCore is a system monitor app that adds a tiny line above the clock in your system bar to visually display at a glance your current RAM or CPU usage. If you want to fork out for the Pro version you can also add CPU frequencies to the display.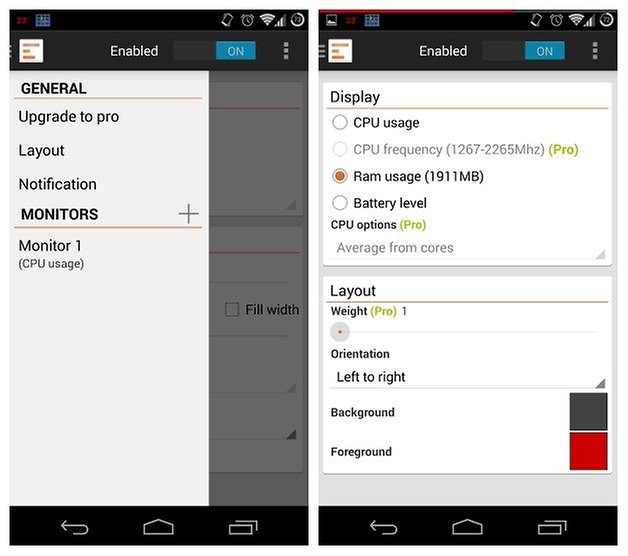 Disk usage: information kept simple
If numbers, graphs or simple lines are too complicated for you, then how about a big old chart that shows how much memory a certain file or directory is taking up based on how big it is on the screen? Sounds perfect. Well that is exactly what Disk Usage does: lets you monitor what takes up the most space in local or external memory by showing you proportionately sized blocks on screen. There's no interpretation of data required here. It's great if you want to identify large files and clear up space.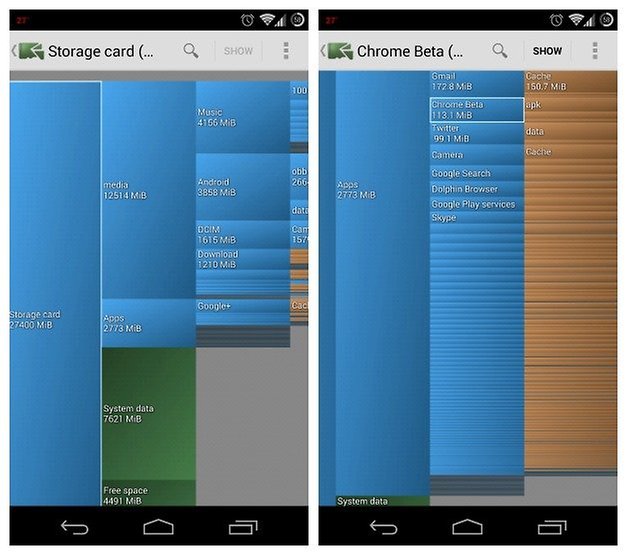 CPU Temperature: how hot is your smartphone?
Considering the frequency of battery draining, CPU chewing and overheating firmware updates floating around, some hard data might be useful to have on hand. Knowing what a normal range for your device is also lets you know exactly when things are abnormal. Not that your palm isn't a perfectly good thermometer, but CPU Temperature will let you monitor your CPU temperature and clock speed, battery temperature and charge level and give you a bunch of cool graphs so you can view changes over time. You can also get an overlay for your status bar so you're always in the know on what's hot and what's not. Yes, I just said that.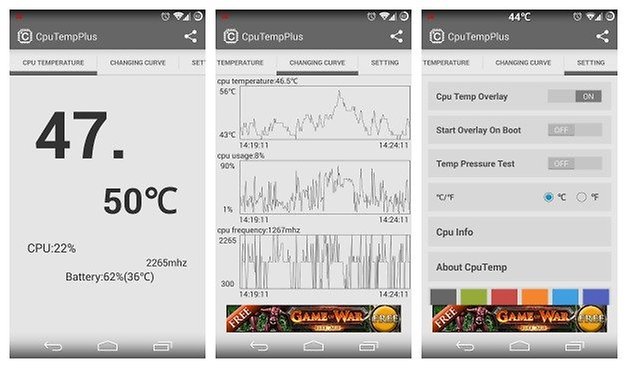 Bonus
The Android system actually has a few built-in options for keeping tabs on running processes too. Process Stats are accessible via the Developer Options menu in Settings. If you don't already have this menu enabled, just go to Settings > About Phone and tap the Build Number repeatedly until the notification pops up. Developer Options will now appear at the bottom of the Settings menu. Process Stats will tell you what percentage of the time an app is running as well as its average and maximum RAM usage. You'll also get a list of currently running processes attached to that app and the ability to force-stop them.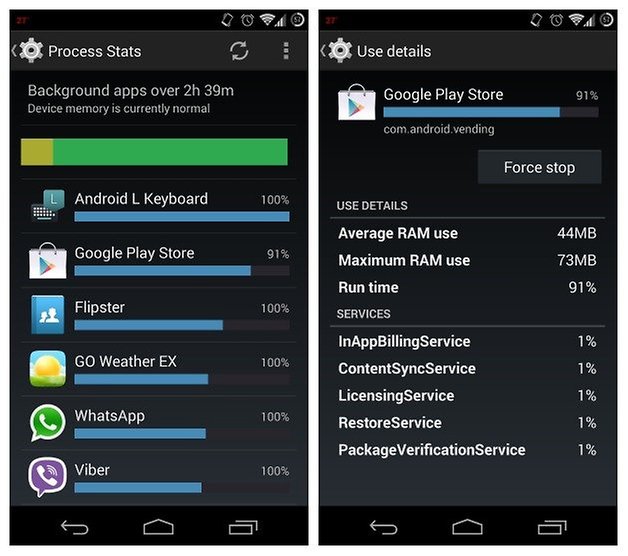 Likewise, check your battery section. Tapping the listed apps and services will show you a breakdown of the biggest battery suckers, what processes they're running, how much battery they're eating, wake lock stats, mobile and WiFi data sent and received and more. Also, check your Apps section and scroll to the Running tab, this is where you can learn which apps are always running on your system for good reason (like WhatsApp or Google Play Services) and those that shouldn't be (games you're not playing or music players you're not using).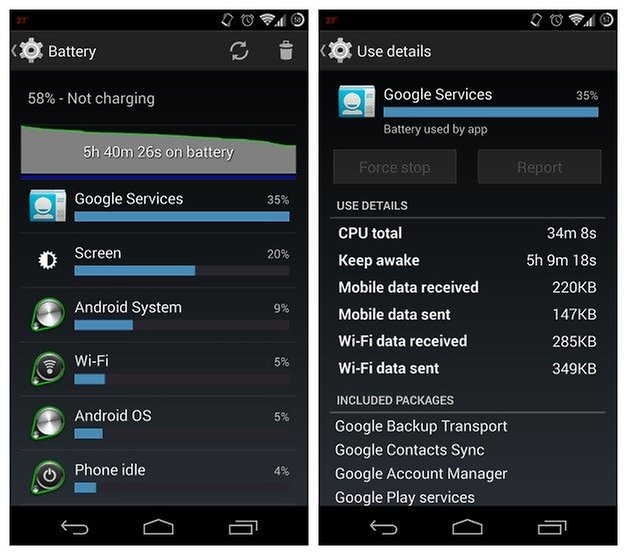 What would be your best apps for monitoring system performance on Android?