Best backup apps: save all your Android's innards
As disaster can strike without warning, backing up your messages, images, data, contacts and everything else that is important to you needs to be made easy. A selection of backup apps exist for this reason. There are free and paid backup apps, some requiring root privileges, and they all have their own strengths and weaknesses. These are the best backup apps.
Android and data backups: a tragic tale
Android has lacked a flawless backup solution for years. Only with root access is it possible to create a complete backup, making an iPhone-style switch a complicated affair. Enviously we look on iOS users who can upgrade their iPhone and, after a single login, see all their old data and settings magically restored.
The following backup solutions each deliver this comfort in part, but often root privileges are required for the app to get access to relevant parts of the file system. What this means and how it works is explained in this article:
Titanium backup
Assuming you have root access, no other backup app comes close to Titanium Backup. This exhaustive app can save almost anything: apps, application data, messages, system settings, widgets, backgrounds, you name it.
Its recovery services don't only work on stock devices, either, but also across most hardware, Android versions and custom ROMs. Anyone who likes an experimental Android experience and has flashed their device will appreciate Titanium Backup.
| PROS | CONS |
| --- | --- |
| Extensive backup options | Confusing interface |
| Access to system apps | How to use it barely explained |
| Almost total control offered through fine-tuning | |
| App management | |
| Removal of bloatware and old data | |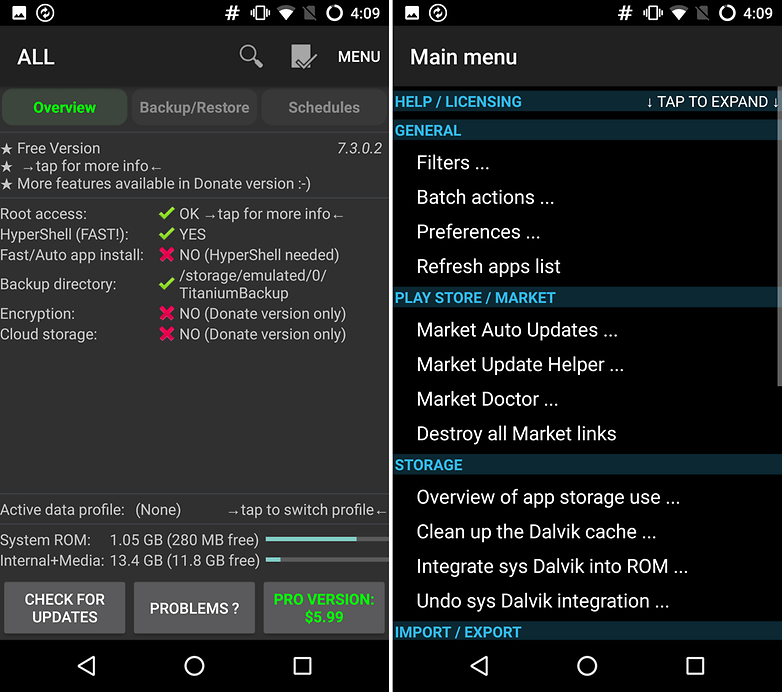 Titanium Backup ★ root

Super Backup
Super Backup can not only backup messages and contacts but also applications, call logs, bookmarks and your calendar. Superuser privileges are only required for backing up settings and app data. You can set it up to automatically send a copy of any backups you create to your Gmail address, and it now supports the same with Google Drive.
You can't backup all media formats with Super Backup Pro, but for those files it supports, the operation is self-explanatory and simple to carry out. The Pro version is devoid of advertising.
| PROS | CONS |
| --- | --- |
| Easy to create backups | No automated backups through alternative cloud storage solutions |
| Ability to send backups automatically to Gmail | Can't backup media |
| No root access needed | |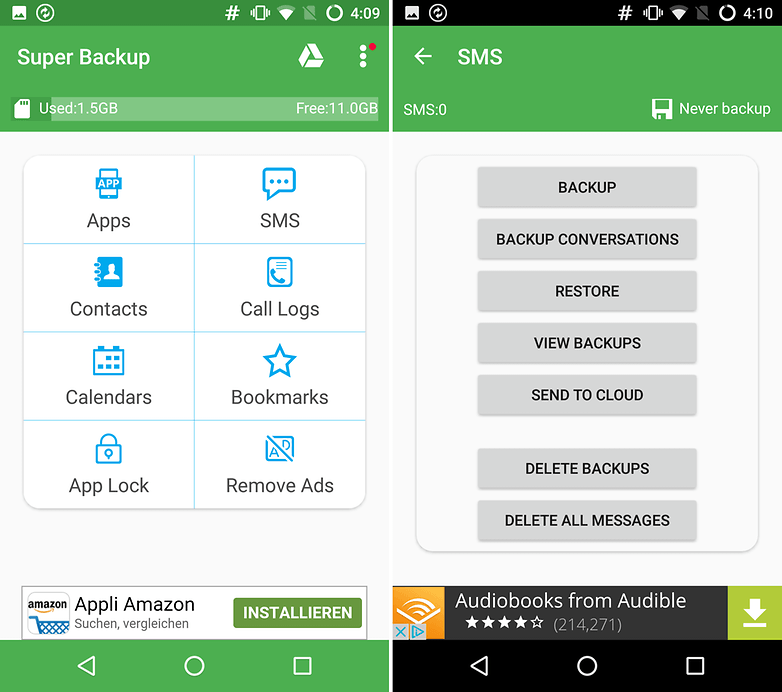 Super Backup & Restore

MyPhoneExplorer
For those who are reluctant to let their data stray too far, MyPhoneExplorer allows you to create a complete backup locally on your computer. Simply connect to your PC over WLAN, Bluetooth or a USB cable through the Windows program and you're ready to go. The tool focuses not only on backing up data, but it also provides additional functions such as sending SMS messages via PC and app management (start, uninstall).
| PROS | CONS |
| --- | --- |
| All data available offline | Requires Windows |
| Backs up all file types | |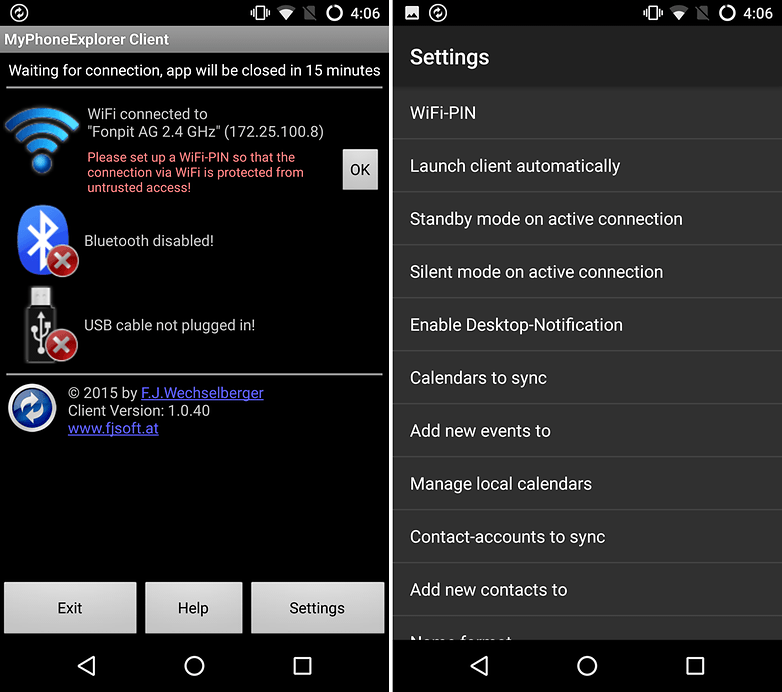 MyPhoneExplorer Client

Helium
Helium (formerly Carbon) comes from the makers of ClockworkMod and is one of the few backup apps that convinces not only with its functionality but also with its attractive design. Even without root privileges, it is possible to use Helium to backup not only your apps but also messages, Wi-Fi passwords, and application data. Backups of media files such as photos, music and videos are not possible with Helium.
The paid version provides a backup schedule, cloud connectivity and the removal of all ads.
| PROS | CONS |
| --- | --- |
| Simple solution | Limited range of backup options |
| Doesn't require root access | Some apps take a while to backup |
| Full cloud connectivity | |
| Automated backups possible | |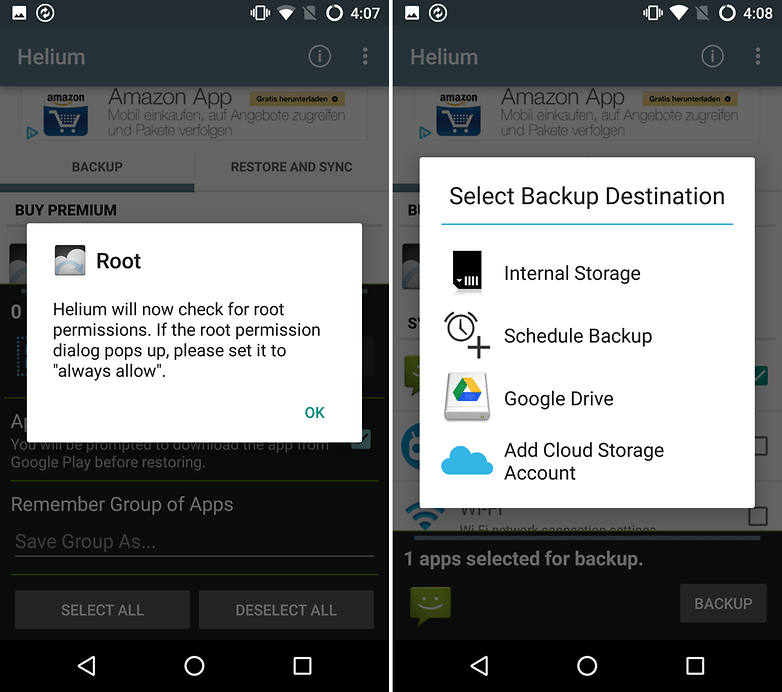 Helium - App Sync and Backup

MyBackup
The target group of MyBackup is the newbies. A simple interface and deliberately limited backup options make the application very approachable. It also includes root-requiring options to backup application settings, data and APKs.
Regular users can create backups of their programs, messages, system settings, APNs and contacts and call lists. Cloud storage is only available from the manufacturer itself, and it's limited to 100 MB. If you want more space, you will need to pay for it.
| PROS | CONS |
| --- | --- |
| No need to regist | Only one cloud storage option |
| Offers local backups | Selection of media made difficult |
| Simple interface | |
| No root access required | |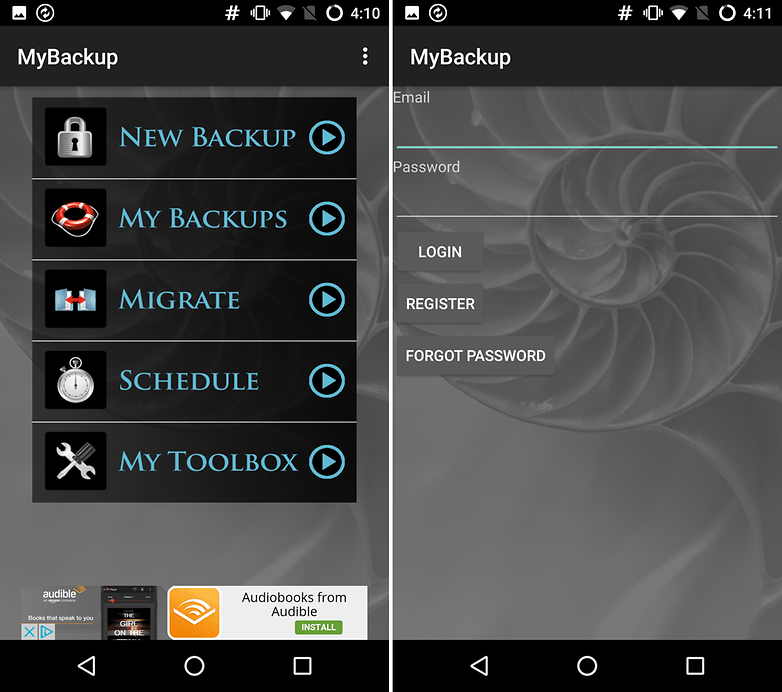 My Backup

Ultimate Backup Lite
Ultimate Backup Lite offers a mix of features for devices with and without root privileges. Thanks to an introduction and clearly arranged UI, it's easy to navigate from the off. Various file formats and areas of the smartphone can be backed up, with SMS being the most recent thing to see inclusion.
You can upload your backups to Dropbox, Google Drive and Box. For superusers, you can also freeze an app's state and restore it later.
| PROS | CONS |
| --- | --- |
| Great design | No support for media files |
| Comprehensive information on programs | |
| Root functionality excellent | |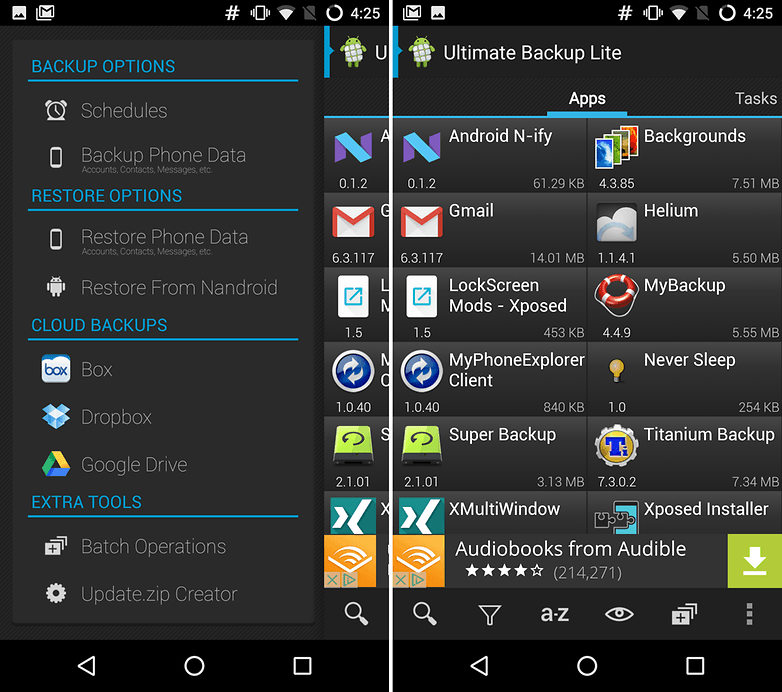 Ultimate Backup

Conclusion
Thanks to the automated backup of photos through Dropbox or Google+, as well as music through other cloud storage solutions, there is hardly any need for full backups of smartphones or tablets. One of the most important uses of backup apps, however, is for backing up application data and settings, so you can transfer these over to a new device with ease.
In this regard, Helium is the best solution for unrooted devices, but superusers still stand to benefit from the extended options it provides. For the smartphone hobbyist, Titanium Backup represents the Swiss army knife of backup apps, being simply littered with options.