Update: Hidden basketball game added!
The Facebook Messenger app for Android provides far more than just a simple messaging service. Today we're going to look at some of the cool things you can do with Facebook Messenger, as well as how to remove some of the more annoying aspects of it. Here are our best Facebook Messenger tips and tricks for Android.
Play hidden basketball game on Facebook Messenger
The latest version of Facebook Messenger has a cool new feature that allows you to play a game of basketball during a chat. The game is free but it's hidden. Read below for how to access it.
How to play Facebook Messenger hidden basketball game:
Update to the latest version of Messenger in the Play Store
Open a chat with one of your contacts
Send the basketball emoji to them. It's circled in red in the left-side screenshot below
Once the emoji has been sent, simply tap on it to start the game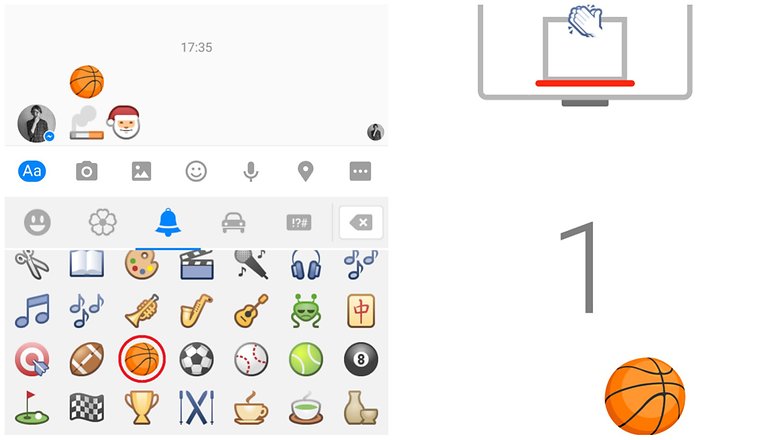 Turn off notification alerts on the Android Facebook Messenger app
You know how it is: someone starts a group conversation asking if anybody wants to buy their leather sofa, and before you know it you're getting non-stop buzzes about upholstery. If you've ever found yourself in a similar situation, here's a couple of tips for how to stop receiving those notifications without actually leaving the conversation.
How to turn off Facebook Messenger notifications for a single conversation:
Launch the Facebook Messenger app
In your conversations tab (the far left tab), tap and hold on the conversation you wish to mute
Tap Mute notifications
Select the length of time you want the notifications to be muted for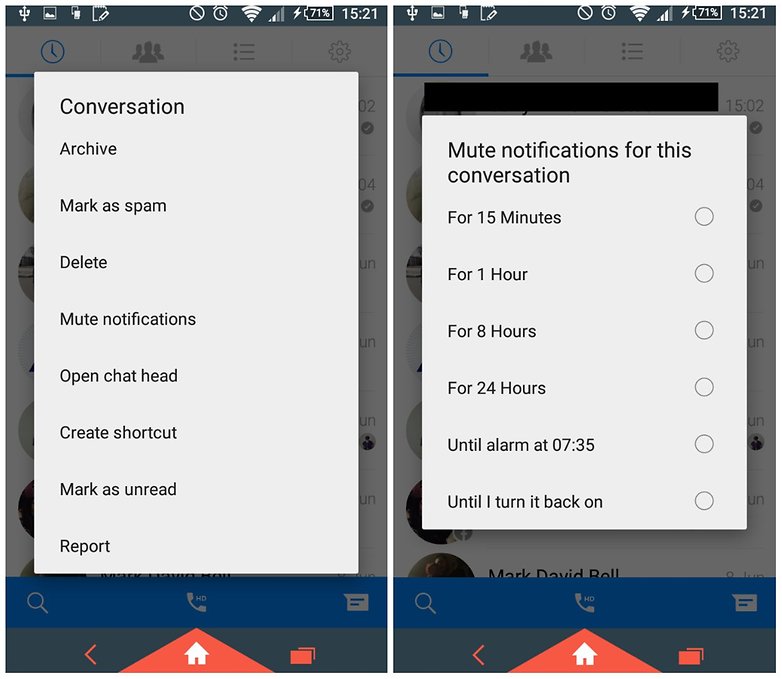 How to turn off Facebook Messenger notifications for all conversations on Android:
Launch the Facebook Messenger app
Tap the settings menu (the cog wheel)
Tap Notifications & Sounds
Tap the toggle at the top of the page to turn notifications On or Off
Select the length of time you want the notifications to remain muted for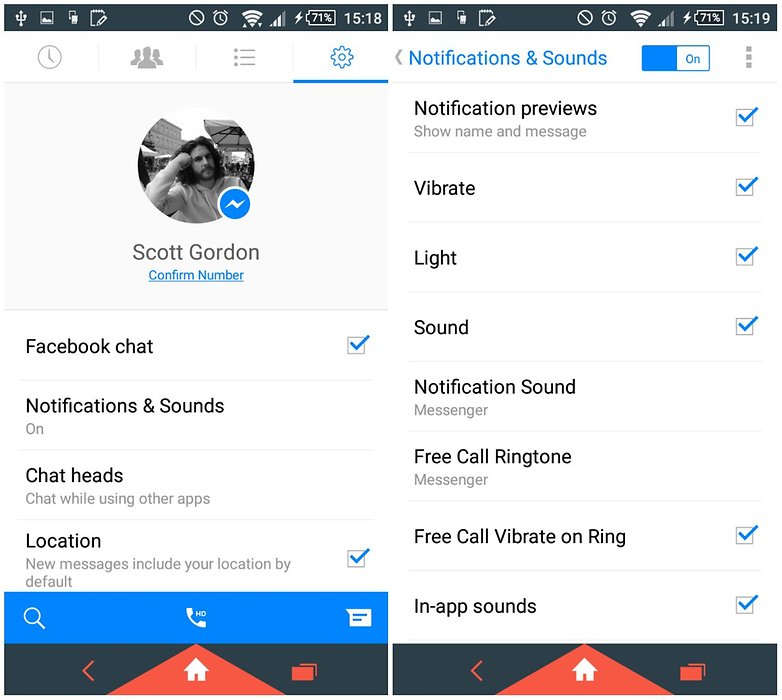 How to make a voice call in Facebook Messenger
Did you know that Facebook Messenger allows you to make free calls? Well, you probably did. But are you taking advantage of it? Simply tap on the call button (highlighted below) in one of your conversation windows and you will begin calling the person in that conversation.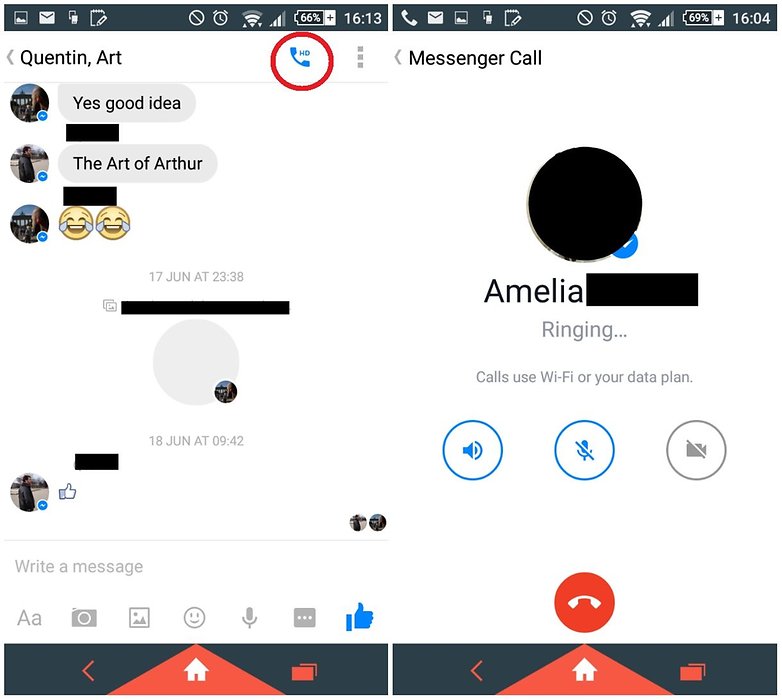 How to make a group shortcut for Facebook Messenger
If there's a crew you talk to all the time, then why not bypass the app launching altogether and pin a group chat shortcut to your home screen? Just go to your Groups tab where you can select an existing group or create a new one and tap the little menu button on the top right of the Group tile. From here simply select ''Create shortcut'' to have a chat group shortcut added to your home screen.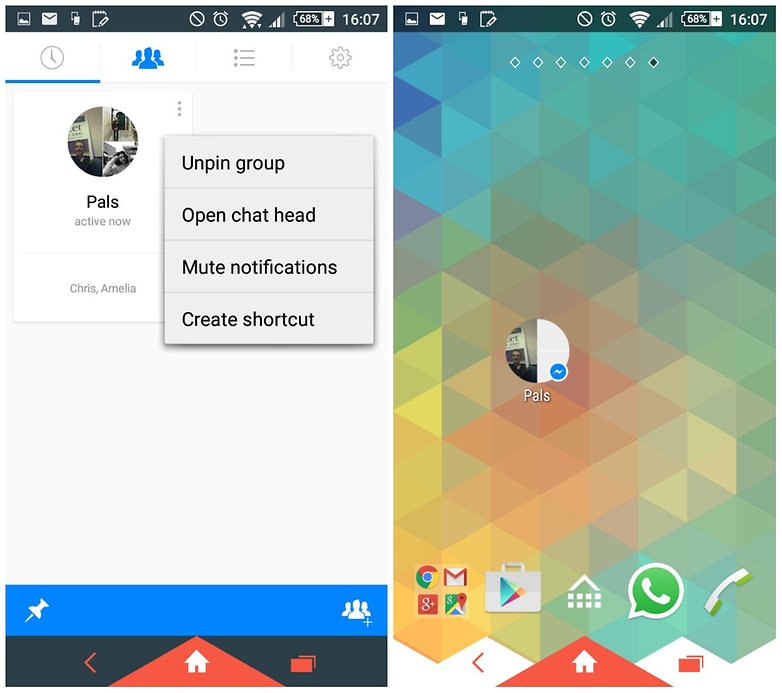 How to send a picture with Facebook Messenger
Did you know you can take a photo direct from the keyboard in Messenger? See that little camera icon? Tap that to turn your keyboard space into a mini viewfinder (which you can also expand). You can switch between the front or back mounted cameras and snap a quick pic with the vertical send button rather oddly placed right in the middle of the viewfinder. Tap the little image icon next to the camera to choose from previously taken pics.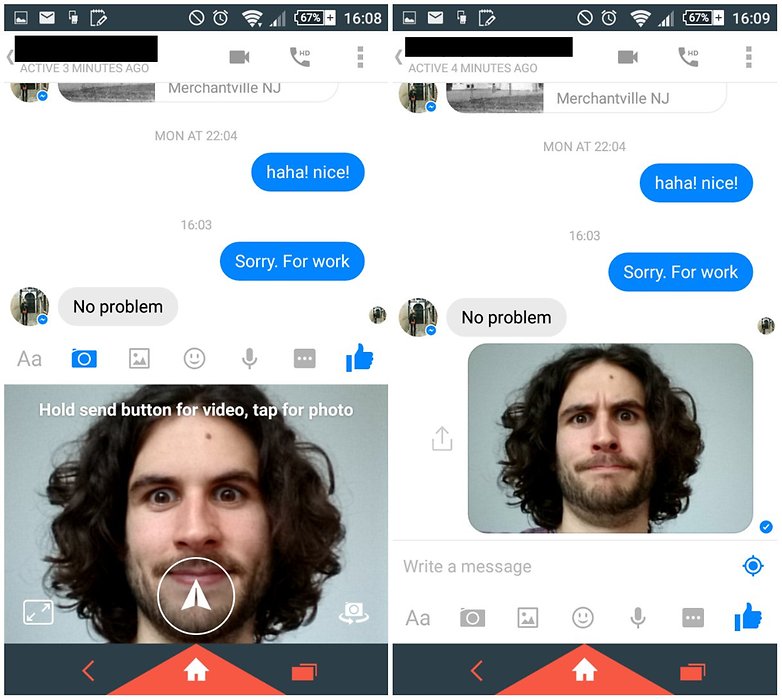 How to send a big thumbs up with Facebook Messenger
If you're feeling a little like Miley Cyrus and have a need for a particularly big thumbs up, then just press and hold the Like button to inflate the size of your thumb. If a simple Like won't do the trick then hit that little emoji button at the end of the text entry field, hit your sticker collection or revert to your device's emoji supported keyboard for a bit more expressive flair.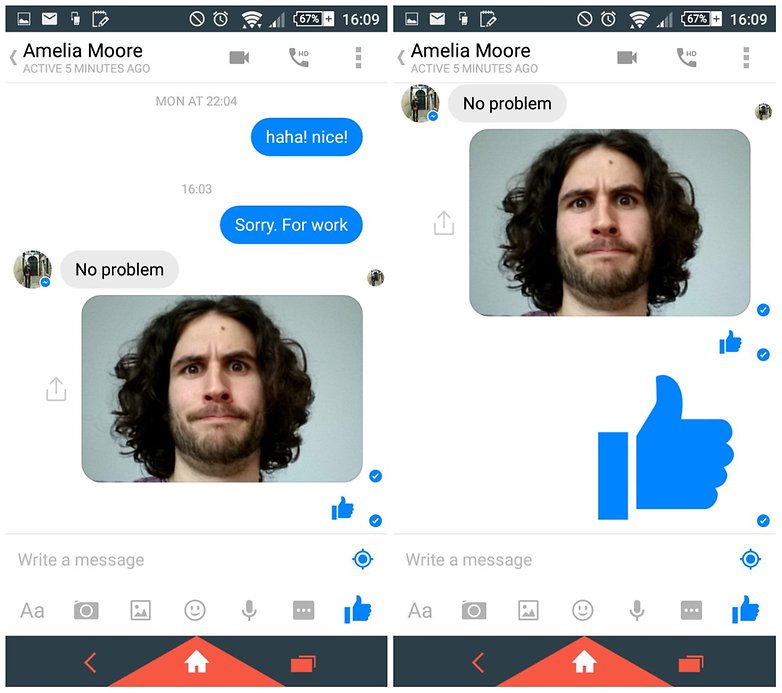 How to send or view a location with Facebook Messenger
If you want a super easy way to let your friends know where you are Facebook, all you need to do is send a message. As long as you have "location" enabled in your settings, they will be able to see where you are.
Similarly, if your friend has it enabled, simply tap on a message to bring up the location from which is was sent. If you don't want to share your location at all, head to your settings and uncheck that "location" box.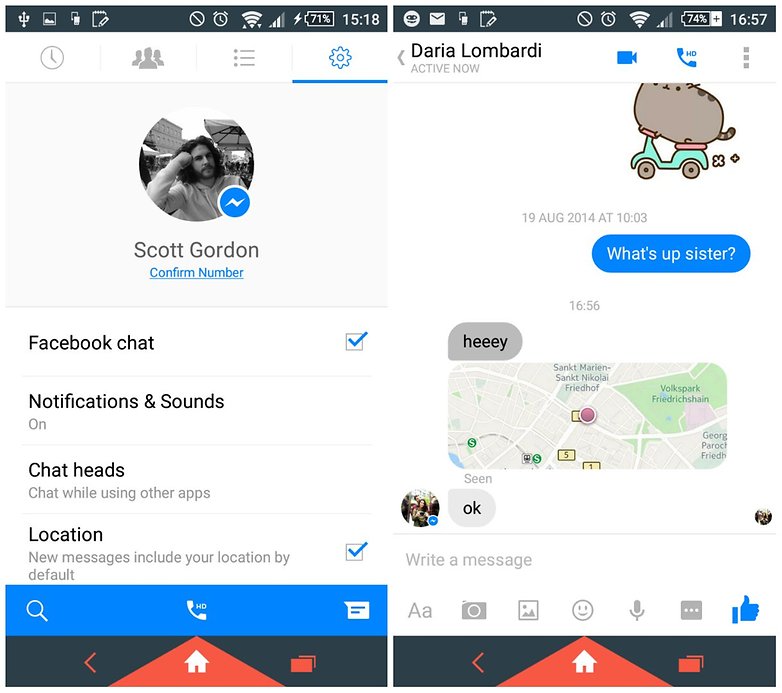 Messenger

Are there any other Facebook Messenger tips or help you need? Let us know in the comments below.