Jul 15, 2016 4:58:45 AM via Website
Jul 15, 2016 4:58:45 AM via Website
**
Notice: The following article is from BestReviewApp's blog.
**
When your app is approved and eventually available in the App Store, you will be confronted with a new round of challenges, that is how to increase app downloads. A well-designed app alone doesn't always mean an increase in app downloads, for the app itself is not enough to reach a large number of users, so app marketing also plays a key role in increasing app downloads.
To some extent, the number of app downloads directly determines whether your app will make sense and earn you returns or not.To help you realize your ultimate goal, we provide you 10 most practical tactics to increase app downloads.
Optimize Your App Description
Your app's descriptions count for much in enticing users to download your app. If the messages it conveys mislead its users, there is almost no chance of increasing app downloads. Below are more details for your consideration.
Language
Language functions as the media for you and your users to communicate with each other, and its importance cannot be underestimated in promoting apps. If the language of your app is not the mother tongue of the users or unrecognizable for them, then there is no any reason for them to go even further. Instead, they will reject your app and leave negative comments on it. So try to localize the languages for your user's convenience.
Keywords
increase app downloads - optimize keywords in descriptionIt is quite understandable that users refuse to download your app since they have no idea about what the keywords represent, or they show little passion in it, or they think the keywords didn't present what they want. It is your responsibility to make the keywords content-related, refined, eye-catching, well-balanced and localized. Also, you should learn how to choose keywords for your app to get more users and downloads.
Required Permissions
Required permissions must be stated clearly prior to the download process so that users won't have the feeling that they are cheated. Once they hold such feeling, they would unload the app without hesitation. So be straight-out and honest as much as you can, claim all possible require permissions, and don't try to fool them.
Optimize Your App with Professional Agencies
There is no doubt that you are an excellent developer in your field, but it is quite understood that you might need the help of professional agencies to market your app and increase download amount. Professional agencies know more channels to increase the traffic of your app, hook more customers from different fields and eventually increase app downloads. Read these App Store Optimization guides and optimize your app to attract more user and increase app downloads.
Build Your Own Website
If you own a website, you can publish whatever you write about your app and update news whenever you can, without costing any extra fees and it is under your control to run it to increase users. You can bridge direct relations between you and your users, obtain more suggestions to satisfy them as well as improve your app.
Propagandize Your App through Press Release
increase app downloads - publish PRPress release always takes place in publicity. If you want to increase your app downloads, find some news media to popularize your app. Remember, take advantage of several news media to publish your story about how you developed the app and what your users can gain from your app. However, do not share the same story to your readers, because no one likes to hear the same tedious thing. Although this might cost you a large amount financial budgets, it would turn out to be worthwhile.
Improve the Ranking in the App Store
The higher the ranking in the app store is, the easier the number of app downloads increases. When searching for an app, users often reference the ranking of the app, because this will be a guide and standard to decide if they are going to download the app. Learn how to boost app ranking in this guide.
Gain Good Comments from the Review Sites
A positive comment often relates to increased app downloads. Users will be convinced when they see your app have gained many good comments from your former or existing users and choose your app since these comments are regarded as significant proof of your app. So, buy app reviews are also useful for increasing app downloads.The best way to get good reviews is to cooperate with platforms they have a lot of real users, such like BestReviewApp.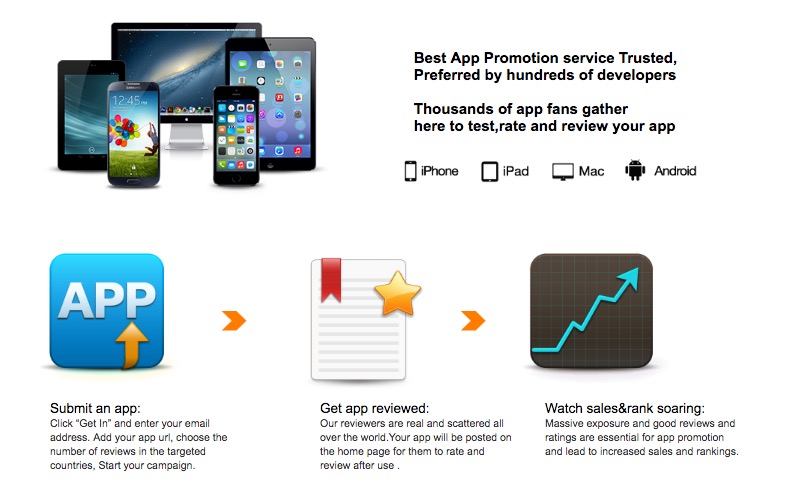 Offer Time-limited Discounts
This tactic seems to cost you a quite sum of money, but truly it is quite useful to increase app downloads and bring more returns for you. During a certain period, you offer users some discounts when they use some services of your app on the condition that they share your app to their friends and colleges. Often, this will deliver fruitful results.
Publicize Your App through Video
increase app downloads - publish videoSometimes, your users might encounter difficulties in using your app, so it is quite useful to make a video introduce the functionality of your app and interpret its utility. When making a video, make sure the picture and the voice are clear and easy to understand. If you cannot do it yourself, hire specialists and voice talents to perform the task.
Adapt In-app referral
In-app referral really makes sense in hooking users to choose your app, thus increasing app downloads. You should make good use of this tactic.
Recommend Your App to Your Friends and Relatives
When users enjoy great fun and spend a happy time with your app, they wouldn't feel bothered to recommend it to their friends and relatives. You can do the same thing, too! Don't be afraid of invite your friends and relatives to play your app. Recommend your app to them so as to increase app downloads.
Conclusion
These 10 tactics are quite useful and practical to increase app downloads and have helped many app developers to boost their app downloads. However, to increase app downloads, there are more things for you to do, like cutting cost-per-install, analyzing users and taking real-life screenshots and so on.