Update: Pixel 2 and Pixel 2 XL pricing and designs revealed
I am more interested in the code of this page than in the article.
What do you think?
Google Pixel 2: release date and price
With the Pixel 2 launch date fast approaching, it was only a matter of time before more details slipped out. Along with full disclosure of the rear designs and colorways of both Pixel 2 and Pixel 2 XL, it's now been revealed that both phones will sell for premium pricing as expected. Pixel 2 will come with 64GB or 128GB of storage, each going for $649 and $749 respectively. Pixel 2 XL will also come in 64GB for $849, while the 128GB version will set you back $949 so better start breaking your piggy banks.
The pricing is steep, particularly for the 2 XL so it's no surprise that Google will offer it's own financing options when they go on sale at the Google Store. Pixel 2 with 64GB will cost $27.04/mo. over 24 months while the 128GB version goes for $31/mo. over 21 months. The 64GB Pixel 2 XL will cost $35.38/mo. over 24 months and the 128GB model climbs to $39.54/mo.
Back in August, famously reliable leaker Evan Blass tweeted some key information about the upcoming Pixel devices (such as use of the new Qualcomm Snapdragon 836 processors) and cited October 5 as the official launch date. But now a billboard by Google saying "Ask more of your phone." has just been sighted in Boston, clearly marking October 4 as the date of the big reveal.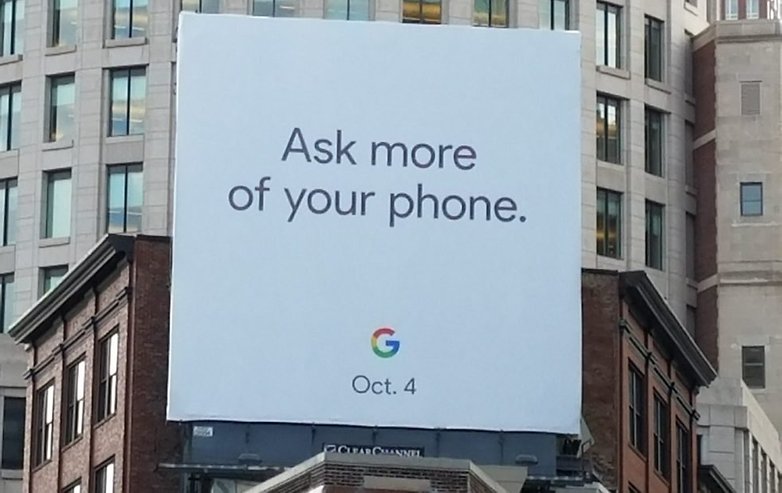 Earlier in the year during MWC 2017, we had a chance to talk with Rick Osterloh, head of hardware at Google. As the Pixel and Pixel XL are his babies, we decided to ask him about their successor: the Pixel 2.
— Eric Herrmann (@reporteric) March 1, 2017
Since Osterloh suggests Google plans on sticking to an annual release cycle, it's highly likely Pixel 2 will continue to sell at a high-end price as Apple does with the iPhone. That means there still won't be a cheap variant of their expensive flagship. The new model would therefore likely surpass the price of the Pixel and Pixel XL, which came out starting at $649 and $769 respectively.
Google Pixel 2: design and build quality
Rear designs leaked
Along with official pricing, the Pixel 2 rear designs have now been leaked. Thanks to Droid Life, we know know the Pixel 2 XL will be available in a panda-esque 'Black & White' and 'Just Black'. Pixel 2 will come in 'Kinda Blue', 'Just Black' and 'Clearly White'. The front panel design has yet to surface.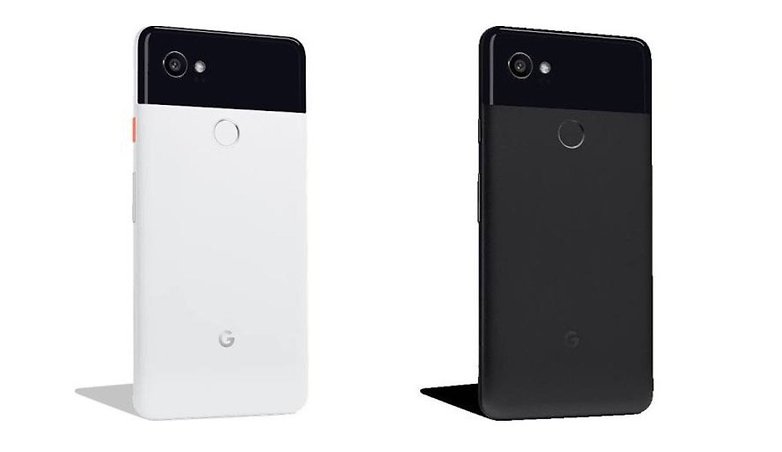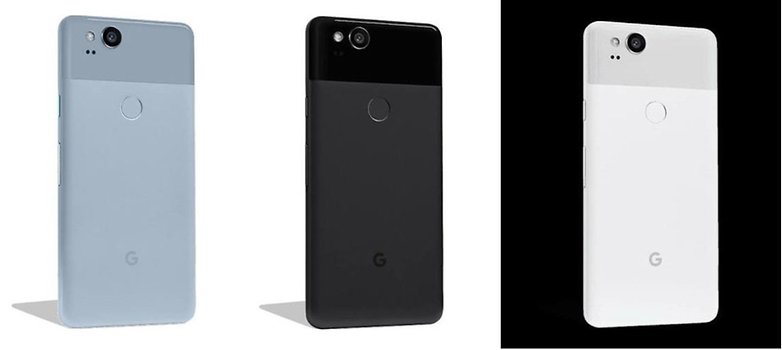 Who is manufacturing the new Pixels?
The Pixel 2 passed through the FCC about a month ago, revealing a Snapdragon 835 and squeezable edges. It appears this smaller device will be made by HTC. Now, the larger device has been spotted on the FCC website as G011C. We know this is the Pixel XL 2 since the Pixel 2 was listed as G011A. You may have noticed G011B is missing in the series, and that's probably because the device codenamed Muskie was scrapped. Other than the manufacturer of the Pixel XL 2 being LG, there's not much else to be gleaned from the listing.
Google Pixel XL 2 design revealed in a render
It seems that the renders leaked by Android Police a few weeks ago were somewhat generous. The image below was leaked a few hours ago and hints at the front display of the Pixel 2 going somewhat against what other flagships have been doing this year (Galaxy S8, the upcoming iPhone 8, LG G6).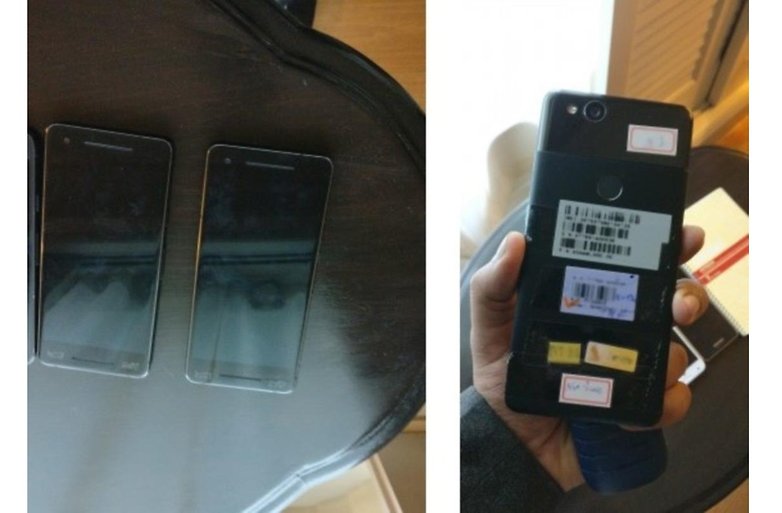 If we enlarge the image with the rear of the device, the material used doesn't appear to be aluminum. We think it might be rubber or kevlar, which would allow the phone to be charged wirelessly and would be a neat feature to have on board. Take a look for yourself: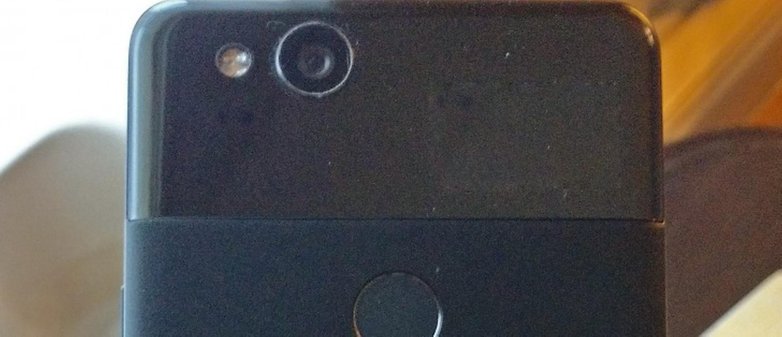 A render shared by Android Police on July 11 shows the Google Pixel XL 2017 in all its glory. While the image is dark, you can see that the Pixel will again have a single rear camera. The same source which gave Android Police the render says that the new Pixels will be squeezable like the HTC U11, and that LG will be building the Pixel XL and giving it a 6-inch AMOLED 2:1 format display.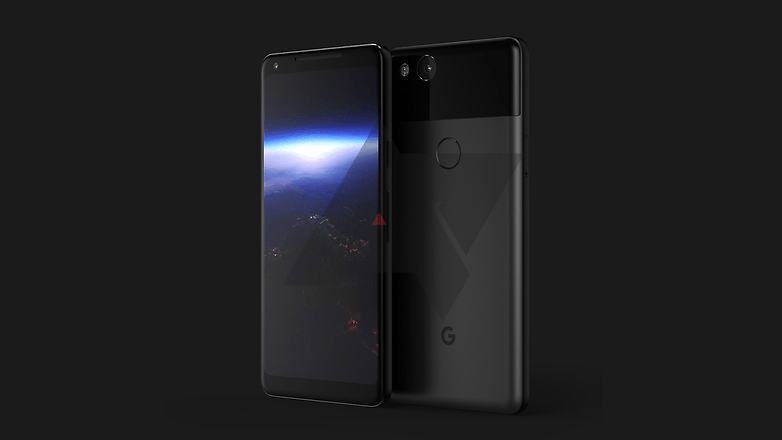 Google Pixel 2 concept render video
DBS Designing has posted a sleek concept render video on YouTube, showing the next generation of Pixel with a dual rear camera and significantly less bezel. Let us know what you think in the comments!
This concept video reflects a modern update the Pixel design desperately needs
What do you think?
"Always On" Ambient Display?
Android supports ambient display features on any phone with the required hardware, an OLED display. While Motorola and other manufacturers have offered this "always on" feature in some of their phones since as far back as 2013, owners of the Pixel and Nexus phones haven't been so lucky.
According to a report from XDA Developers, that's about to change. When decompiling the SystemUIGoogle.apk file in the Android O Developer Preview 3 on a Google Pixel, evidence of "always on" was found. References to "doze" were also found in the code. Doze, one of Google engineers' internal terms in this case, refers to an ambient display rather than Android's Doze mode for saving battery. The code shows that this is an experimental feature which can be toggled on and off for testing purposes.
While the feature isn't accessible yet in DP 3, this at least shows that Google is testing it for possible implementation on Pixel devices. Users of the original Pixel devices, and presumably the Pixel 2, won't have to pick up their phone or wake their screen to get notifications anymore, and that's great news.
Flexible display?
Google is reportedly investing the equivalent of $880 million into LG Display. Some are saying that they are investing this funds is so that LG Display can provide a stable supply of flexible OLED screens for the next Pixel devices.
No headphone jack?
As yet still an uncorroborated rumor, 9to5Google claims to have seen an internal Google document suggesting that the 3.5 mm headphone will not feature on the new Google Pixel 2 device to be released later this year. This would be a compelling change of heart from Google as it had made quite a song and dance about including a headphone jack on the first Pixel phone when Apple decided to leave it out of their latest flagship, the iPhone 7.
I prefer to have a standard headphone jack
What do you think?
Will it be waterproof?
After we saw the first renderings of the Pixel 2 in the Indian Express, we now have higher hopes about the smartphone's build. 9to5Google reporter Stephen Hall supposedly found out at last year's Pixel event that the Pixel 2 will be waterproof.
This would allow Google to rectify a past blunder. The Pixel didn't quite stand up to the iPhone 7, which is waterproof just like the Galaxy S7. Both of these latter devices are important competitors and set the bar pretty high in regards to what high-end smartphones should offer. The Pixel, the first generation of its kind, found itself therefore floundering behind its flagship competitors.
Little tidbit we were told in October last year that I forgot about: "Waterproofing definitely coming with next Pixel device."

— Stephen Hall (@hallstephenj) January 25, 2017
Google Pixel 2: camera
Tough choices: build quality vs camera quality
Hall also continues on to say that Google had to make a choice with the first device, whether they would prioritize the build or camera of the smartphone. Seeing as a both would have likely caused a price hike, this means that Google made a choice, which quickly became apparent: the camera.
If Google plans on improving the build quality, we could be in store for some elegant enhancements over the past contender. Water resistance is now the mark of a premium device: Sony removed this feature from many of its Xperia devices, reserving it solely for its most expensive models, the X Performance and Xperia XZ. The new LG G6 is IP68 certified, meaning Google will definitely have to add it to the Pixel 2 to keep up with its high-end competition.
Since this post from Stephen Hall came out, Google it seems rushed to clarify things, seeing as this positive affirmation of a waterproof smartphone may not actually be the case, and that it is a definite "if". Google also explained that, like last year's model, the Mountain View company would also place an emphasis on the camera, specifically improving low light photography. The source also said the camera would "not have large MP size", but will "compensate in extra features".
Google Pixel 2: technical specs
Processing power and Active Edge
The Pixel 2 has just been certified by the FCC, which means there's now an enlightening paper trail about the device on the FCC website. The documentation reveals that the next Pixels will again be built by HTC. Both the Pixel 2 and Pixel 2 XL will have a feature called 'Active Edge', which will be similar to the Edge Sense feature of the HTC U11 that allows you to squeeze the sides of the device to snap a photo or open an app.
Some leaked screenshots posted to Reddit have revealed that it's possible to squeeze the device to activate Google Assistant. It also indicated that the Pixel will likely come with 64 GB internal storage and a Snapdragon 835 processor, the same SoC used in the Samsung Galaxy S8. Of course, it will also run Android 8.0.1.

Taimen and Walleye specs leaked to XDA Developers
A source who spent time with at least one of the new Pixel devices has shared information about their specs with XDA Developers. Taimen, the larger of the two devices, will have a 5.99-inch 1440p OLED display from LG and a smaller bezel than the original Pixel XL. There will be at least a 128 GB model, and the Pixel XL 2 will come with a Snapdragon 835 processor and 4 GB of RAM. The design of the back will resemble the original, with two-tone glass and metal, though the glass window at the top will not hold the fingerprint scanner this time. There won't be a dual camera, according to this report.
The smaller of the two, Walleye, will have a 4.97-inch FHD display. It will have an almost identical design to its predecessor, bezels included, but it will ditch the headphone jack in favor of stereo speakers. The device will also feature a Snapdragon 835 processor and 4 GB of RAM, with a 64 GB storage option.
Codename Taimen
Google has a history of code-naming its devices after various sea-dwelling creatures: last year's Pixel phones were 'sailfish' and 'marlin', the Nexus 6P was 'angler' and the Nexus 5X was 'bullhead'. Keeping with tradition, it seems Google may be doing the same for the Pixel 2 series and it looks like these names could be 'walleye' and 'muskie', though muskie's future is contested now.
Don't sit back just yet though, because it seems there may be a third Pixel device too, code-named 'Taimen', which, of course, is also an aquatic animal. The relative sizes of these three fishes might be lending us an insight into the size or specs of the future Pixel devices: a taimen is bigger than a muskie and a walleye and is also in a different family. Does this suggest that the taimen phone will be bigger than the muskie or walleye? Might it be a tablet rather than a phone? Maybe it won't be branded as a Pixel?
In any case, the device codenamed Taimen has just surfaced on Geekbench. Someone with a prototype has tested it with the benchmark, meaning the results and their insights into the device's specs are now out for all the world to see. Instead of being able to confirm the chipset via the motherboard info reported in the system information, it simply says "taimen". We can also see that it has an octa-core Qualcomm processor - very likely the Snapdragon 835. The Google Taimen device is also shown to be packing 4 GB of RAM. While that's standard right now, some users will undoubtedly be a bit disappointed that a more future-proof 6 GB wasn't provided. Of course, Taimen was running Android O at the time of the test.
Google Pixel 2: software
There is a lot of speculation to be made when it comes to software, as we don't know anything concrete yet. It would be reasonable to expect a more improved Google Assistant, and it will likely feature Android O.
Our assessment
For the Pixel 2, Google is keeping its focus on the higher end of the smartphone market. That means previous rumors about a cheaper variant of the Pixel 2 being released won't be proved true. While that will be a disappointment to those hoping for a more accessible Pixel, the good news is that the Pixel 2 should be better able to keep up with its premium flagship competition this time around. By staying premium, we expect that Google will make fewer compromises with the Pixel 2 in terms of build quality, meaning it will likely get water resistance while still offering a powerful camera and processor. That, however, remains to be seen until its arrival later this year.
What do you think we'll get out of the next Pixel? Will Google make major improvements over the old one? Let us know what you think in the comments below.