Like last year, Google unveiled two new Pixel smartphones: the Pixel 2 and Pixel 2 XL. Though the two may appear very similar and have a lot points in common, there are in fact some small, yet important differences that we will break down for you in this article. This should in turn help you when it comes to deciding which one to buy.
From looks alone, both Pixel phones look like they were cut from the same cloth, but they have a little less in common than the Galaxy S8 and Galaxy S8 Plus. Some differentiating elements are the design, screen size and technology and battery size.
Google Pixel 2 vs Pixel 2 XL: minimal differences
While on the one hand Google reused the same design as last year's model for the Pixel 2, the Pixel 2 XL has a much more modern look thanks to its borderless design and 2:1 formatted display. Aesthetically-speaking, the larger Pixel is nicer to look at. There's more choice for color with the Pixel 2, but not by much, with it coming in black, white and blue, and the Pixel 2 XL in black or black and white.
The Pixel 2 XL is also obviously larger and heavier than its counterpart, which can be felt when operating it, as you can well imagine. However, during our first hands on review, we noticed that one-handed operation of the Pixel 2 XL can still be done comfortably.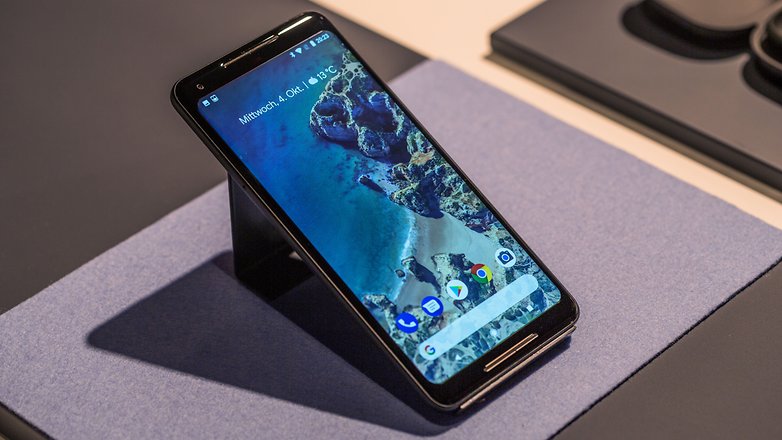 The difference in design has a lot to do with the different screen sizes on either device. The Pixel 2 has a 5-inch Full-HD OLED display (441 ppi) and a 16:9 format, while the Pixel 2 XL offers a POLED display of 6 inches with a QHD resolution (538 ppp) and 18:9 format. Because of this difference in format, the operating experience is also different and the Pixel 2 XL seems much more adapted for virtual reality thanks to its higher pixel density.
You might have also read in our hands-on of the Pixel 2 that it was produced by HTC, while the Pixel 2 XL was manufactured by LG. Though this may be the case, Google claims that this doesn't make a difference since both were conceived by Google. There's not trace of either brand on the smartphones.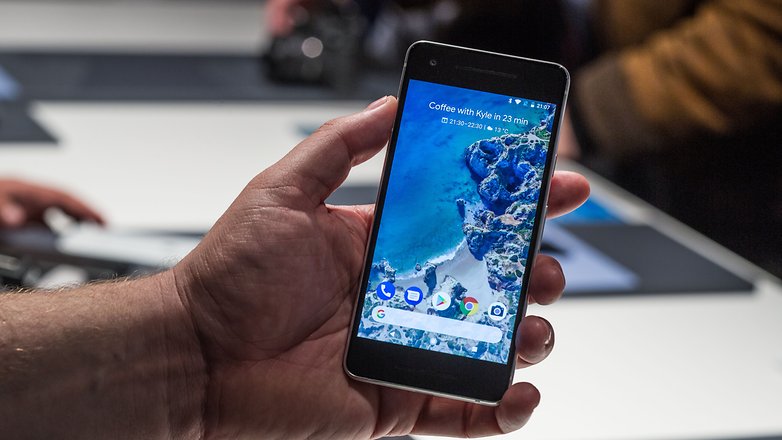 Aside from these elements I've mentioned here, the Pixel smartphones are identical. You'll find the same processor, same amount of memory, same camera, same speakers and Active Edge function.
Here's a summary of all the points where the phones are the same or differ:
Pixel 2 vs Pixel 2 XL summary
Points in common
Processor: Qualcomm Snapdragon 835
RAM : 4 GB RAM
Internal storage: 64 GB and 128 GB
Rear camera: 12.2 MP, f/1.8 aperture, Autofocus laser, image stabilization
Front camera: 8 MP, f/2.4 aperture
Video : 4K at 30 fps, Full-HD at 30, 60, or 120 fps with the rear camera
"Active Edge" function (squeezing the smartphone to activate Google Assistant)
Bluetooth 5.0
USB Type-C port
No wireless charging
No headphone jack
Differences
Pixel 2
Battery: 2,700 mAh
Display: 5-inches, 1,920 x 1,080 OLED, 95% DCI-P3
Size: 145.7 x 69.7 x 7.8 mm
Weight: 143 g
Price: $649 with 64 GB memory and $749 with double memory
Pixel 2 XL
Battery: 3,520 mAh
Display: 6 inches, 2,880 x 1,440 pOLED, 100% DCI-P3
Size: 157.9 x 76.7 x 7.9 mm
Weight: 175 g
Price: starts at $849
Google Pixel 2 vs. Google Pixel 2 XL technical specifications
| | Google Pixel 2 | Google Pixel 2 XL |
| --- | --- | --- |
| Dimensions: | 145.7 x 69.7 x 7.8 mm | 157.9 x 76.7 x 7.9 mm |
| Weight: | 143 g | 175 g |
| Battery size: | 2700 mAh | 3520 mAh |
| Screen size: | 5 in | 6 in |
| Display technology: | AMOLED | POLED |
| Screen: | 1920 x 1080 pixels (441 ppi) | 2880 x 1440 pixels (537 ppi) |
| Front camera: | 8 megapixels | 8 megapixels |
| Rear camera: | 12.3 megapixels | 12.3 megapixels |
| Flashlight: | Dual-LED | Dual-LED |
| Android version: | 8.0 - Oreo | 8.0 - Oreo |
| User interface: | Stock Android | Stock Android |
| RAM: | 4 GB | 4 GB |
| Internal storage: | 64 GB | 64 GB |
| Chipset: | Qualcomm Snapdragon 835 | Qualcomm Snapdragon 835 |
| Number of cores: | 8 | 8 |
| Max. clock speed: | 2.45 GHz | 2.45 GHz |
| Connectivity: | HSPA, LTE, NFC, Bluetooth 5.0 | HSPA, LTE, NFC, Bluetooth 5.0 |
Which phone should you buy: the Pixel 2 or Pixel 2 XL?
In both cases, you have two high end and high performance smartphones. Additional proof of their advanced nature is the impressive DxOMark score of 98 that the camera received. If you want a larger phone, the Pixel 2 XL is the obvious choice. It also has the advantage of offering a more contemporary design. On the other hand, if you want something more compact, the Pixel 2 is the way to go. It has the perk of being less expensive.
All in all, Google follows the trend set out by other manufacturers of offering buyers two identical smartphones with the biggest differences being the size, the screen and battery capacity. In terms of functionality, there is absolutely no difference between the two. In the end, it all comes down to matter of taste.