Lenovo has revitalized its middle class spectrum with the presentation of this year's Moto G5 at the MWC in Barcelona, breaking away at last from the Motorola era. We were at the Lenovo press conference and were able to test the device for some first impressions.
Moto G5 release date and price
For Lenovo devices, the RAM and internal storage usually differ according to the markets. That being said, the device will be available for purchase as of March in Europe, but will sadly not make its way to the USA. It will cost $199. The basic version will be equipped with 16 GB of internal memory and 2 GB of RAM. The device is available in grey and gold.
Moto G5 design and build quality
With the high quality diamond-cut aluminum chassis, it's clear that with the Moto G5 Lenovo has brought the smartphone's design more into line with its other high-end devices. The back features the same bold camera as seen on the Moto Z Play. On the front, the smaller 5-inch display also makes it easier to use. On first glance, the Moto G5 appears to be well built, the main setback being its cheap-looking earpiece. It's a shame that Lenovo chose not to cover the hole for the speaker, as it would have been a lot more pleasing in an aesthetic sense if they had covered it up.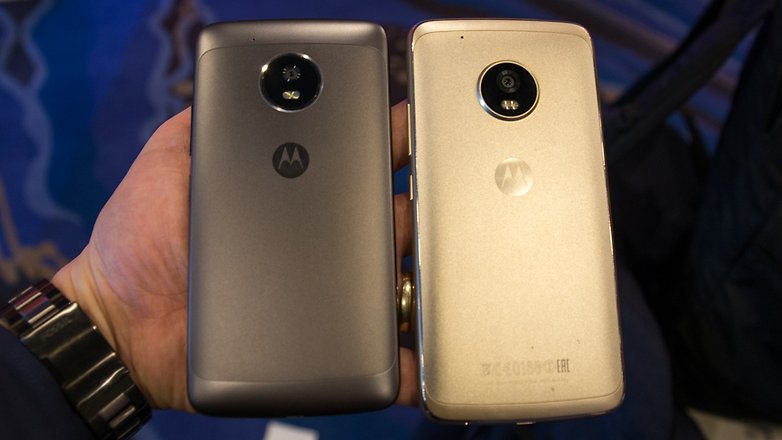 Lenovo has also chosen to dispense with the modern USB Type-C port, and instead stay with the MicroUSB. A headphone jack is also available.
When handling the device, both felt good in the palm of my hand and did not feel too clunky or cumbersome. The aluminum gives them a special feel that we haven't yet encountered with other Motorola phones as we have seen in the past.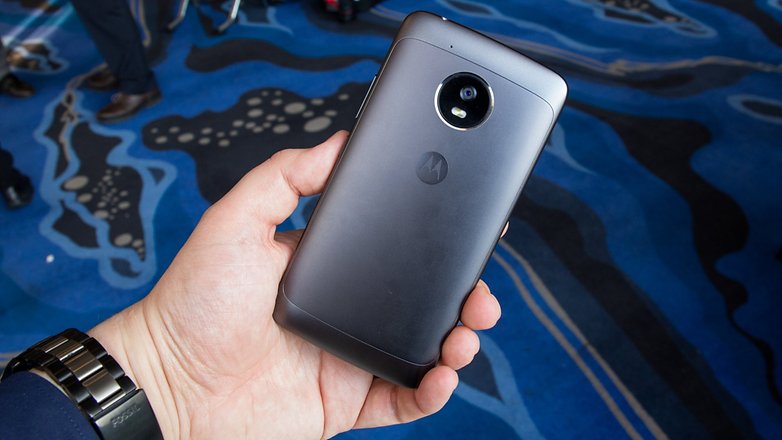 Moto G5 display
The Moto G5 has a 5-inch display and a Full-HD resolution. During our first hands on review, the display put on a good show, but further testing will be needed in order for us to get a better understanding of it. In addition, we'd have to use it outside to see how it fairs in the sunlight.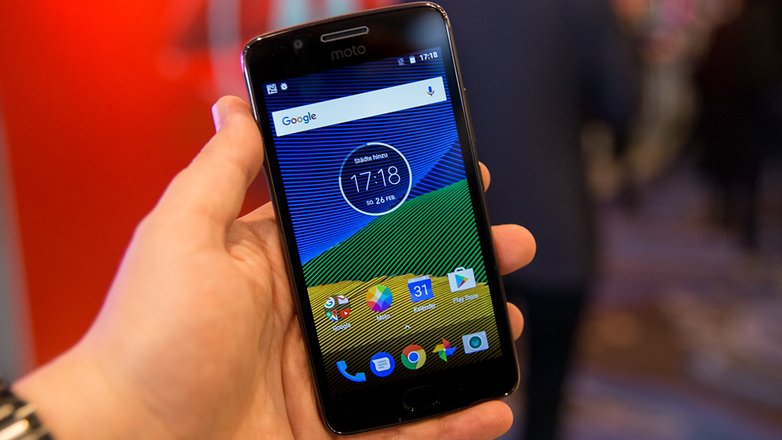 Moto G5 software
The user interface found on the Moto G5 is basically stock Android, there are very few differences. Lenovo opted to bring Android 7.0 Nougat to its device, deciding therefore against the latest iteration of the OS. In addition, Lenovo has added a Moto Experience app, and the G5 is prepared for the Google Assistant.
Below the display, you'll find a fingerprint sensor which is also used as the home button, which is different than last year's model which just read your print. Thanks to Android Nougat, you can access multi window mode by swiping to the right, while to the left also works as the back button. This can entirely replace the on-screen buttons, clearing up space for more screen viewing.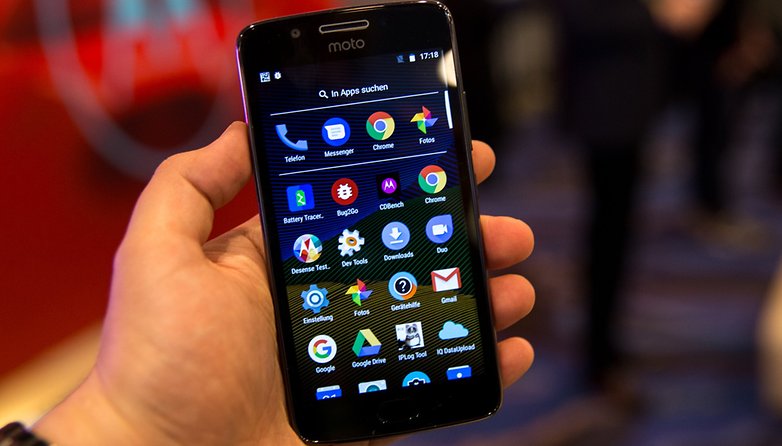 Moto G5 performance
Lenovo went for an octacore Snapdragon 430 processor on its new smartphone that ticks at 1.4 GHz and is supported by 2 or 3 GB of RAM. Though this may seem like a step backwards, the 430 performs quite similarly to that of the Snapdragon 617 used in the Moto G4. The latter proved to be a solid handset for daily usage, as we reported in our Moto G4 review, therefore users should not shy away from the Snapdragon 430. After all, there is often more to a phone than numbers. Regarding internal storage, the phone will provide you with 16 GB, but you can expand it up to 128 GB with a MicroSD card.
Moto G5 camera
The Moto G5 received a rear camera of 13 MP with an aperture of f/2.2, though Lenovo chose not to include a dual camera. That said, Lenovo has included autofocus for phase detection. The front camera snaps wide-angle pictures at 5 MP, and you've got some classic beauty modes to deck out your selfies. Other photo features include best photo and professional modes. Otherwise, the camera app is pretty minimalist with only a few options at users' disposal. Aside from these first few details, not much more can be said about the camera until we can perform a full review of the device.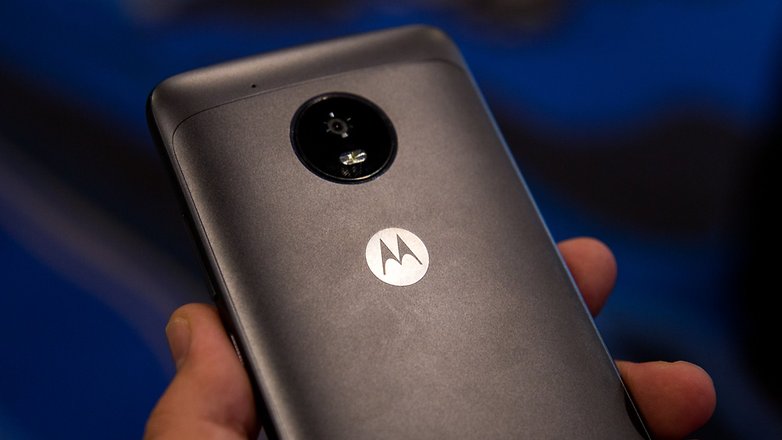 Moto G5 battery
During its presentation of the Moto G5 Lenovo promised a good battery, but we still don't have all of the details. It comes with a removable Li-Ion 2,800 mAh battery just like its predecessor, which in our experience lasts for about 2 days of normal usage. In the Moto G5, there is a replaceable battery. It also comes with a 10 W quick charging cable, allowing it to charge in less than 10 minutes.
Moto G5 technical specifications
Dimensions:
144.3 x 73 x 9.5 mm

Screen:
1920 x 1080 pixels (441 ppi)

Front camera:
13 megapixels

Rear camera:
5 megapixels

Android version:
7.0 - Nougat

Internal storage:
16 GB
32 GB

Removable storage:
microSD

Chipset:
Qualcomm Snapdragon 430

Max. clock speed:
1.4 GHz

Connectivity:
HSPA, LTE, NFC, Bluetooth 4.2
Early Verdict
The Moto G5 gives off the impression of being a more modern version than its predecessor, just as we would hope. With the Moto G5, Lenovo improves sensibly. Seeing as, in terms of design, Lenovo made a few changes in size with a smaller display, this should attract more users who aren't fans of larger handsets. With this, Lenovo has made a good smartphone for the price range.
This wasn't a wrong turn for Lenovo, after all, last year's Moto G4 was a fairly decent smartphone. With the G5, Lenovo has made some very sensible improvements.