Marshall London review [hands on]: when high-end specs don't matter
The Marshall London may not boast high-end specs, but even when you put aside the hype surrounding its moniker, it's still a great smartphone. It oozes attitude and style, has reasonable hardware, and has some interesting audio-focused features. It still comes at a high though – does this show us that the value of a phone is not always found in the performance it delivers?
I had the chance to test the Marshall London during IFA 2015 and this preliminary review will try to answer that question, as well as whether you can forgoe premium specs in exchange for clever design.
Have you ever heard of OSIRIS?
Choose "Yes, I have!" or "Never heard of it.".
Oops! Seems like something went wrong. Reloading might help.

Oops! Seems like something went wrong. Reloading might help.
Marshall London release date and price
The Marshall London was announced a few weeks ago by Swedish manufacturer Zound Industries. It is available for pre-order at the Marshall Headphones site for £399 in the UK, or €549 in some European markets, including France and Germany. It is not yet available in the US, but you can sign up to be notified when it is (the prices above equate to around US$620). Brazil, Argentina and Chile are also in line to get the Marshall London.
Marshall London design and build quality
The Marshall London has one of the most visually impressive designs of 2015, and Zound didn't have to go to extremes to achieve it. Both the housing and the back of the phone emulate the design of Marshall's amplifiers, with construction so good that you'd think the whole device is leather, even thought it's actually made of polycarbonate with a textured print.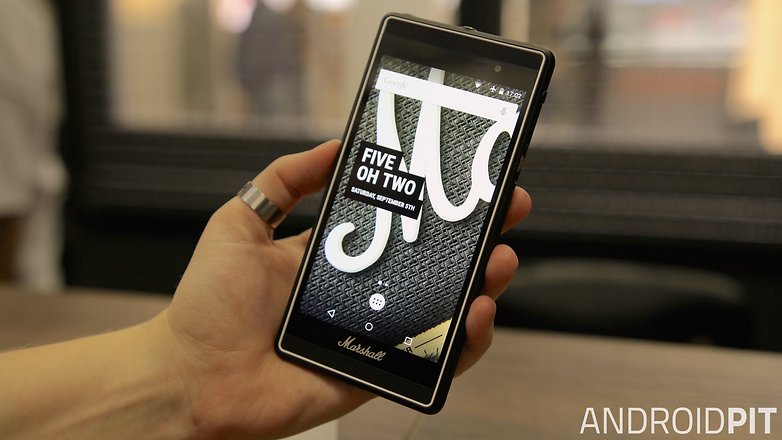 This textured print covers the back cover and the sides on the phone. It looks good, and feels pleasant enough, but for the price of the device, we think synthetic leather would have been better value.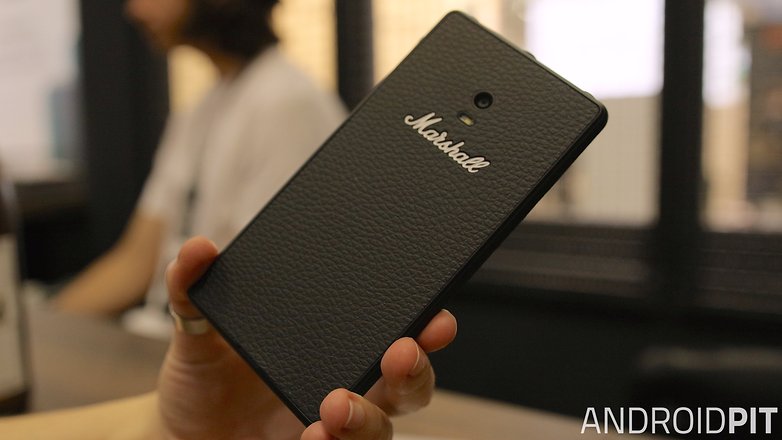 The metal buttons and and headphone jacks are nice touches, as is the use of a 'wheel', rather than a pushable button, to increase and decrease volume. These are small but impressive visual details.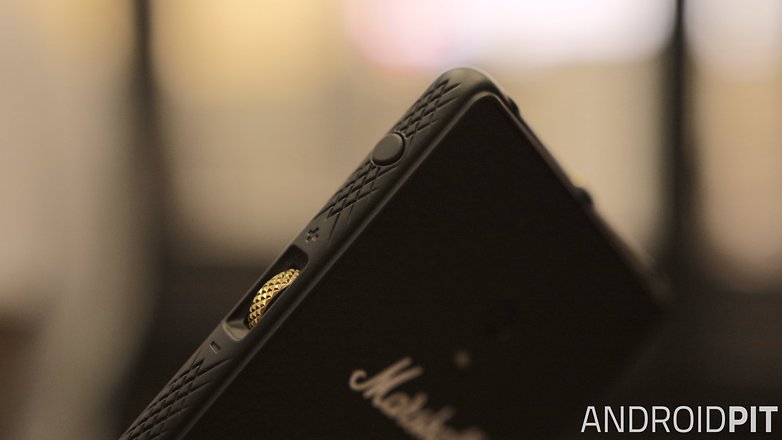 Above the volume wheel is the power button. At first, it's easy to confuse this button with what the manufacturer calls the M-button. The latter is gold-colored, sits at the top of the device, and serves as a shortcut to the music player and flashlight.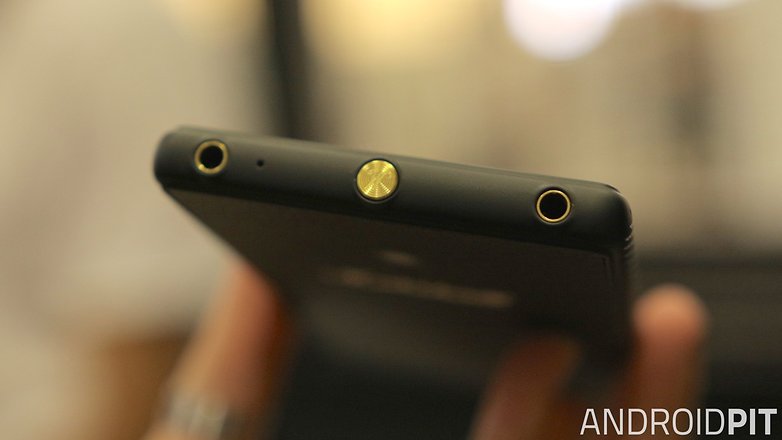 Marshall London display
The resolution of the Marshall London display is a dead giveaway that this phone has, at best, mid-range hardware. Its specs are comparable with those of the Moto G (2015). The Marshall London has a 4.7-inch, 720-pixel display that uses IPS technology. It's covered with Gorilla Glass 3. My initial experience with the display showed me that quality is more than satisfactory, if not outstanding.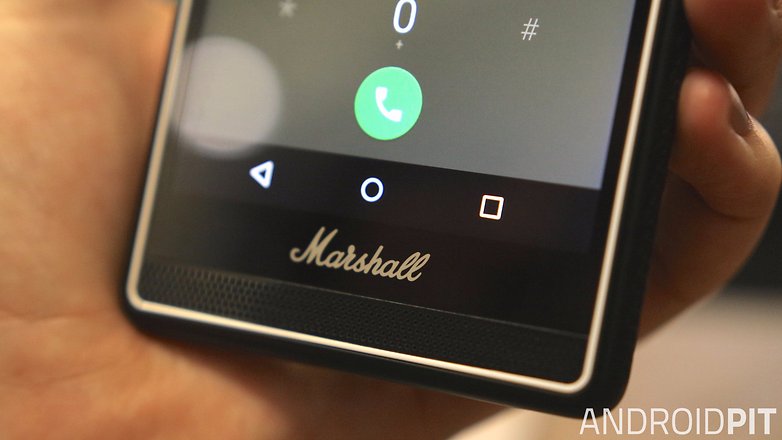 Marshall London special features
The musical capabilities of the Marshall London are among its key selling points. There are devices that offer many of the same audio features with higher specs, such as the HTC One M9, but these phones don't have the same attitude. Marshall is, after all, a big name in the music industry.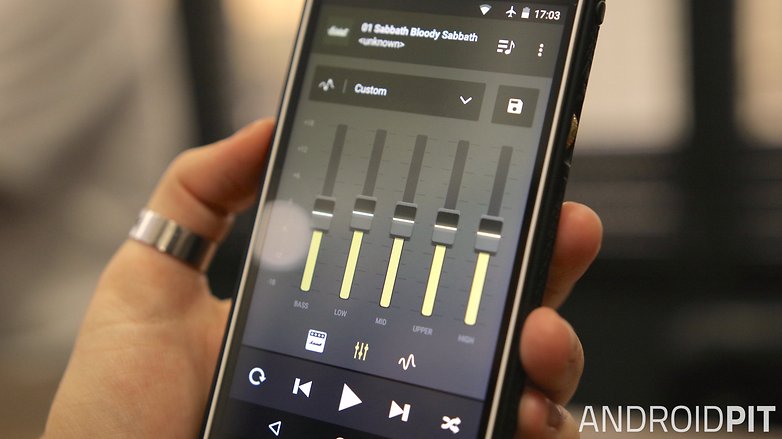 Normally, I examine audio in the same way as any other hardware feature, but in the case of the Marshall London, the audio is part of what makes it unique. Zound engineers fitted the London with the Wolfson WM8281 chip, which functions as a dedicated sound CPU.
The London also has a second audio port to allow two people to listen to music at the same time, two MEMS microphones with noise canceling, and a pair of very powerful front-facing speakers.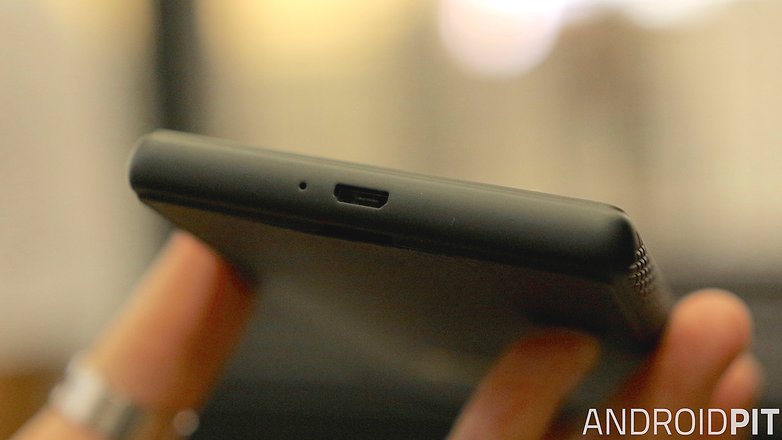 During the time I spent at the Marshall-Zound Industries booth at IFA, I realized that many music producers were in meetings with people touting the device, so I took the opportunitiy to speak to one of them about the London. The producer I spoke to said that he was surprised by the audio equalization possibilities that this smartphone offered.
I didn't get to fully test the audio for this hands-on, but I'll report on the sound quality fully in my complete review.
Marshall London software
The Marshall London software has many of the same features that we've come to expect from Motorola's Moto line or the Nexus devices. Neither Zound Industries nor Marshall have any software development experience, so they decided to partner with independent developers to create the audio player app, which comes pre-installed, and the apps for recording audio.
According to Stefan Wessels, the designer responsible for the London, one reason why the device does not have a user interface like that of other OEMs is that it does not deliver bloatware, and therefore doesn't burden the CPU with unnecessary processes. He even guaranteed that this would enable OS updates to closely match Google's own release schedule.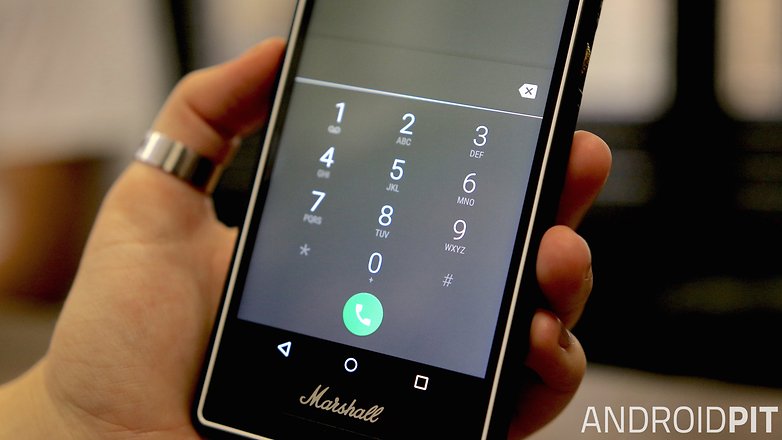 Marshall London performance
We need to spend more time with this device to make a full and precise analysis of its performance. However, considering that it's running the Snapdragon 410 processor with 2 GB of RAM, it should deliver similar performance to the Moto G (2015). The main difference is that the Marshall London has a unique chip to optimize audio processing.
The Marshall London supports microSD cards of up to 128 GB, which seems like a good move for a smartphone with just 16 GB of internal storage. After all, music files are big.
Marshall London camera
The Marshall London camera is perhaps the biggest downside of the device. The rear camera packs an 8 MP sensor and the front, 2 MP, and the software it uses is very basic. The autofocus was fast and the quality of images, at least as viewed on the 4.7-inch screen, was decent.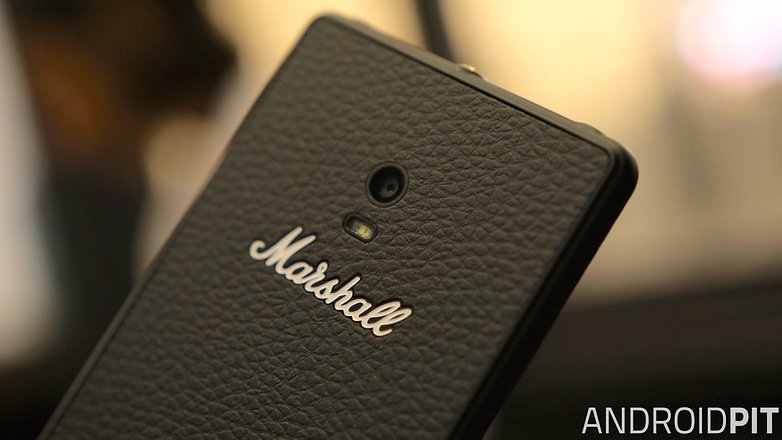 Marshall London battery
The camera may be weak, but the Marshall London battery is more a positive affair. Firstly, it's possible to remove the back cover and the battery, a function that's being phased out among other current smartphones. The Marshall London's battery capacity is 2,500 mAh and power-saving mode is on by default in Android Lollipop.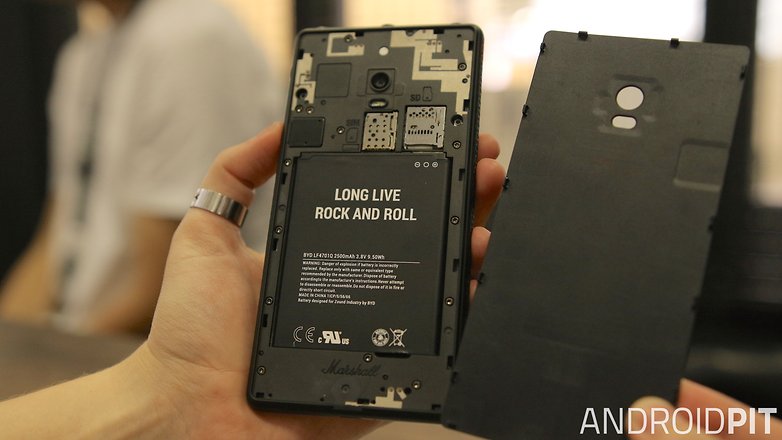 Marshall-Zound staff don't claim that this phone can run for 24 hours on one charge, but do say that as it has an HD screen of 4.7 inches and virtually stock software, battery life as optimized as it can get.
Marshall London technical specifications
| | |
| --- | --- |
| Dimensions: | 149.4 x 74.7 x 9.8 mm |
| Weight: | 145 g |
| Battery size: | 2500 mAh |
| Screen size: | 4.7 in |
| Display technology: | LCD |
| Screen: | 1280 x 720 pixels (312 ppi) |
| Front camera: | 8 megapixels |
| Rear camera: | 2 megapixels |
| Flashlight: | LED |
| Android version: | 5.0.2 - Lollipop |
| User interface: | Stock Android |
| RAM: | 2 GB |
| Internal storage: | 16 GB |
| Removable storage: | microSD |
| Chipset: | Qualcomm Snapdragon 410 |
| Number of cores: | 4 |
| Max. clock speed: | 1.2 GHz |
| Connectivity: | HSPA, LTE, Bluetooth 4.0 |
Early Verdict
After testing the Marshall London, I can say that I'd have no problem foregoing top specs in exchange for a design with this much style and attitude. It's certainly an exercise in ultimate brand expression. There's a lot of hype around the promotion of this phone, but if you're not worried about meeting the standards set by the major manufacturers, the Marshall London could be a good option for you.
Only two things bother me about this device – the fact that it's not yet available in more regions and the price. The Marshall London appears to follow in the footsteps of Apple in a sense: a large part of what you pay for is the presence, or even status, that comes from having a phone like this.
However, we're not saying you should give up on high-end hardware entirely. Devices such as the Galaxy S6 Edge also have an excellent design, so maybe it is possible to have both.
Would you agree? Do you prioritise specs over style when choosing a phone or vice versa? And most importantly, what do you think of the Marshall London? Let us know in the comments.