Moto E review: a cheap phone with a great pure Android experience
The Moto E is Motorola's latest low-end smartphone with a fantastic price, while still coming with the latest version of KitKat. It has what it takes to bring down the feature phones concept, as it comes with a microSD slot to expand the 4GB of internal storage up to 32 GB. This is just the tip of the iceberg, so we've explored the Motorola smartphone in a more in depth review.
Have you ever heard of PETYA?
Choose "I don't think so." or "Yes, I think so.".
Oops! Seems like something went wrong. Reloading might help.

Oops! Seems like something went wrong. Reloading might help.
Good
✓

Stock Android user interface (no bloatware); easy to use

✓

Few but useful features

✓

Great long-lasting battery

✓

Sturdy design

✓

Easily operates one-handed
Bad
✕

No removable battery

✕

4 GB of internal storage (expandable though with a micro SD card)

✕

Lackluster display with low resolution and brightness (not fit for outdoors)

✕

No front-facing camera
Motorola Moto E design and build quality
Though the Moto G has a large bezel and is quite thick (12.3 mm) for its small size, the design is still an attractive one. The body is made of plastic, however Motorola has given you a lot of freedom to personalize the device with the choice between 9 cases of different textures and colors.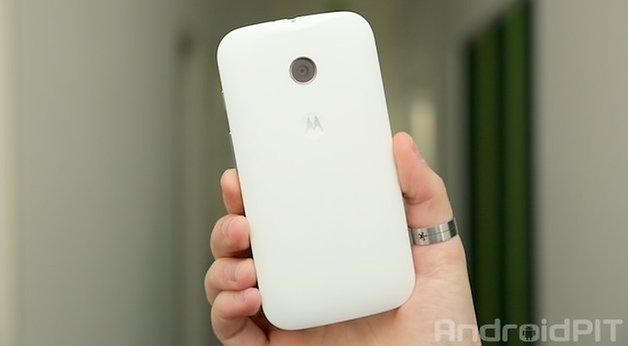 The Motorola phone comes with a 4.3-inch display, and is pretty sturdy, plus it affords solid grip. Despite being a low-end smartphone, the handset has a nice finish and doesn't come off as being flimsy.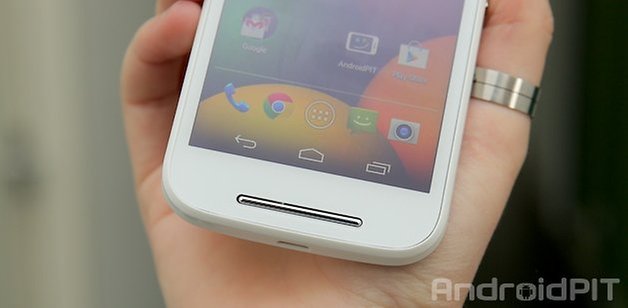 You'll find the headphone jack at the top of the device, and the volume and power buttons on the right side. The speakers are positioned on the front of the machine at the bottom of the screen, and the device can easily be operated with one hand. While the Moto E won't likely survive when immersed in water, it offers resistance to spills since Motorola has chosen to cover the display with Corning Gorilla Glass.
Motorola Moto E display
The Moto E has a 4.3 inch screen with resolution of 960 x 540 pixels (256 ppi). As a comparison, the Galaxy S5 and Moto G have a resolution density of 432 ppi and 329 ppi respectively.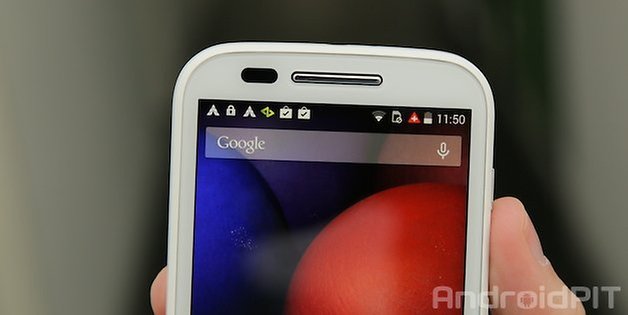 The engineers behind the Moto E had to forgo some items to ensure the production was within budget, one of which we noticed was the the weaker screen brightness. The max brightness rests at 389 nits, with a 1:1270 contrast, so the Moto E isn't suited for outdoor use on sunny days. The protection against dust and water splashes provided by the Corning Gorilla Glass is welcome, though.
Motorola Moto E software
Having a pure Android user interface in a low range phone is very positive, especially if this is your first smartphone. Unlike some other devices that bring a customized Android experience, which actually makes the functionality somewhat complicated due to so many unnecessary features, the Moto E provides a simpler and more intuitive experience, where the phone isn't overloaded.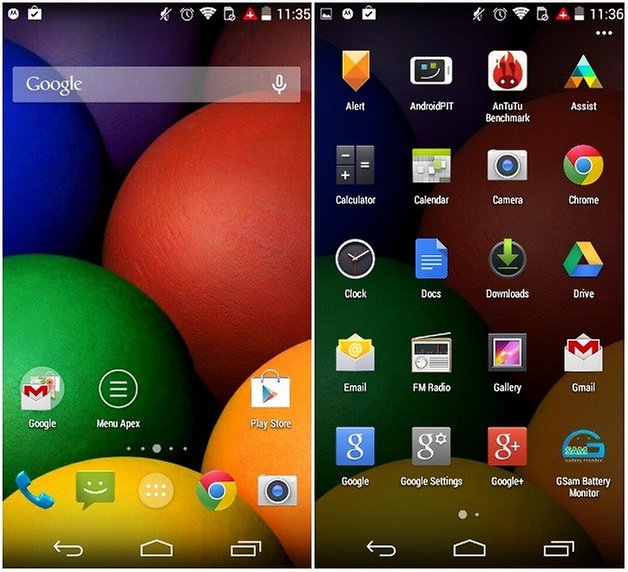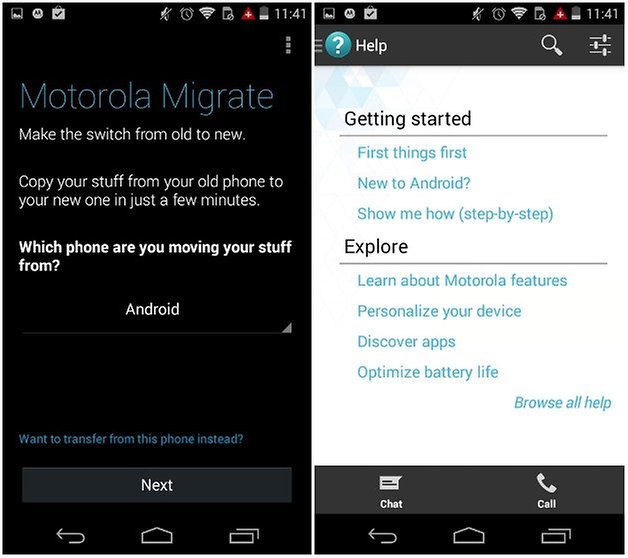 Among the features that Motorola has incorporated, all of which are very useful, is one called "Alert ". It allows you to share your location with contacts, and send alerts to a predefined contact if you find yourself in a risky situation. This built-in app is likely most useful for the elderly or people with special needs. By tapping the phone, the user would have the ability to send an alert for help.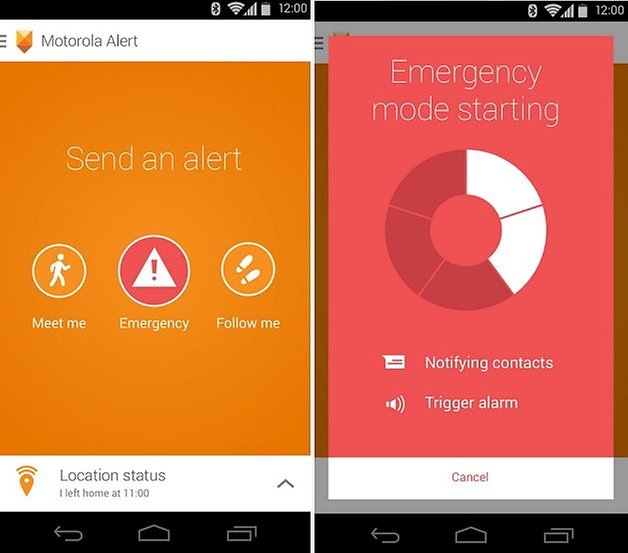 A feature which was also globally released is one for SIM card management for the dual SIM version of the phone. The Moto E is able to automatically select the best chip to perform a connection based on two factors: the first is usage behavior, i.e. if you use a SIM to call a certain number, it automatically selects this same chip for future connections. The second factor is the operator. The Moto E identifies the service provider for the person you are calling and if one of its two SIM cards are from the same provider, it automatically selects the corresponding SIM card. This is for better utilization of credits and often reduces costs. This feature and other options can be configured manually.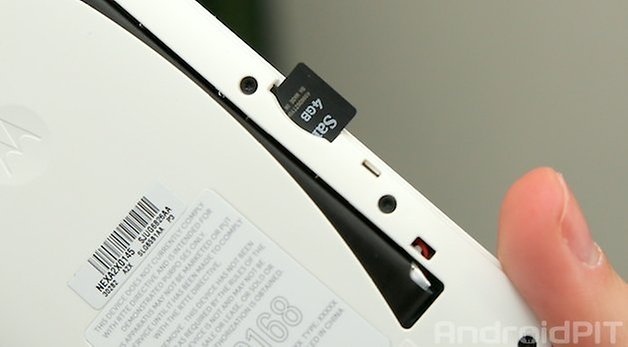 Motorola Moto E performance
The internal memory of Moto E is only 4 GB (of which 2.2 GB is available to the user), which always occurs with the most basic models, but you can expand this storage up to 32 GB with an SD card. I hope that Motorola will continue offering it on their devices, because it's something many users demand.
Limiting the Moto E is the GPU (Adreno 302), which despite being sufficient to run many apps smoothly, is basic and can lock while playing some more high-end games. However, it still is able to process the 3D effect of Android 4.4.2 KitKat factory. The Moto E has FM support (without RDS), GPS, GLONASS and Bluetooth 4.0 LE radio.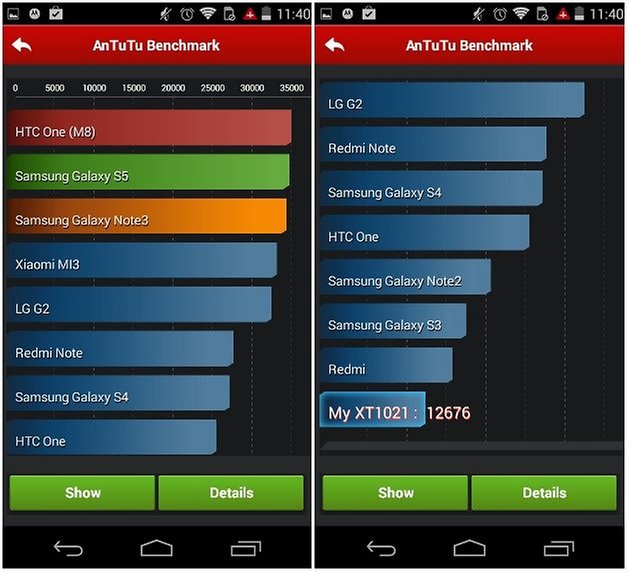 As mentioned at the Moto E release event, when compared with a Samsung Galaxy S4, the Moto E opens the phone app to make calls 1.1 seconds quicker, 0.9 seconds faster to open the browser and 1.7 second faster to open the camera.
Motorola Moto E camera
One drawback of the device is the lack of front camera. So taking a "selfie" with your Moto G is pretty tough and involves a lot of guessing. I believe that with a front camera of low quality, even if it was VGA, it would make the device more attractive. That being said, the rear camera is 5MP and is good enough, shooting pictures at a resolution of 2592 x 1944 pixels. Once activated, the camera opened quickly and was able to take good quality photos in sequence.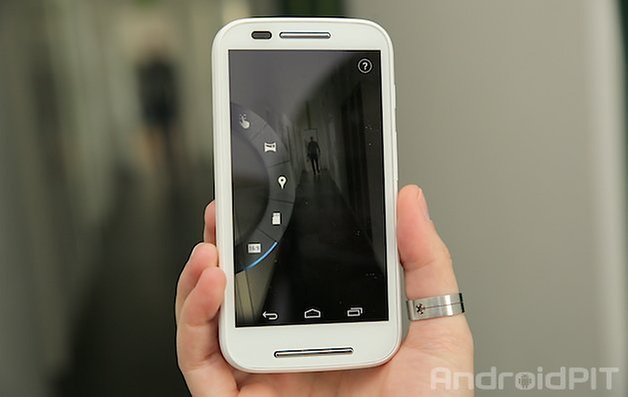 The Moto E can record 480 x 854p videos, though it doesn't come with advanced features like image stabilization, so don't expect high quality videos. The camera has no flash but does support HDR and the format is good. Because of the lack of flash, the device performs poorly in low-light sources, but on the plus side it has a feature called geo-tagging.
Motorola Moto E battery
The lithium battery found in the Moto E has a capacity of 1,980 mAh, which is in fact bigger than the iPhone 5S - 1,560 mAh), and was designed to last a whole day. That's at least what Motorola has promised users. When I put the phone to the test, the battery lasted even longer with an average use of Wi-Fi, 3G, apps and more. A negative point here is that the battery isn't removable.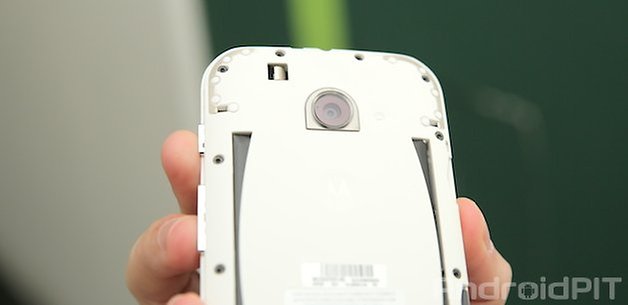 Motorola Moto E technical specifications
| | |
| --- | --- |
| Dimensions: | 124.8 x 64.8 x 12.3 mm |
| Weight: | 140 g |
| Battery size: | 1980 mAh |
| Screen size: | 4.3 in |
| Screen: | 960 x 540 pixels (256 ppi) |
| Rear camera: | 5 megapixels |
| Flashlight: | Not available |
| Android version: | 4.4.2 - KitKat |
| User interface: | Stock Android |
| RAM: | 1024 MB |
| Internal storage: | 4 GB |
| Removable storage: | microSD |
| Chipset: | Qualcomm Snapdragon 200 |
| Number of cores: | 2 |
| Max. clock speed: | 1.2 GHz |
| Connectivity: | HSPA, Bluetooth 4.0 |
Final verdict
I had an excellent experience with the Moto E. I like the fact that Motorola doesn't change much in terms of the user interface between their devices, which makes it a lot easier to use for beginners. And it's easy to tweak, by adding the numerous apps from the Play Store you can improve some of its lacking features. In fact, manufacturers really don't need to pre-install apps into their device, considering there are often existing apps that can do a better job. Not only that, the more features the device has, the more this drains the already small amount of internal storage and battery life.
The downside of the Motorola phone is that it doesn't have the most modern of designs and lacks a front camera. In addition to this, the battery isn't removable. Those being the cons, the Moto E did run fluidly and did not show any delay in basic navigation, or when running applications that required a significant amount of processing power. Of course, it doesn't approach the top end of smartphones, but this wasn't Motorola's intention. What they are presenting is a good handset with regular Android updates, one of the guarantees put in place by the manufacturer!
The Moto E can be bought for 129.99 USD, and each extra shell an additional 14.99 USD (or the option of a grip shell for 19.99 USD).
What do you think of the Moto E?