Samsung Galaxy A5 (2017): designed to look like the Galaxy S7
Update: Video 'review' shows off the Galaxy A5
Preparations for the 2017 version of the new Samsung Galaxy A5 phone are well under way. The phone has actually passed its Wi-Fi certification test. As the 2016 phone was extremely popular, Samsung has decided not to hold itself back from making a new version, all the more so if the South Korean giant's finances are to be saved after the Note 7 debacle. The first reports on the phone seem to be very promising. Update: There is now a video showing off the A5.
Samsung Galaxy A5 2017: release date and price
The 2016 version of the phone was launched in January. This year, given Samsung's situation, its successor could be released a little before. In terms of price, Samsung should not change and will likely keep the price at around $430.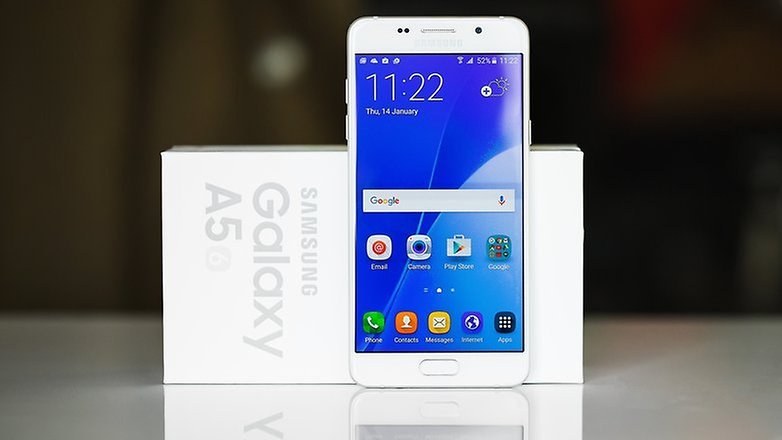 Samsung Galaxy A5 2017: design and build
With this mid-range phone, Samsung's goal is to sway a general public that doesn't really want to spend more than $500 on a smartphone but still wants the latest technologies (fingerprint sensor, glass design…). Samsung will not change the style of its smartphone, but it will offer an even more premium look with the 2017 A5.
The best info leak we've had to date about the Galaxy A5 seems to confirm a number of early rumors that the device will sport similar rounded corners to the more premium end of the Galaxy range. The below video posted online as a "review" of the as-yet unannounced handset also seems to confirm that it'll get features like Samsung's Always-On display. The clip shows it running Android Marshmallow, however, which suggests it could have been an early build of the phone as we'd expect it to arrive running Android Nougat.
An unconfirmed rumor from the leaker Roland Quandt says the A5 will be available in four colors: black, gold, pink and blue. The previous A5 (2016) was available in black, gold, pink and white (rather than blue). No clues are available yet about what shade of blue the phone could be. It could potentially be Coral Blue, just like the Samsung Galaxy S7 Edge.
I can't wait to buy a new A5
What do you think?
According to early renders you can see below, the Galaxy A5 (2017) may have a mini jack port which is located at the bottom right of the phone and no longer on the left. The phone is also thicker than the Galaxy S7 with a dimension of 145 x 71 x 7.8 mm but the camera does not protrude from the back. Finally, the Galaxy A5 (2017) may have a fingerprint sensor.
Samsung Galaxy A5 2017: technical specifications
The phone has also passed the Wi-Fi Alliance's (WFA) Wi-Fi certification test, which gives us additional details about its tech specs.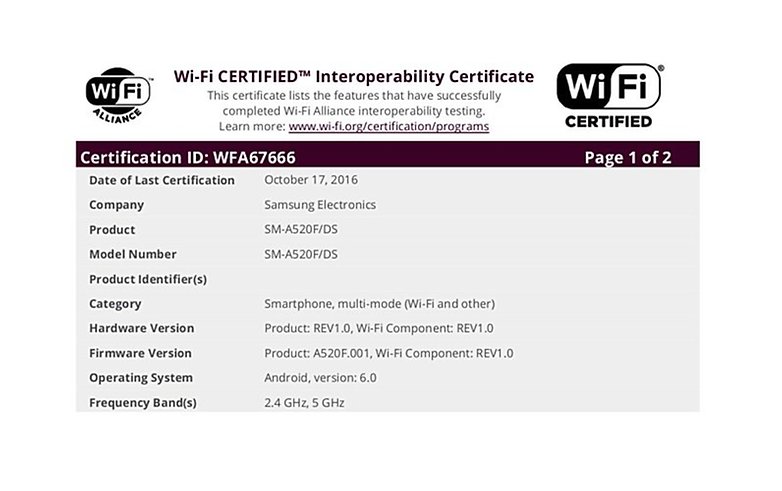 Both the single SIM card and the dual-SIM card models (SM-A520F and SM-A520F/DS) have been certified. We also learned that the phone will use Android 6.0.1 Marshmallow. The other main phone features that are currently known are: an Exynos 7880 processor, a 5.2-inch display and 3 GB of RAM. A 13 MP main camera and a 3,000 mAh battery are also included.
Samsung Galaxy A5 2017
System
Android 6.0.1 Marshmallow
Screen
Super AMOLED 5.2 inches
Full-HD (1080 x 1920 pixels) ?

Processor
Exynos 7880
Graphics chip
-
RAM
3 GB
Internal memory

(microSD card reader probable)

Battery
3,000 mAh
Camera

rear: 13 MP

Connectivity
Wi-Fi a/b/g/n/ac (Dual-Band: 2.4 and 5 GHz),
Bluetooth 4.2
3G/4G, GPS (A-GPS) + GLONASS


Dimensions
145 x 71 x 7.8 mm
Weight
-
SAR
-
Special features
-


Price
around $430
Do you love the Galaxy A5 (2016)? What are you expecting from its successor?