The Motorola Moto G has taken the place of the Nexus 4 as the best budget phone around, making it the perfect phone for beginner users or even those who just hate bloatware and want a phone they can easily root. Though the Moto G wasn't jam packed full of pre-installed software, there are some features that beginners or newbies to the Motorola line might still not know about. Here are some of Moto G tips and tricks owners old and new.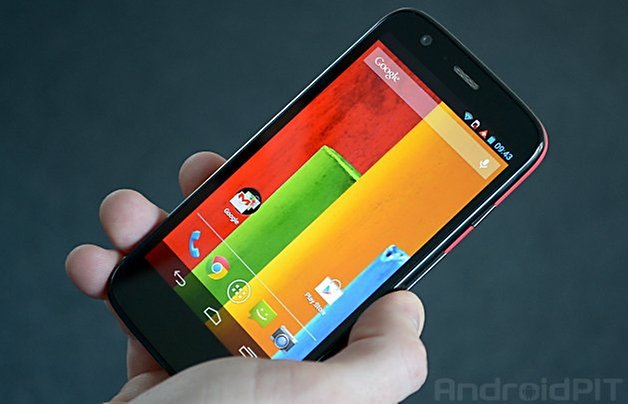 How to open multiple browser windows
When using Chrome, the native Moto G browser, you have the option of opening multiple windows at the same time just like on a desktop computer. Just click on the square icon next to the menu (the three vertical dots). The browsers cascade vertically so you can move from one to another with ease. Simple.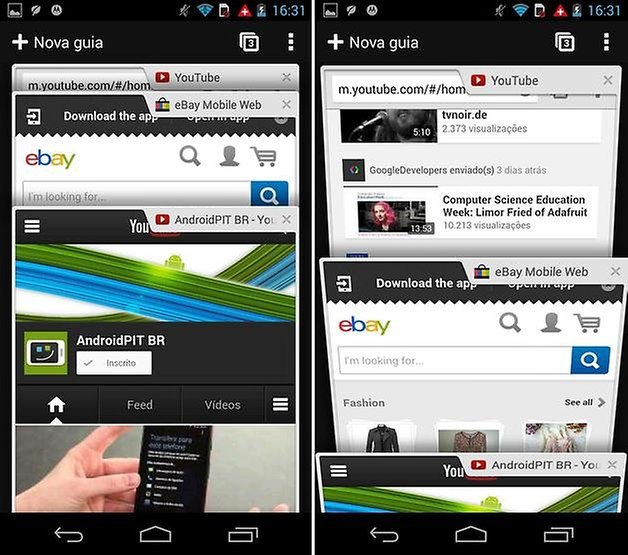 How to increase storage via USB
It has to be said that one of the weaker aspects of the Moto G is the storage space. Though users can now get their hands on a Moto G with an SD card slot, originally they were limited to 8 GB or 16 GB version. This, as users quickly discovered, is not much.
Fortunately, the Moto G uses a service, named USB OTG (on the go), which allows the handset to be connected to other USB devices and accessories, like a mouse or keyboard, for example. What OTG also lets you do is connect the Moto G to an external flash drive or hard drive, meaning you can easily plug a USB drive directly into the Moto G to swap files between them. While it's not as convenient as an internal SD card, it still provides a handy way to extend your storage capacity.
How to set up a cool live wallpaper
Motorola comes with a bunch of nifty looking live wallpapers that were built right into the phone. By accessing the Settings menu, which can be located either in your Quick Settings or via the app drawer, simply scroll down under the subcategory 'Device', tap on Display and select Wallpaper. You have the choice of choosing from the phone's gallery, normal wallpapers or live wallpapers. Some of the Moto G's live wallpapers are also found on other smartphone devices, like the Galaxy S3, such as Bubbles and Phase Beam. My personal favorite is Nexus.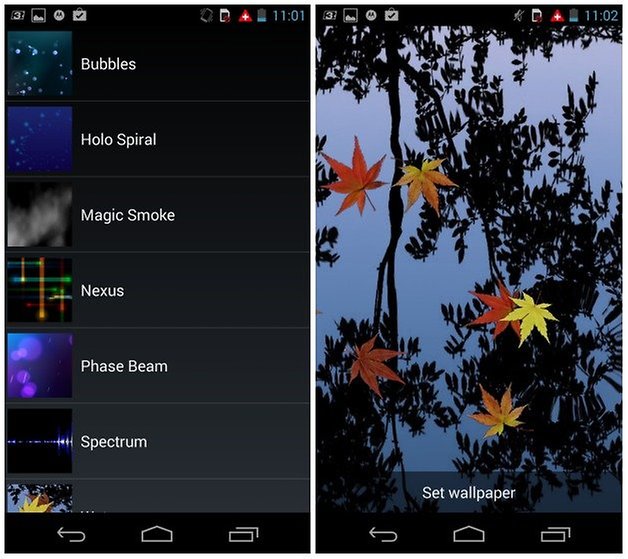 How to take a screenshot with the Moto G
Many of you may know how to do this already, but just in case:
Press and hold both the POWER BUTTON and VOLUME DOWN BUTTON for a couple of seconds, or until you hear the camera shutter click or see an on-screen flash.
And you're done. To view the screen image, touch Apps and go to Gallery > Screenshots. If you press and hold the image you will get some sharing options, which will appear at the bottom of the screen.
How to set up Daydream Mode on your lock screen
Daydream Mode was first introduced with Android 4.3 in July and is a software feature that not only looks cool but also saves battery life. Daydream now has four different settings: clock, colors, photo frame and photo table. Your phone can daydream either while docked or charging or both, which you can select in the menu (aka action overflow button). Photo frame and photo table will draw either screenshots or pictures from the camera gallery (or both). To preview, choose "start now" to see how it will look. Clock comes in digital and analog as well as night mode to dim the display for dark rooms so as to not disturb you while sleeping.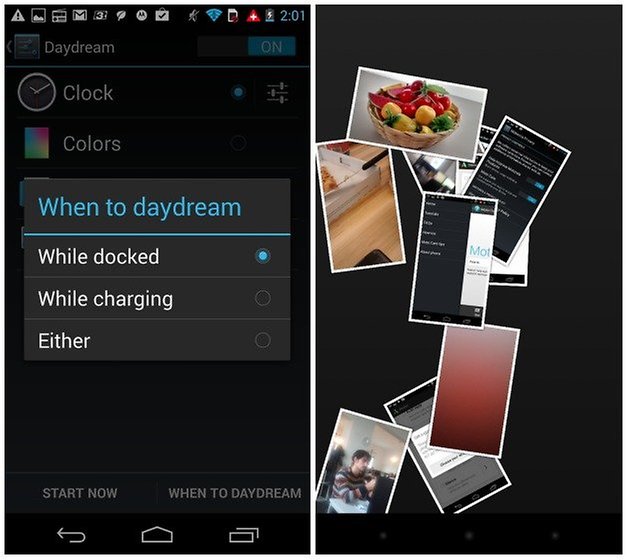 How to turn on the Battery Saver
Unlike the Samsung series, where the power saver is found in the notification bar, you need to access the battery option by tapping on the battery status icon in your Quick Settings, which is accessed by two-finger swiping from the top to the bottom of your display. Here you can turn on the battery saver toggle. If you want a realistic look at what is draining your battery, it will show you the percentages underneath.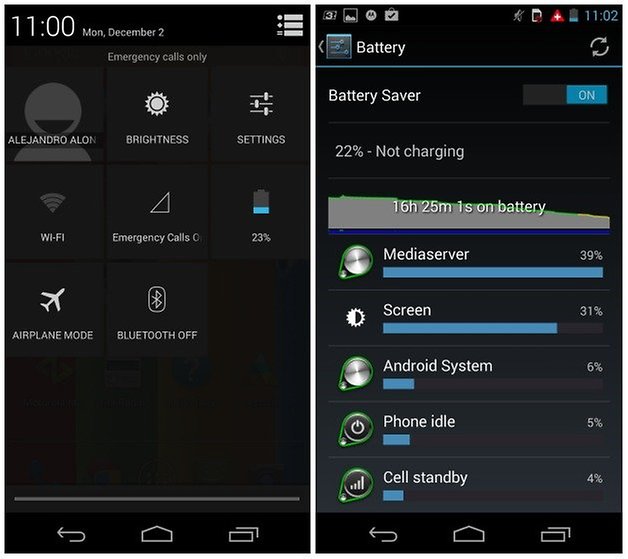 How to get help with Moto G problems and learn the basics
Motorola pre-installed an app on the Moto G called Moto Care, which is there to help answer your questions which don't even need to be Moto G-related. You can also request help on the basics to do with smartphone usage: how to use a touch screen, how to send and receive text messages etc. Most of these answers can even be briefly answered while offline, however for further explanation you'll require internet access. Once online, you also have the option of chatting to or calling a Motorola support rep. There's a pull-out menu from the left side of the display which provides further tutorials, FAQs, how-to's, tips and information about the phone, which gives the same information as in the settings. The settings button on the top right corner of Moto Care provides you with optional assistance in helping you reduce your mobile data use as well as tip settings and privacy policy. There's a quick fix option if you like your device to be automatically updated according to their suggested changes.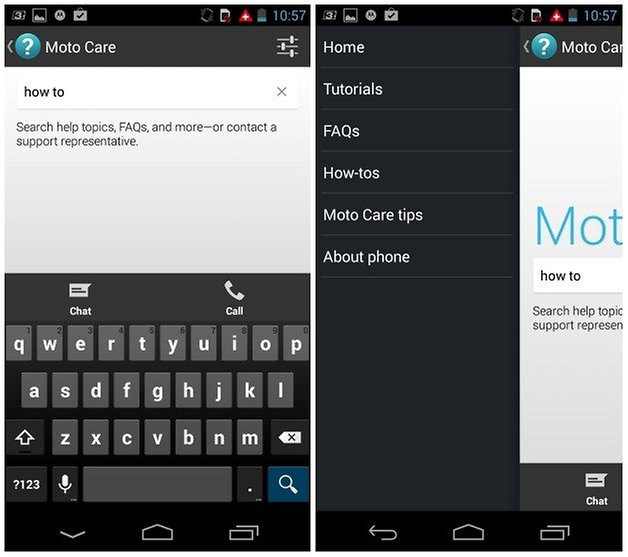 Program your phone to act like your assistant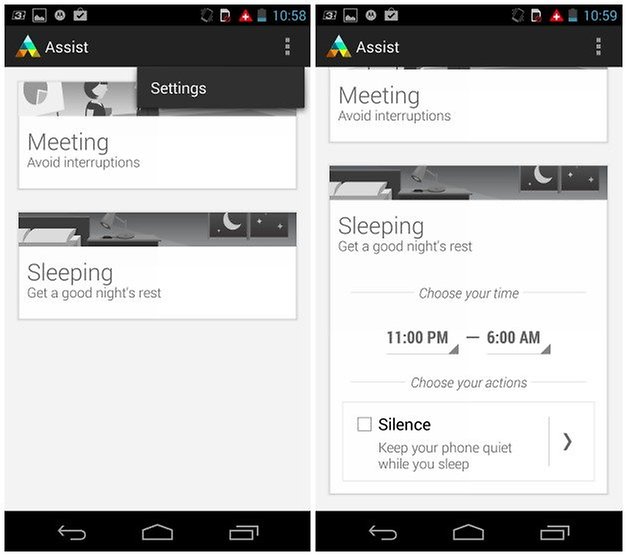 Thanks to another super helpful app, called Motorola Assist, you can set up the phone to behave how you would like it to when you are sleeping or in a meeting. To get a good night's rest, you can set up times during which notifications or calls won't ring. You can however create a few exceptions to the rule, like with incoming favorite calls or when someone rings twice within 5 minutes.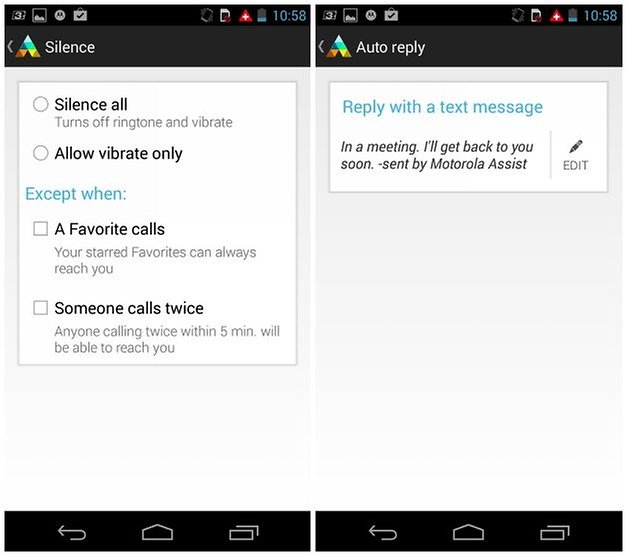 There's also the option of setting up your device for meetings to avoid interruptions. You can set up silent mode or auto-replay with, again, the same exceptions. The settings within Assist allow you to either activate and deactivate these various situational modes and choose whether activity is displayed in the status bar.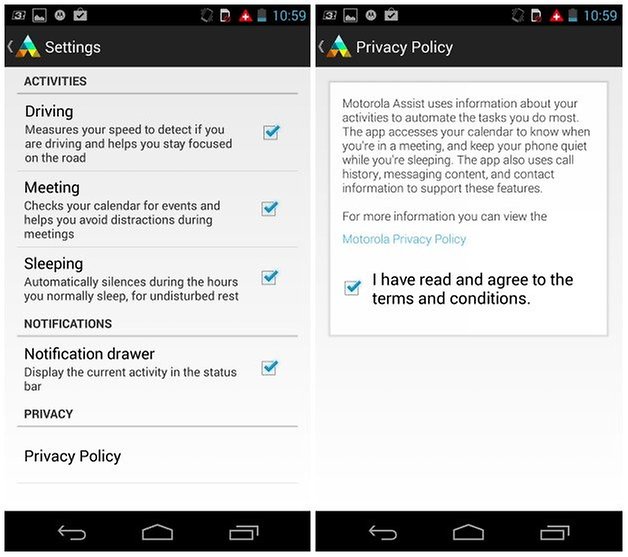 How to find your Moto G if lost
Thanks to your Google account, Motorola services will be able to provide you with Moto Care tips for your Moto G, as well as locate your lost phone. In the Settings, under Motorola Device ID, you can choose which account will be used for your Motorola Device ID. Using the action overflow button on the top right corner, you can unlink the account if you change your mind.
How to make the font bigger
If the text on the Moto G is too small for you to easily read, you might want to consider making it larger. This can be done by going through the Settings again but this time you're looking for Accessibility, found under the subcategory 'System'. In the menu, you will find 'Large text': simply tick the box!
How to copy stuff from your old phone to the Moto G
Instead of starting from square one, you can migrate all of your information, text messages, call history, SIM contacts and media to the Moto G from your old phone. To do this, you first need to install the Motorola Migrate app onto the other, older phone; this can be downloaded from the Google Play Store and is free. It comes preinstalled on the Moto G. After Migrate is open on both phones, hit Start and scan the code found on the screen when prompted to do so.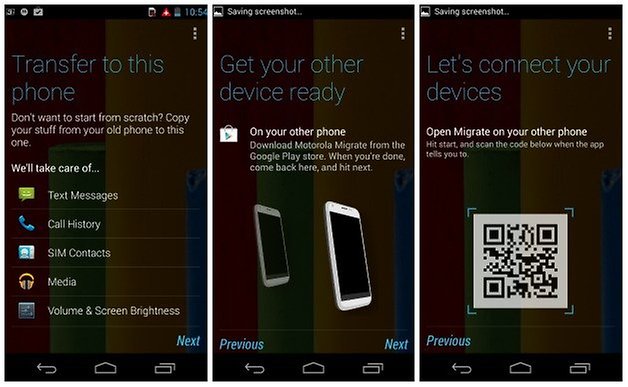 How to create and edit Microsoft Office files on your Moto G
Motorola installed Quickoffice onto the Moto G, which works hand-in-hand with Google Drive and your Google account. Thanks to 15 GB of free storage space that you are given for Google Drive, you can save your work online and save precious space on your phone. There you can access other docs you have on the Cloud service, create new word, spreadsheets and presentations and perform Drive-wide search, among other features.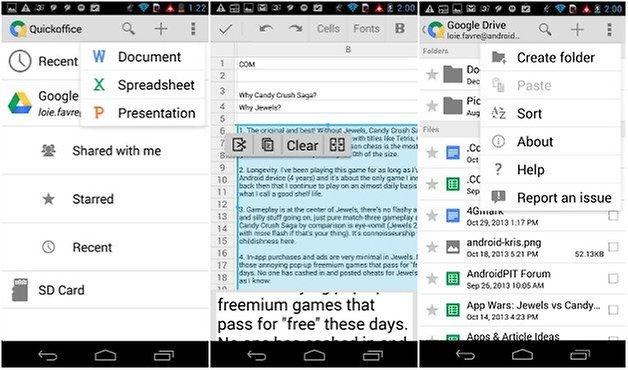 What other advice could you offer a new Moto G owner? Is there anything we missed?