Best music player apps for Android
Update: New superb Material Design player added
When Apple-to-Android converts tell us about why they switched, the words 'iTunes' and 'oppression' always crop up. The way you consume music on Android is virtually unrestricted, and there are a huge number of music player apps to choose from. So join us in taking a look at the best music player apps for Android.
Phonograph
For my money, the best looking music player available. Phonograph nails Material Design and the UI is silky smooth. You can change the primary and accent colors, letting you add a little personality to the app. There's nothing too flashy here, it just executes everything perfectly. I've honestly not encountered a single problem since I started using it, and does it all with that clam beauty that Android excels at.
Give it a go, and I guarantee you will not be in a rush to uninstall it.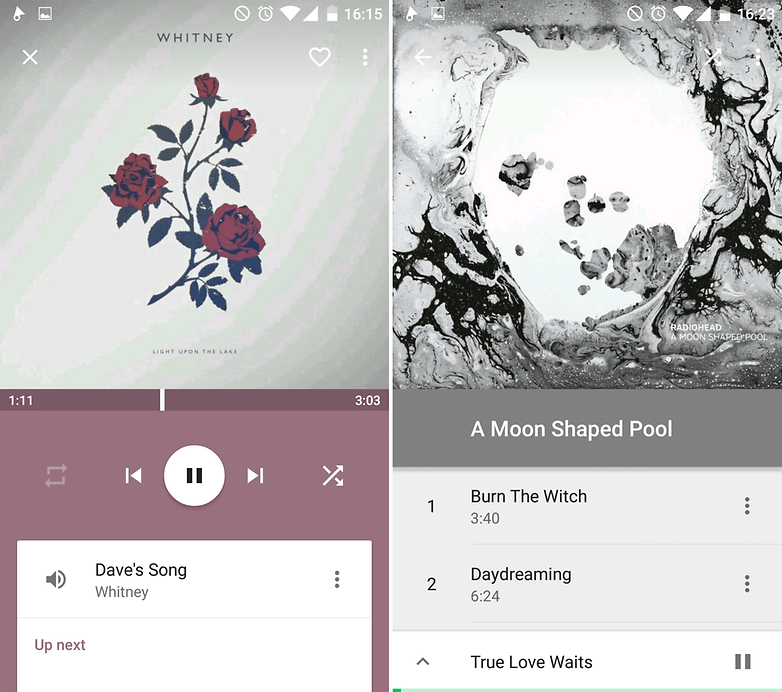 Phonograph Music Player

Pulsar Music Player
This a gorgeous, Material Design music player that lets you browse your music by folders, albums, genre or artists. It's packed with all the essential features, as well as some more unusual ones, including built-in last.fm support, automatic artwork download, built-in tag editing, a variety of themes, and smart playlists.
The free version contains pretty much everything you need for basic use, but a small one-off payment scores you access to the equalizer, additional themes and a bass and reverb booster.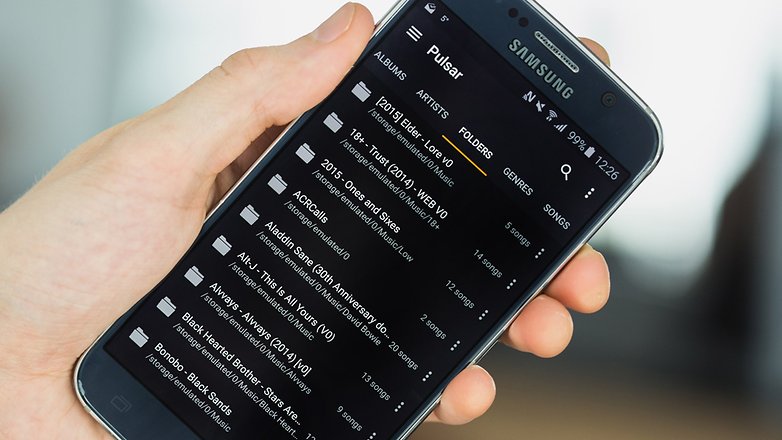 Pulsar Music Player

Shuttle Music Player
Probably the best-looking music app on Android, Shuttle has a good line-up of features, including a six-band equalizer, and automatic downloads for artwork and lyrics. Shuttle also uses Last.fm scrobbling, which will work out which songs you listen to the most over time, and help tailor playlists to your liking.
If you splash out US$1.75 / £1.10 for the paid version, you get more themes, folder browsing, and even Chromecast support.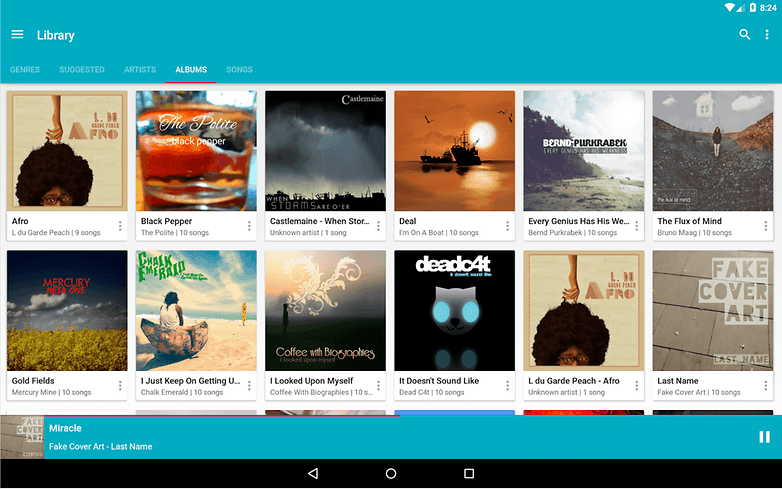 Shuttle Music Player

Musixmatch
Musixmatch offers something a little different. As well as a sleek, elegant interface for listening to your music, it also comes with the FloatingLyrics widget, which syncs lyrics to music that you listen to, and lets you read lyrics as you're listening to songs on your default music player, Spotify, YouTube, and various other music apps.
You can even type lyrics into the widget and it'll find the matching song on your device. It's this unique widget that makes Musixmatch a real winner.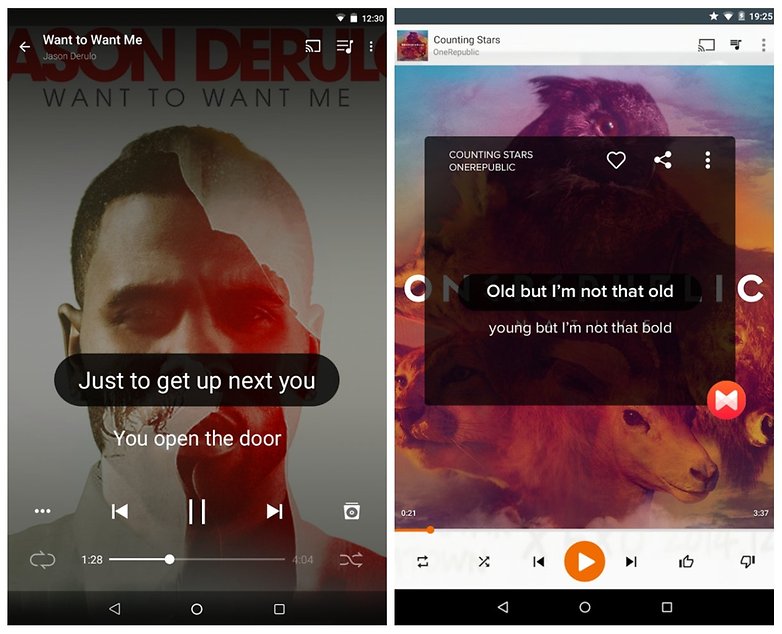 Musixmatch - Lyrics for your music

jetAudio Music Player
This is one of the better music players on Android, mainly because of its strong host of tweaks and effects you can add when listening to your music. Plugins include the AM3D Audio Enhancer and Bongiovi DPS, which enhances sound processing in a way that true audio enthusiasts will appreciate.
Pay £3.29 / US$4.99 for the Plus version, and you get a whole load of widgets, viewing options, pitch shifting and much more, making this possibly the most tinkery music player out there.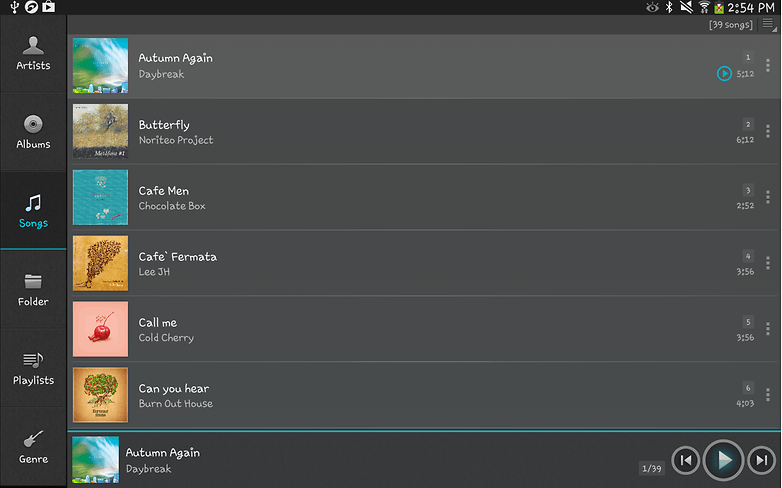 jetAudio HD Music Player Plus

MixZing
This is an all-round media player that handles video and music with equal aplomb. On the music side of things, it has a feature that recognizes your music – even without tags – and matches it up with artwork and lyrics.
This ensures that there will be few blank spaces or generic musical notes when you're browsing your library and admiring the album covers. There is also Mood Player, which automatically creates playlists based on how you tell the app you're feeling, and when you're online, you get further listening recommendations based on your favorite tunes.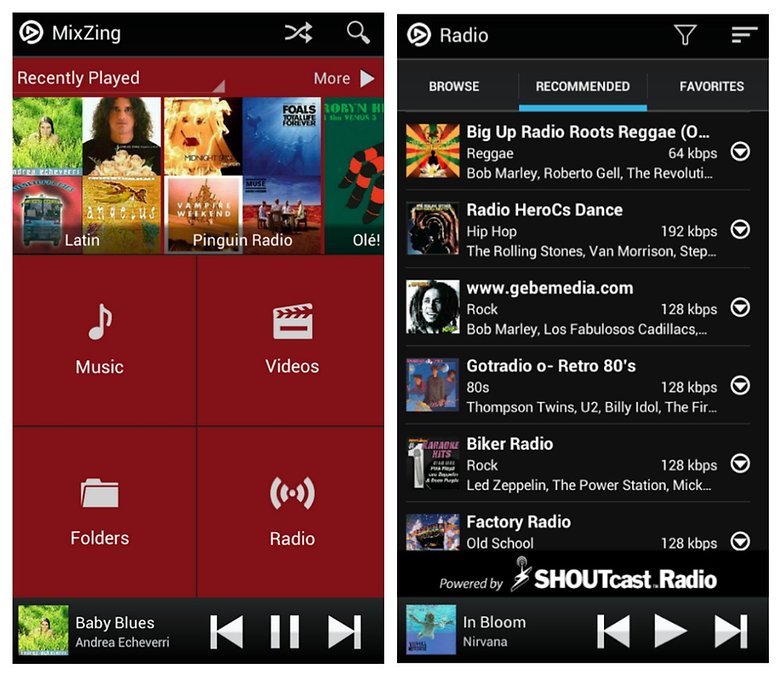 Poweramp
As one of the most popular music players for Android, Poweramp is a safe bet for your musical needs. Album art and lyrics can be integrated into the player, and it provides an impressive 10-band equalizer to help tweak your sound output. You can even save your EQ presets, allowing you to set up specific ones for specific headphones.
The only downside is that Poweramp displays the directory names of the songs and albums in your library when you are browsing, which looks untidy.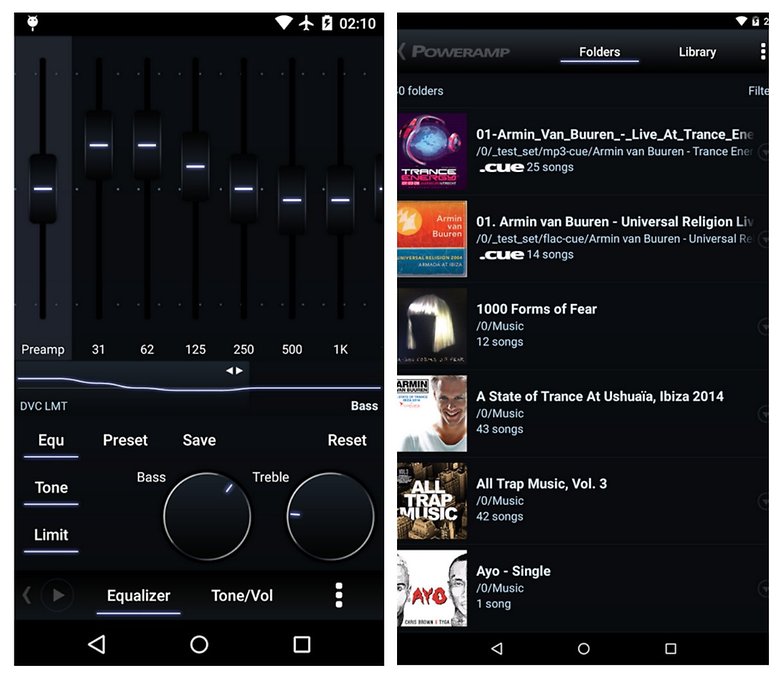 Poweramp Full Version Unlocker

PlayerPro Music Player
Also hovering around the top of the Android music player app chart is PlayerPro Music Player. Like Poweramp, lyrics and album art can be downloaded and displayed while playing music. There are also different skins, themes and extensions, which you can use with this player to help customize your experience.
Song tags can be edited directly from the app and it even has scrobbling support for sites such as Last.fm so that you can sync your listening habits. PlayerPro comes with a variety of options for lock screen widgets that provide you with quick access to the music player, and its features are rounded off with smart playlists, which adapt to your listening habits.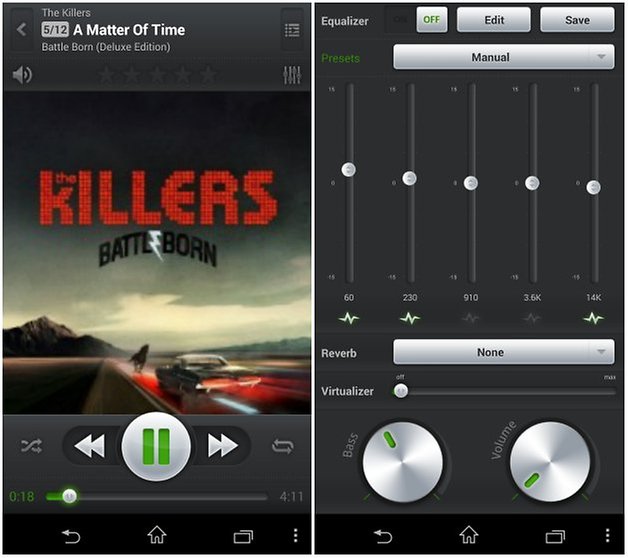 PlayerPro Music Player

n7player Music Player
This app offers something a little different; a tag cloud, where artists and song names are displayed on your screen, in varying sizes, depending on how much you listen to them. It looks great, and comes with its own EQ with haptic feedback. Creative, with some interesting use of multi-touch, n7player is definitely worth checking out.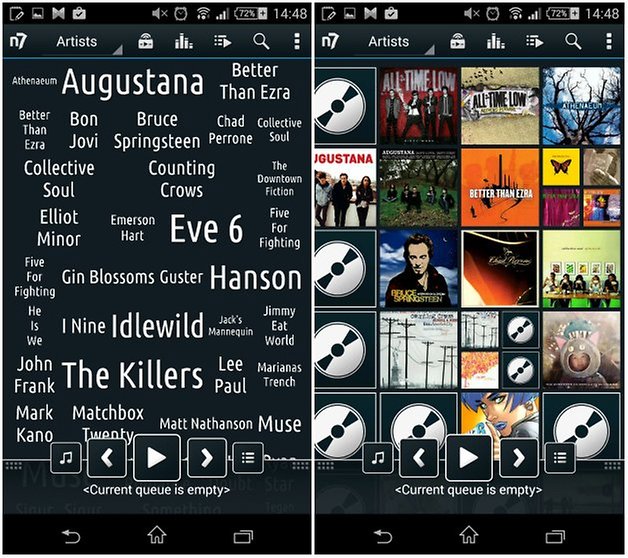 n7player Music Player

Rocket Player
Rocket Player is a feature-rich underdog that competes against some of the bigger names and offers various downloadable templates and themes. While the free version gives you a pretty standard batch of options, the £2.49 / US$3.99 Premium version also offers left/right balance control, preamp, and more audio formats.
An extensive search option lets you search across different tags, playlists and composers, and the whole thing feels intuitive and easy to use thanks to a recent Material Design-style update.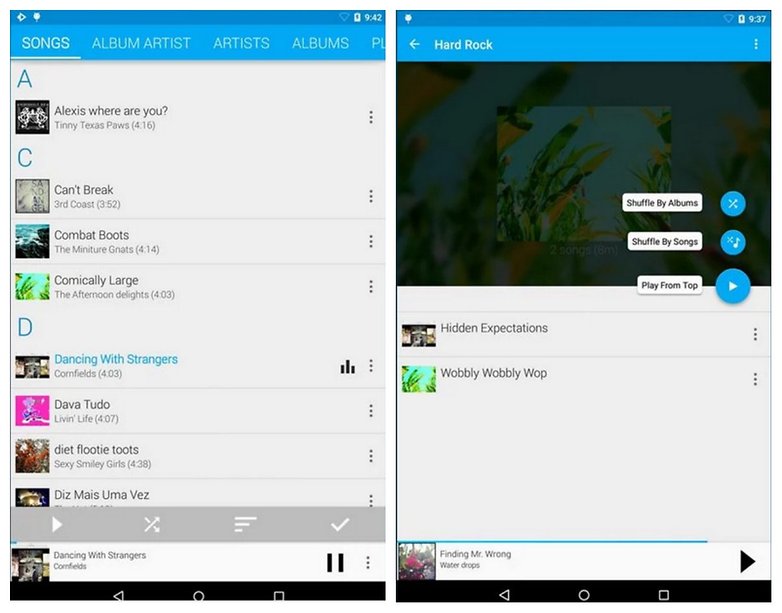 Rocket Player : Music Player

Google Play Music
Google Play Music offers access to a huge online catalog of music. You can stream it if you have a subscription, but the app can also play the music stored in your smartphone library. Google Play Music syncs with your Google account, so your playlists and songs are accessible across multiple devices.
Google Play Music also offers customized recommendations based on your current listening habits and music library, and comes with the Android 5.0 Lollipop Material Design interface.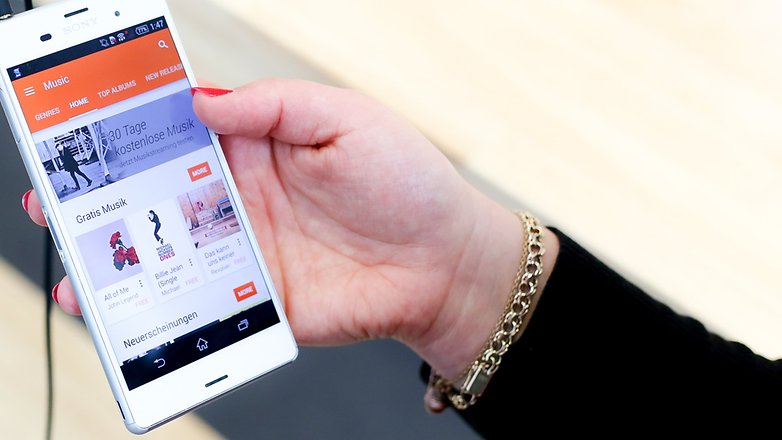 Google Play Music

What's your favorite music player for Android, and which features do you find most important? Tell us in the comments!