The best launchers available: transform your Android
One of the most impressive ways to customize your smartphone is to install a launcher. Launchers allow you to take advantage of tons of custom Android themes and icons, as well as offering near complete control over how your phone performs when switching screens, launching apps and more. Here are the best launchers for your Android smartphone or tablet.
Jump to section:
Smart Launcher Pro 3: a distinct style
Smart Launcher Pro 3 has its own distinct flavor and is unlike any launcher on the list. It begins with a short setup procedure where you are asked for your preferred dialer app, music app, and photo app from those you have installed (if you have any installed).
Select them, hit start, and you'll be dropped into a single home screen populated by six apps, some of which were determined in the previous steps. A swipe left brings up an organized app drawer (Smart Launcher organizes it automatically, you can't change the order) and swiping to the right brings up several screens designed for widgets.
That's it. A single home screen with six apps. You can increase the number of these apps or remove existing ones, as well as customize what they do. But, crucially, you can't add more home screens.
It's a minimalist setup and an interesting design decision. One might ask why there is only one home screen for apps but three screens for widgets when they're typically fewer in number?
This, I presume, is to force users to create a manageable single space. If you're aiming for a less cluttered home screen, Smart Launcher Pro 3 necessitates it.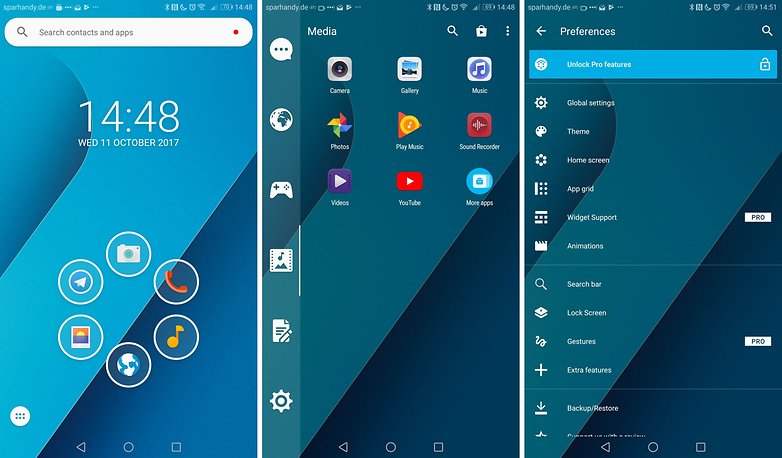 Smart Launcher Pro 3 implements a handful of functions to make single home screen usage easier. Chief among these is the extra function that each app button can make use of. You can use a single tap for one action or a double tap for another. This is a great way to save space on the home screen because each app button has the potential to open two apps.
How about making your dialer app open in one tap, and making contacts appear with a double tap? Or you might consider launching WhatsApp with one tap, and Facebook Messenger with a double? Maybe a single touch on the camera icon will launch your camera app, while tapping twice could start Instagram?
You don't have to make use of this feature, but it works, and highlights what the developers have done to support the core goal of singular home screen use, rather than spamming the app with hundreds of incongruous features.
You can also customize how the app drawer looks in several interesting ways. It defaults to a flower-petal setup: six apps in a circle. But you can change it to a simple grid, like on a standard home screen, Honeycomb style, or – my favorite – Arch. This gathers apps in a non-linear format which climbs up the side of your display. It looks organic and very cool.
Smart Launcher Pro 3 supports free and premium themes that compliment its already sophisticated look. But I'd say its focus is more on usability than style. If you want to redefine the way you use your phone and optimize it for ease-of-use, give this one a try. You can try the free version, then the pro variant can be bought as an IAP from the free app. Backups and icon packs are supported.
Price: $3.99
Size: Varies with device
Android requirement: Varies with device
Version tested: 3.16
Microsoft Launcher: functional and organized
Obviously, this is a Microsoft product. But wait, before you run and hide, hear me out. This is a very interesting launcher for several reasons. Firstly, it doesn't look like any other launcher and lacks bloatware apps and boosters, so it's already noteworthy.
But also unlike many other launchers, its focus is not on fancy looks and dazzling transitions; instead it appears to be aimed at business-type users. This is evident from the use of its relatively plain wallpaper and home screen headings like People (a contacts list) and Reminders.
I currently make use of several Android apps for notes and planning: Reminders is an entire home screen dedicated to this. It's perfect for the type of user it targets and this page also integrates with to-do list app Wunderlist. It's a good idea, but it would great if it supported other apps like Evernote or Google Keep (though admittedly I don't even know how this would work).
Microsoft Launcher's strengths is its Recent menu. I don't use the native Android recent apps menu because I think it's clumsy – I have dozens of thumbnails of every previously used app, so finding what I want can be difficult.
Microsoft Launcher, by contrast, displays recent items not by app but by content. It begins with recent pictures and then is followed by other content, such as downloads, videos or recently contacted people. It might not be there with a single button press like Google's recent apps and it's function isn't exactly the same, but it's nonetheless intuitive and useful.
Microsoft Launcher is a light and simple launcher compared to most others but because of this it does have fewer customization options: you can't change app icon sizes and font styles here (though you can use custom icons).
Regardless, it's still one of the best launchers in my recent tests. It's a dry Microsoft product that lacks some versatility, but it's nonetheless fresh, unique and something which I'm sure could serve a certain type of user better than the stock launcher.
Price: free
Size: 9.1 MB
Android requirement: 4.0.3 and above
Version tested: 1.4.0.23967
Nova Launcher Prime: take control
We have written extensively about Nova Launcher Prime, with a whole bunch of tips and tricks. Many say this app is the reason to buy an Android phone rather than an iPhone and it's easy to understand why.
Nova doesn't look like much when you first open it. You won't see 3D floating clocks or animated weather apps like in some launchers: it includes just three folders labeled Google, Create and Play, a Google Search Bar and a Gmail widget on the left home screen.
But open up the settings menu and you'll find a trove of options for customizing a whole range of features: from app margins and sizes, to font colors and appearance, to your app drawer layout and animation effects, to screen gestures, to dock settings to unread badges; the list goes on.
Essentially, as far as customizing Android without Root goes, Nova Launcher offers about as many options as you're likely to find.
This launcher is filled with small but impressive details like the possibility to add a colored dock bar to the background of the bottom shortcuts area (where you normally find your Camera, Dialer and Contacts apps). It's purely an aesthetic option, but the fact that you have options like this makes Nova so interesting.
You can also alter the number of app icons which appear in the dock, from one to seven – a feature you won't find in most other launchers which optimizes the space at the bottom screen. Like Apex Launcher, it even lets you increase the number of these dock pages (in this case up to five).
The overall performance is buttery smooth and Nova supports a slew of gestures. I can't help but find it incredibly cool when I use the clockwise two finger gesture to open my banking app – as if cracking open a safe. It's the potential that Nova Launcher offers a smartphone that makes it so worthwhile.
Price: $4.99
Size: 4.5 MB
Android requirement: 4.0 and above
Version tested: D
Apex Launcher: for theme-lovers
Apex Launcher is a feature-packed launcher with free and premium versions, but even the non-paid version offers a huge amount of customization and doesn't contain ads or bloatware apps.
Apex Launcher is in many ways very similar to Nova, offering a wealth of options for the app drawer, dock bar, folders and home screen and it even includes a backup option for transferring the same settings to other devices.
So it's dense, but unlike Nova it also supports a huge selection of themes. These custom-made icon packs and wallpapers can be very impressive and show off what's great about Apex.
You can also customize the home button to house more than one action. One press will bring you to your home screen, as usual, but a second press could be used for any number of shortcuts, like opening another app, taking you to your notifications, or launching the Apex Settings menu.
One of the coolest features of Apex is that you can make use of several dock bars. This is traditionally comprised of four to five fixed buttons, but, like home screens, Apex Launcher allows you to make use of a few of these. This means that you can optimize toolbars for certain tasks. You might want to have a toolbar for calendars and diary info or a toolbar just for media viewing. Perhaps you could set one up with shortcuts to your favorite websites?
This is a strong alternative to Nova Launcher and definitely its closest competitor, there really isn't all that much daylight between the two; if you glance at their settings menus they almost identical.
If you can't decide between Nova or Apex, try the free versions of both out first before you decide if you want to spend any cash.
Price: free
Size: 4.7 MB
Android requirement: 4.0.3 and above
Version tested: 3.1.0
APUS: fluid and energy saving
APUS is an alternative Android app launcher that removes the app drawer and transfers them all to your desktop, just like MIUI and iOS. If you want to switch to it we advise you to download APUS Notifier, as this will extend the functionality of this launcher to another level. With this popular plug in you'll benefit from the popular "number of notifications on the apps", SMS/MMS, emails and other popular services. Finally, it's interesting to note that it doesn't consume as much power as Google Now. Result: better battery life.
Price: free
Size: 4 MB
Android requirement: 4.0.3 and above
Version tested: 1.9.9
Buzz Launcher: specific, innovative and a community!
Aiming for a community vibe, Buzz Launcher is what you could call a "participatory" alternative application launcher. Within this community users can create and share themes thanks to the dedicated portal. Take a look, as it's definitely worth the detour. It is truly unlike ANY of the others.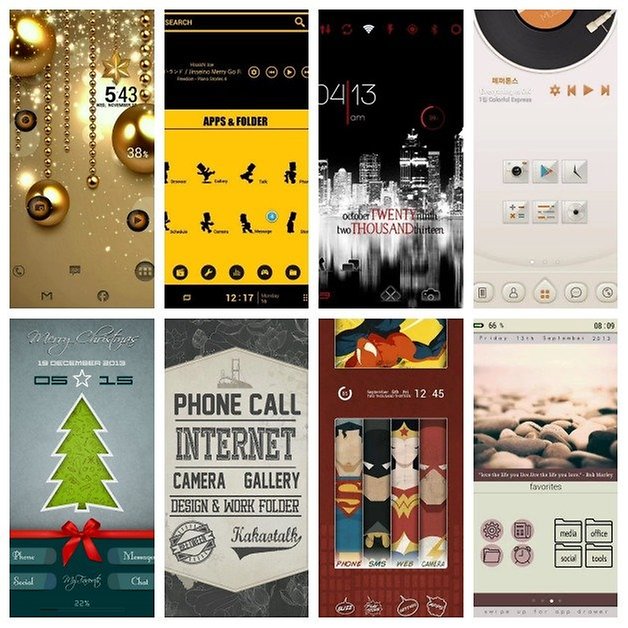 Price: free
Size: 9.9 MB
Android requirement: 4.0.3 and above
Version tested: 1.8.0.08
Action Launcher 3: a scroll menu instead of an app drawer
Action Launcher allows you to access applications from a scroll menu, which you can access by sliding from left to right on the welcome screen. Another interesting feature: you can group applications in the folders by assigning a cover app, so when you click on the folder, said application is launched. When holding your finger on the folder, you can open all the apps in that folder.
Price: free
Size: 6.9 MB
Android requirement: 4.1 and above
Version tested: 3.6.8
Next Launcher: everything in 3D
Next Launcher 3D is well known for its 3D abilities. It's quite difficult to explain what Next actually does, so it would be better for you to watch the video below.
Next allows you to navigate in 3D to access your Android's functions, it is customizable and has many themes. The widgets and applications that come with Next Launcher are along the same lines and ensure a coherent design for your system. Try it! You'll either love it or hate it! The trial version allows you to use the app for a limited period of time, so if enjoy using the app you should consider getting the final version.
Price: free (but some in-app products may need to be purchased)
Size: 20 MB
Android requirement: 3.0 and above
Version tested: 3.7.3.1
​Don't forget that you can also install Google Now Launcher, the fast and minimalist launcher from the Android creators themselves.
Are you rocking a custom launcher that we've missed? What do you think is the best Android launcher? Let us know in the comments.