Update: Android O will have an animated clock icon
Jump to section:
Android O release date
Google posted the new release timeline on their developer site, which tells us that the final release of Android 8.0 is expected in Q3 2017 - but there's no specific date set yet. Developer Preview 3 has been available as of June 8. Developer Preview 4 is expected in July, followed by the long awaited final release.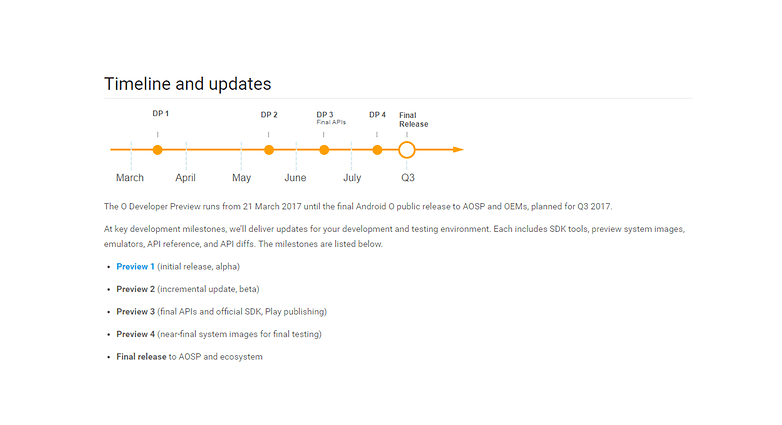 What's new in Developer Preview 3?
The third Android O developer preview was just released. As of June 8, less than a month after the release of DP2, Android Beta Program users can begin expecting the update to arrive soon, or it can be flashed manually. This latest update finalizes the APIs (now at level 26), so developers can begin testing their Android O apps and publishing them to the Play Store. In DP3, there are also several minor new changes according to 9to5Google.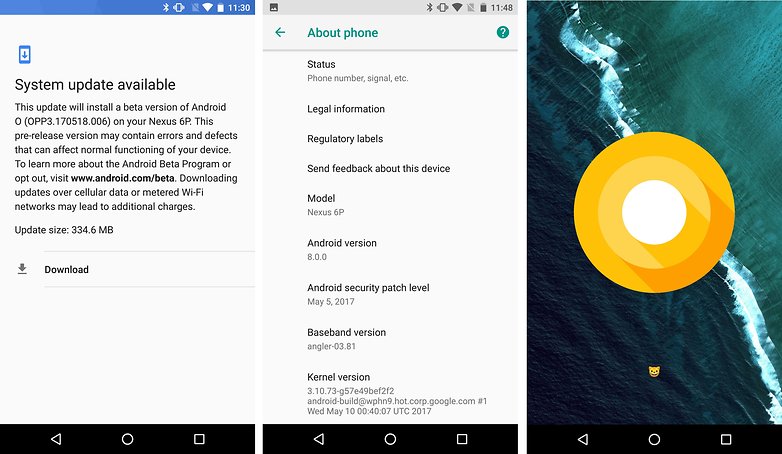 Here are the highlights of the changes so far:
The About phone page confirms this release will be called Android 8.0, but makes no mention of a desert name like Oreo yet.
System UI Tuner has gotten rid of certain customization options, including those for the navigation bar, lock screen and picture-in-picture mode.
The camera app has had some interface tweaks, adding a new button for switching between camera and video recording modes.
The Wi-Fi and cellular network connection icons in the status bar have gone back to normal since DP2, with WiFi returning to its rightful position on the left.
In the battery settings, there's now a nifty animation showing the battery filling up to it's current percentage.
Now notifications from apps like Spotify and YouTube can integrate cover art.
App icons can now be in the shape of a teardrop, like Allo's, in addition to the standard square, circle and 'squircle' shapes.
Notification dot settings now have a shortcut in the Pixel Launcher.
Android O features
Some Android O features hide under the hood, others show up immediately on the surface. Since the former will affect all devices, we will begin with them. The latter are immediately visible with the preview-compatible Nexus and Pixel devices, but are often not used by manufacturers in their own UIs and are therefore less important, so we will detail them last.
Android O core features
Power saving thanks to Android O
To protect users' battery life and performance, Google has put automatic limits on app background activities in Android O. These background limits will specifically include implicit broadcasts, background services and location updates. For users, this means less energy consumption, and ultimately, longer battery life.
Android O makes it easier to find the apps that consume the most battery power. Usually Facebook or WhatsApp end up in the list. But only with Android O can you see if the apps have been draining your battery with background activities, or whether they are only using battery life when you're in the app.
Earlier updates thanks to Project Treble
With Project Treble, Android O will get a vendor interface. This means that Android will be more modular so that manufacturers can use the vendor interface to access the implementations from internal component vendors, such as Qualcomm and MediaTek, for example. This will allow Android updates to happen more easily, because the whole process can be done independently of these vendor implementations. The idea is to speed up updates from manufacturers by making the process more streamlined.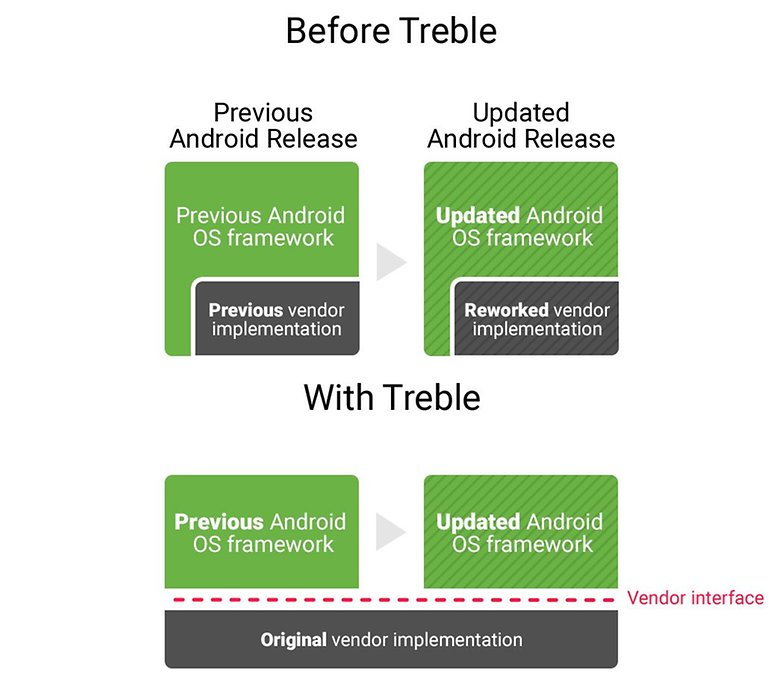 Apps and reboots are faster with Android O
Optimizations in the system should cut device restart time in half and dramatically increase app performance. This is evident from independent reports from XDA and Android Police.
Apps are better thanks to Google Play Protect and tougher enforcement of criteria
Google Play Protect is a background service that will optimize security on Android by analyzing the behavior of apps to detect malware, and remove it from your phone and from the Play Store.
Google is also increasing pressure on app developers to increase the performance and stability of their apps. If they fall in the bottom 25 percent, they are warned and then removed from the Play Store if there's no improvement.
Wi-Fi Aware (also known as Neighbor Awareness Networking or NAN)
Wi-Fi Aware (also known as Neighbor Awareness Networking or NAN): This function basically works so that devices with compatible hardware can communicate when they are close, via Wi-Fi Aware, without necessarily having to use the internet connection.
Autofill revolutionizes password management
Google is bringing a system-wide Autofill API to Android O, allowing all of your passwords to be managed in a central place. This will mean convenience and security when logging into apps and filling out forms, since there won't be any need to copy/paste usernames and passwords anymore.
Android O hardware support
HDR displays are officially supported
HDR is an interesting feature, but there was little support on the system side. Now, apps can define how to save and display image resources with a wide range of colors. Google says this is especially relevant for image processing apps.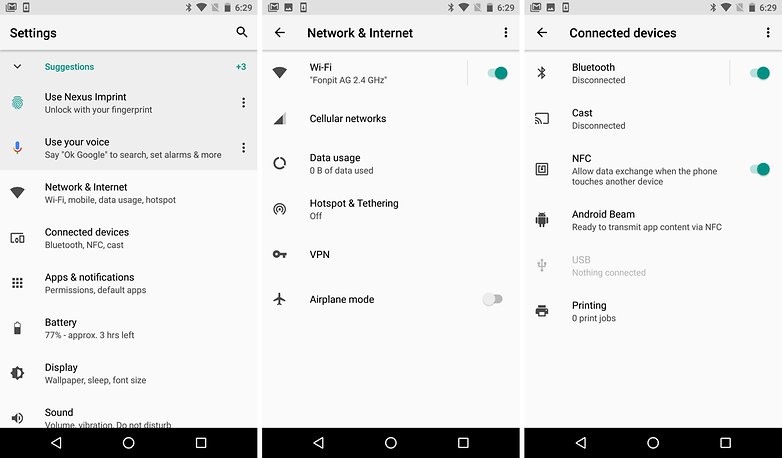 Better Bluetooth support
Android O supports high-quality Bluetooth audio and codecs such as LDAC. Sony is helping Google in the development of LDAC audio wireless technology. According to the company, LDAC can transfer a larger volume of data through Bluetooth, with a bit rate of more than 990 kbps. In other words, this means better audio quality for devices running with Android O. There is also AAudio, a new Android native API designed for applications that require high-performance, low-latency audio quality. Applications that use AAudio can read and save data via stream.
Android O surface features
Text selection gets smarter
Copy/pasting on mobile is about to get easier, and smarter. Using machine learning, Android will recognize when you're trying to copy/paste an address, URL or phone number and select the whole thing for you automatically, instead of just one word.
New round emoji
With this update from Developer Preview 1 to 2, the emoji changed. RIP blob emoji. The newer ones are closer to the standard circular ones used on most other platforms like iOS and WhatsApp. This article from Emojipedia shows the old ones and new ones in comparison.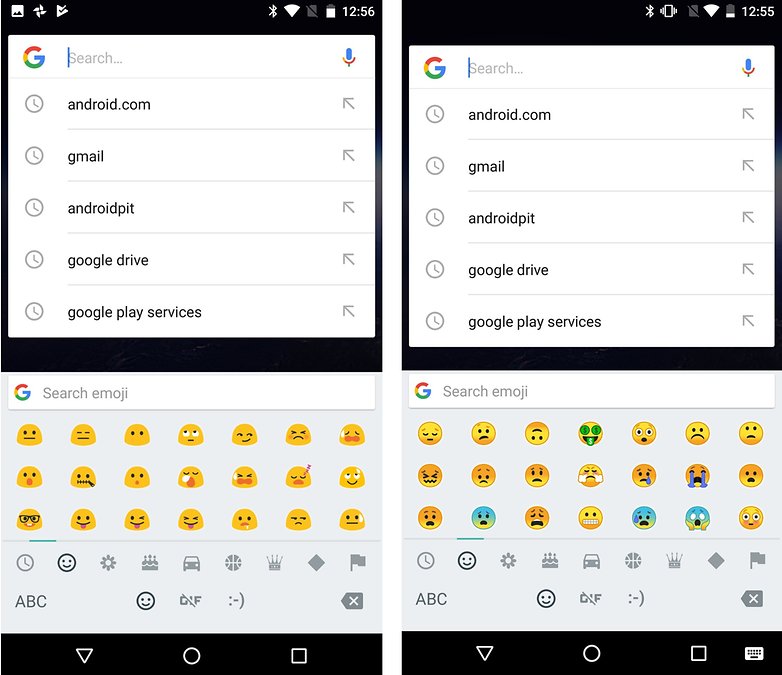 Adaptive icons
App icons will adapt automatically to the manufacturer's UI. The appearance of app icons differs across the wide range of devices running Android. Thus, an app icon may appear to be circular in the launcher of one device and square in another. That, of course, depends on the manufacturer's skin, but it's cool to see that Google will now offer a standard for adapting application icons to the UI (if the developer does).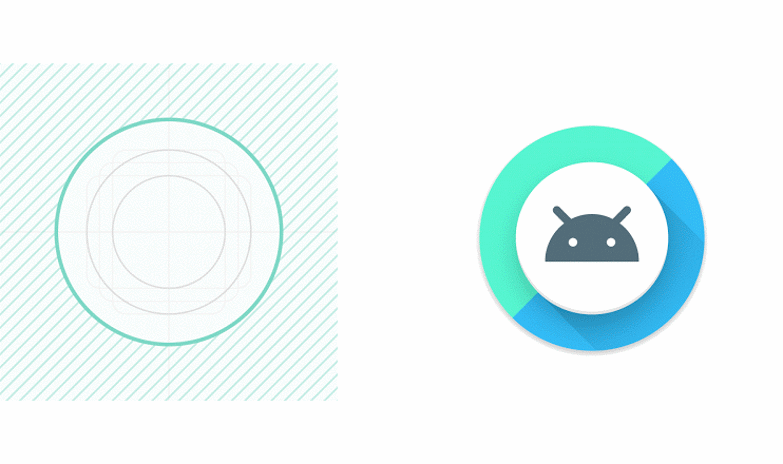 Notification channels and dots
Once again, Google is bringing changes to notifications with the introduction of Notification Channels and Notification Dots. Notification channels are new categories for notifications that give users very detailed control over notifications. Block or change notifications settings not just by app, but by channel or topic. These channels are visually grouped together on the notification shade.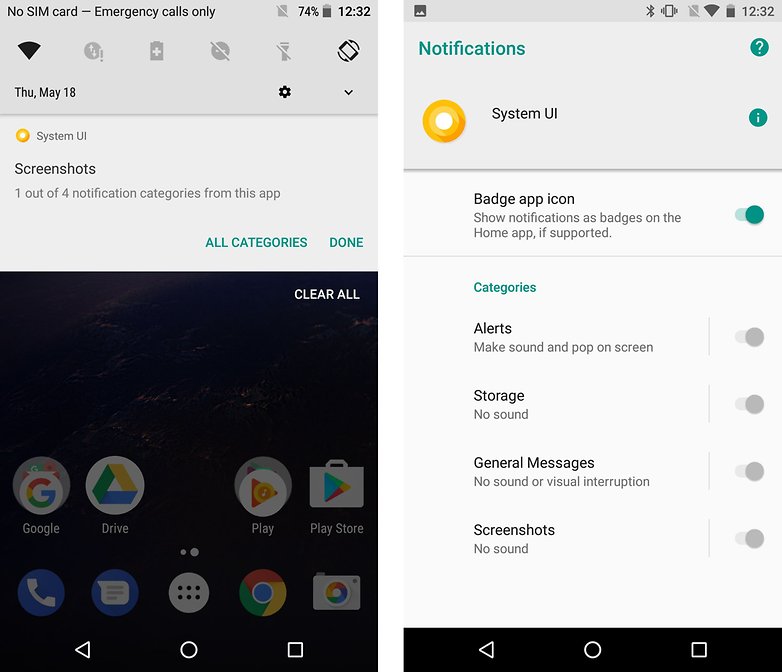 Small circles will appear on top of your app icons when you have unread notifications, and long pressing them will give you a preview of the notification. This will be standardized in Android O, much like in iOS and various alternative Android launchers.
Widgets are easier to integrate
It's now easier to integrate widgets to your home screen. Rather than digging through the alphabetical list of widgets as in previous versions of Android, you can now long press the icon of the app you want a widget for and then select one of its available widgets.
Search and find app info
Since Android Lollipop the Settings menu has had a search function. With the update to Android O, the search gets a new feature. App info now appears in the search results for installed apps. So, you can quickly access an app's App info menu to quit the app, delete its cache or manage its permissions.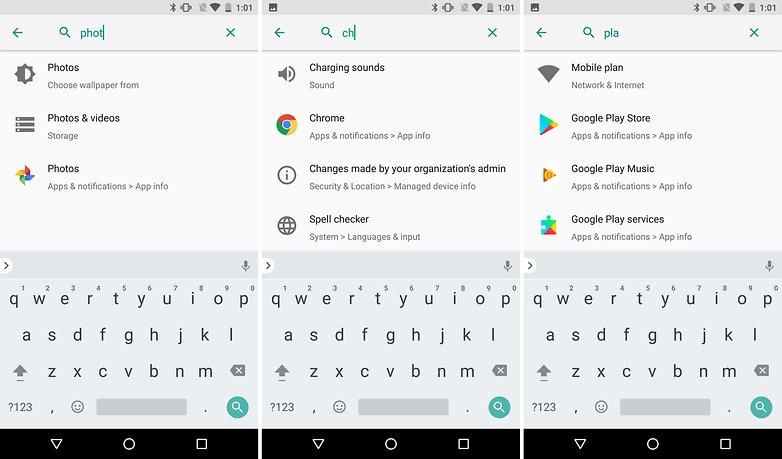 Picture-in-picture
With the new picture-in-picture mode, multitasking is even easier. You can have an app open or play a video in a small window, much like what you can do in the YouTube app already, instead of showing it side-by-side with another app in the usual multi-window mode. This way is more flexible, and several apps will support it soon, including YouTube, Netflix, Maps, Duo and more.
Picture-in-picture will be particularly useful
What do you think?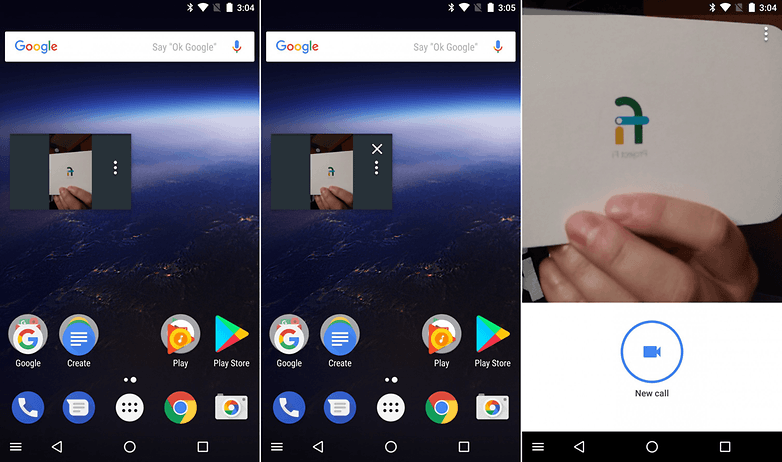 Animated clock icon
Developer Chris Lacy shared some exciting news on his blog: in the APK for the Google Clock app from the Android O Beta, he noticed there are hints that Google will add animation to the Clock icon. The XML file where he found the code shows that the icon will be capable of displaying the current hour, minute and second. There were also images included which show the different hands of the clock. These clues all point to a new animated clock icon for Android O - much like the one already present on iOS.
Android O: download and install Developer Preview 3
The third developer preview of Android O was just made available. You can find out how to download and install the Android O public beta in our article here, along with full instructions.
Android O name: will it be called Android Oreo?
A Reddit user found an easter egg in a Google Creative Lab developer's app called ShortStories, which is a text-based game that explores different UI functions of Android. The user, Zitroney, made it to the Dialogs section of the app where he unlocked the Android O section on a path when the player has to seek Android sweets. Once he happened upon the O, the description seemed just like an Oreo: "disc-like," "chocolaty, crunchy," and "dark brown in color with a milky white center".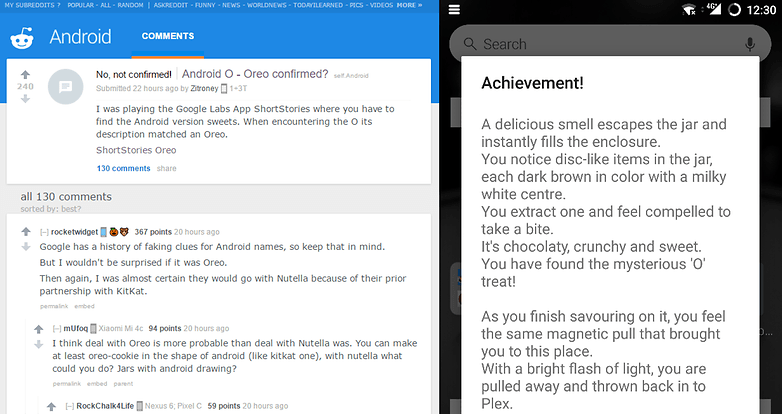 This is just a tease, and not an official confirmation from Google that Android O will be Oreo. Remember when so many people thought Android N would be Nutella rather than Nougat? There could still be a surprise name coming for us.
Android O internal codename might be Oatmeal Cookie
It appears that the internal codename for Android O might be oatmeal cookie. References to "oc-dev" and "OC-MR1" have been found in the Android source code, and 'oc' is most likely to be an abbreviation for none other than the popular treat. In the past, releases were given internal codenames prior to revealing the final name. For example: Lollipop was "LMP" (Lemon Meringue Pie), KitKat was "KLP" (Key Lime Pie), Marshmallow was "MNC" (Macadamia Nut Cookie) and Nougat was "NYC" (New York Cheesecake). It's not unlikely that the internal codename for Android O might be another cookie, as it was with Marshmallow's codename.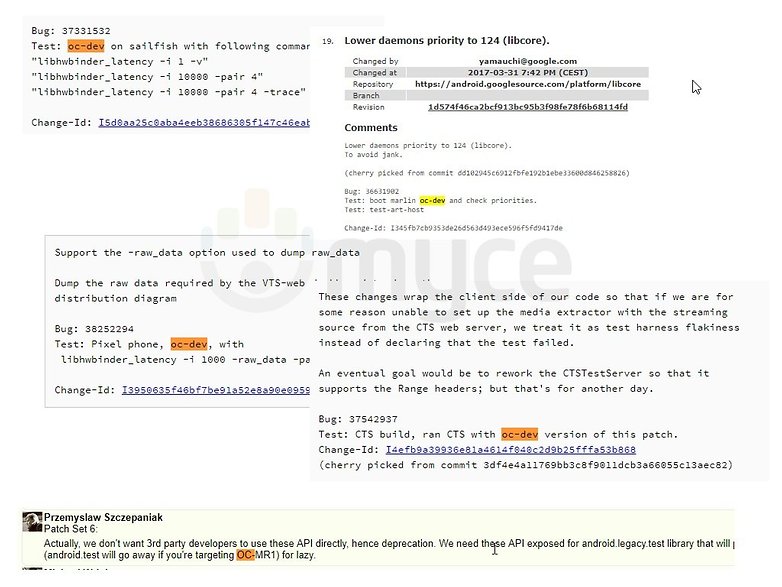 We will keep you updated on what we find in the developer preview, so check back soon. What features would you like to see in the next Android version? Will you be flashing the developer preview?