12 best photo editing apps on Android
Update: AI-assisted Prisma added
Smartphone camera technology has all but replaced point-and-shoot digital cameras with comparable performance and some extra help from apps. Speaking of which, we're here to help you make your favorite photos look even better with our list of the 12 best photo editing apps on Android.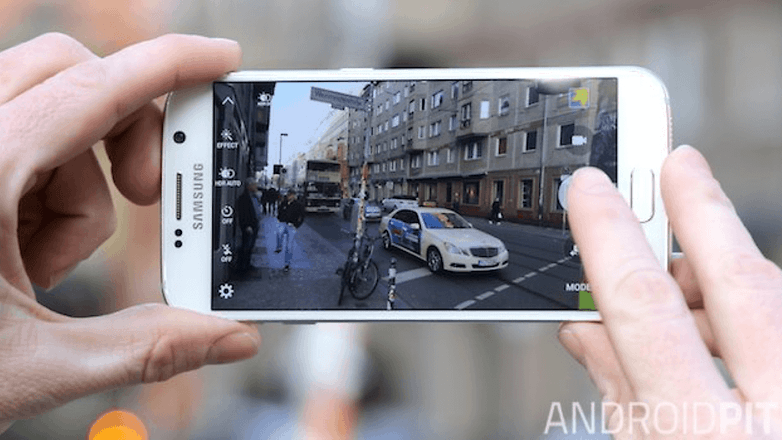 Prisma: the AI-assisted artist
Complex neural networks lay at the heart of Prisma, an app that applies artistic flourishes to images taken or uploaded by users. The app has exploded onto the scene. The nine-person team behind Prisma hails from Russia and has been touring Silicon Valley to promote the app, which has climbed the charts the world over in Apple's App Store and Google's Play Store.
Select a photograph from your gallery or take a picture from within the app, and you will be presented with a choice of 30-odd filters inspired by famous artists and styles – from Munch to Picasso; from the Japanese ukiyo-e style to pop art. The images are filtered using artificial intelligence that processes every individual image differently, learning and adapting all the time, thereby continually improving the quality of the results (in theory).
Is it art? Definitely not, but it is a lot of fun.
The complex neural network relies on an internet connection, and it also explains why the app can be so slow at times to process images. The system can become overloaded, but if the app continues to prove popular, more funding and research will no doubt improve things for Prisma. A video feature is already reportedly in the works and should arrive soon.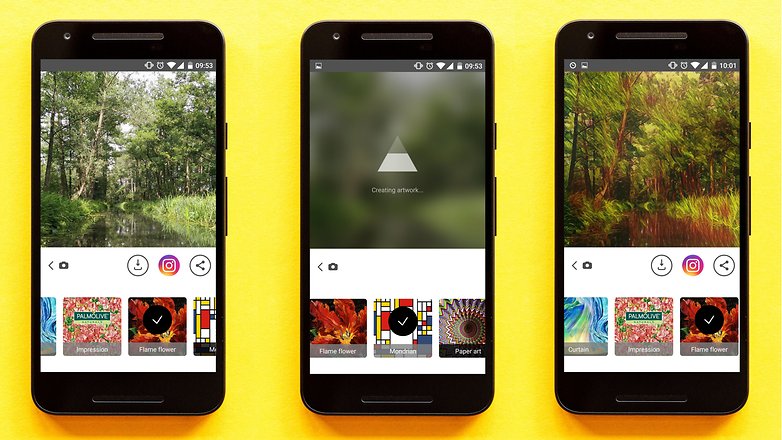 Prisma

Adobe Photoshop Express: the fast and easy
Adobe Photoshop Express is a great all-around photoshopping app for Android. Photos on your smartphone are easily modified with just a few swipes on a simple interface. It gives you the feel of the PC Adobe Photoshop on your mobile device.
The absolute basics like rotation, cropping, red-eye removal and flipping are very easy to perform within the app. There is easy blemish-removal that rids your photos of pesky spots of dirt or dust. You can quickly control the color and overall appearance of your photos with options for adjusting highlights, shading, shadows, contrast and many more.
If you are a bit more advanced in your photoshopping, you can take advantage of the professional design features. These are surprisingly easy-to-use. You can filter your photos to get some quality effects like dawn, mosiac, vivid and fish eye. Overall, it's a powerful tool, capable of handling large file sizes.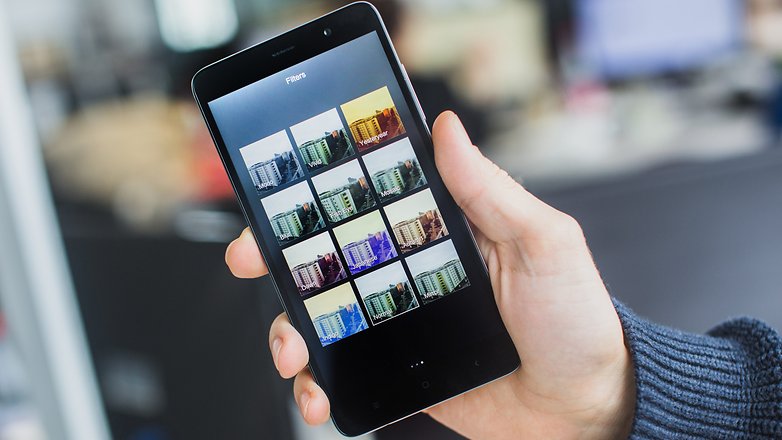 Adobe Photoshop Express

AirBrush: the selfie perfector
AirBrush is any selfie fan's best friend. If you want those selfies to really shine then you should get the AirBrush app. This app is perfect for optimizing selfies for Facebook, Twitter or your favorite dating apps.
AirBrush has only a few functions but executes them well. There is a smoother to rid your photo of skin bumps and a blemish remover to cover embarrassing acne. If you've had a cup or two too much coffee recently, you can swipe your teeth a little whiter. The concealer clears up bags under your eyes, in case you didn't sleep well the night before.
If you are a first timer at selfie editing, the app gives you a series of easy-to-follow tutorials to get you started. There are about 10 videos, and each gives you a thorough but quick introduction to each of the app's features. Once you've watched these and toyed around a little, your selfies should be looking picture perfect.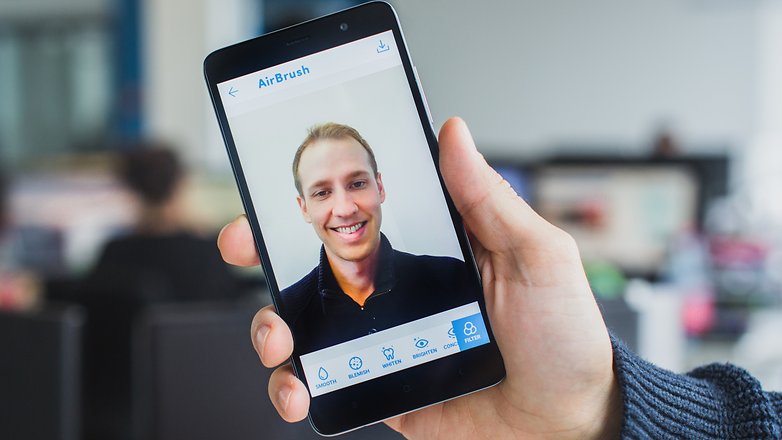 AirBrush: Easy Photo Editor

PhotoDirector: the ultimate
When a massive multimedia software company like Cyberlink delivers a photo editing app to Android, you're going to want to pay attention. PhotoDirector is a kind of multi-purpose photo editor.
You can quickly and easily add overlays to your images, and get creative with effects and different photos styles. Or, you can step things up a notch and make use of PhotoDirector's more advanced features, such as RGB curves and HSL tools.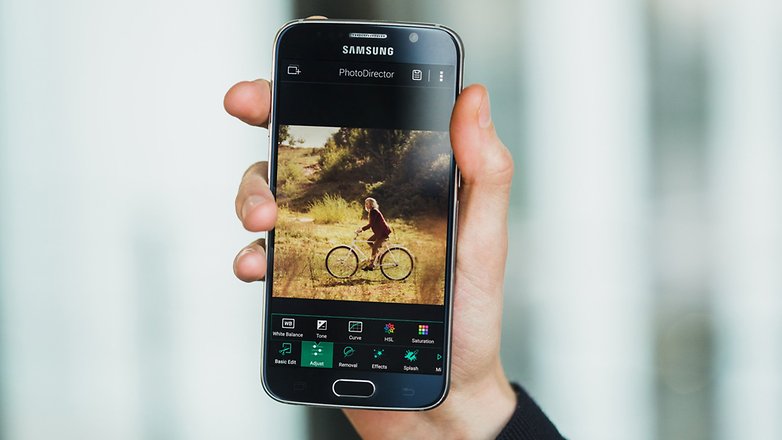 PhotoDirector Photo Editor App

Photo Editor by dev.macgyver: the closest to a desktop experience
It may not be very pretty, but Photo Editor perhaps comes closest offering the variety of options that could compete with GIMP or Photoshop. This is one of the very few apps that offers the ability to edit EXIF data and it packs superb perspective and curve adjustment tools.
It's free to use, but it does have ads. The good news is that it is updated very regularly, so even if you find a tool that it's lacking, it could well arrive at any moment.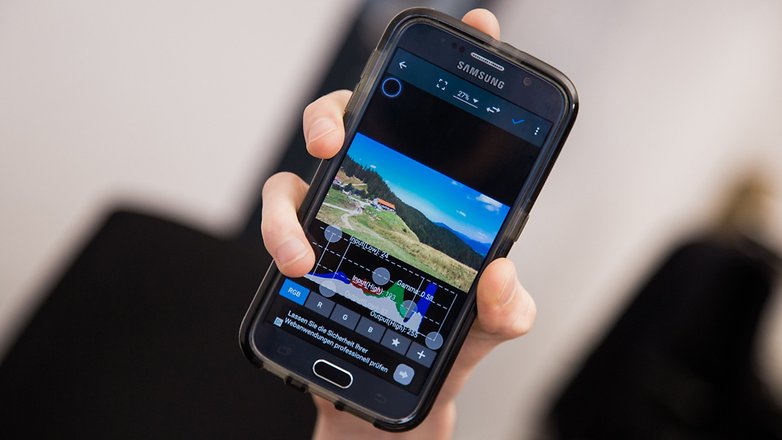 Photo Editor

Photo Editor by Lidow: the fast and fun
Photo Editor by Lidow is a quick and fun photo-editing app that saves you the hassle of trying to figure out millions of options, filters and settings. It's definitely less complex than many of the other photo editing apps on this list, but that's part of its charm. It offers a handful of fun, easy-to-use features that can be applied in seconds.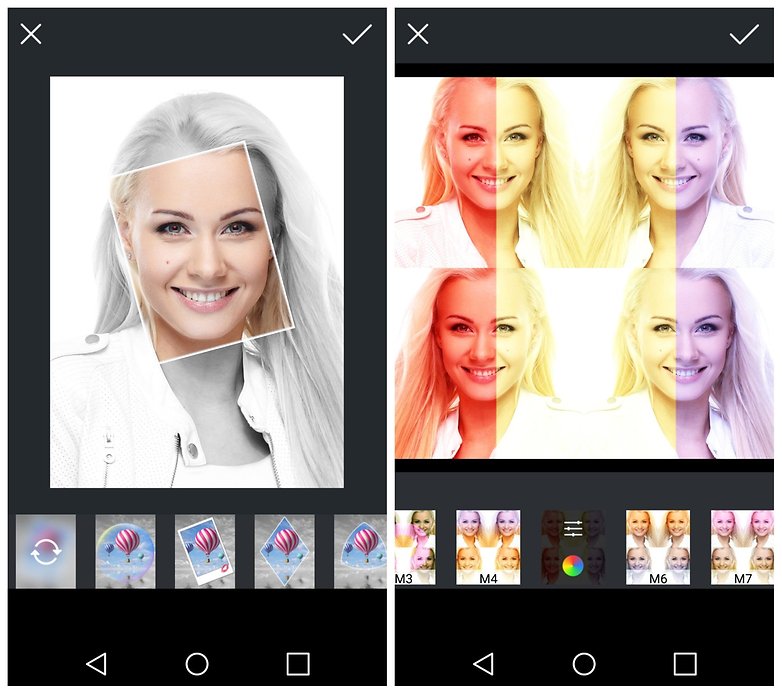 Photo Editor Lidow Sweet Cam

VSCO Cam: the Android favorite
VSCO Cam is one of the most-downloaded photo applications on Android. Combining a dedicated camera app, solid editing features, and its own Instagram-like user-uploads page, it is a photographers' dream. One of the beautiful things about VSCO Cam is how it provides an easy one-click fix for photos in the form of basic filters, while offering further options deeper in the app for those who want to get their hands dirty.
VSCO Cam's minimal interface makes it easy to grasp, but its professional grade features ensure it has the scope that more serious photo fanatics require. It's an astounding package – some of VSCO Cam's editing dials are the most comfortable and usable on Android, providing those subtle improvements that excite an image without looking garish. Even better, it's free to download.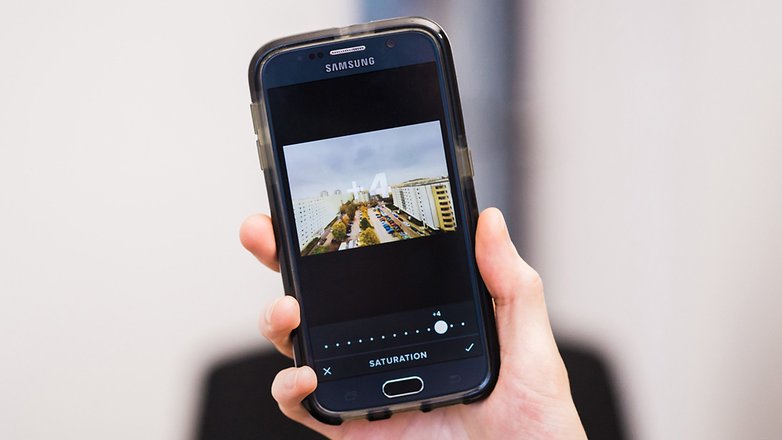 VSCO

Pho.to Lab: the framer
What Pho.to Lab lacks in serious editing tools it more that makes up for with the amount of customization it gives you: photo frames, landscapes, colors, effects, stickers, icons, filters and more are included to spice up your pics.
It's definitely one of the less professional photo-editing apps on our list – it can't compete with the likes of PhotoShop or Snapseed for in-depth photo-fixing – but it's great for a bit of fun, and it has a huge amount of variety.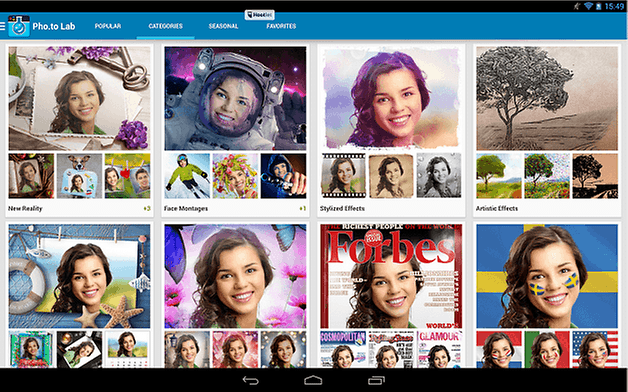 Photo Lab PRO Photo Editor

Snapseed: the experienced
Snapseed was developed by the professionals from Nik Software and is ideal for touching up your photos. Brightness, contrast, and saturation are among the standard tasks that it can do, and if you're lucky, the automatic correction will get it all for you in one fell swoop.
Fine adjustments can be achieved with some touch-gestures if you want a more physical feel, and you can even choose to edit and customize a selection within your photo.
Snapseed is known primarily for its filters: with Retrolux, Vintage, Tilt Shift, Grunge, Drama and other cool effects, and it's free of charge with no ads.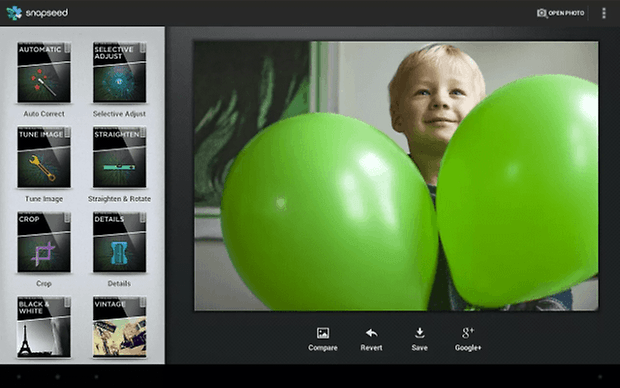 Snapseed

Cymera: the portrait photographer
Although you can technically use Cymera for any type of photo, it really excels at portraits. You can take photos directly within the app or import them from your gallery, and Cymera offers seven different lenses and four different recording modes to instantly improve snaps.
More than 20 filters, decorations, portrait features, and realistic make-up effects are available, and images can be shared among Facebook, Twitter, and Tumblr directly from the app. Cymera is free, but not free of advertising: a small, but manageable banner is displayed on the bottom of the screen.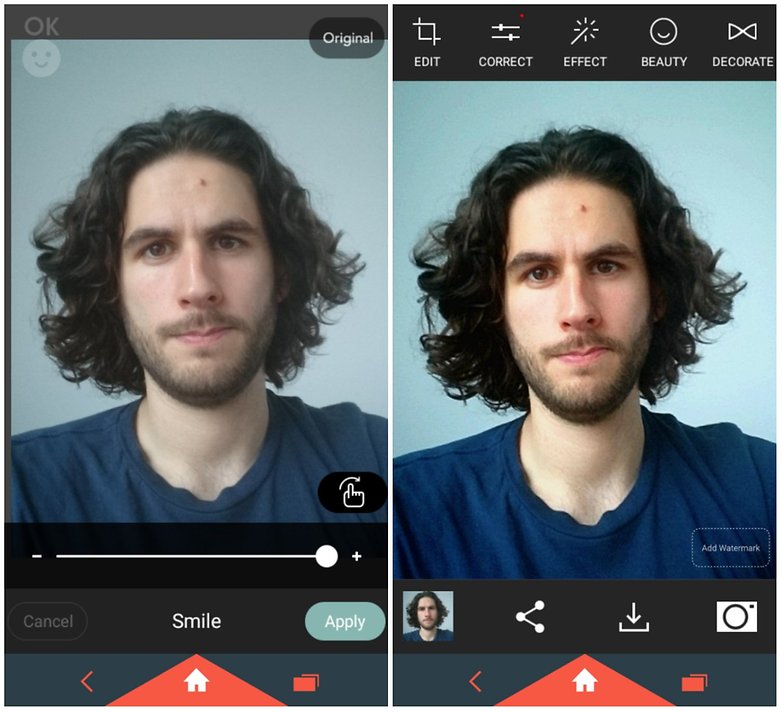 Cymera: Photo & Beauty Editor

Aviary Photo Editor: 1, 2, 3, meme!
Besides the standard functions for rotating, cropping, correcting, and auto-enhancing, Aviary Photo Editor also has focus functions (tilt-shift), text input, cosmetic corrections (red eye, make-up) and a meme generator. All of your photos can be shared across the most popular social media apps too.
The Aviary Photo Editor offers some in-app purchases for added effects, frames, and stickers, but is otherwise free with no ads.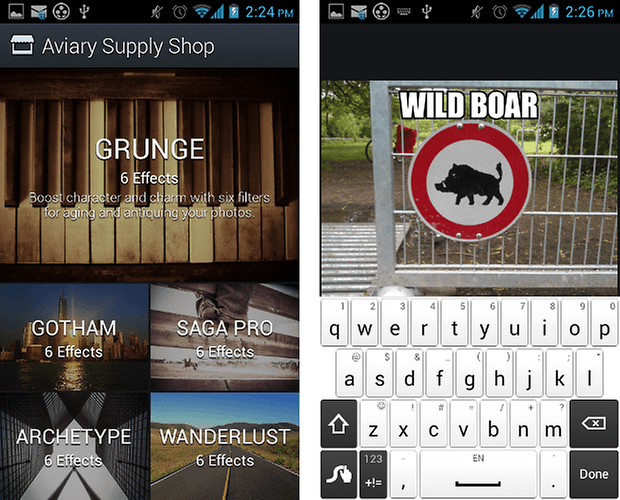 Photo Editor by Aviary

PicsArt: the all-rounder
PicsArt is one of the most popular free photo editors available and an all-round solution: an image editor with effects, a camera app, drawing tool, and a social platform. In addition, the app features an excellent design program for editing photos with filters and decorations.
Finished masterpieces can also be shared on most popular social platforms in addition to text messaging and e-mail. Also, much like Instagram, PicsArt has an internal social network in which you can share your creations.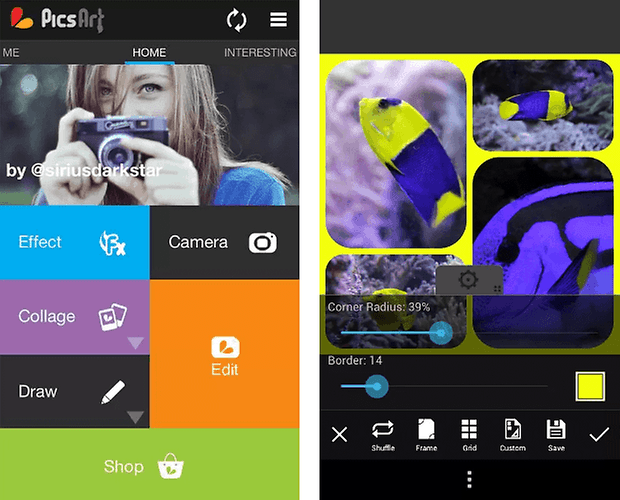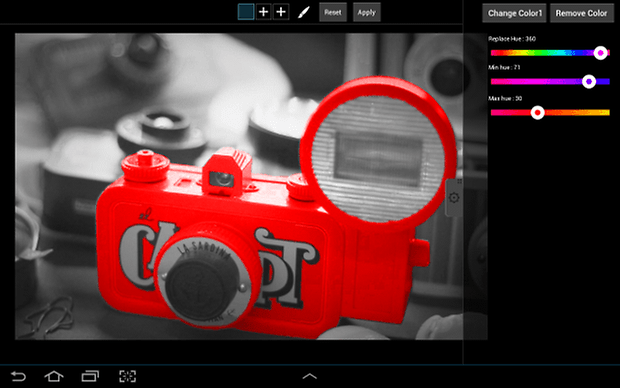 PicsArt Photo Studio

So, what do you think is the best Android photo editing app? Let us know in the comments below.