How to back up everything on Android
Backups are indispensable. There's nothing worse than losing everything on your phone or computer and realizing you never backed up your precious smartphone data, photo albums or documents. So here are a few methods for making an Android backup.
Power users are advised to always do a backup before a root or before flashing your ROM. The reason is simple: some manipulations require a factory reset and therefore erase your data, so it is better to have put them elsewhere to be able to restore them.
Jump to:
How do I back up my data?
How do I back up my my Apps?
How do I transfer my backups once I have them?
Google backup
As you probably know, Google is more than willing to help keep all your apps and data safe, and you can take advantage of this with a few simple steps:
Go to Settings
Go into Backup & Reset
Find the option for backing up the desired type of data (this includes Wi-Fi passwords, preferences, app data)
All of this will be associated with your Google account, and you can set this to automatically restore when you re-install an app.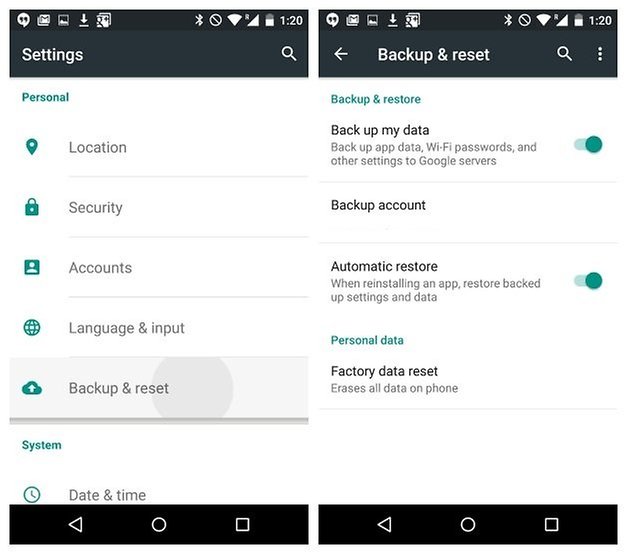 How to backup everything with software tools: MobiKin Assistant
You never know when you might accidentally delete something valuable. Backing up your data therefore is absolutely essential, and I'm sure many of you have learned the hard way. It's not only when you lose your phone. Performing updates can sometimes cause your data to be lost.
A simple way to ensure your data is backed up is to use MobiKin Assistant for Android, which exports everything including contacts, text messages, apps, photos, music, videos and more in their original format and quality.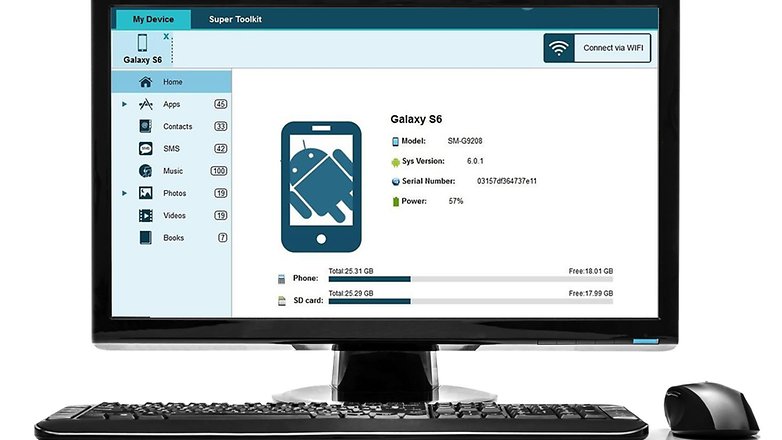 If you just want to get the job done, the program will do all of the hard work for you. All you need to do is download the software. Here are the the links:
Next, follow the steps and you'll soon have your data backed up safely, and even better, it'll free up some space.
iPhone user? MobiKin also has an Assistant tool for iOS devices. If you need to back up your iPhone or iPad, try MobiKin Assistant for iOS:
Manual PC backup
If you don't feel like trusting the job to 3rd party software, there's always the DIY method...
Connect your Android phone to your PC with a USB cable
Open a Windows Explorer window and navigate to your phone.
Here you will see a bunch of folders including photos, videos, music and documents.
Go into each folder and copy/paste the stuff you want to save onto your computer for safekeeping.
This is a pretty handy thing to do even if you have other backup solutions at hand, because there's no such thing as too many backups. If you want to retrieve it at a later date then you'll need to get back on your PC.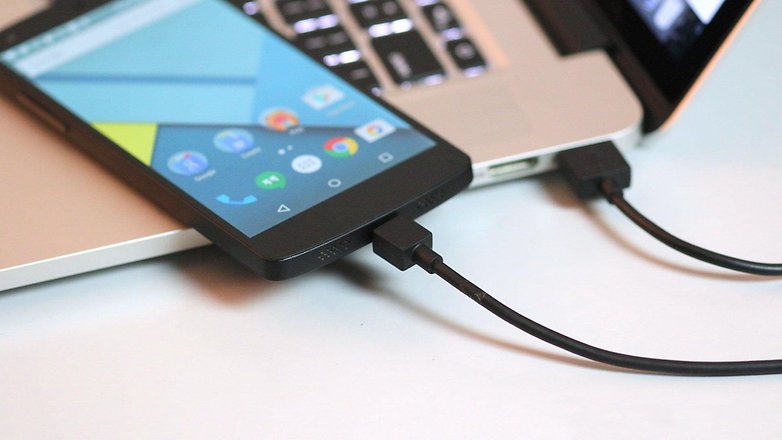 App backup (for rooted phones)
If your phone is rooted then there is no better backup solution than Titanium Backup. Titanium Backup lets you back up absolutely everything on your phone. The complete backup can be restored at any time and you can set up scheduled backups so you have a regular snapshot of your Android phone's contents.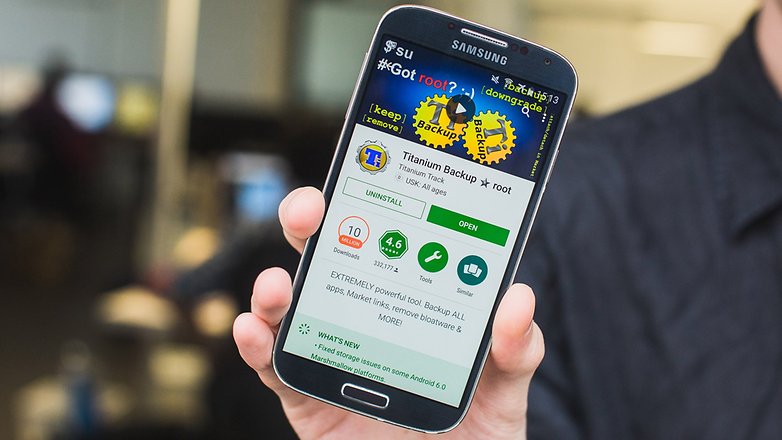 Backups can be performed without even closing the apps you're currently using. They can be saved as flashable zips. Titanium also lets you transfer files between the SD card and your phone with the utmost ease.
How to back up everything on Android with Titanium Backup
Download the Titanium Backup app on your rooted Android.
Start the app and grant it root privileges.
You'll be asked to read some disclaimers and so on (this is a good idea).
In Titanium you'll see three tabs. One is an Overview tab with information on your device, the second is Backup/Restore where all the fun stuff takes place and the third is for scheduling regular backups.
Go to the Backup and Restore tab.
You'll see a list of your phone's contents along with icons that indicate whether or not they have been backed up.
Triangular warning signs mean you have no backup and smiley faces are pretty self-explanatory.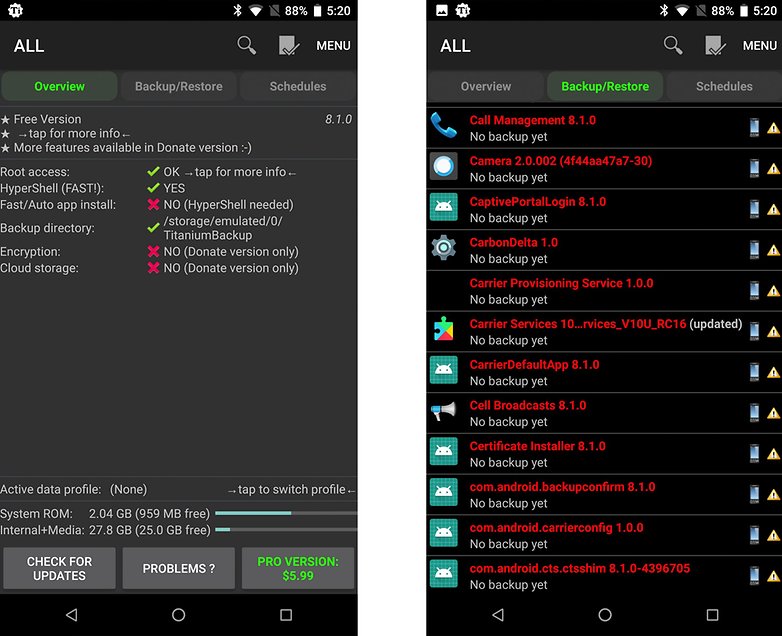 If you want to back up your system data or apps, tap the little document with a check mark on it at the top. This will take you to the batch actions list.
Then tap Run next to whatever action you want completed.
If you want to back up your apps, tap Run next to Backup all User Apps
If you want to back up your system data tap Run next to Backup all System Data.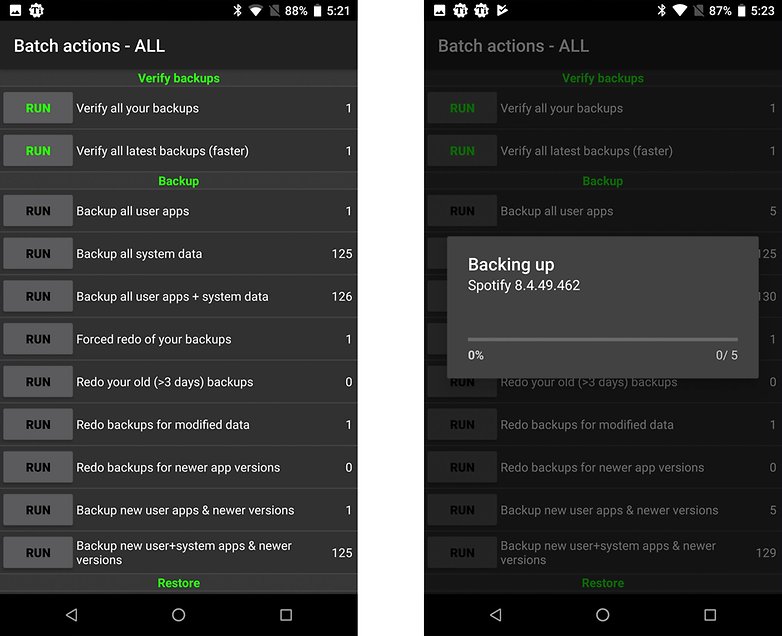 Titanium will then go through the process of creating your backup. This may take a while.
Once completed, your backup will be labeled with the date it was performed and saved. You can also create an update.zip file to be flashed through recovery if you like, or you can restore through Titanium itself.
To Restore in Titanium, just go to the Batch Actions screen again and scroll down.
You'll see options under the Restore setting for the actions you completed earlier: in this case, Restore all apps with data and Restore all system data.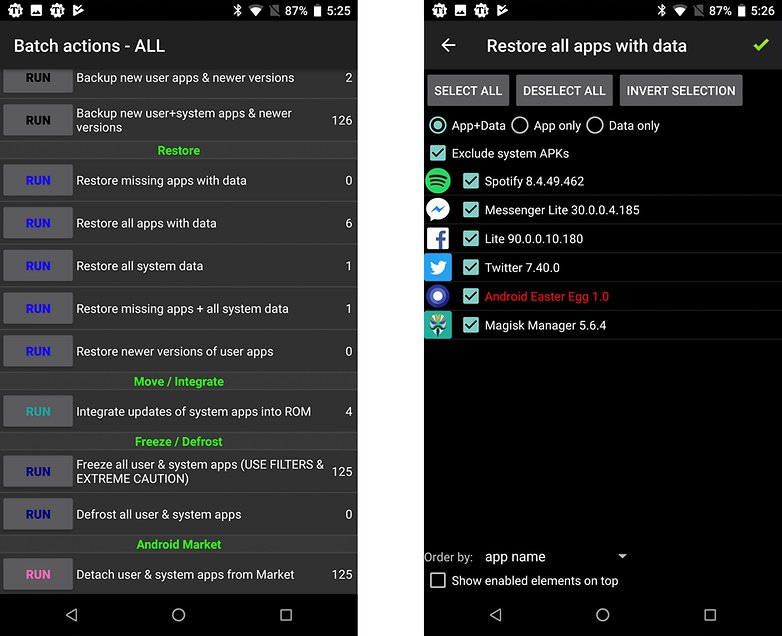 Tap Run next to the actions you want to restore.
You'll then have the option to restore everything you backed up or just some sections of it.
Make your choices and tap the green check mark in the top right-hand corner.
How to transfer Android backups
As you can see, depending on the methods and type of backup, transferring files to Android can be done in different ways. In general, if you have used Titanium Backup or Helium, you should simply reinstall the application and copy the backup folder to the smartphone if it is no longer there.
Always copy backups to your computer or other device outside of your smartphone. That way you are sure to be able to transfer your files later, without any unpleasant surprises.
Manufacturer Solutions
Some brands offer services to transfer files in a very simple way. This is the case with Samsung, Motorola or Sony for example. You can find out more about this here:
The advantage is that almost everything is automated, while the disadvantage is that the transfer is only possible to a device of the same brand. Check your smartphone model to see if such an application is available.
What's your preferred backup method, and why? Let us know in the comments!