How to block calls on your Android phone
Update: Use Google Dialer to block calls in Nougat
There are plenty of occasions where you might want to block calls from certain numbers. It could be an insurance company trying to make you claim compensation for that accident you never had, or a possessive ex-girlfriend or boyfriend. Whatever your reasons, we can show you how to block calls on your Android phone, whether it's an HTC, LG, Samsung, Sony or other Android device.
Google Dialer
Thanks to Google, you can now block spam callers with Google Dialer - but only if you own a Nexus or Google Pixel Device. The Dialer app was briefly available for a host of other Android devices but google said that this was a mistake and quickly patched the app. Even if you download the APK, your phone will still refuse to install the app. If you do not have a Nexus or a Google Pixel you will sadly have to wait until the app is available for all Android phones.
If you haven't already done so, you'll need to install the app first. Once you are done, you'll soon find that this is one of the easiest ways to block numbers from your device. To block any number, just follow these simple steps:
Launch Google Dialer
Tap on the menu button next to the microphone icon in the margin at the top of the app
Tap Settings
Next, tap Call blocking
Tap Add a number
Enter the number you want to block.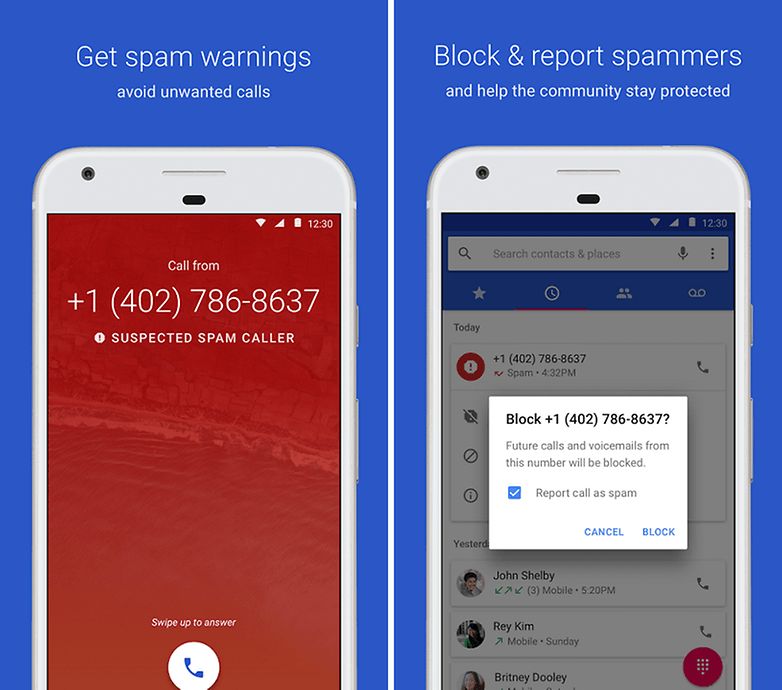 You can also block numbers by just selecting them from your recent calls list. Just select the number and select Block/report spam. Once you do this, you'll never hear from that annoying caller again. Reporting the number will also send it through to Google and other carriers, which will enable them to develop more effective spam filters in the future.
Samsung (Galaxy S4, S5, S6, Note 4)
To block all calls from an individual on your Samsung Lollipop device:
Tap the Phone app, Call Log, then the number you want to block.
Next, tap More at the top right, then Add to auto reject list.
That's it! To reverse this, just go through the same process again but tap Remove from auto reject list at the end.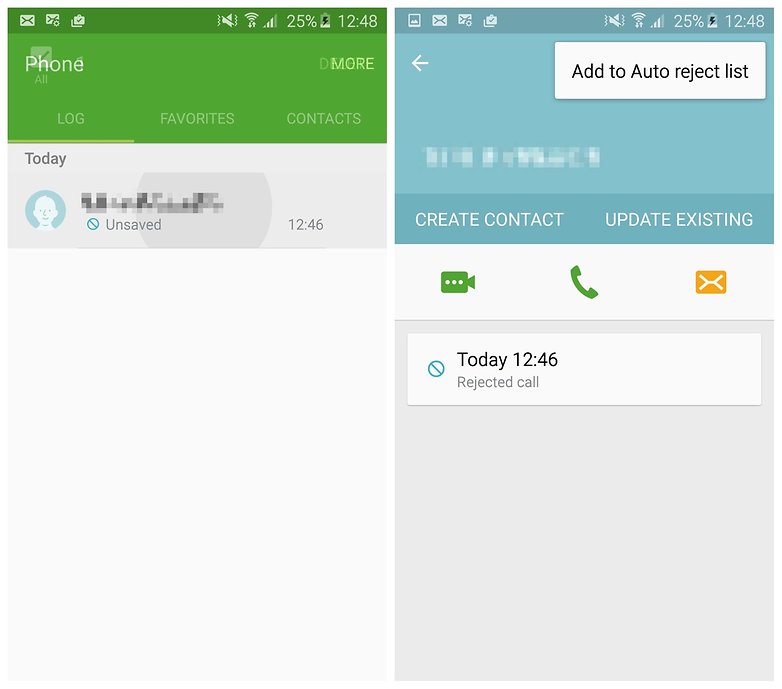 But there's more. You can also manage your auto-reject list and even block unknown numbers:
In the Phone app, tap More at the top right, then Settings.
Next, tap Call rejection > Auto reject list and you can see all the numbers you auto-reject.
Here you can manually remove and add numbers to the list, or block all unknown numbers by toggling the switch next to Unknown.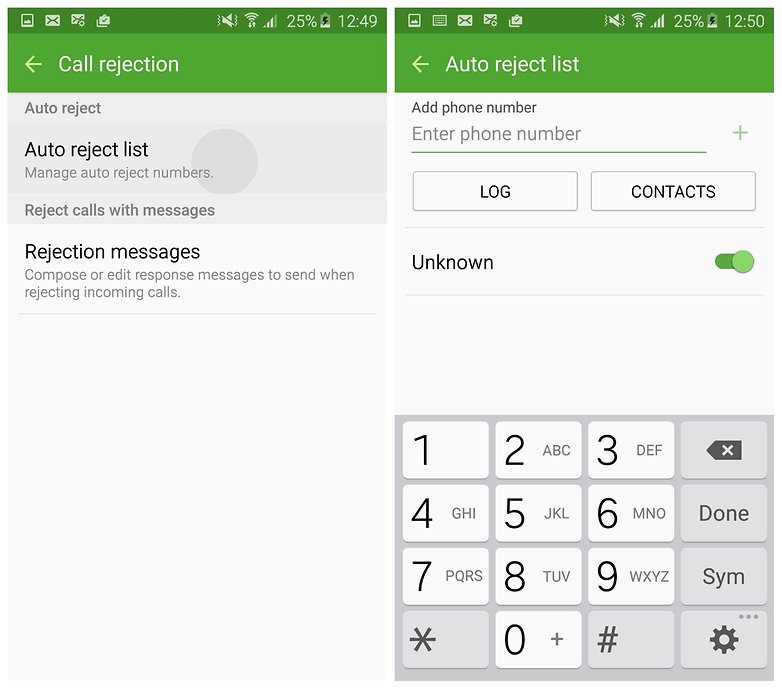 Stock Android (Nexus 5, Nexus 6, Moto X, Moto G)
Oddly, neither stock Android Lollipop nor Marshmallow has an integrated call-blocking feature. Instead, whether or not you have call blocking will depend on your carrier. To check if you have it, open the Phone app, tap the number you want to block, then tap Details, and then the Menu button at the top right. If your carrier's included phone blocking, it will appear here as Add to blacklist or Reject call.
There is a workaround for Lollipop or Marshmallow users though, albeit not an ideal one (this process is essentially the same for KitKat too).
First, save the number you want to block as a contact.
Next, go to your Phone app, tap Contacts, then tap their name.
Tap the pencil icon next to the menu icon, then on the next screen tap the menu icon at the top right and All calls to voicemail.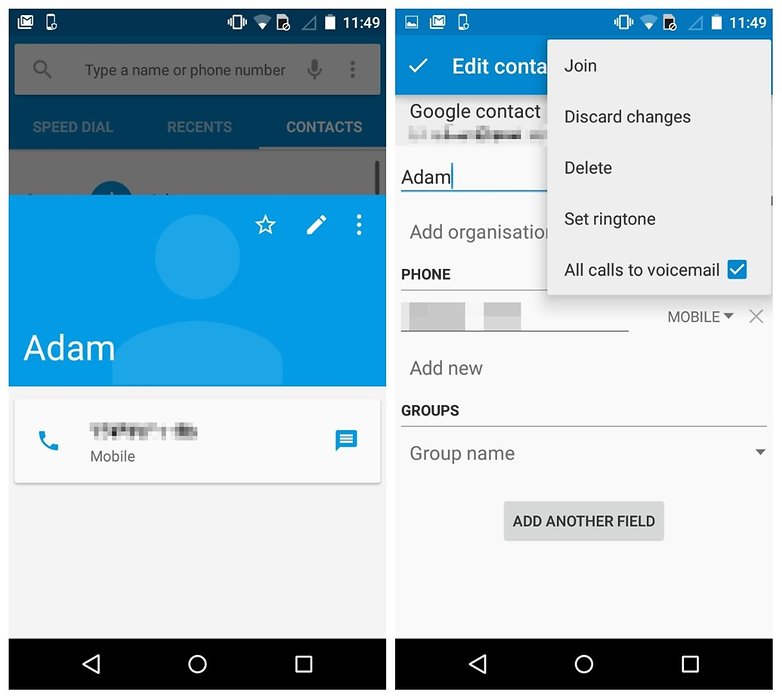 Alternatively, you could install an app that lets you block calls and manage them. Calls Blacklist is a call-blocker with a good reputation, and will do the job stock Marshmallow can't.
HTC (One M7, One M8, One M9)
Like Samsung, HTC has made it super-easy to block calls, and easily manage your blocked numbers. To block calls from a specific number on your HTC phone:
Go to your Phone app, then go to Call History or tap the search icon to find the number you want to block.
Long-tap the number you want to block, then tap Block caller.
To manage your blocked contacts, tap the menu icon at the top right of your Phone app, then Blocked contacts. Here you can add or remove blocked contacts, and even see when your phone blocked messages and calls from this contact.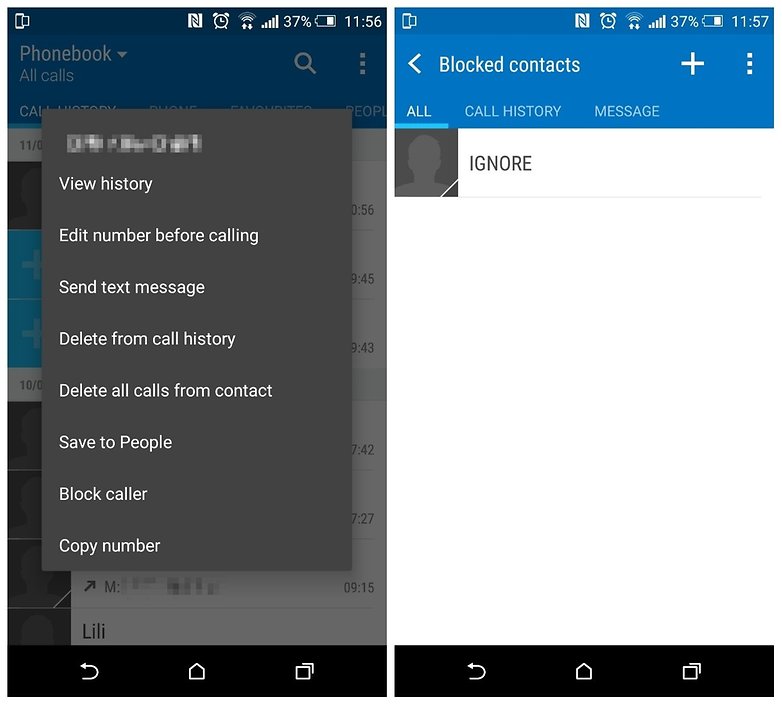 Sony (Xperia Z2, Xperia Z3, Xperia Z3 Compact)
The Xperia Z series doesn't feature in-built call blocking, so you'll have to use the Lollipop solution to block numbers; either download Calls Blacklist or send unwanted numbers straight to voicemail. To do this:
Tap All apps > Contacts then the name of the contact you want to block (if the number you want to block isn't already a contact, you'll have to make it one).
Once you've tapped the name of the contact, tap the Edit icon, then Menu, then All calls to voicemail.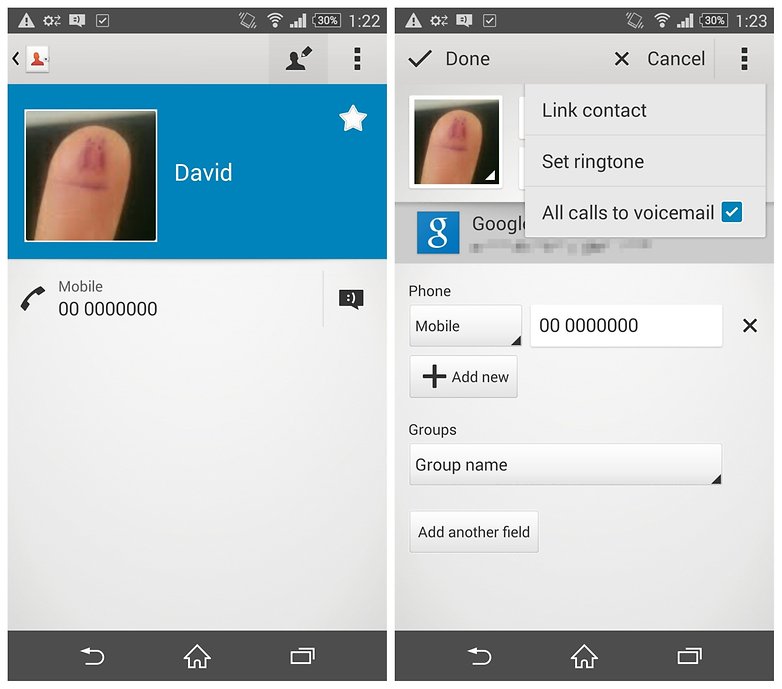 LG (G2, G3, G4)
LG phones have some nifty tools for blocking numbers – a little too nifty perhaps. If your LG is running on Lollipop and you receive a call from a number you want to block, rather than sliding your finger from the center towards the red phone icon, drag the red phone icon into the center instead. This will add the caller to your 'Call reject list'. To manage this list:
Go to Settings > Wireless and networks > Call.
Next, tap Call reject > Reject calls from to see your list of blocked numbers. You can add numbers to this list by tapping the '+' icon at the top right, or remove them from this list. You can also reject all calls from unknown ('private') numbers here.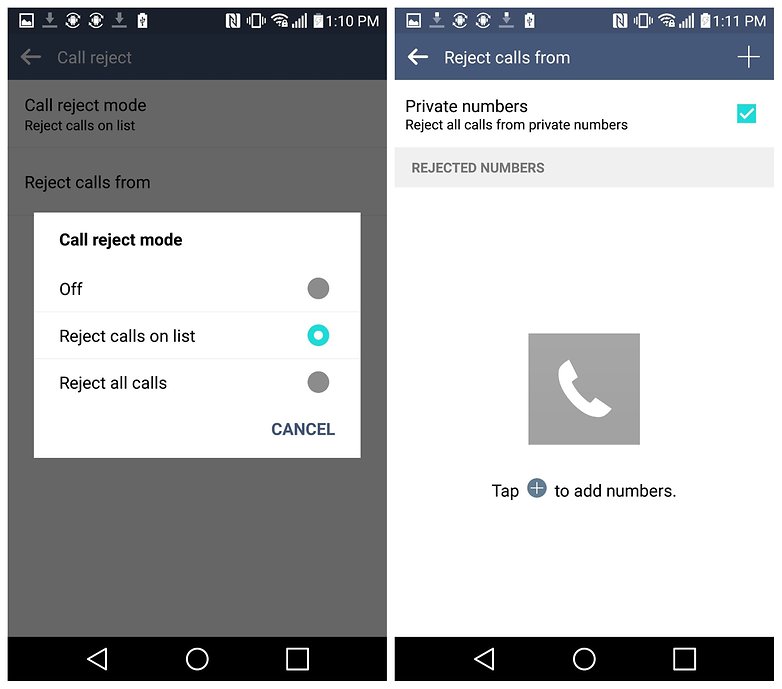 How do you block phone numbers? Let us know in the comments below.