Update: NFL Mobile, Clockwise Smart Alarm and Split-screen creator added
Keeping track of the best new Android apps available to download is a full-time job, which is why we do it for you. Here you'll only find the ones worth spending your valuable time (and maybe even money) on. This month's featured apps include NFL Mobile just in time for the season to start, Clockwise Smart Alarm to keep your mornings optimized and Split-screen creator which brings the Note 8's App Pair feature to any Android phone with Nougat.
Apps you need to try: September 2017
NFL Mobile
It's not a new app, but NFL season is about to start, and there's no better app than NFL Mobile to keep up with it. It's just been updated for the 2017 season. You can get updates for all 32 teams, from the off-season to the Superbowl. That means news, game highlights, minute-by-minute scores and all the stats you could possibly want. Verizon Wireless customers can stream games via the app, and with an NFL Game Pass subscription, you can watch replays.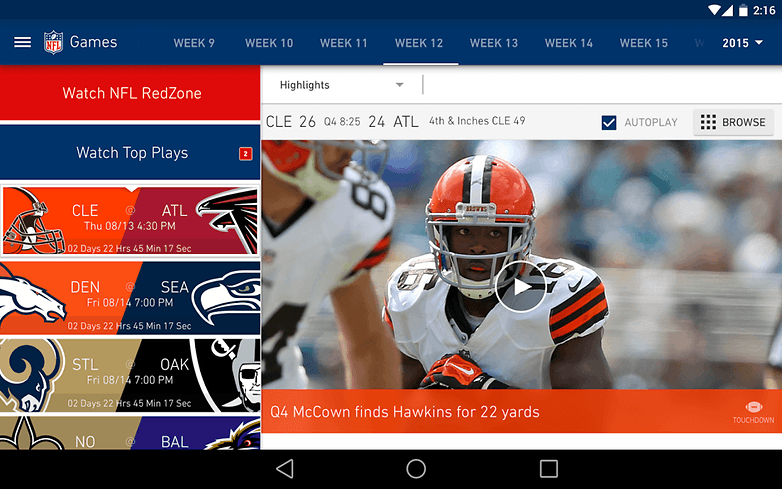 Clockwise Smart Alarm
Clockwise is an alarm that reads your favorite content to you, in order to make your morning a bit nicer. You set it like a normal alarm clock, but you also can attach widgets or modules to each alarm that trigger it to read certain content to you. You can customize it to tell you the weather in your area, the length of your morning commute, the news, top Reddit posts, new Tweets from your favorite users, reminders and more. Plus, it's got the usual set of features you expect from an alarm clock: volume, snooze, music tones, etc. The only drawbacks are the ads and that it only reads to you in English.
Split-screen creator
If you have Android 7.0 and up, you can launch apps in split screen. But, the Samsung Galaxy Note 8 has a special feature that many users of other Android phones are jealous of, and that's App Pair. App Pair allows you to launch two apps in multi-window mode at the same time, and this app brings the exclusive feature to any Android phone. While it doesn't work perfectly with all app combinations, and it's not compatible with MIUI, it can be a very nice feature for those who like to watch YouTube while browsing Twitter each morning while riding the bus, for example. It also allows you to create nice custom shortcuts to launch your app, using any icon you want, including those from third party icon packs.
Let us know what you think of these apps in the comments!