Discover the most awesome apps from this month
Keeping track of the best new Android apps available to download is a full-time job, which is why we do it for you. We've combed through all the notable apps of the month and chosen the very best (and most useful) apps for you to enjoy.
Listen to music with friends, learn a language, save your memories, make your phone safer - these are the many ways in which we can improve our lives by making use of the Play Store.
Jump to:
Our favorites from this month
Beelinguapp
If there's one type of app that's definitely worth downloading, it's one that will help you learn a new skill. Knowing a second language (or even a third, fourth, or fifth) can be very empowering, and this is exactly the principle that Beelinguapp has based its app on.
Not only does the app look good visually, it's also different from other language learning apps. What's unique about it is it provides you with stories (of your choice) from which you can learn your chosen language as you read. It also has an audio book reader, is totally free, and you have a choice of thirteen languages.
Journey
More often than not, our smartphones are with us wherever we go, and they have become a place to store all of our memories. Journey is an app that recognizes how important our devices are for doing exactly that. You can add photos, videos and notes which can all be assigned to the location where you created them, which is a pretty cool feature when you want to go back and look where you have been and remember the good times you have, as this feature means everything appears on a map.
The interface looks great, and is compatible with Google Drive, and can be synced for multiple devices which is ideal for using it on the go or from home.
Rave
If you have long distance friendships, relationships or you cannot spend time with friends for one reason or another, then this app is worth trying out. It allows you to connect with people to share music, watch videos and movies through Netflix and YouTube. A great thing about this is you can chat while you do any of these, which is an interesting feature considering YouTube stops playback anytime you perform a task. It's off to a promising start with over 3,000 positive reviews in the Play Store.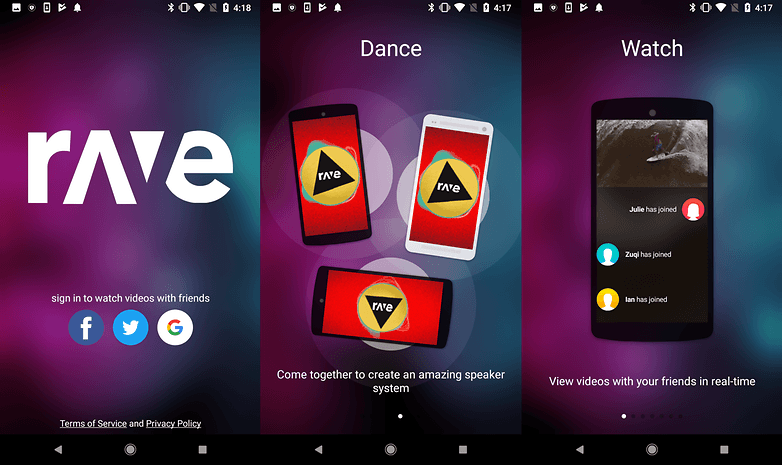 February 2018
Lens distortions (unreleased)
Lens distortions offer effects for photographers, filmmakers and visual artists, and now they have a version for mobile. Sometimes less is more, and the app certainly demonstrates that. It has few, but very well created and natural-looking effects. As well as the usual subtle edits you can make, you also have the option to add effects to mimic glass, natural sunlight, rain, snow and fog.
Messenger Kids - Safer Video Calls and Texting
A concern of many parents are the dangers that internet accessibility can bring. For instant messaging specifically, despite its many benefits, has in some cases caused more harm than good. Online bullying for example, is a much debated topic and Facebook appear to be working towards addressing these issues, with a new version of the Messenger app designed for kids.
Parents can make sure that their children are safe online, by having the ability to control contact lists, seeing messages and no ads or in app purchases. This is also completely separate from Facebook, so it's suitable for young children.
Zomato
Calling all foodies! Most of you will be familiar with this situation - being in a new area and trying to find somewhere good to grab something to eat. You don't want to be disappointed, so you turn to your trusty smartphone to discover the best places where you are. Tripadvisor or Yelp are among the most used, but Zomato is one you should consider using.
The main reason for this is it's clear and simple to use. It will find and recommend top rated restaurants, where contact details and further information are easy to access. If you're lucky, you might even be able to take a glance at the menu in the app beforehand.
January 2018
HabitHub - Habit and Goal Tracker
Keep on track with those lofty new year's resolutions with HabitHub. Set your goals, organize them into categories, specify your motivations to keep yourself focused on the gain rather than the pain, and track your achievements. Nothing feels better than looking back on a week and realizing you didn't skip a single workout or procrastinate on cleaning the house, so streaks are a key feature here, in addition to the calendar view mode. Take on 2018 with the tool you need to succeed: HabitHub.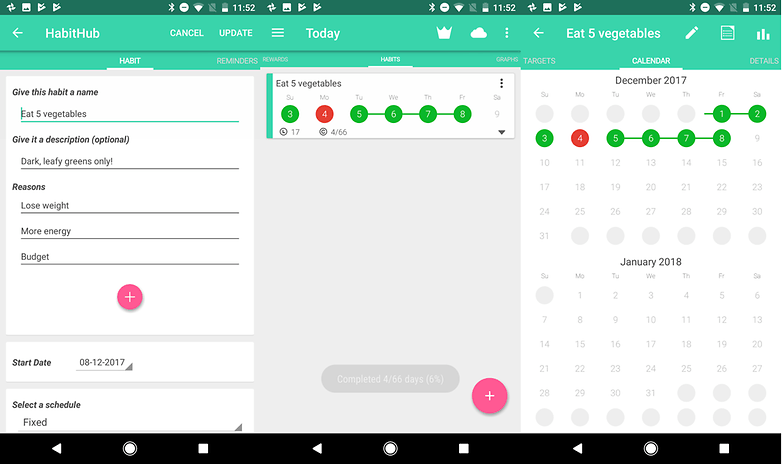 Home Workout - No Equipment
Who has time to hit the gym anyway? No excuses this year, you've got to exercise. Home Workout only takes a few minutes a day, and requires no equipment. Work on all your muscle groups with the provided guides and detailed videos, which include warm ups and stretching. The app will help you use the right form, which should help you avoid injury. Pair this app with HabitHub, and you're sure to stay on track with your fitness goals this year!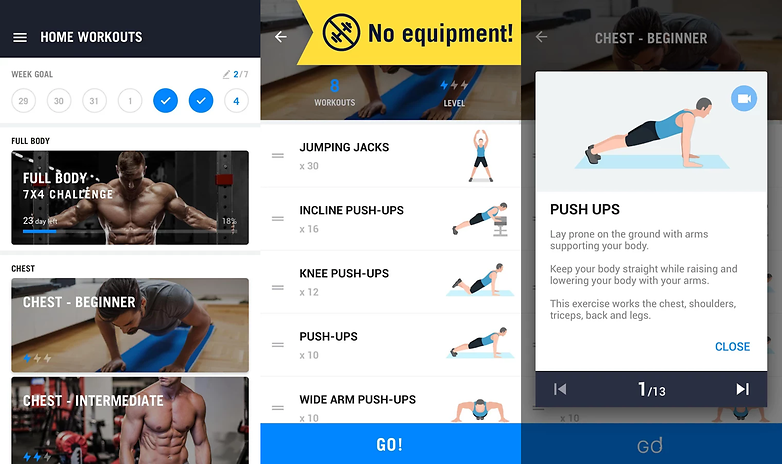 Animal Crossing: Pocket Camp
Nintendo's new Animal Crossing game is really addictive. The latest iteration of the franchise is all about camping, and it's perfect for wasting time. The gameplay is largely driven by completing requests for visiting animals and building relationships. The activities are fun, and the best part (at least for me) is all of the options for customizing your camp. It's just the kind of amusing, mindless entertainment you'd hope for in this type of mobile game.
Have you tested any of these out yet? Let us know what you think. Also, we'd love to try out your recommendations too.