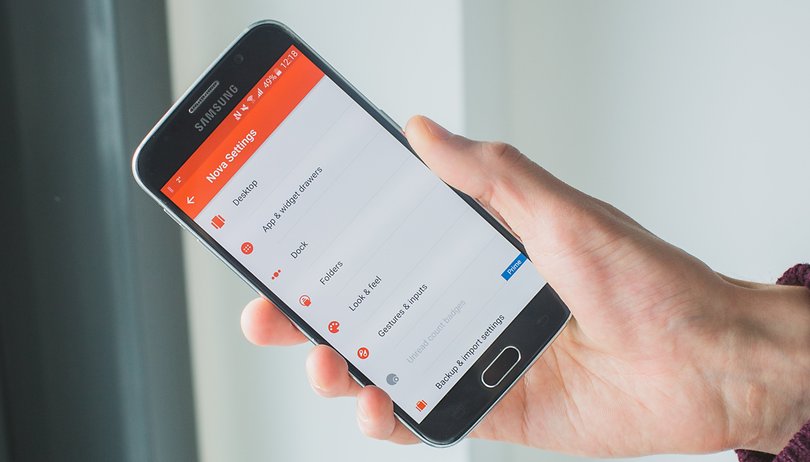 Top tips and tricks to make the most of Nova Launcher
Nova Launcher is the king of Android launchers. With features galore, it's the ultimate way to customize your smartphone. You can amaze spectators, confuse the ignorant and save precious seconds, often simultaneously. The sheer number of options can be intimidating, however, so many are often overlooked. In this article, we'll show you where to get Nova Launcher and provide a rundown of the most useful Nova Launcher tips and tricks.
Jump to:
Download the latest version of Nova Launcher
Nova Launcher is often cited as the killer app for customizing Android, and in the settings you'll find a trove of options to fine-tune your experience. Not only that, but it offers great performance. If you want to try out Nova Launcher for free, it's easy enough to grab from Google's Play Store from the button below.
You can also download the latest version of Nova Launcher from APKMirror, including unreleased beta versions. To get the full functionality, however, it's worth shelling out a few bucks for Nova Launcher Prime.
Nova Launcher Prime
Note: aside from the experimental menu and the scrolling orientation, these features are only available in the paid version of the app, known as Nova Launcher Prime. We recommend Prime, for just under $5, as well worth the money for changing your Android experience forever.
9 must-try features of Nova Launcher
1. Hidden folders
Here's a great way to access all your most commonly used apps quickly and without littering up your home screen. You can make an app folder that is hidden, appearing only as an icon of your choosing. When pressed, the icon will open the first app, but when you swipe up, it will open the folder, showing the full range of related apps.
I use this for my music apps, so when I press the headphones icon, Deezer opens, but when I swipe up, I see Soundcloud, Music Player, Deezer, etc.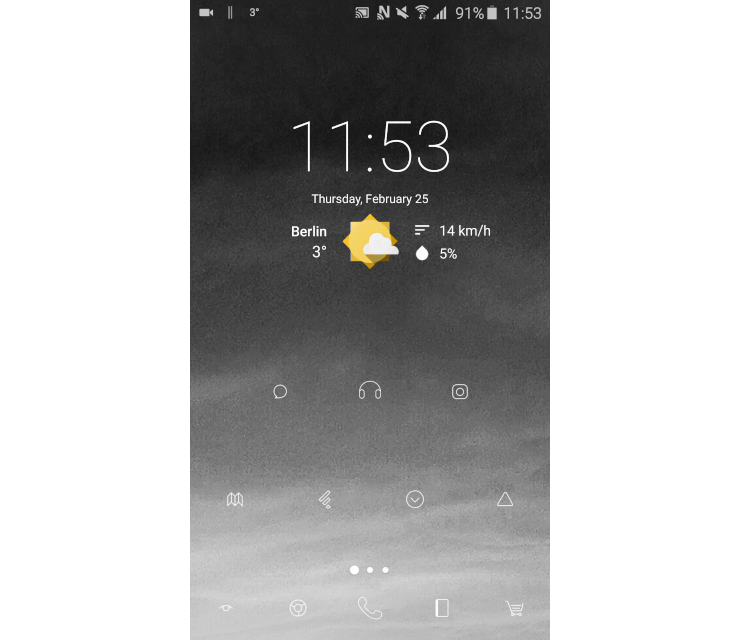 To set this up, first drag the related apps into a folder as you would normally.
Then long-press on the folder and select Edit.
From here, you can press on the icon to choose a different one, change the name of the folder, and adjust the Swipe to open and Tap action settings.
Flick the Swipe to open toggle to the right, and, from the Tap action drop-down menu, select First item in folder.
For bonus points, make your folders transparent, too, by opening Nova Settings and going to Folders > Background and sliding Transparency to 100 percent.
2. Swipe actions on apps
Another way to make use of the swipe actions is to open apps that are related to other apps. I've got the camera icon set to open the Gallery app when I swipe, for instance, and swiping up on the Google Calendar app lets me add a reminder (download Google Inbox to access this feature). I also use this to open Messenger with a swipe up on the Facebook app icon.
To set this up, just long press on an icon, select Edit
Press on the Swipe action option to select the action of your choosing.

3. Swipe actions on the home screen
You've really got to make the most of those swipe actions. The final way I use them is by adding a swipe-up gesture to the home screen to open the app drawer, a double-fingered swipe up to open Nova settings and a double-fingered swipe down to open Google Now, along with a few others, but you can choose whatever suits you best.
Just go open up Nova Settings
Head to Gestures & inputs and peruse the Gestures section and decide which actions you want to set to do what.

4. Double tap to lock
While this option could just be included in the section above, it seems worth highlighting, because it's something I use a lot and is easily overlooked.
Go into Nova Settings
Press on Gestures & inputs > Double tap and select Screen lock.
Now, when you issue a quick double-tap to the home screen, your device will lock. If you're not so keen on this, another very useful application is to have it launch the phone app.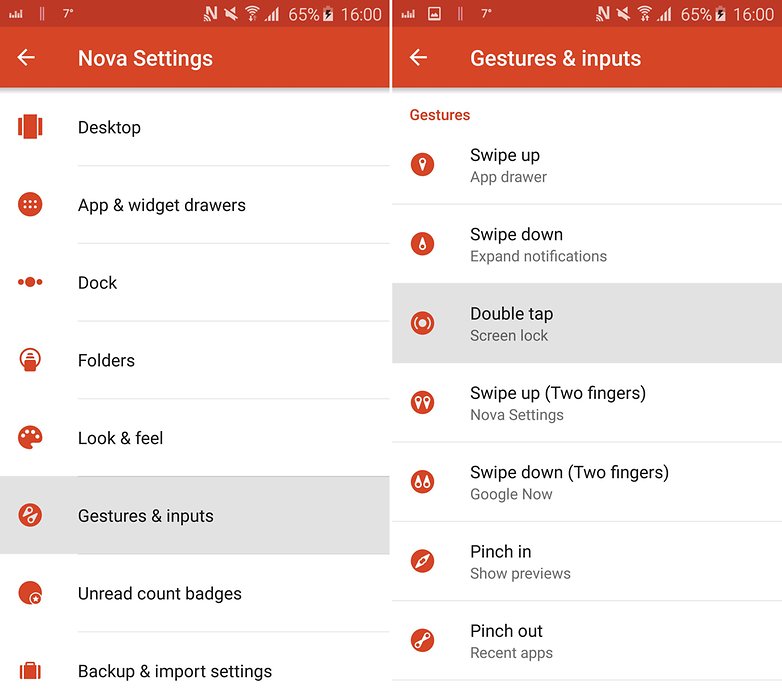 5. Smooth scrolling
If you put the same widget on multiple launcher screens and employ Nova Launcher's wipe scroll effect, it produces a really pleasing way of moving between screens, with the widget remaining in place throughout. Take a look at the gif below to see what I mean.
For this one, just add the same widget to all of your launcher screens, and then open up Nova settings.
Go to Desktop > Scroll effect and select Wipe near the bottom of the list.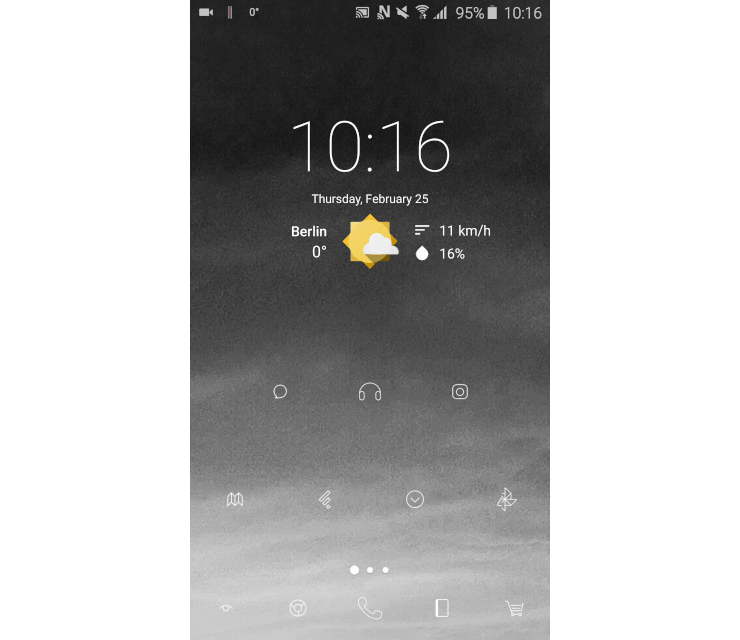 6. Add app drawer tabs
The app drawer is Android's one-stop shop for all your apps, but how about making it a more discrete home-screen-style arrangement?
By default in Android, the app drawer is one page, but with Nova Launcher, you can add extra tabs to it that you can swipe left and right to scroll through. Name your tabs by category, e.g., Internet, Music and Work, and fill them up with related apps. It makes finding specific apps a whole lot easier, especially when your phone is a buzzing app metropolis.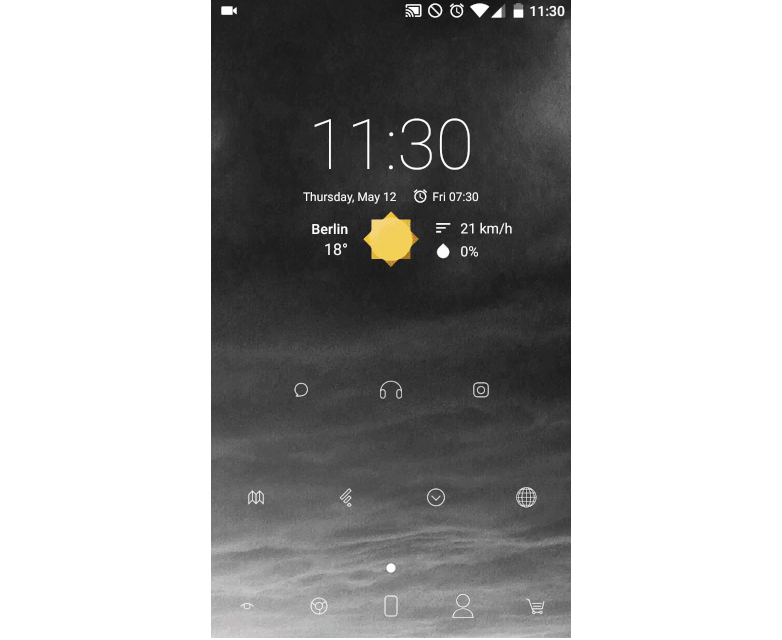 Open Nova Settings and head to App & widget drawer.
Here, make sure Tab bar is enabled, then head down the page to Drawer groups.
On this page, you can add additional tabs by pressing the plus sign in the top-right corner.
Once you've got your tabs set up, you can choose whether apps show up only in the tab you've put them in or in the main app tab as well by long pressing on the tab at the top, selecting Edit Tab..., and then selecting or deselecting Keep apps in the main app tab.
7. Use emoji to label your app drawer tabs
Having app drawer tabs is great, but you can make the set up even cleaner by using keyboard emoji instead of words to label them.
Go to Nova Settings > App & widget drawers > Drawer groups
Press on the pencil icon beside any tab.
In the Edit window, press on the tab name, and, on the keyboard, navigate to the emoji of your choosing (you might have to use a keyboard app other than your default to access emoji, or at least the emoji you want).
As before, ensure you have Tab bar enabled on the App & widget drawers page.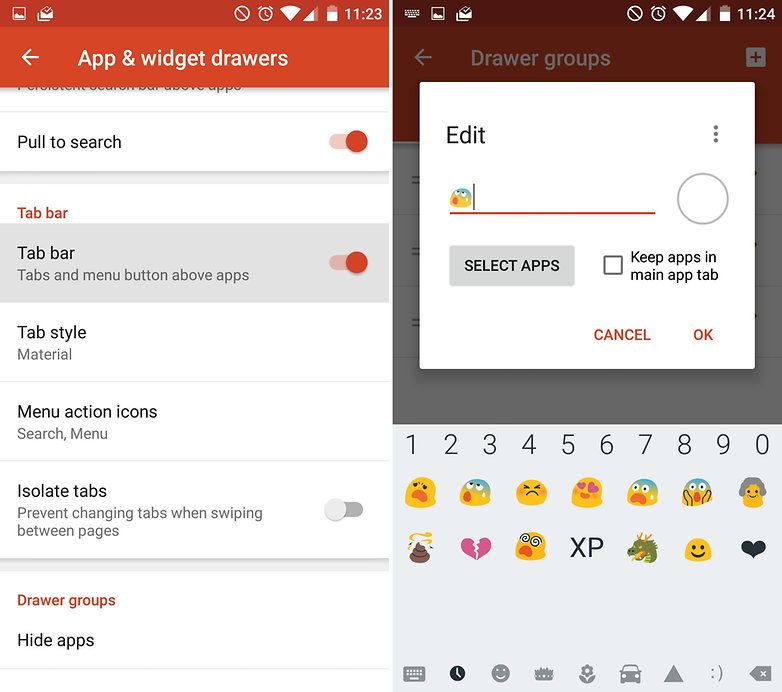 8. Change scrolling orientation
One more app drawer tip: switch between vertical and horizontal scrolling between your app lists.
To do this, simply long hold anywhere on the display.
When the settings menu appears at the bottom right, press on it.
Select App & widget drawers > App drawer style then select which view you would like.
And that's it - go back to your app drawer and have a go!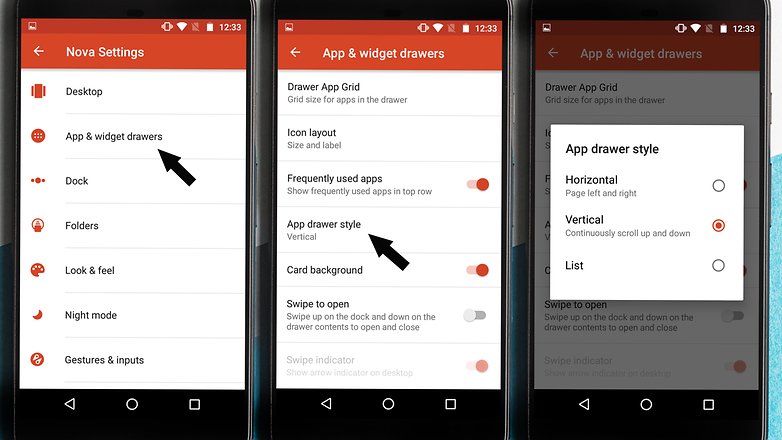 9. Experimental features and debugging
This final tip is for the professional Nova Launcher users out there. I don't often make use of this, but it might be helpful to have on hand.
You can access a secret menu, containing experimental features and debugging options, by holding the Volume Down button while in Nova Settings.
Once you've held it down for a second or two, a new option called Labs should be available at the bottom of the menu.
If you find this menu scary and dangerous upon unlocking, long press the Volume Up button to remove it again.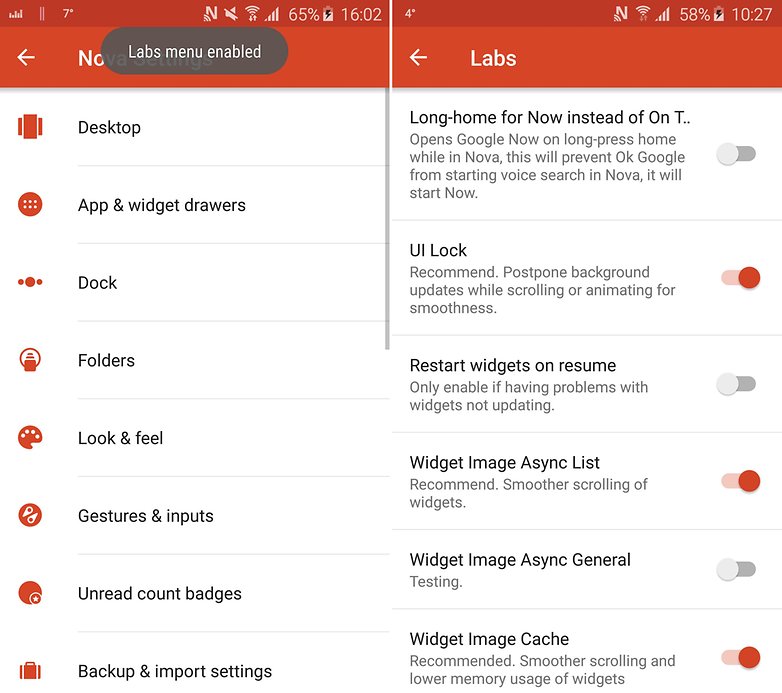 Do you know any other features Nova Launcher users should be taking advantage of? Let us know in the comments.