If you own a Nexus 5 or Nexus 6 it's probably because you love stock Android. But there are still a few additional tweaks and options to be found in custom ROMs that are worth having. If you're not particularly into the whole custom ROM scene and would still like some extra settings, today we'll show you how to get custom ROM features - like new notifications bars, battery indicators, double-tap functions, and more - on the Nexus 5 or Nexus 6, without having to install a custom ROM.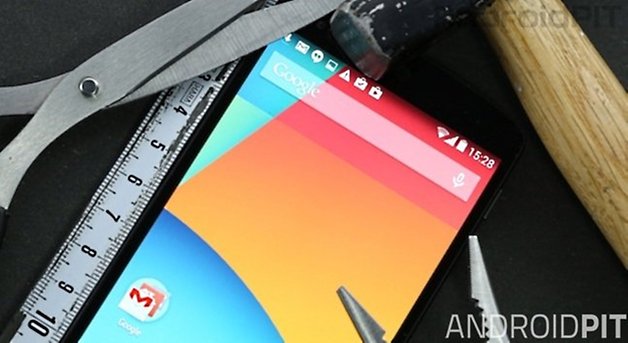 Note: As you've probably guessed, you're not going to be able to make use of these modifications if your Nexus 5 or Nexus 6 isn't rooted. If you're not rooted already, follow our guide on how to root the Nexus 5 and then come back and continue. You'll also need a custom recovery installed, like CWM or TWRP, both of which can be installed through the respective ROM managers available below.
TWRP Manager (Requires ROOT)

ROM Manager

This trick for getting custom ROM features on the Nexus 5 and Nexus 6 comes courtesy of Paul O'Brien, the developer behind MoDaCo ROMs. Instead of having to go the whole hog and flash a custom ROM, you can now just flash a zip file that will open up a whole new world of customizations and tweaks.
The file only changes two SystemUI files and is easily reversible, but you'll have instant access to tweak things like heads-up notifications, status bar icons (including battery indicator), one-handed mode, double tap to wake, double tap to sleep and more.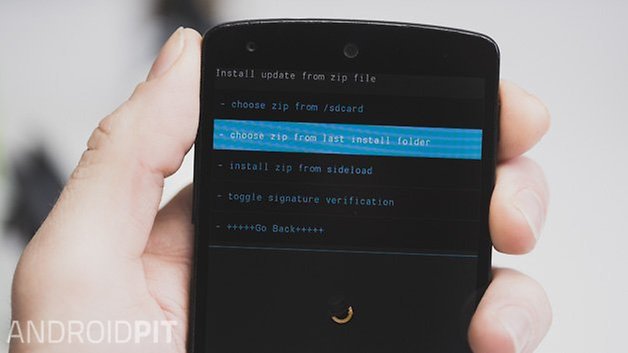 How to get custom ROM features on Nexus 5 or Nexus 6 without a custom ROM
Important: the instructions below include two possible downloads: one for the Nexus 5 running Android 5.0.1 and one for the Nexus 6 running Android 5.1. Keep an eye on MoDaCo's website for the Android 5.1 download for the Nexus 5 (which isn't available currently).
I'll remind you that I am not responsible if anything bad happens to your phone and as always, please make a full backup in case you change your mind and want to revert back to stock or you have some problems.
1. Download: r10.1 zip file for the Nexus 5 on Android 5.0.1 from MoDaCo
or download the r11 zip file for the Nexus 6 on Android 5.1 from MoDaCo.
2. Boot into recovery (turn off your Nexus 5/Nexus 6, press and hold Volume Down and Power until you enter Fastboot, then use the volume buttons to highlight Recovery and press Power to confirm).
If you're using CWM recovery, you want to select ''Install zip'' and then ''Install zip from last install folder,'' highlight the zip file you just downloaded and press Power to flash it.
If you're using TWRP recovery, go to ''Install,'' then ''Download'' and select the zip file you just downloaded. Swipe the button at the bottom of the screen to flash it.
4. Reboot your Nexus 5/Nexus 6 and grant the Superuser request that pops up.
5. Open your app drawer and launch the app called MCR Control.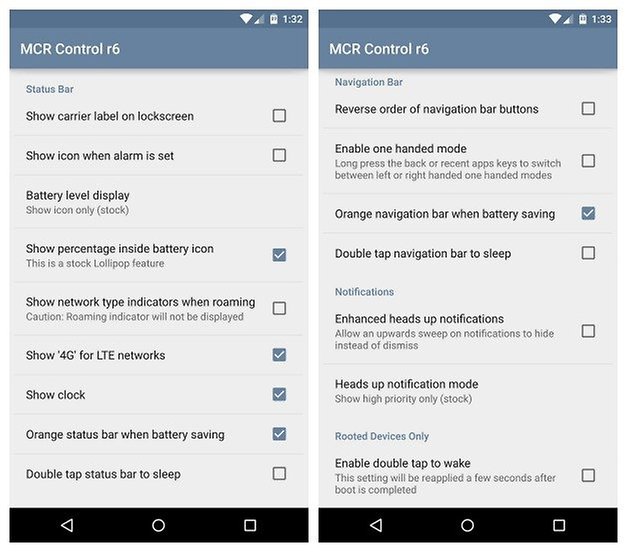 Enjoy trawling through the multitude of custom ROM options and tweaks for your Lollipop experience on the Nexus 5 or Nexus 6. Here is the full list of MCR Modpack features:
MCR Modpack features:
'MCR Control' configuration application
A one handed mode which moves the button towards the edge on the navigation bar - press and hold back or recents to toggle
Multiple battery level display options for status bar and lockscreen
Option to enable the stock Lollipop battery percent feature
Option to remove carrier label from lockscreen
Option to reverse order of navigation buttons
Option to retain network type indicators when roaming
Option to disable '4G for LTE' indicator
Option to disable orange colouring of status bar and navigation bar separately on battery saver
Option to hide clock
Option to centre clock
Option to enable am / pm indicator (two sizes)
Option to disable icon when alarm is set
Option to ignore priority when determining whether to show heads up notifications
Option to disable heads up notifications altogether
Option to double tap status bar to sleep
Option to double tap navigation bar to sleep
Option to enable double tap to wake (requires root, be sure to auth SuperSU after clicking the box, applies a few seconds after each boot) - NEXUS 6 ONLY
Option to enable red / blue / green charging LED (requires root, be sure to auth SuperSU after clicking the box, applies a few seconds after each boot) - NEXUS 6 ONLY
Options to lock status and navigation bars to black (user request - Nexus 9 blacklight bleed mitigation)
Option to enable rotation in lockscreen
Option for re-boot menu in status bar header
All options are applied in real time
Compatible with both odexed and deodexed stock ROMs