The best custom ROMs for Android
Update: LineageOS added
You might enjoy the way your smartphone interface looks and feels, but custom ROMs give you the opportunity to explore brand new designs and UIs. They can also offer new and very impressive functionality. If you have yet to explore these options, check out our guide to custom ROMs for Android and our list of the best.
Jump to a section
The best custom ROMs
Good custom ROMs are characterized by an active community and the support of many different devices. Unfortunately, fewer and fewer third-party firmwares match these criteria. Those who want to keep their Nexus 5 or his Galaxy S5 still up to date have only a few alternatives. If your smartphone needs a better user interface, less bloatware and earlier software updates, then you should consider a custom ROM.
Custom ROMs are the salvation of older smartphones
What do you think?
The best custom ROMs at a glance
Lineage
Dirty Unicorns
SlimROMs
Updates
Integrated into the settings
As an app
Failed in the test
Root Access
With extra zip
As a SuperSU app
No
Themes
No
No
No
Special Features

Trebuchet Launcher
Privacy management
Volume profiles
Better camera app
Better music app
Screen Recorder

Chromium browser

Dirty Tweaks:

Animations
OmniSwitch
Improved app switcher

Developer tools

Interface options:

Status bar
Overview of open apps
Quick Settings
Navigation bar

Equalizer
No
No
Yes
LineageOS (the legacy of CyanogenMod)
Lineage is the legacy of CyanogenMod. Fans of the mod have to say goodbye to CyanogenMod and their favorite features. CyanogenMod was ideal for beginners, since the Wiki offered a great collective wealth of knowledge. Lineage was able to hang onto some of this in the form of its own Wiki. A backup copy of the old wiki was created as well for posterity.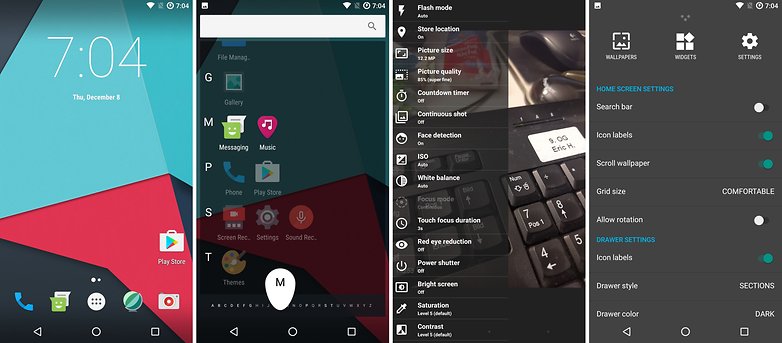 Lineage has a compact launcher, a feature-packed camera app and few pre-installed apps which leaves you with a lot of free memory. It also has volume profiles, which make the phone muted or loud under certain defined conditions. The privacy feature also sends incorrect data to apps that whose privileges aren't normally escalated. And the best thing: Lineage makes old smartphones fast again.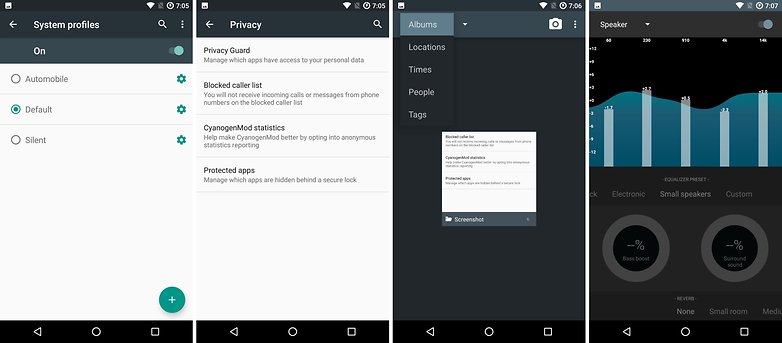 In the coming weeks, we will hear a lot more about Lineage and we'll keep you informed here on AndroidPIT as there are new developments.
Dirty Unicorns
Dirty Unicorns is designed for Nexus, Oppo, OnePlus, Xiaomi as well as some HTC and Samsung devices. It has similar features to Lineage and provides root access via apsp and regular updates for security and stability.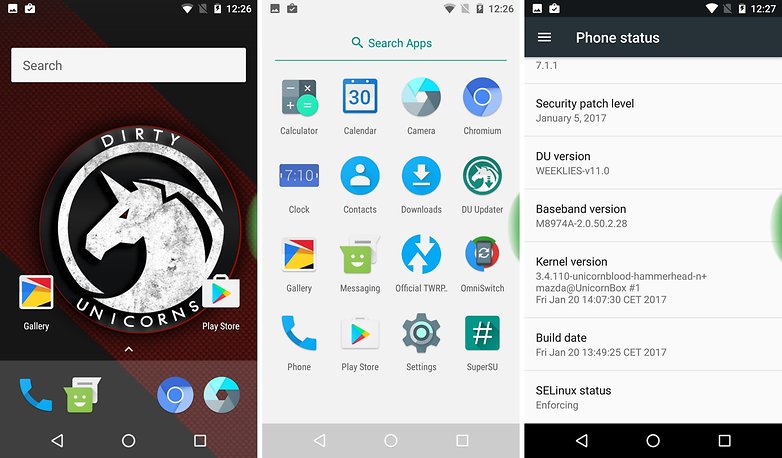 DU supports a wide range of devices. Also, the update frequency is exemplary.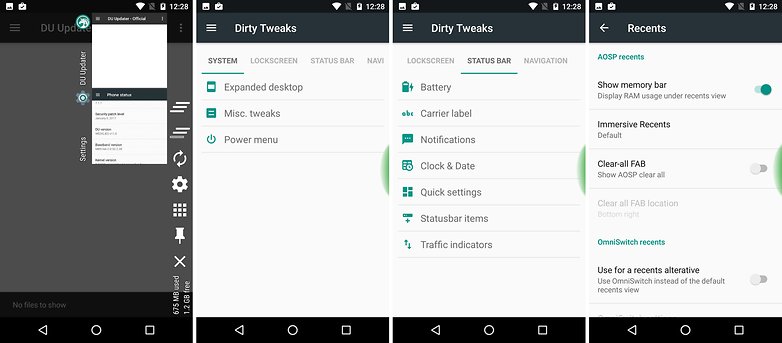 Thanks to OmniSwitch, you can easily multitask. Dirty Tweaks contain important settings options which are missing in conventional Android.
SlimROMs - bloatless but feature-rich
SlimROMs made a name for itself by offering a completely stripped down version of Android and letting you determine exactly how much of the Google Play services you want bundled in. Otherwise, SlimROMs is characterized by the ability to modify the DPI of fonts and icons and make everything as tiny as you need it to be. The Slim family currently supports almost 50 devices.
An alpha Android Lollipop build is out, but things are moving slowly at the SlimROM camp and updates are currently infrequent at best. Find out more at slimroms.net.
Other ROMs
PAC-ROM
PAC-ROM touts itself as the all-in-one ROM solution. The team shamelessly cherry picks features from the other ROMs listed on this page, including OmniSwitch and CyanogenMod's Pie controls, and puts them all together in their own package.
It might seem lacking in personality, or overkill, but if you're looking for the most customizable, option-rich ROM, then this is it. And wait until you see the boot animation — the team deserves some points for that alone.
With nightly builds and well over 50 devices supported, it's a great package. Learn all about it at PAC-ROM.com.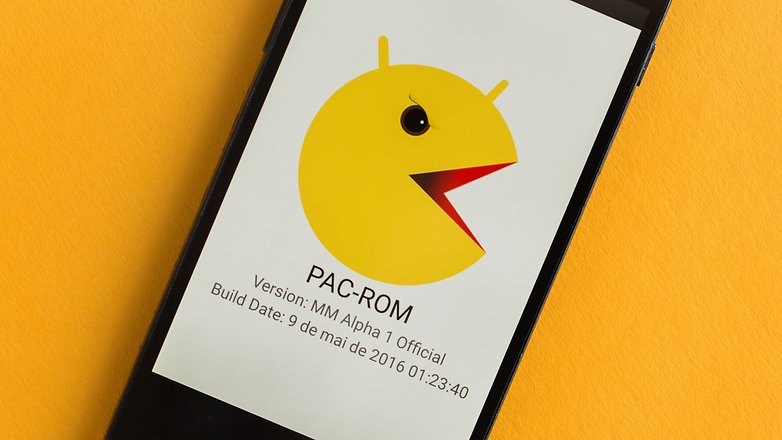 Paranoid Android - Stock Android with subtle changes
The first appearance of the Paranoid Android Custom ROM dates back to early 2013 and Android Jelly Bean. The Paranoid Android ROM doesn't provide a radical design overhaul, but focuses on a number of simple but effective changes to notifications and navigation.
Immersive mode allows you to view information on screen while hiding system bars, and 'dynamic system bars' blend your status and navigation bar color with the particular app background. It's purely aesthetic, but provides a nice transition.
Early in 2015, OnePlus hired a number of key members of the Paranoid Android team. The project subsequently went into deep hibernation, with one developer announcing its passing and another refuting it. Whether the project has the energy to be resurrected remains to be seen.
Paranoid Android is available for a whole range of devices including the Nexus line and the OnePlus One. To learn more, visit ParanoidAndroid.co.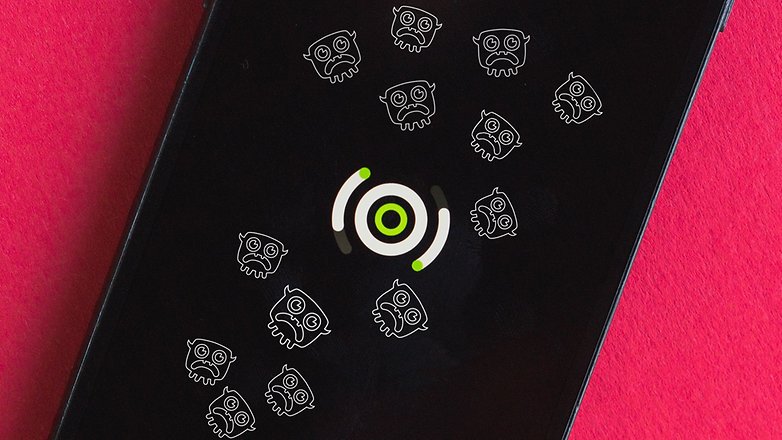 An introduction to custom ROMs
A ROM, for those who don't know, is an operating system build that runs on your device with basic applications such as an address book, calendar, camera, etc.
A major advantage of Android smartphones is that they can be operated by third-party systems and not only with the original ROM. Custom ROMs replace the pre-installed version of Android on devices. The substitution is made by a variation of the AOSP, adapted by volunteers with 'too much free time'.
These volunteers often work more frequently than the manufacturer itself – at least when it comes to updates.
But what is AOSP?
AOSP means Android Open Source Program. It is a version of the open source code of Android, developed by Google in its consortium of brands to offer a pure version of the system, which is available to anyone. It can be modified by developers without the need to follow standards of Google applications.
Thanks to this project, the birth of custom ROMs like CyanogenMod, Paranoid Android, MIUI and others have come about.
Advantages: should I get a custom ROM?
System upgrade for older smartphones
Many Android owners already know this problem: the smartphone is already a year old but the manufacturer hasn't released updates to the device. The new versions of Android are not only interesting because they bring new features but also because they fill security gaps.
Third party firmware uses the official codification of Android as well as a compatible driver for smartphones. This keeps everyone up-to-date on the newest version of Android. And it's not difficult for a custom ROM to be more updated than the original firmware
The smartphone is faster
One of the biggest advantages of using custom ROMs is your smartphone will be faster. Themes and applications preinstalled by the manufacturer are reduced to almost nothing. This saves a lot of memory space and increases the device's performance.
Customization options galore
Custom ROMs not only bring the latest version of Android but also give you many customization options. The possibilities are almost limitless.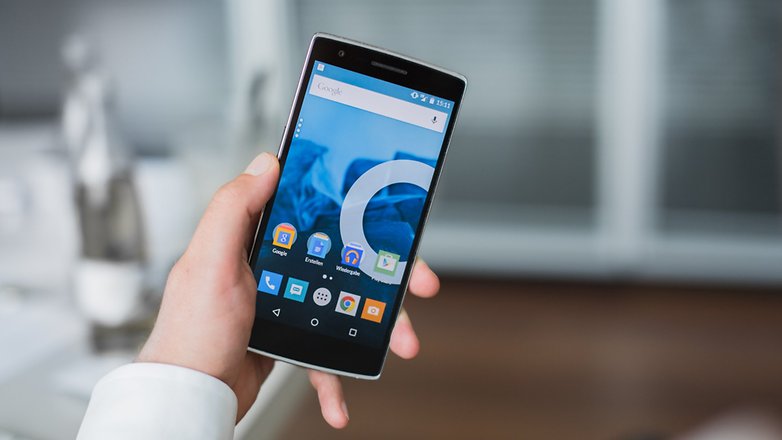 You have root access (administrative)
With root access, you have control over all of the functions of your device. With the original Android, some functions are hidden. Now the modified firmware gives you unlimited access to all the features of your smartphone. Furthermore, backups are performed more easily.
Ideal for purists
Since custom ROMs are based on the 'Android Open Source Project' they are enriched with more functions and the appropriate driver by the team behind the community firmware. So if you bought a less stocky Android device like a Sony or Samsung you can still get a stocky experience.
Compatibility: is there a custom ROM for my device?
There are numerous points of contact when seeking out third-party firmware. Community forums like the AndroidPIT or XDA-Developers are very well organized, reliable and generally quite friendly. You'll be able to find a wide range of sub-forums for special devices and advice for updating.
Disadvantages: why not to get a custom ROM
Custom ROMs are wonderful but before you decide to change your device's original firmware you should familiarize yourself with the disadvantages of the process.
They void the warranty
If your phone is still under warranty, you could have the possibility of voiding it if you decide to install a custom ROM. There are just a few manufacturers that will tolerate changes to the device system. Xiaomi is one of them.
They're a lot of work
Custom ROMs are perfect for those who love a good challenge. But if this doesn't sound like you then you won't like custom ROMs. Between updates, the system root and unstable versions of a device, your patience could reach its limits.
The lack of Google applications
Third-party firmware comes with very few Google apps. The Play Store applications have to be installed again. The Google apps that you will need to install again can be found on the site OpenGapps.org.
Conclusion: to mod or not to mod?
Custom ROMs can be the salvation of older smartphones and tablets. They can also clean up new smartphones and remove bloatware. Often, they speed up smartphones and add more features. But, the threshold is high for those who want to mod, as it can be a confusing process for beginners. This threshold is less of an issue thanks to LineageOS, which is much simpler and is well supported by many from within the vibrant CyanogenMod community.
What do you think is the best custom ROM on Android? Let us know in the comments below.