How to back up everything on the Galaxy S4
Backing up your data regularly is a boring but absolutely critical process. Developing good backup habits is a bit like having good dental habits. It may not be the sexiest activity, but avoiding it will only lead to disaster. Today we'll show you a couple of methods for backing up everything on your Galaxy S4.
MobiKin Assistant for Android
The fastest and easiest way to back up everything on your Samsung Galaxy S4 is to get the MobiKin Assistant for Android. Enjoy the peace-of-mind of knowing all of your contacts, text messages, music, videos and more are backed up on your S4.
Just download the software to your PC, plug your phone in and everything will be backed up shortly. All you need to do is follow some simple instructions and you'll be on your way to backing up everything on your Galaxy S4. You can also recover your data from this device if you so choose.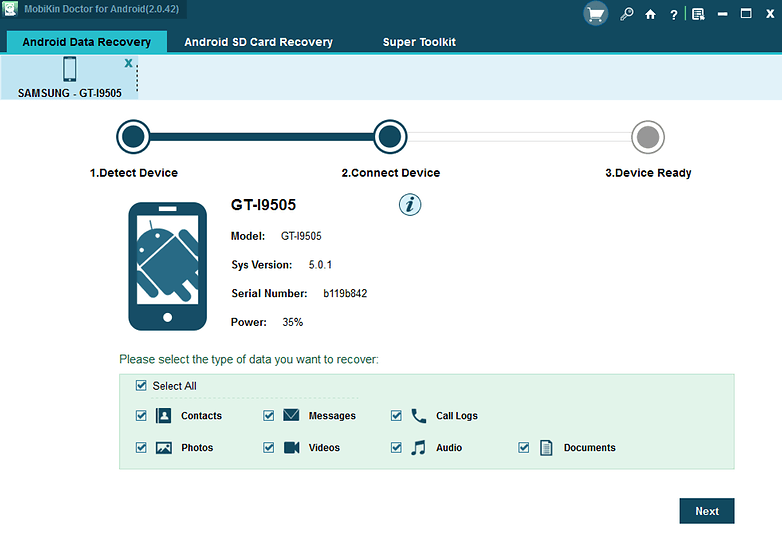 MobiKin backs up all the data on your Galaxy S4 by securely exporting your files to your computer. All of your files are transferred in their original format and data quality maintained. You'll also free up precious memory on your device. Get started by downloading the software now and everything on your S4 will be secure.
Categories of backups
Backups basically fall into two categories: those for rooted users, and those for non-rooted users. If you are not rooted, there are several options available, which we'll cover below. If you do have root level access, you'll have an easier time performing your backup (that's a topic for another tutorial).
We'll show you the best methods for keeping your apps and data safe so if you have your phone stolen, get a Gremlin-filled update or otherwise fall foul of good luck, your essential data will still be safe.
Don't just rely on backups
There's a lot to be said for the old-fashioned way of backing things up: regularly transferring them to your computer. Connect with a USB cable (don't forget to install the Android USB drivers first) and copy your pictures, music and documents to your hard drive.
You can also use cloud storage to automatically save various files on your computer, such as Google's great Photos app that automatically uploads your camera shots. You can also link certain folders to a cloud service such as Drive or Box (I do this for screenshots).
Your emails are internet-hosted and WhatsApp messages are safe because they are backed up to your SD card every day at 4 am anyway, so you just need to save the database file before doing a reset.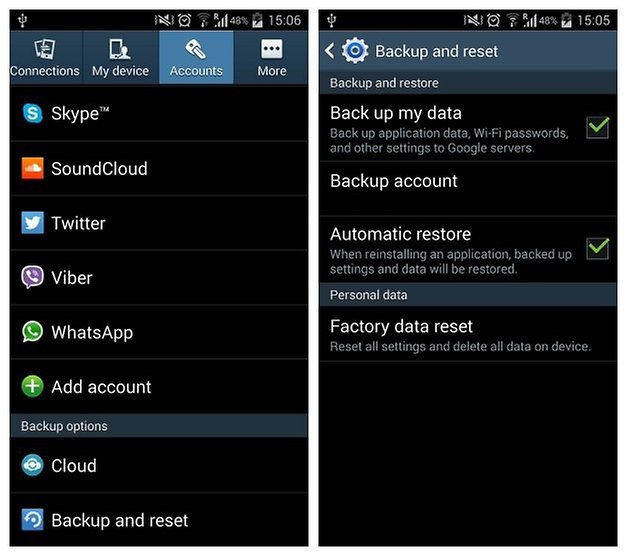 You don't need root for backups
If you're not rooted you've still got options. In the settings menu of your smartphone or tablet you'll find the backup and reset settings, where you can add an account to which your apps, data and passwords can be backed up. This is usually your Google account.
This is also where you set your restore options and activate a factory reset. It is also a good idea to sign in to your favorite apps with an account that can be used to store your data if you lose your phone or have to reinstall the app at some point. Many apps also offer cloud backup options and you've got plenty of cloud backup services that you can use to regularly schedule backups too.
How to make a Galaxy S4 backup
If you don't want everything stored in the cloud or on your Google account then you can simply use your computer to make a backup of your apps and data. The best in class in this area is Clockworkmod's Carbon Backup, now known as Helium.
Helium - App Sync and Backup

Simply install Helium on your Android and then on your computer, click the following link to download Helium for desktop and follow the prompts. You'll be able to backup all sorts of stuff, including your apps and data, predictive typing predictions, text messages and call logs. Here's how it's done.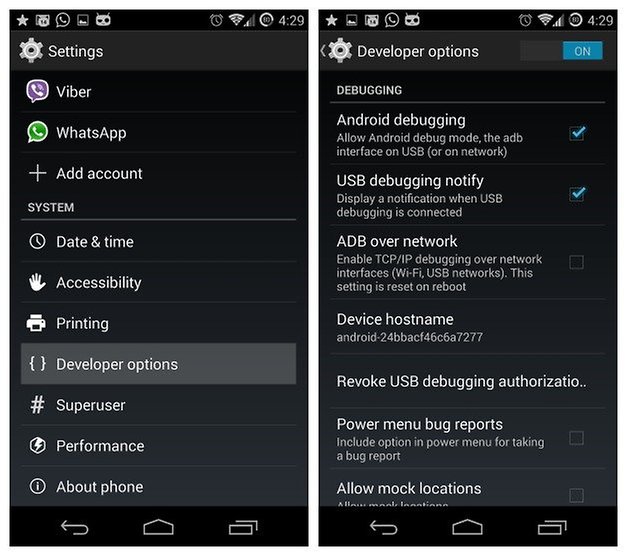 1. Just be aware that you need to have USB Debugging enabled in Developer Options in your phone first (see screenshots above). Just tap build number (in Settings > About Phone) seven times until it pops up. Connect your Galaxy S4 to your computer with a USB cable and establish the connection.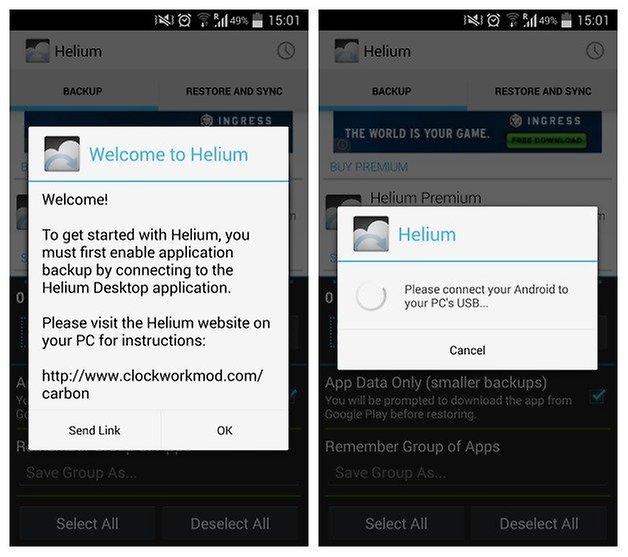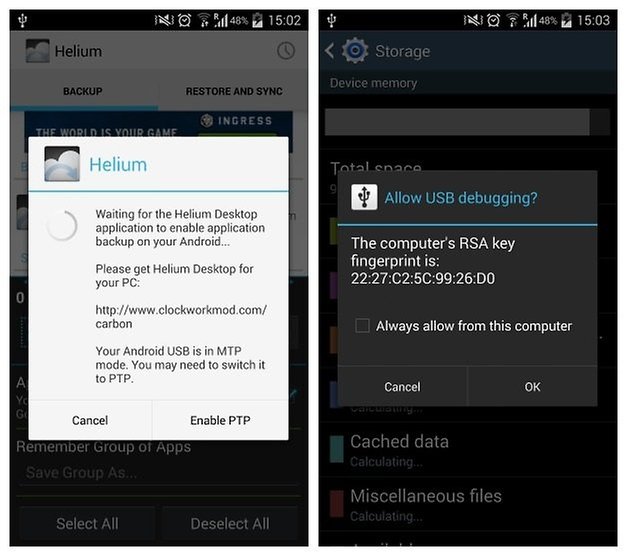 2. Once you've established the connection just start selecting the apps and data you'd like to backup. You can ''select all'' or individual apps and you also have the option to only backup your app data, but not the app itself. This makes your backup file much smaller, and you will simply need to reinstall the app from the Play Store before restoring your data.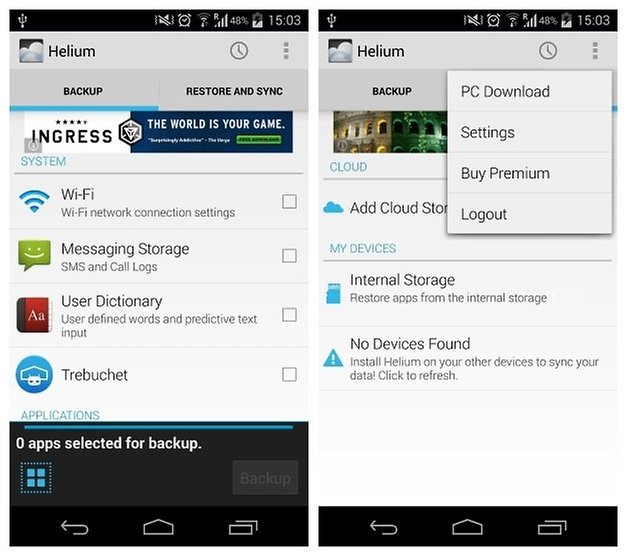 3. Don't forget to enable PC Download in the action overflow menu to activate a unique IP address on the Helium server from which you can access your backup from your computer. Just type in the unique URL to download your backup for safe keeping. Otherwise, hit Backup and you're done. Now you just need to remember to do backups regularly!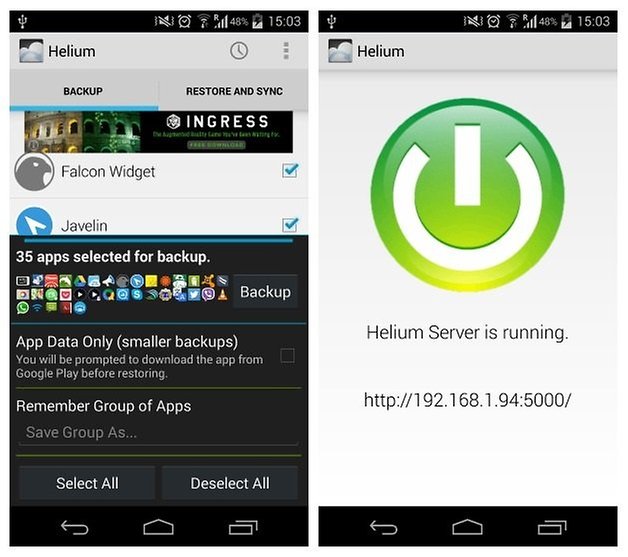 Have you ever lost all of your smartphone data? How often do you do a backup?