How to back everything up on your Galaxy smartphone
Backing up your Galaxy device regularly is a tedious but absolutely essential process. "I've lost all my photos" or "I've lost all my contacts" are situations that we're all too familiar with. Have you ever lost your precious data? Well, we'll show you how to prevent this from happening, and guide you through this process. It's kind of boring, we know. But you'll thank us for it later!
Our steps here are suitable for most Samsung Galaxy devices, so whether you're still hanging on to your trusty S4, S5, S6 or S7, or whether you have a new device such as the S8, S8 Plus or the recently released Samsung Galaxy S9 or S9 Plus and most other Galaxy devices, you can follow these steps to secure your data.
Jump to:
How to enable automatic backups from Samsung and Google
In the settings menu of your smartphone or tablet you'll find the backup and reset settings, where you can add an account to which your apps, data and passwords can be backed up. This is usually your Google account, but Samsung also offers it's own backup services, to be double-sure.
This is also where you set your restore options and activate a factory reset. It is also a good idea to sign in to your favorite apps with an account that can be used to store your data if you lose your phone or have to reinstall the app at some point. Many apps also offer cloud backup options and you've got plenty of cloud backup services that you can use to regularly schedule backups too.
You can also use cloud storage to automatically save various files on your computer, such as Google's great Photos app that automatically uploads your camera shots. You can also link certain folders to a cloud service such as Drive.
Your emails are internet-hosted and WhatsApp messages are safe because they are backed up to your SD card every day anyway, so you just need to save the database file before doing a reset.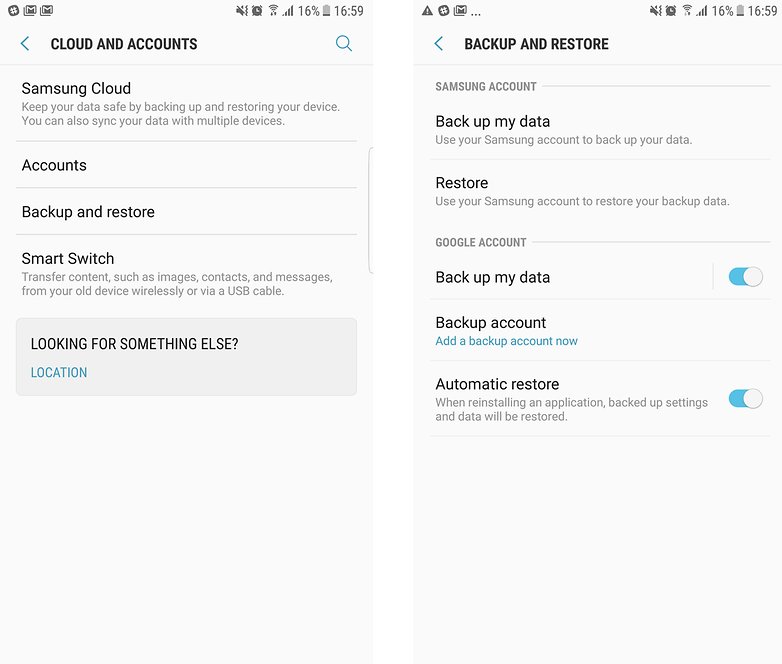 Back up your phone to your computer
There's a lot to be said for the old-fashioned way of backing things up: regularly transferring them to your computer. Connect with a USB cable, enable file transfer when the prompt comes up and copy your pictures, music and documents to your hard drive.
Back up with 3rd party software
Using Samsung's and Google's backup services may be the easiest, a manual backup to a computer may be the safest, but if you want a third option that doesn't need a cloud service or external PC then you may want to consider an 3rd party app. We've put together a list of the best backup apps for Android to highlight the pros and cons of the different options out there.
Have you ever lost all the data on your phone? We hope you've backed everything up on your Galaxy now! Leave a comment and let us know.