Apple Mac Mini M2 Pro: Much More Power for Less Money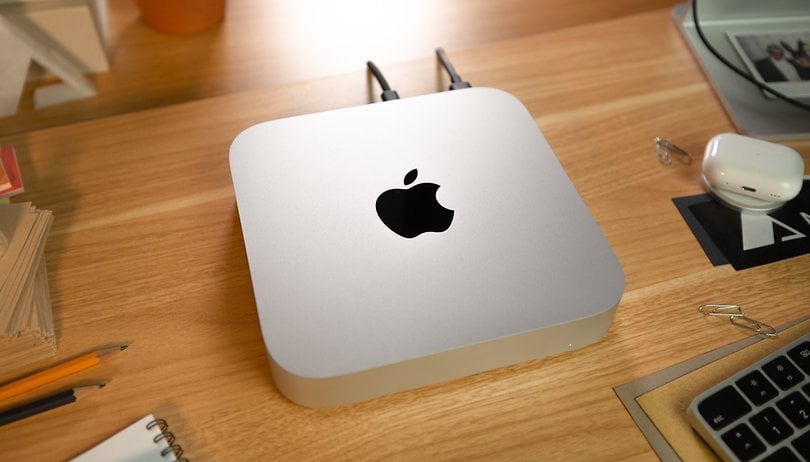 Apple has created a real powerhouse with the Mac Mini and the M2 chip. The Apple computer not only appeals to Mac beginners but also to people who need a bit more power. Never before has the entry into the Mac world been so good and so affordable. In this NextPit review, we explain why the Mac Mini is the right choice for anyone who has always wanted to try a Mac, why my commute to work is so much less arduous, and how Apple has really surprised us.
Good
Excellent price-performance ratio

Chic design

Impressive computing power that can also cope with more demanding tasks, such as image and video editing

Sufficient connections

Can be used with up to three external monitors
Bad
Pairing Bluetooth keyboard and mouse only works easily with Apple's own products.

Ports are all on the rear side, which can sometimes be annoying in handling
Apple Mac Mini M2 : All deals
Apple Mac Mini M2 release date and price
Let's start with the surprise announced in the preface: Apple has lowered the prices for its Mac Minis compared to its predecessor . In the base model, the computer costs around $600, which is $100 less than the predecessor.
The device we are testing today is the Mac Mini M2 Pro with 16 GB RAM and 1 terabyte SSD storage. However, I also bought a Mac Mini M2 (non-Pro) for my home and can therefore compare it very well.
The Mac Mini is available in two different versions—namely with the M2 or the M2 Pro chip. In addition, the working and SSD memory can be resized, which can have a significant impact on the price. Especially the SSDs can definitely make your eyes water here: The expansion to 8 terabytes hits with a generous $2400 extra.
But let's be honest: If you want an 8 TB SSD, you know that this is not an affordable undertaking.
Also important to mention is that the Mac Mini range is a BYODKM—an acronym for "bring your own display, keyboard, and mouse". While theoretically all Bluetooth keyboards and mice can be used. However, pairing the devices with non-Apple products always causes difficulties. Furthermore, unlocking via fingerprint is only possible with the new Apple keyboard.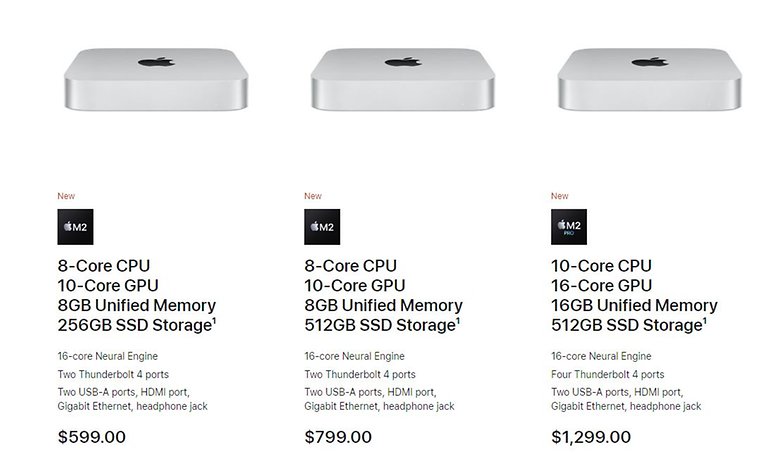 Apple Mac Mini M2 design and build quality
The design of the Mac Mini M2 (Pro) is as you would expect from Apple: minimalistically beautiful, stylish, and with very high-quality workmanship . Apple uses recycled aluminum for the case of its small computer and makes a compact, slim case in the shape of a square out of it. Since it is milled from an aluminum block, the corners and edges are sturdy and solid and promise high longevity.
When it comes to ports, the Apple Mac Mini M2 and the Pro variant differ slightly. While the Mac Mini M2 Pro has four Thunderbolt or USB-C ports, the small variant only has two. Otherwise, the ports are the same: Two USB-A ports, one HDMI 2.0, and one Gigabit Ethernet port. There is also a 3.5 mm headphone jack.
Especially the latter two slots are quite a hassle if you want to use either of them. Since everything is installed at the back for (probably) aesthetic reasons, you cannot easily reach the ports and have to lift the Mac Mini to find what you are looking for. If you use SD cards more often, a docking station is recommended.
Future-proof, with all the ports you need. But only expandable with difficulty.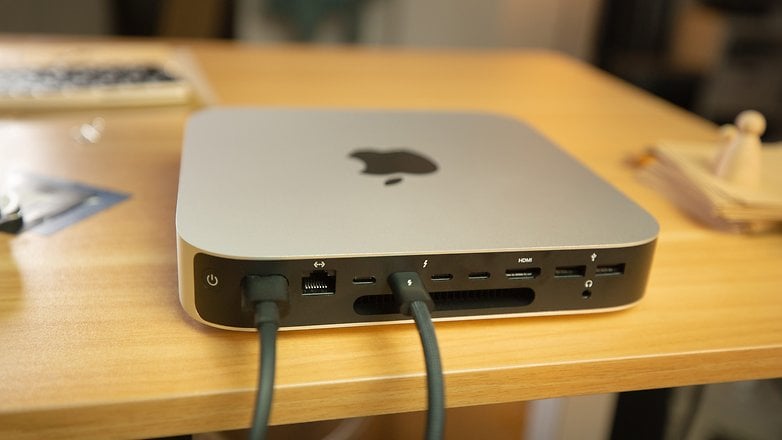 Especially the Mac Mini M2 in the Pro version offers real future-proofing with its ports. Up to three monitors can be connected. The Thunderbolt ports output 6K at 60 Hz and HDMI 2.1 can output 8K with a refresh rate of 60 Hz or 4K at 120 Hz. By the way, the Ethernet can optionally be upgraded to 10 GBit. So, those who have a beefy home network, for example, can move data back and forth at short notice.
By the way, the Mac Mini is not for those who would like to expand their computers at a later date. The SSD as well as the RAM and SoC are soldered. Thus, you have to think carefully about which version of the Mac Mini you want to buy.
Up to three displays - and of course also the Apple Studio Display
Basically, all displays or TVs can be connected to the Mac Mini.
For the NextPit review, but also at home in my private setup, I use an Apple Studio Display (check NextPit's review of the Apple Studio Display). It is the perfect complement in itself to any Mac Mini - and of course other Mac models. The device resolves at 5K and has brilliant, excellent colors that are reproduced with a brightness of up to 600 nits.
Special mention should be made of the integrated speakers and the built-in camera, which make video conferencing, but also listening to music, an excellent experience. However, the screen certainly has a downer—namely the price. The Studio Display starts at $1599.
But you also get the typical Apple comfort for that. There isn't a single button on the display and everything can be operated quickly and easily via the keyboard.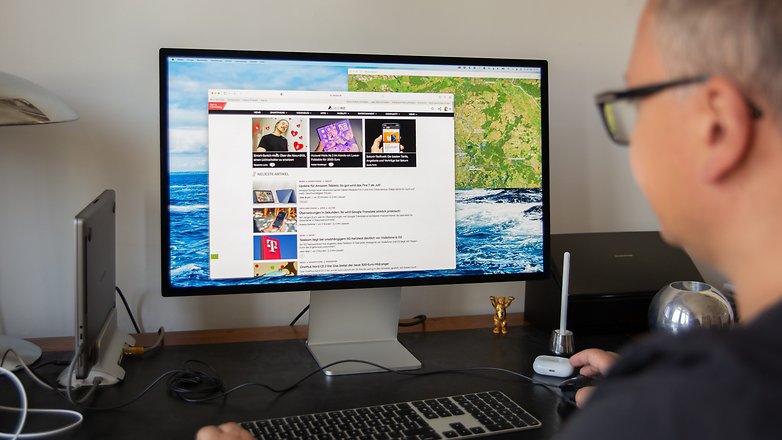 Mac Mini M2 or Mac Mini M2 Pro: Which model is right for me?
Which Mac Mini is right for me: the Mac Mini M2 or the Mac Mini M2 Pro?
As already written above, the two Mac Mini models hardly differ from each other on the outside. Visually, only a look at the back reveals which model you have in front of you. The Pro version has four Thunderbolt ports instead of two (see above).
Under the hood, however, there is a lot to look at. While the Mac Mini M2 comes with 8-CPU and 10-GPU cores and, in the smallest version, 8 GB of RAM, as well as 256 GB of SSD storage, the M2 Pro processor has 10-CPU and 16-GPU cores. These are supported by 512 GB SSD and 16 GB RAM as standard. Thus, the M2 Pro is much better suited for graphics or computing-intensive tasks.
In addition, the M2 Pro has a bigger fan compared to its smaller brother.
Speaking of fans: They are whisper-quiet on both computers. You can hear... nothing! On top of that, the thermal management of the computers is very impressive. In the last few months, I haven't had one of the computers get even slightly warm.
My personal comparison between M2 and M2 Pro
At home, I use the Mac Mini M2 with 16 GBytes of RAM. By the way, I would always strongly recommend this. Otherwise, you quickly reach the limits with a smaller memory capacity. When I work on my home computer, I regularly have more than 30 tabs and several browsers open. I work on presentations, screw with simple programs on pictures, play Starcraft 2 (which is after all already 12 years old), and edit a video with Final Cut Pro.
That works flawlessly and without any limitations.
However, the M2 Pro has much more power. Newer, more graphics-intensive games are no problem there. However, the entry-level price is almost twice as high as the Mac Mini M2.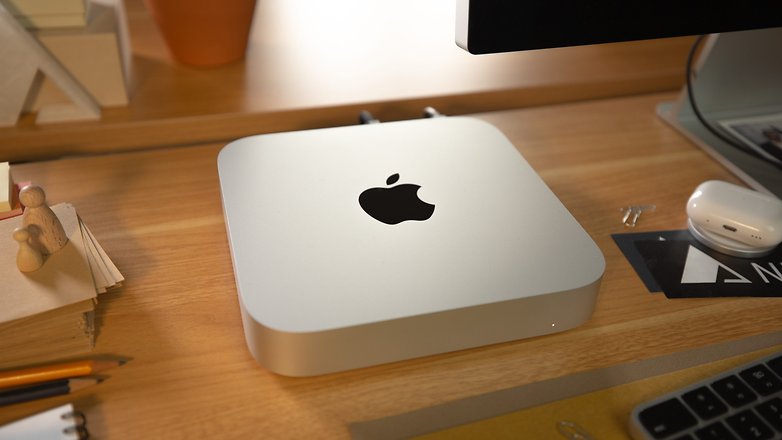 So if you work a lot with videos, have to compile a lot of code, or play games with high graphics resolution on the Mac, I would advise you to go for the more expensive variant. Everyone else is probably best served with a Mac Mini M2 and 16 GB RAM.
Early Verdict
The new Mac Mini M2 is the perfect entry into the Mac world. It is not only the cheapest Apple model, but it is also incredibly powerful. The Mac Mini M2 Pro costs more than twice as much. But since this variant is primarily aimed at people who demand a lot of performance from a computer, you can assume that they have carefully considered why they would like and need the M2 Pro variant. Besides more cores, there is also faster WiFi and more ports.
Together with the Apple Studio Display, the workstation not only looks much tidier—for me, it is actually something like the perfect work setup that you do not want to miss anymore.