Samsung Galaxy S23 review: Minimalism meets maximum performance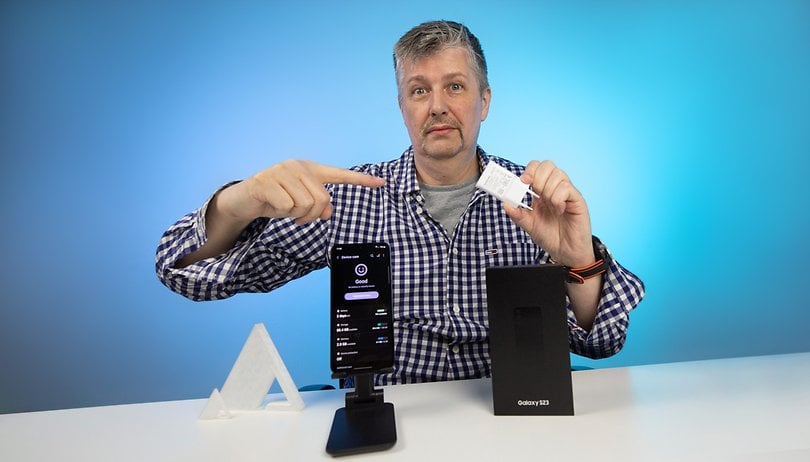 Samsung's new S series has arrived! This year's Galaxy Unpacked event on February 1 brought us the Samsung Galaxy S23, S23 Plus, and Galaxy S23 Ultra. The most affordable and also the smallest model out of the trio particularly appealed to me, which is why I reviewed it extensively for you over the past few days. To what extent does the compact Samsung Galaxy S23 lose out to its siblings? Is it the better choice at the end of the day? While it costs the same as its predecessor in the US, is it worth upgrading? Find out in our review!
Good
Compact and good haptic feedback

Outstanding display

Very good performance

Excellent picture quality

Larger battery (compared to its predecessor)

More earth-friendly inclusions
Bad
No LTPO display

Charging speed is archaic

No UWB

No microSD support

No 3.5mm audio port
Samsung Galaxy S23 release date and price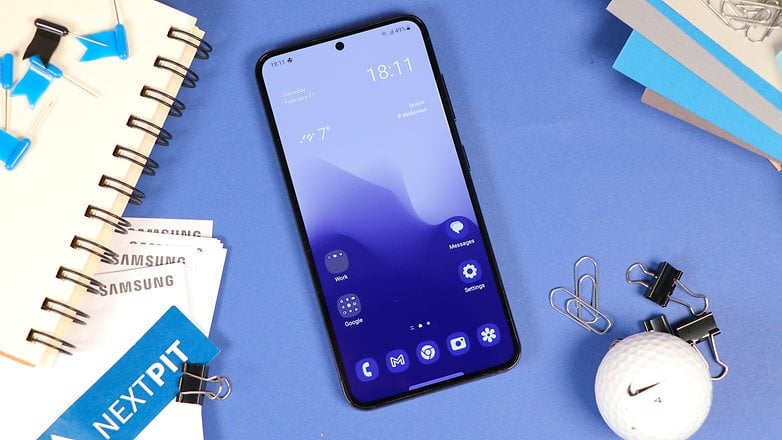 At first glance, the Samsung Galaxy S23 appears to be the least capable smartphone among the recently presented trio. However, this impression can be quite deceiving: It is not only the cheapest model at $799, but also the most compact with its 6.1-inch "small" display.
Hence, if your everyday life does not require the need for an S Pen to operate your smartphone or you do not own a Tesla (doing away with the need for UWB to open your ride), then the Samsung Galaxy S23 is my top recommendation for Samsung's premium range. Underneath the hood is the same modified flagship processor, the superb AMOLED display (but without LTPO!), and the same high-quality triple camera as found in the Plus model.
Of course, the charging brick is also missing from the box. What about fast charging? Not a chance in hell. In return, the battery has an increased capacity by 200 mAh compared to its predecessor. It also weighs the same as before, with an average battery life that could probably touch two days for the average user.
However, I would not recommend the 128 GB version ($799), which is only available with the slower UFS 3.1 storage. Not only is this because the memory is slower, but the lack of any memory expansion options will come back to bite you one of these days. Those who were quick enough to place a pre-order can obtain the faster 256 GB model (UFS 4.0) at the same price. If you're late to the game, you will have to fork out $859.99 for the 256 GB model.
Although, the forecast from the price comparison provider Idealo shows that strong price losses can already be expected after the first two months. The Samsung Galaxy S23 should be 20% cheaper after just 3 months.
Samsung Galaxy S23 design and build quality
The Samsung Galaxy S23 is once again the "compact" model among the three in the S range. Compared to last year's predecessor, Samsung's Galaxy S22, it has only grown in size by a mere decimal point. The flagship even managed to retain its weight of 168 g, which is quite surprising in view of the higher capacity battery.
---
What I liked:
Excellent haptics.
IP68 certification.
Buttons are well positioned.
What I disliked:
---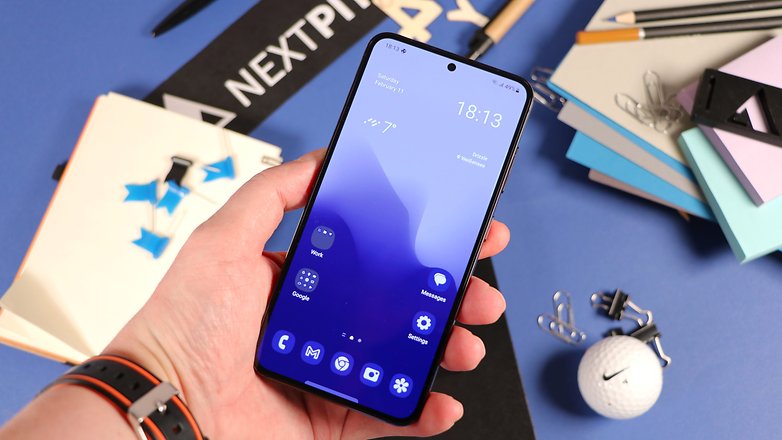 The haptics provided very pleasant feedback despite the clear edge. Details, such as minimally larger and slightly upward positioned buttons on the right side, have been thoughtfully made and are pleasing to the eyes and touch. While only a little has changed in front compared to its predecessor, there is a more streamlined visual approach that brings it closer to the Ultra when viewed from behind. The three vertically arranged lenses on the upper left no longer sit on a camera island, but protrude a few millimeters from the chasses as they are separately positioned.
The glass front and back have also undergone an evolution. The new Corning Gorilla Glass Victus 2 is available, but the durability test by "JerryRigEverything" showed that it is no more scratch-resistant or stronger than the previous generation offering by the US glass manufacturer.
With more people being woke to the threat of global warming, climate crisis, and minimizing their carbon footprint, it should also be mentioned that Samsung has used recycled materials for twelve of its components. That requires more effort from the South Korean conglomerate since they again offer IP68 certification for even the smallest S23 smartphone this year. There is still no analog jack in 2023, which I personally do not see as a disadvantage in the era of Bluetooth headphones - but many headphone fans see it differently, hence having me mentioned it above.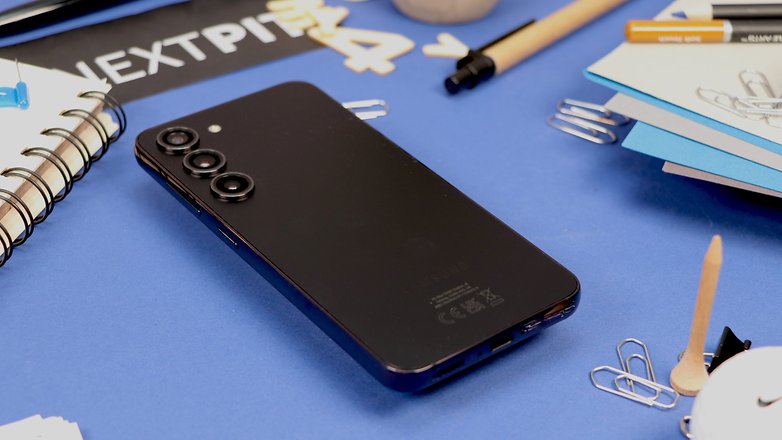 Samsung Galaxy S23 display
Samsung's displays continue to be the market leader around the world and are also popular and frequently used by other smartphone manufacturers. Thus, it is not surprising that any difference with its predecessor is hardly noticeable in the 6.1-inch "small" Dynamic AMOLED display.
With up to a 120 Hz refresh rate and 2,340 x 1,080 pixels (FHD+) resolution at 425 ppi, the display looks great. The touch sampling rate for gaming stands at 240 Hz, and HDR10+ is also available in the most affordable S range model.
---
What I liked:
One of the best displays on the market.

Maximum brightness of 1,750 nits.
What I disliked:
Resolution cannot be changed.
No LTPO display.
---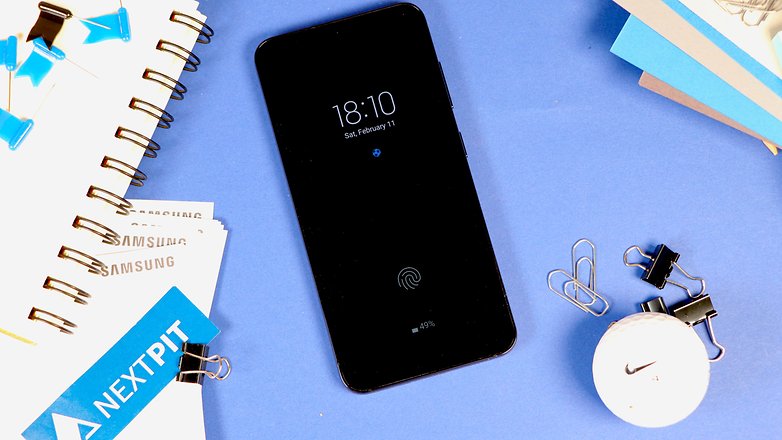 In terms of brightness, all three S23 screens max out at 1,750 nits (peak) under direct sunlight. That is already quite bright! Even when used indoors, Samsung still promises a maximum of 1,200 nits (HBM) for the Galaxy S23's screen. The South Korean manufacturer does not even have to hide behind the iPhone 14 with these figures.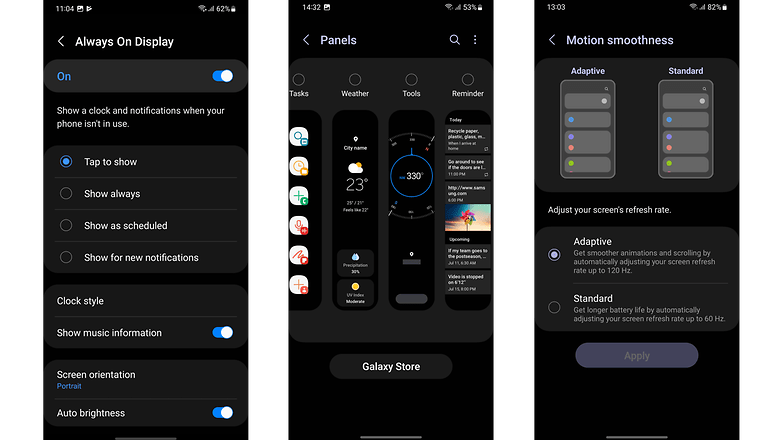 Of course, the Samsung display also offers an always-on display with a few customizable settings for the lock screen. Also something that you can consider would be the side panel for apps, weather, news, and other useful tools. What I actually missed is being able to manually set the screen resolution (HD+/FHD+) like how you can on the Galaxy S23 Ultra. At the very least, you have the choice of 60 and 120 Hz when it comes to the refresh rate.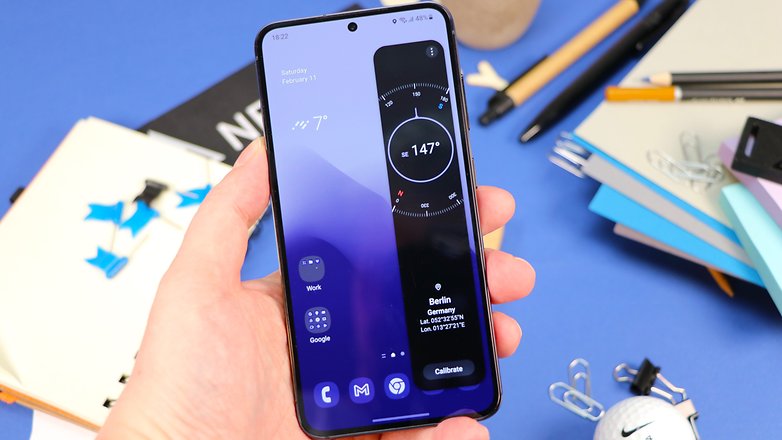 Samsung Galaxy S23 software
The Samsung Galaxy S23 comes with Android 13 and their very own One UI 5.1 skin with a January 1 Google security update. There's also a terrific update policy: Samsung deserves a lot of praise for four Android versions and five years of security patches for its better handsets.
---
What I liked:
Industry-leading update policy.
One UI 5.1 is great.
What I disliked:
Comes with pre-installed apps that not everyone needs.
---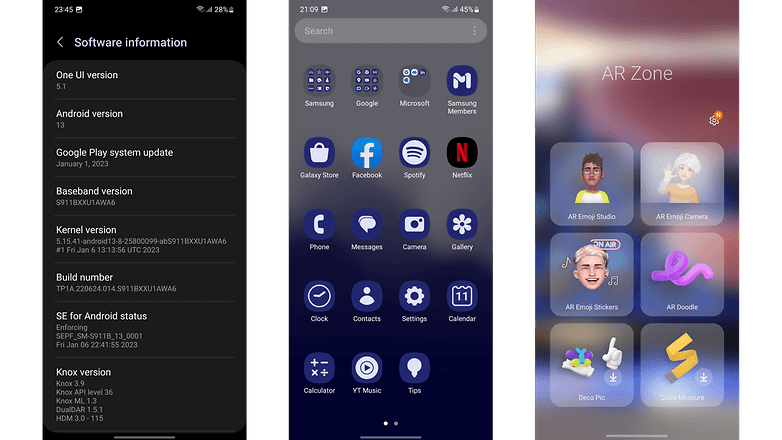 As exemplary as Samsung is in terms of system software maintenance, the smartphone manufacturer also overdoes it to a certain extent. Why do we need almost 100 pre-installed applications? This is not even counting system apps, and a smartphone that costs at least $799, no less! And I'm not just referring to Samsung's own applications, but other collaborations with Google, Microsoft, Meta, and Netflix.
Samsung, we know that you can program good software. For the "AR Emoji Studio" alone, which can create an avatar from a photo, you are envied by manufacturers of standalone VR glasses. However, we would like to choose for ourselves whether we want to use Bixby as a voice assistant and whether Spotify and Netflix will become my music, TV and movie streaming service of choice or not. There is simply too much bloatware on the device.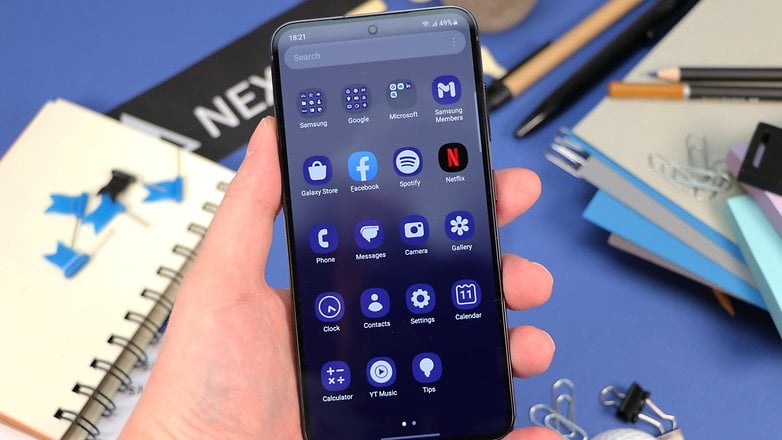 Samsung Galaxy S23 performance
The performance of all three Samsung Galaxy S23 models is a very special topic this year. For the very first time, Samsung has decided to streamline their offerings by relying on Qualcomm as the sole semiconductor manufacturer supplier. The result is a specially modified Snapdragon 8 Gen 2 for the entire S23 series. The fan community should be happy, I'm sure, and it shows that petitions do work (sometimes).
---
What I liked:
The fastest Snapdragon 8 Gen 2 SoC at the moment.

All countries will receive one and the same SoC.
What I disliked:
128 GB version comes with 3.1 UFS storage.
No microSD memory card support.
---
The Snapdragon 8 Gen 2 with its maximum 3.2 GHz Cortex-X3 prime core is currently the fastest Android smartphone from Qualcomm. If that was not enough for Samsung, the South Koreans also received an extra bit of bite from Qualcomm. The result? A maximum clock speed of 3.36 GHz for the performance core, and the Adreno 740 GPU is now clocked at 719 MHz instead of 680 MHz.
That alone is supposed to provide an extra 34% for the CPU and 41% for the Adreno 740 GPU compared to its predecessor. It is also dubbed as the Snapdragon 8 Gen 2 for Galaxy. I dare to doubt that this performance difference will ever be noticeable when you use the smartphone for daily, ordinary tasks.
Of course, we also tested the Snapdragon 8 Gen 2 for Galaxy in benchmarking programs. The Geekbench 5 saw the handset pick up 1,537 points in the single-core test, which already beat everything that has been done before, but coming in at "only" 4,807 points in the multi-core test, where even our hard-throttled OnePlus 11 achieved higher in the review.
Samsung Galaxy S23
OnePlus 11
Xiaomi 13
Samsung Galaxy S22 Ultra
Samsung Galaxy Z Fold 3
3D Mark Wild Life
Too powerful
Too powerful
Too powerful
5,682
5,683
3D Mark Wild Life Stress Test

Best loop: 11,049

Worst loop: 6,169

Best loop: 12,784

Worst loop: 4,416

Best loop: 12,914

Worst loop: 10,432

Best loop: 5,741
Worst loop: 3,351
Best loop: 5,579
Worst loop: 3,435
Geekbench 5
Single: 1,537
Multiple: 4,807
Simple: 1,170
Multiple: 4,813
Single: 1,481
Multiple: 4,310
Single: 1,155
Multiple: 3,356
Single: 1,095
Multiple: 3,239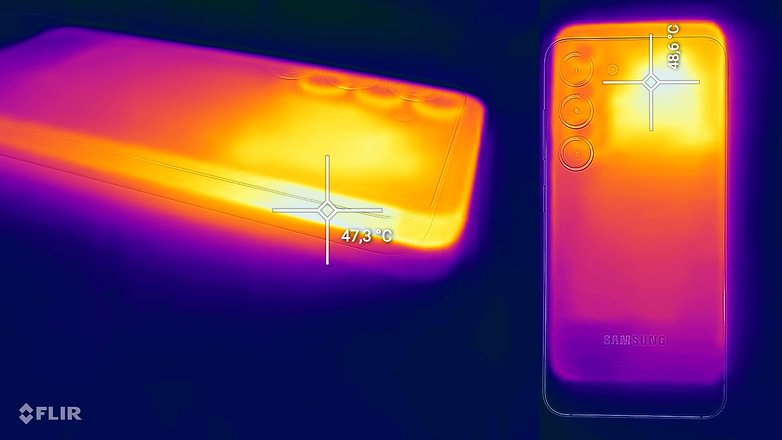 While the "3D Mark Wild Life" test generally sees the Snapdragon 8 Gen 2 fail, things don't look any better in the "3D Mark Wild Life Stress" test for the Samsung Galaxy S23 and its specific chipset. Although picking up 11,049 points in the best loop is a strong score, the unmodified Snapdragon 8 Gen 2 also delivered a better result, such as found in the Xiaomi 13 (review) or the OnePlus 11. This is something that you should take note of: The entire back including the chassis gets hot in the extreme stress test.
Memory
The Samsung Galaxy offers a standard 8 GB LPDDR5X working memory for the Galaxy S23. The South Korean manufacturer promises 128 GB UFS 3.1 and 256 GB UFS 4.0 modules for its base model. In selected regions, a 512 GB option is also offered, so do check with your local Samsung distributor. It is worth noting that models with 256 GB storage are more modern and thus also faster when it comes to read and write speeds.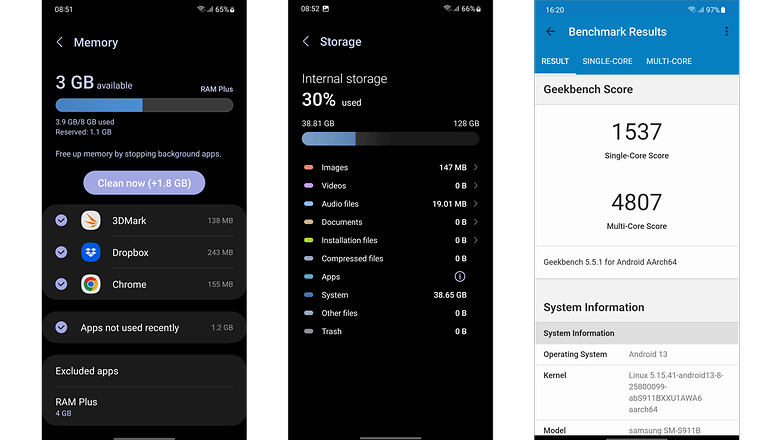 Unfortunately, our review unit came only with 128 GB of storage space, which might explain the poor benchmark results despite the highly upgraded processor. However, there were no lags in daily use. Every game, no matter how complex, such as Real Racing 3, ran without any problems.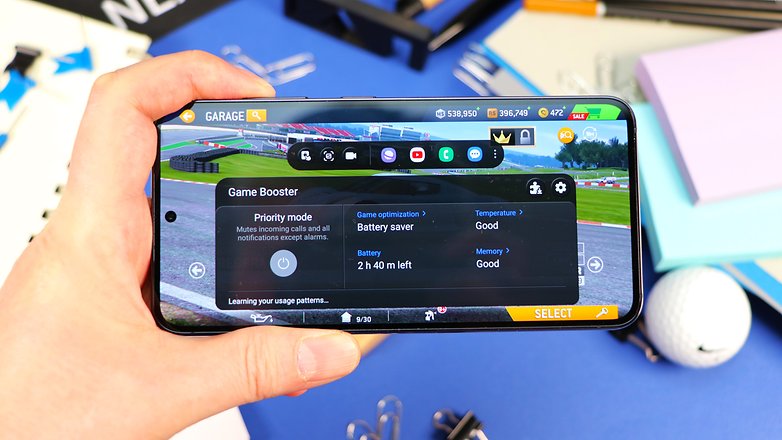 Samsung Galaxy S23 camera
Samsung installed the same batch of cameras in the S23 as in the much more expensive Plus model. That means you get a 50 MP main camera with optical image stabilization (OIS), an aperture of f/1.8, and an equivalent focal length of 24 mm. This is accompanied by a 12 MP ultra wide-angle camera with a maximum field of view of 120 degrees. Completing the trio is a 12 MP telephoto zoom camera with triple optical magnification and OIS.
---
What I liked:
Great daytime shots.

Almost even better night shots.
Excellent selfies.
50MP RAW shots.
What I disliked:
Weak wide-angle shots.
No macro mode.
---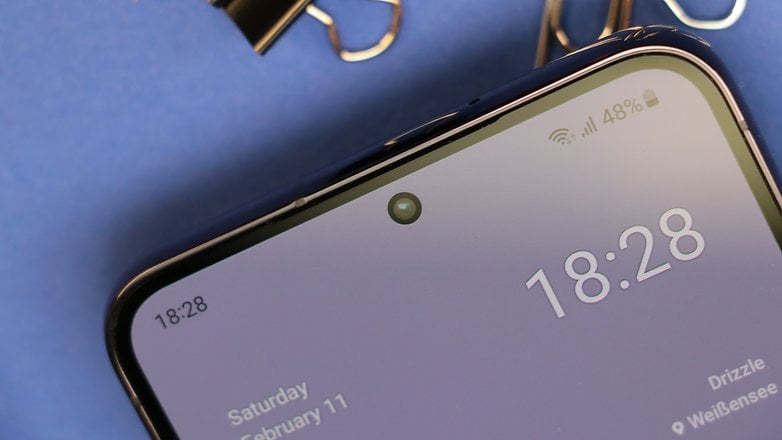 On the positive side, the 12 MP front camera has grown by another 2 MP in terms of resolution. It offers an equivalent focal length of 26 mm with an aperture of f/2.2. There's also an autofocus with a phase detection (PDAF) and a "Dual Pixel" technology, which is also installed in the main camera.
The main camera actually worked well under various lighting conditions. Even on the gray winter days that accompanied me during my review, I found it to be worthy. That is probably why I liked the night pictures a bit better. Was it the subject of the selfies that made the photos so good?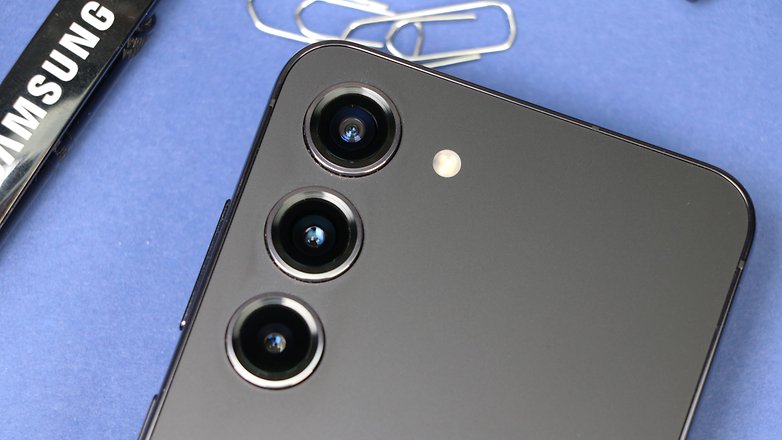 No, of course not! The camera has actually become a notch better once again. And when the sun actually came out again yesterday, I also daringly shot a self-portrait against the sun. The front-facing camera didn't hold that against me either.
I was surprised by the zoom shots: Although the digital zoom is already used at 10x magnification, the pictures offered a satisfactory level of sharpness and contrast. The maximum zoom is 30x zoom, which is no longer suitable for printouts, but you can still see what was photographed very well.
If there's really a point of criticism, it's the color differences between the main and wide-angle camera shots. This can be clearly distinguished on the park path next to the small duck pond. Samsung has left the macro mode out here, and hardly anyone will miss it, but I still wanted to mention it.
Finally, I'd like to point out that in addition to 8K videos at 30 frames per second and stereo sound recording, a bunch of new features have been added to the camera app that would go beyond the scope of this review. For instance, Astrophotography (Hyperlapse), photographing the moon and stars, the now integrated Expert RAW function, which creates photos at 50 MP, and the "Image Clipper" function, which can remove backgrounds from photos and videos. Of course, Samsung can also come up with a colorful smorgasbord of filters again.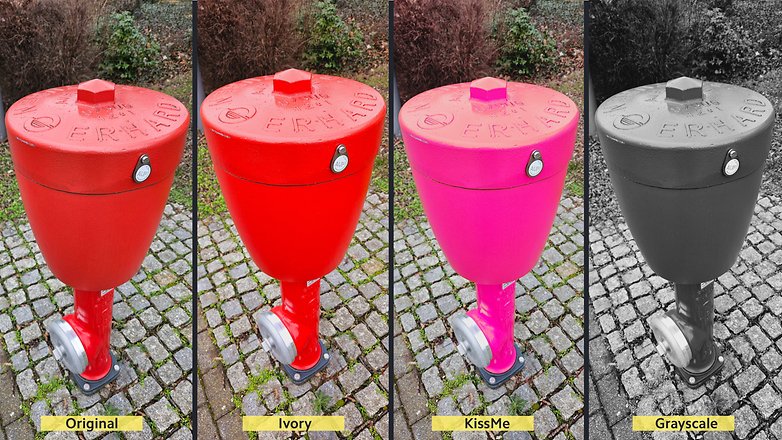 Samsung Galaxy S23 battery
Let's begin with the good news in the "Battery" section: Compared with its predecessor, Samsung's Galaxy S23 has a higher r200 mAh capacity right out of the box. This results in a total of 3,900 mAh that not only looks better on the specifications sheet, but also delivers in reality.
---
What I liked:
Larger capacity battery.

Longer runtime.
Wireless charging.
What I disliked:
Charges too slowly.
Battery is not replaceable.
---
In the review, I managed to use it over two days with an extremely restrained user pattern and one battery charge. In other words: I unplugged the PD 3.0 adapter in the morning and plugged it back in on the second day in the evening with just under 11 percent of battery remaining. However, I did not use the smartphone as a daily driver, but as a second smartphone.
Unfortunately, the "Work 3.0 Battery life" test did not confirm this positive first impression. The Galaxy S23 lasted 13 hours and 44 minutes with flight mode enabled, 200 nits screen brightness, and a remaining capacity of 20%. In comparison: Samsung's Galaxy S23+ with a 4,700 mAh battery completed the test with 15 hours and 21 minutes.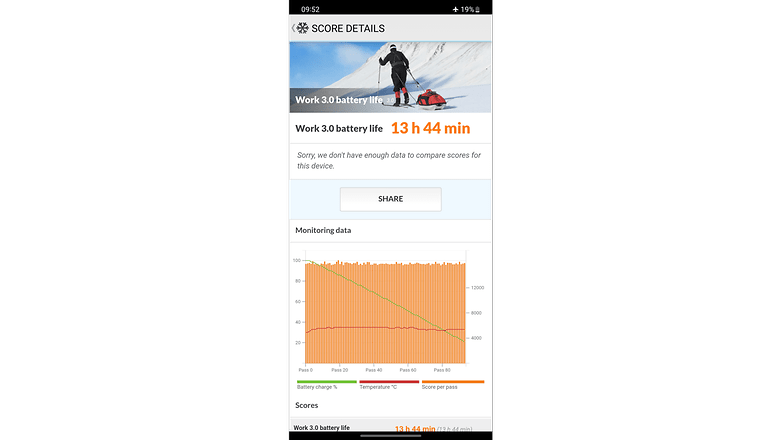 This is important: You should use a certified "Power Delivery 3.0" power adapter because it is not guaranteed that a 100-watt SuperVOOC charger, for instance, which is still lying around from the OnePlus 11's review, will also deliver 25 watts of juice. What about the charging time? I'll keep it short: the Samsung flagship was unusable for location-independent use for a full two hours (1:55:00 h). WHOOT THE FUCK!
Even after 30 minutes of charging, the battery only had 21% capacity. A short intermediate charge was not possible. The fact that wireless charging is possible with up to 15 watts and reverse wireless charging with 4.5 watts doesn't help either.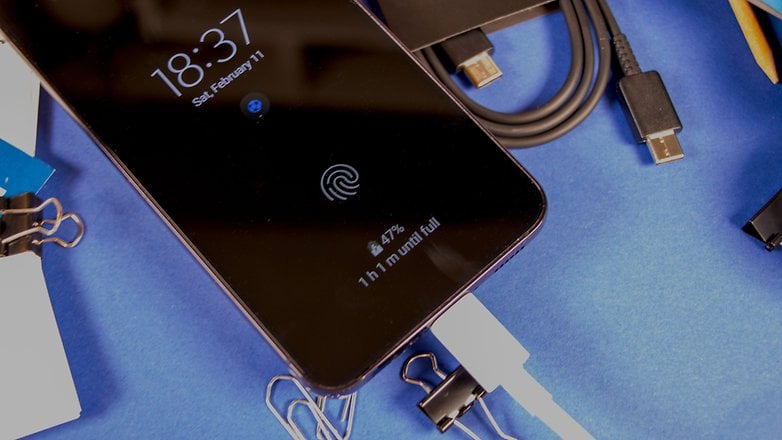 I don't even want to get excited about the power adapter that is missing in the box. Samsung, if you want to do something for the environment, a replaceable battery would be a good place to start.
Samsung Galaxy S23 technical specifications
Technical specifications
Device
Image
Screen
6.1-inch dynamic AMOLED display, 2,340 x 1,080 pixels (FHD+) at 425 ppi
120 Hz refresh rate, touch response 240 Hz (Game Mode)
Corning Gorilla Glass Victus 2
Dimensions
146.3 x 70.9 x 7.6 mm
Weight
168 g (incl. battery)
SoC
Qualcomm Snapdragon 8 Gen 2 for Galaxy (4 nm)
Memory
8 GB LPDDR5X RAM
128 GB UFS 3.1 ROM
256 GB UFS 4.0 ROM
Software
One UI 5.1 based on Android 13
Expandable memory
No
Main camera
50 MP | f/1.8 aperture | 1/1.56 inch | equivalent focal length 24 mm | viewing angle 85°
OIS, PDAF, Dual Pixel
Ultrawide-angle camera
12 MP | f/2.2 aperture | 1/2.55 inch | equivalent focal length 13 mm | viewing angle 120°
Super Steady Video
Telephoto camera
10 MP | f/2.4 aperture | 1/3.94 inch | equivalent focal length 70 mm | 3x optical zoom | viewing angle 36°
OIS, PDAF
Selfie
12 MP | f/2.2 aperture | equivalent focal length 26 mm | viewing angle 80°
PDAF, Dual Pixel
Video
8K @ 30 fps | 4K @ 30/60 fps | 1080p @ 30/60/240 fps
Super Slow Motion 1080p @960 fps
Stereo, EIS
Audio
Stereo Speaker Tuned by AKG
32-bit / 384 kHz
Battery
3,900 mAh
Charging via cable
25 watts
Wireless charging (Qi)
15 watts
4.5 watts (reverse)
IP certification
IP68
Connectivity
802.11 a/b/g/n/ac/6e 2.4/5G, Wi-Fi 7, 5G,
Bluetooth 5.3 (aptX HD, aptX, LDAC, LHDC, AAC, SBC),
GPS (dual-band), GLONASS, GALILEO (dual-band), Beidou
USB Type-C (3.2)
NFC
Colors
Phantom Black, Cream, Green, Lavender, Graphite, Lime
Early Verdict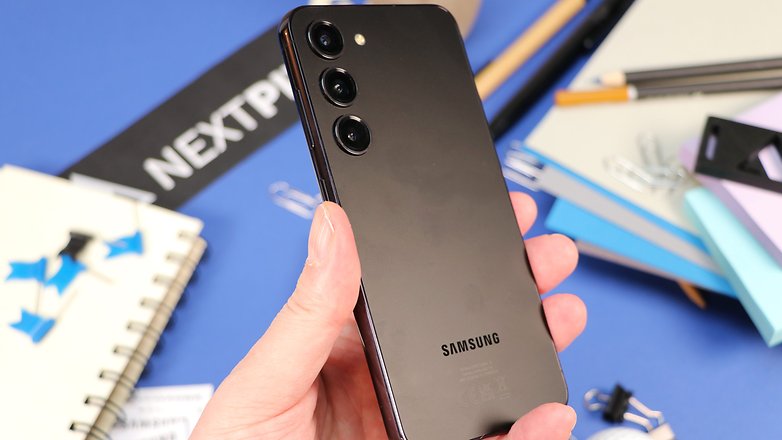 Anyone who has held the Samsung Galaxy S23 in their hands will quickly understand why the South Korean manufacturer has been the undisputed number one in global smartphone sales for many years. Everything is simply right on the money: One of the best displays on the market and the currently fastest processor claim the throne. Only the 128 GB model could be criticized due to the lack of microSD card support and slower memory type. Thus, we recommend buying the 8/256 GB model or better.
The triple camera configuration is the same as in the much more expensive Plus model, making the $859.99 asking price for the 256 GB model something to ponder over. Of course, Samsung's smartphones tend to see a price cut not too long after they are released, so you might be able to find a bargain a couple of months down the road.
Back to the camera: To my surprise, the daytime shots were already good, but I was really impressed by the photos taken at night. The front-facing camera also took excellent pictures, which even put the ugly reviewer in a positive light. And the larger battery can even manage two days of use without a power supply.
In the end, that is even a good thing: Because estimating two hours for a full charge is not part of our 2023 vocabulary. There are just people who cannot only charge their Android smartphone overnight, but also have to "recharge" it quickly during their lunch break. That, my beloved Samsung Galaxy S23, cost you quite a few points. Although the included "bloatware" was not cause for much enthusiasm, but you are excused because some of them do offer some great features.