Samsung Galaxy S23 Ultra review: Samsung is nigh untouchable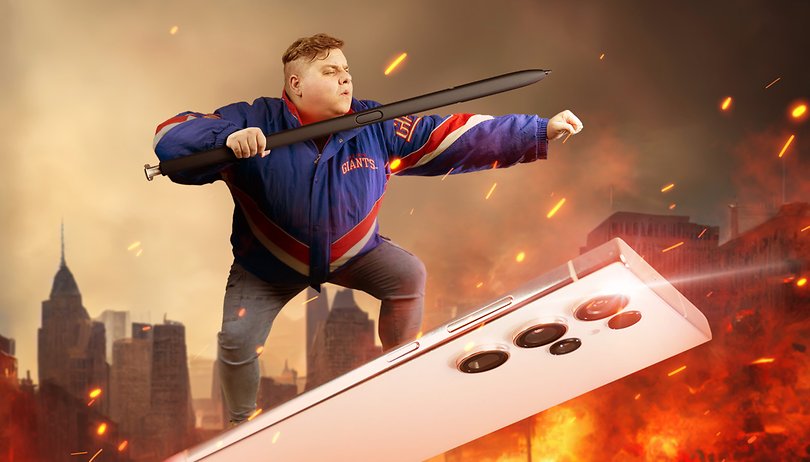 I have finished my review of the Galaxy S23 Ultra for NextPit, and I have this to say: Samsung's flagship totally won me over despite its insolent price of $1,199. This is the magnum opus from the manufacturer and it will probably remain the best Android smartphone of the year. Discover my thoughts in this comprehensive Galaxy S23 Ultra review.
Good
Superb AMOLED QHD+ screen at 120 Hz refresh rate

Highly polished finish

Most versatile 200 MP camera module on the market

Snapdragon 8 Gen 2 makes all the difference

Excellent battery life which is a feat for Samsung

4 years of Android updates + 5 years of security updates

The integrated S Pen is as cool as ever
Bad
Nothing much new in One UI 5.1

Same design as last year

Archaic 45-watt charging speed
Samsung Galaxy S23 Ultra: All deals
Samsung Galaxy S23 Ultra in a nutshell
The Samsung Galaxy S23 Ultra has been available in most regions since February 17, 2023. It arrives in three memory configurations of 8/256 GB, 12/512 GB, and 12 GB/1 TB, retailing for $1,199.99, $1,379.99, and $1,619.99, respectively.
On paper, the Galaxy S23 Ultra delivered almost nothing new compared to the Galaxy S22 Ultra. I was even of a similar opinion during my hands-on session. However, after putting it through the paces in this comprehensive review, I found the Galaxy S23 Ultra to be a real winner.
Design
The Galaxy S23 Ultra carried over the same design language from last year's Galaxy S22 Ultra, which itself share cues from the last Galaxy Note 20, sporting angles and a slot for the S Pen.
---
What I liked:
Aluminum frame and Gorilla Glass Victus 2 in front and at the back
Integrated S Pen still works brilliantly
IP68 certified
What I disliked:
Iffy camera module (totally subjective)
No 3.5mm audio jack
Similiar design to last year's model
---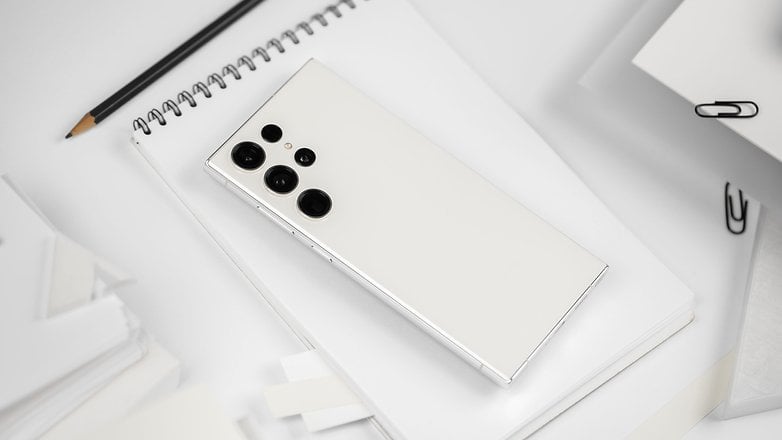 The Samsung Galaxy S23 Ultra has almost no noticeable changes in terms of design compared to the Galaxy S22 Ultra.
The Galaxy S23 Ultra comes in four colors: Phantom Black, Cream, Green, and Lavender. The glass back is protected by Corning's new Gorilla Glass Victus 2, as is the screen. The frame is made of aluminum and the smartphone is IP68 certified for both water and dust resistance.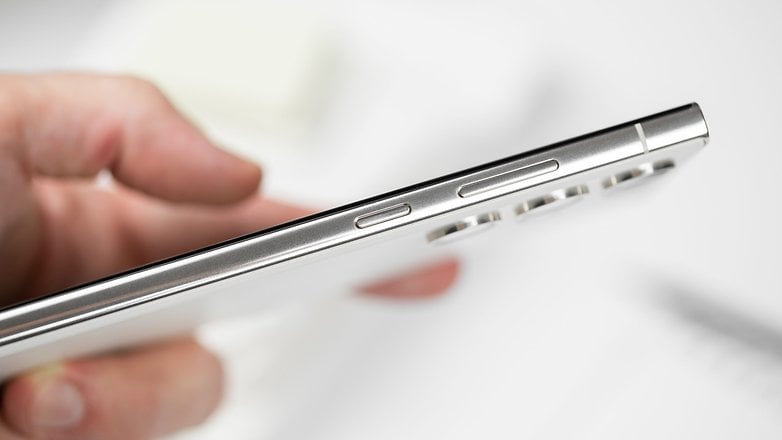 On the bottom edge, we can see the S Pen slotted in nicely, just like in its predecessor from last year. It does seem as though Samsung did not really bother with the design, but then again, if it ain't broke, why fix it?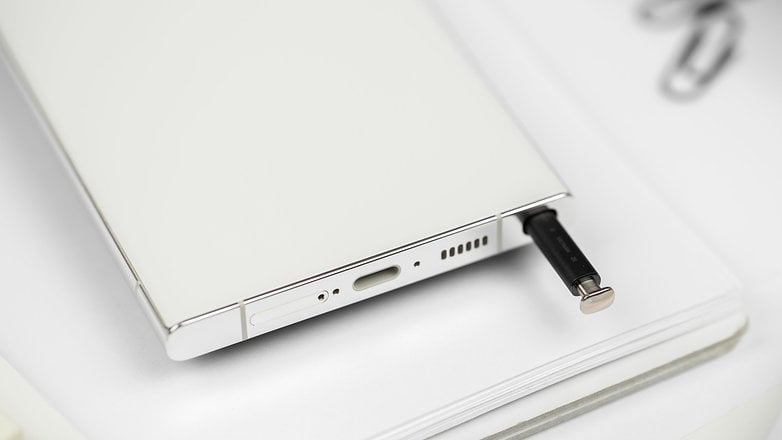 Screen
The screen of the Galaxy S23 Ultra has not changed much compared to the last year's model. We find a 6.8-inch AMOLED slab with curved edges that are compatible with HDR10+ and a maximum refresh rate of 120 Hz.
---
What I liked:
Good brightness just like before
The QHD+/120 Hz combo still works well
Screen is slightly less curved
What I disliked:
---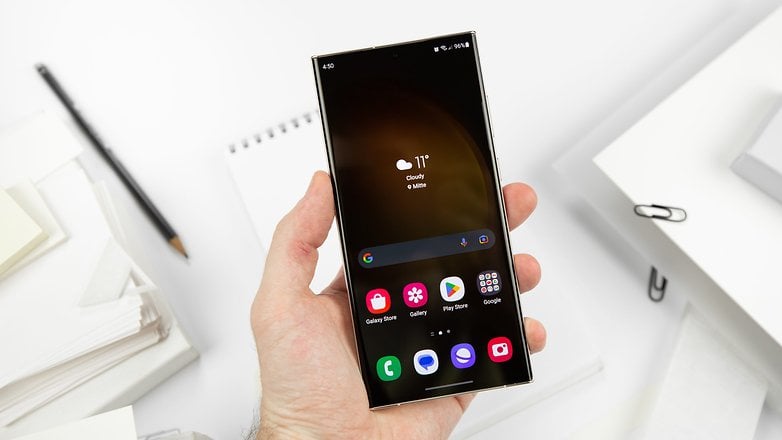 We, therefore, find a very similar, if not identical, panel to last year's Galaxy S22 Ultra. The QHD+ resolution of 3088 × 1440 p has not changed, and neither has the adaptive refresh rate of 1 to 120 Hz using LTPO 2.0 technology.
The curved edges of the Galaxy S23 Ultra's screen won't be to everyone's taste. Samsung seemed to have anticipated this by reducing the angle. The flat surface of the slab would therefore be slightly wider than on the previous model. It's just a tiny change, but you can see it when you hold the S22 Ultra and S23 Ultra side by side.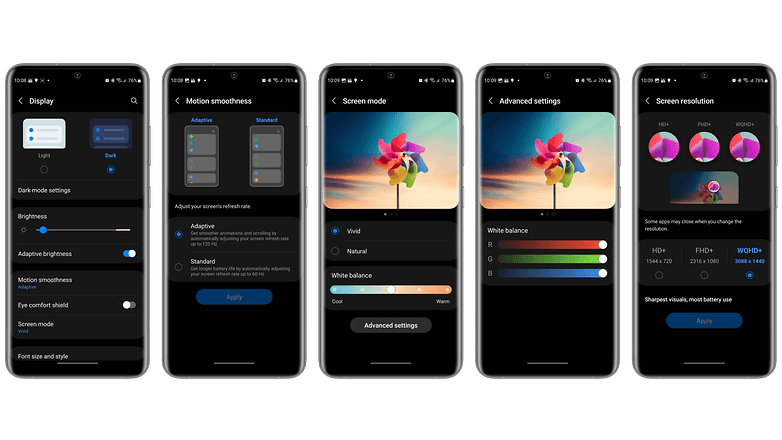 The screen has a punch-hole that is centered at the top. The idea of a hidden camera under the screen remains the prerogative of Samsung's foldable smartphones. Considering the loss of image quality that this technology brings with it, maybe it's all for the best.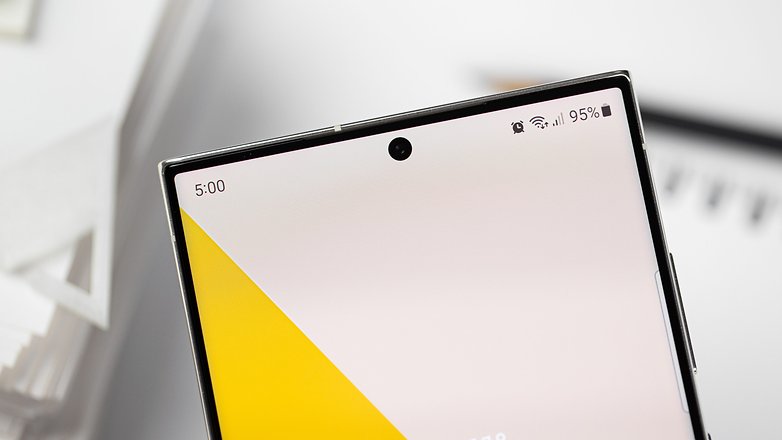 Interface/OS
The Samsung Galaxy S23 Ultra runs on One UI 5.1, which is the latest skin from Samsung that is based on Android 13. Among the new features are Modes and Routines.
---
What I liked:
4 Android updates + 5 years of security updates
A Focus mode like on iOS with Modes and Routines
An extremely fluid and beautiful user interface
What I disliked:
Not many exclusive features (maybe that's a good thing)
Plenty of bloatware
---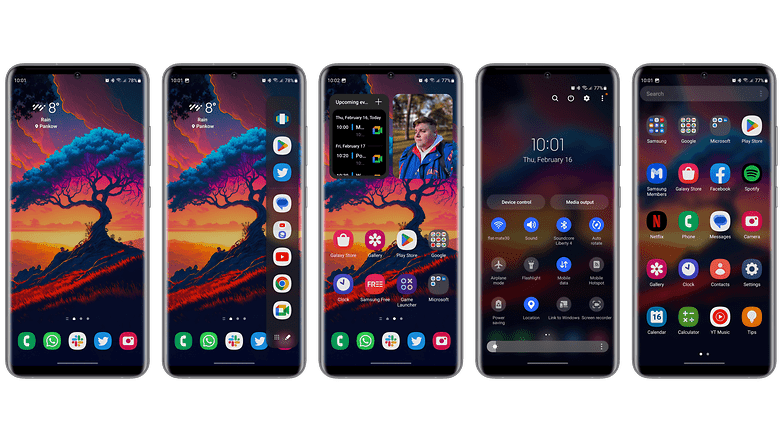 I think One UI is becoming a more and more beautiful interface. On the Galaxy S23 Ultra, everything is much smoother, especially the animations.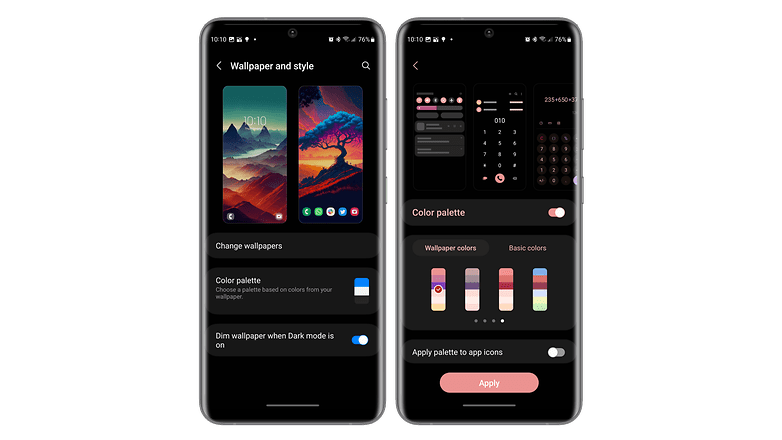 I also loved discovering Samsung's super intuitive multitasking features. Being able to switch to split screen by swiping up with two fingers is one such example.
Swiping from a top corner of the screen to switch an open application to windowed mode is also a very nice touch (pun intended!).
I also like the stacked widgets just like on iOS. Being able to store multiple widgets in a single location opens up a lot of possibilities for customizing your home screen.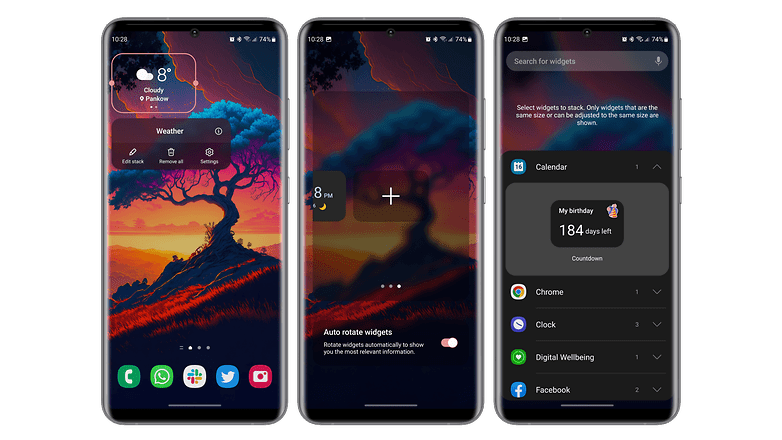 Among the most notable new features, I would like to specially mention the Routines and Modes functions. With Routines, you can automate a series of actions on your smartphone based to your activity. Basically, it works like the routines of your connected objects in your smart home.
You can save these different routines and associate them with Modes (sleep, sport, work) to switch from one mode to another and apply the corresponding routines. For power users or digital detox enthusiasts, this could be very relevant.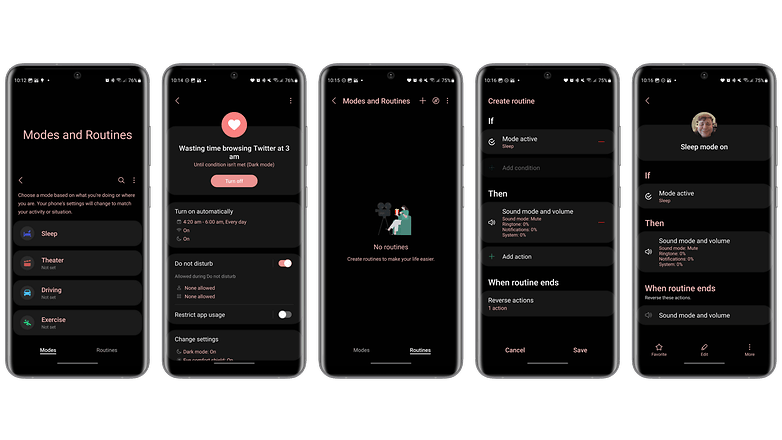 When it comes to the S Pen, Samsung didn't introduce anything new but it's still a pleasure to use. It's hard to live without it for taking notes, capturing screenshots, or photo editing.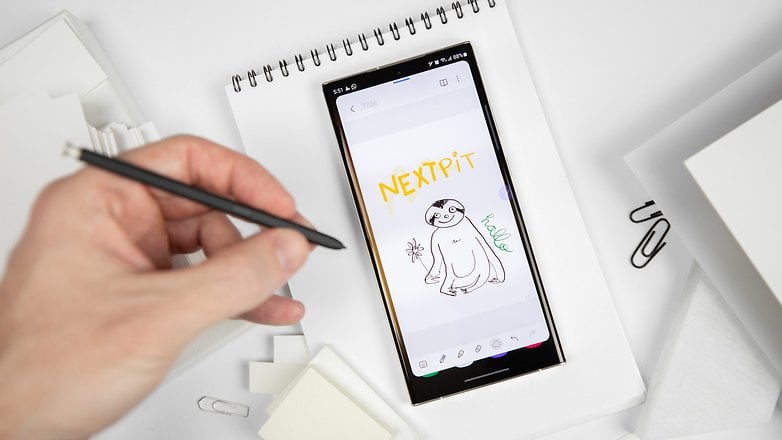 Let's talk about photo editing. Samsung offers some options in its Gallery that I found to be rather useful. The fact that you can "remaster" a failed photo is pretty cool. And it's even cooler when doing so actually worked!
Because I'm starting to turn this review into a 500-page treatise on One UI, I'll just conclude with the "magic eraser" feature that allows you to erase unwanted elements from a photo. Personally, I think it worked pretty well. But I can't say that it stacks up well against Apple's and Google's solutions.
Performance
For the very first time in Europe, the Galaxy S23 Ultra is equipped with Qualcomm's Snapdragon 8 Gen 2 SoC. This is great news for those of us outside of the US, as Samsung previously included its less powerful Exynos chips on such regions.
---
What I liked:
Big performance gain of the SD 8 Gen 2 compared to last year's Exynos 2200
Progressive thermal throttling
Up to 1TB of UFS 4.0 storage and 12GB of LPDDR5X RAM
What I disliked:
---
When it comes to benchmarks, we obtained scores consistent with other Snapdragon 8 Gen 2-powered smartphones. At the same time, there aren't too many of those just yet. It did perform better than the OnePlus 11 5G (review).
It is, however, less stable than the Xiaomi 13 Pro (review) on the 3DMark Wild Life Stress Test benchmark that simulated 20 minutes of intensive gaming use. But this is certainly due to the fact that Xiaomi operates with close to no thermal throttling, which will eventually result in overheating issues.
Samsung Galaxy S23 Ultra
(SD 8 Gen 2)
OnePlus 11
(SD 8 Gen 2)
Xiaomi 13 Pro
(SD 8 Gen 2)
Samsung Galaxy S22 Ultra
3DMark Wild Life
Too powerful
Too powerful
Too powerful
5,682
3DMark Wild Life Stress Test

Best loop: 12,278
Worst loop: 7,386

Best loop: 12,784
Worst loop: 4,416

Best loop: 13,091
Worst loop: 10,207

Best loop: 5,741
Worst loop: 3,351
Geekbench 5
Single: 1,912
Multi: 4,981
Single: 1,170
Multi: 4,813
Single: 1,509
Multi: 5,006
Single: 1,155
Multi: 3,356
However, the Galaxy S23 Ultra does not overheat at all. It never exceeded 45° during our benchmarking efforts. This was made possible courtesy of its thermal throttling which happened in a progressive manner. As soon as the temperature rose, the smartphone pulled the handbrake with the dexterity of the late, venerable Ken Block. Everything was done smoothly and the framerate stabilized quickly.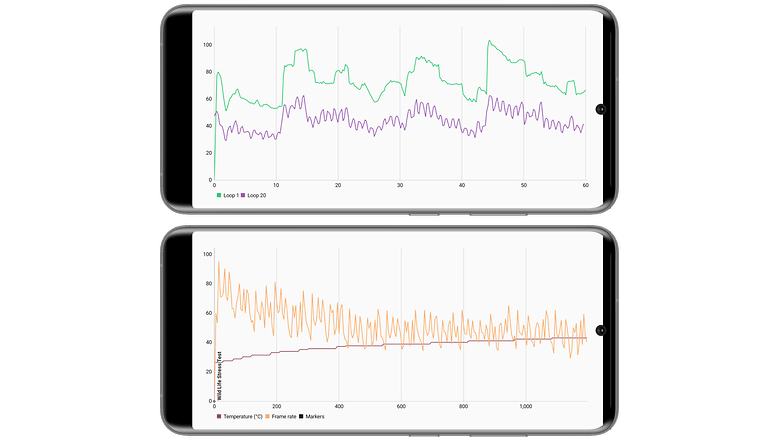 In everyday use, we can obviously run all imaginable games from the Play Store without missing a beat. I was actually able to run Call of Duty Mobile and Sky Children of Light at 120 FPS. Unfortunately, I do not have any video to show you because the screen recorder automatically drops the framerate to 60 FPS max. So you'll have to make do with the screenshots below.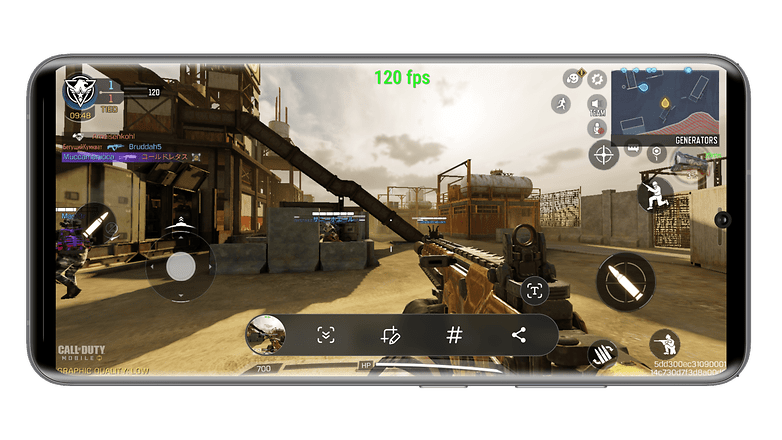 I was also able to run Fortnite at a constant 60 FPS with the graphics turned up. Even Genshin Impact, a game that eats up a ton of RAM, ran at 60 FPS without kicking up a fuss. And at no time did the smartphone burn my hands. It's really night and day compared to the Galaxy S22 Ultra.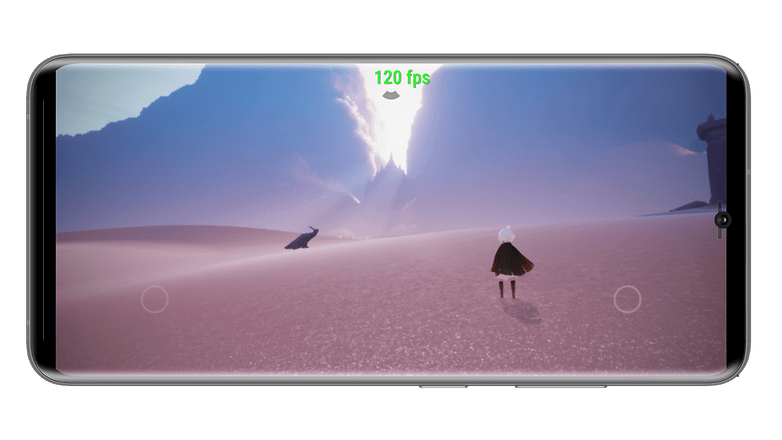 Photo quality
The Galaxy S23 Ultra embeds a quadruple camera module that is spearheaded by its new 200 MP photo sensor. The latter is mated to a classic 12 MP ultra wide-angle lens and two telephoto lenses at 10 MP each. Samsung has also finally improved its selfie camera by throwing in a 12 MP lens.
---
What I liked:
Most versatile camera module on the market
The main lens of 200 MP works great during the day and at night
3x and 10x zoom performs well
Great progress in low light situations
What I disliked:
Portrait mode is a bit disappointing for this price range
No big improvements when it comes to selfies
Focus is still a bit iffy (but I'm kidding)
---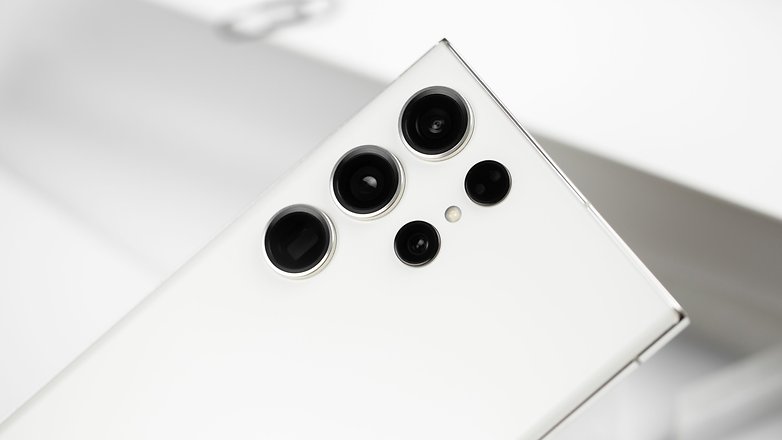 The camera module of the Galaxy S23 Ultra perfectly illustrated the user experience with this smartphone. On paper, almost nothing has changed. But when you step away from the specifications and actually use the cameras, you can see the difference right away.
The photo quality of the Galaxy S23 Ultra is almost impeccable during the day
Let's begin with the most obvious difference: the main lens with this new 200 MP Isocell HP2 sensor. I was lucky enough to have a few hours of good weather this week. And I found all my daytime shots to be excellent. The level of detail captured is impressive. Well, the colors are still a bit saturated, but that has always been the case with Samsung, and I like this colorimetry.
The dynamic range management is excellent. Even in complex shots, we have a balanced contrast. The 12 MP ultra-wide angle also does very well. Edge distortion is well-contained and I didn't notice any major color inconsistencies compared to the rendering of the main lens.
The portrait mode of the Galaxy S23 Ultra
I just found the portrait mode to be not as good as the Huawei Mate 50 Pro (review) and the iPhone 14 Pro (review). The cropping is not always clean and the focus tends to run, especially with non-human subjects.
The two telephoto lenses with optical zoom of the Galaxy S23 Ultra are... ultra-efficient
The other great point of the Galaxy S23 Ultra is its zoom capability. We have two focal lengths to operate at 3x and 10x native zooms. There is nothing much to say here, apart from the sharpness being there alongside the right colors. I noticed some unavoidable artifacts when switching to 30x zoom but I was also very pleasantly surprised by the results at times.
Samsung can't be beaten when it comes to the versatility of its camera module. It's just extremely cool to have so many shooting possibilities without having to physically move. The camera app still offers some degree of assistance to help you aim when you go beyond the 20x zoom, which still works great, by the way.
The Galaxy S23 Ultra is a strong performer at night
At night, the Galaxy S23 Ultra offers an automatic night mode. It will activate itself when it detects the surrounding light conditions that require it. And with the main lens, I find that Samsung managed to capture the scenes very well, looking rather natural.
There is not too much noise or abuse of digital smoothing going on there. Of course, things begin to go downhill with the ultra-wide angle lens, as usual. The 3x zoom remained quite usable most of the time. The Galaxy S23 Ultra also has a dedicated night mode, but I found it to be too unnatural and overexposed the scene too much.
In any case, we can see a clear difference, and there is surefire progress in low light conditions compared to the Galaxy S22 Ultra which was a bit deficient on this point, as I noted in my review.
Battery life
The Samsung Galaxy S23 Ultra features a massive 5,000 mAh battery. This is the same battery capacity as last year while the Galaxy S23 and Galaxy S23 Plus benefited from larger batteries compared to their predecessors.
---
What I liked:
What I disliked:
Charger is not included in the box
No improvement when it comes to fast charging
---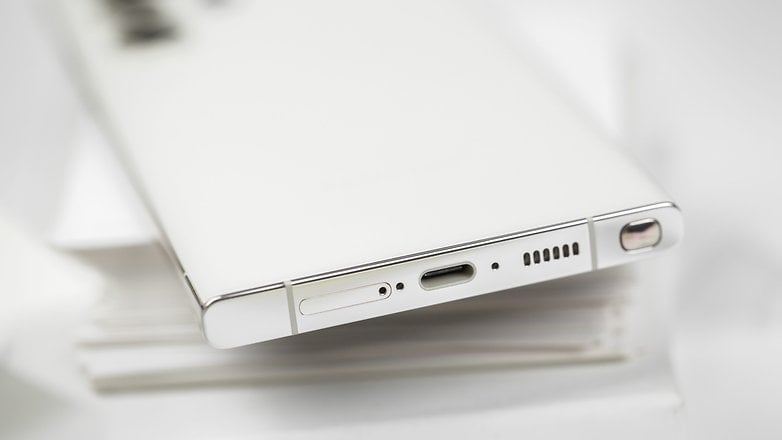 The Samsung Galaxy S23 Ultra is ultra-durable when it comes to battery life. I put it through the PCMark Work 3.0 benchmark. I set the display to QHD+ resolution, refresh rate to 120 Hz, and brightness to 200 nits. Despite all that, the Galaxy S23 Ultra lasted for 13:09 before dropping below the 20% battery life notch.
I'm going to do an additional test tonight with the screen in Full HD+ and at 60 Hz. I'm sure the Galaxy S23 Ultra can hit 15 or even 16 hours of battery life.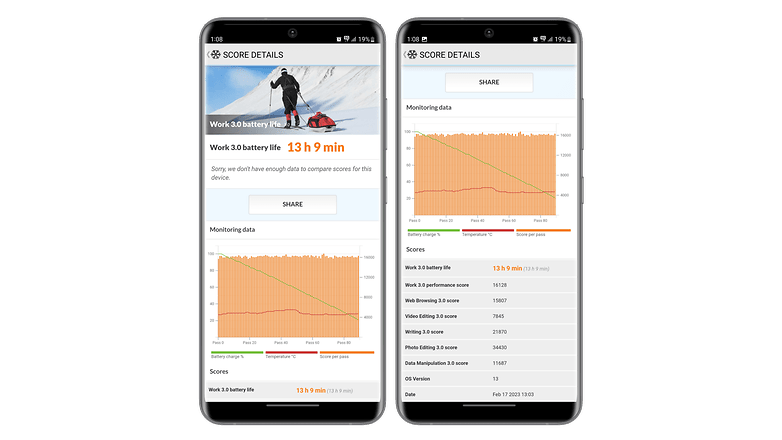 I just think it's a shame that Samsung still doesn't have the desire to do better in terms of fast charging. As you can see, you'll have to deal with 45-watt wired charging and 10-watt wireless charging again this year. The 4.5-watt wireless reverse charging is still part of the ensemble, too.
And like last year, the charger is not included in the box since it is well known that selling chargers separately in dedicated packaging helps save the planet.
There is one saving grace though, at least Samsung doesn't use proprietary charging technology means that you can use any charger that is compatible with the USB PD 3.0 standard.
Samsung Galaxy S23 Ultra technical specifications
Specs Table
Device
Image
Design
Gorilla Glass Victus 2 front and rear aluminum frame with IP68 curved screen
Screen
AMOLED 6.8 inch | QHD+ (3088 x 1440 p) | refresh rate 1-120 Hz (LTPO 2.0)
Memory
8 or 12 GB LPDDR5X RAM | 256 GB/ 512 GB/ 1 TB UFS 4.0
CPU/ GPU
Snapdragon 8 Gen 2 | 4 nm | Adreno 740 GPU
Photo

Main: 200 MP | f/1.7 | OIS | autofocus
Ultra-wide angle: 12 MP | f/2.2 | FOV 120° | autofocus
Telephoto lens 1: 10 MP | f/2.4 | 3x optical zoom
Telephoto 2: 10 MP | f/4.9 | 10x optical zoom
Selfie: 12 MP | f/2.2 | autofocus

Video
8K at 30 FPS
Interface/OS
One UI 5.1 based on Android 13 | 4 Android updates + 5 years security updates
Battery
5000 mAh | wired charging 45 W | wireless charging 15 W | reverse wireless charging 5 W | charger not included
Audio
ND
Dimensions & Weight
163.4 x 78.1 x 8.9 mm | 233 g
Connectivity
5G | Wi-Fi 6E | Bluetooth 5.3
Conclusion
On paper, the Samsung Galaxy S23 Ultra does not bring much compared to the Galaxy S22 Ultra. But in reality, I can safely say that this is the most successful flagship from Samsung since the Galaxy Note 10+.
In fact, the Galaxy S23 Ultra is what the Galaxy S22 Ultra should have been. It is THE model that completes the merger of the Galaxy S and Galaxy Note series. It is THE model that finally puts an end to the disadvantageous treatment of European users by integrating the Snapdragon 8 Gen 2 SoC worldside. It is THE Samsung model that finally offers excellent battery life that was always a disappointment from the South Korean manufacturer.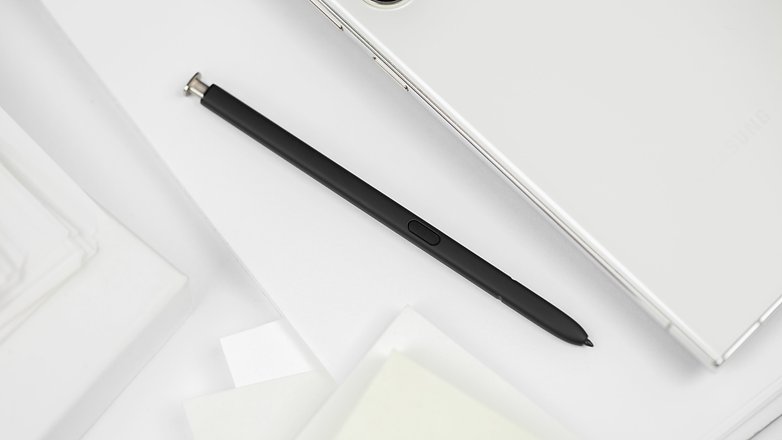 If I had to summarize this review that could easily have been 6,000 words long, I'd say that Samsung has three great arguments to excuse the totally insane price of the Galaxy S23 Ultra: The performance of the new Qualcomm SoC, an excellent battery life, and the most versatile camera module on the market.
Yes, the price is extremely prohibitive for most people. And yes, the Galaxy S22 Ultra has come down in price quite a bit. But the Galaxy S23 Ultra will remain much more competitive, and for much longer. So even if you're waiting for price drops, go for the S23 Ultra after a few months rather than its predecessor.