Garmin Forerunner 965 Review: Great Running Watch with Smart Weaknesses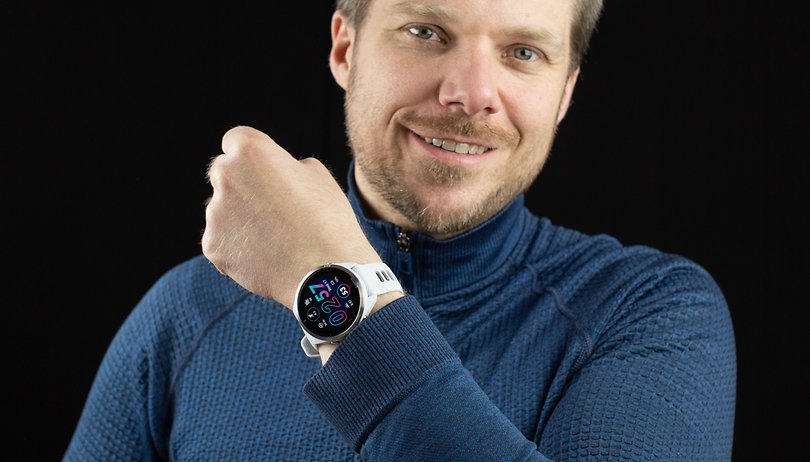 With the Forerunner 965, Garmin gives its 955 from last year a more modern look: With an AMOLED display, titanium bezel, and new color options, the sports smartwatch looks much more modern than the old model with a 64-color MIP display. But what has changed under the hood? NextPit has tested the Garmin Forerunner 965.
Good
Unbeatable sports functions

Extremely accurate tracking & GPS

Extensive accessories portfolio

Robust and practical design

Very nice AMOLED display
Bad
Smartwatch weaknesses

Still no 4G/LTE

Juicy OLED surcharge
Garmin Forerunner 965: All deals
Garmin Forerunner 965 release date and price
Garmin launches the Forerunner 965 less than a year after the Forerunner 955. However, you have to look for changes in the feature set with a magnifying glass, and most of the new features will also come to older devices with software updates in the next few weeks and months. Nevertheless, no one can beat the Garmin watch in terms of sports features.
The innovations in the design are all the more striking. With the new and 0.1-inch larger AMOLED display, the Garmin Forerunner 965 looks much more modern and chic, and the newly styled dialogs and screens as well as higher-resolution maps on the watch are really fun. However, the Forerunner 965 costs $100 more than the 955.
However, we still miss other features in 2023, including LTE, wireless charging, more powerful notifications or broader support for Garmin Pay. If you can overlook that, the Forerunner 965 is one of the best sports smartwatches on the planet, especially for endurance athletes.
Design and operation
The Garmin Forerunner 965 comes in the typical Forerunner design but has a noticeably larger and, above all, much more colorful display than the predecessor model. And that's really fun.
---
Pros:
Chic AMOLED touchscreen.
Successful operating concept.
Can also be operated via buttons only.
Cons:
---
Let's start with the display: Garmin replaces the MIP panel of the old Forerunner 955 with an AMOLED panel. And the Forerunner 965 increases the resolution from 260 x 260 pixels to 454 x 454 pixels. You don't have to worry about readability. Even in the direct May sun, the display content was always perfectly visible.
And of course, the AMOLED panel looks much more colorful than the MIP display with its mere 64 colors. Garmin also upgrades the interface accordingly. On the good morning screen, for example, the sun lit me up at morning—according to the weather forecast—against a bright blue sky. And the workout splash screens, for example, are now significantly spruced up as well.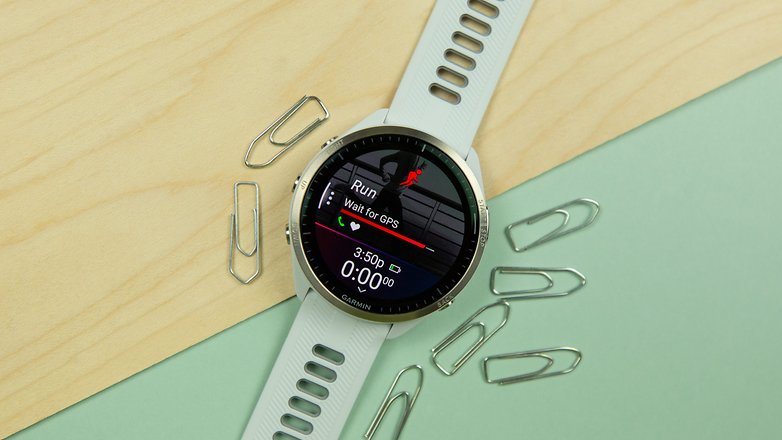 The Garmin Forerunner 965 comes in the classic Garmin form factor. On the left, there are three buttons for light/quick menu, up/menu, and down. On the right, you'll find two buttons for Start/Stop/Ok and Back/New Lap. Of course, there's also a touchscreen. You can also use the entire range of functions of the watch with the buttons only, for example with thick gloves. And almost all functions can also be accessed via the touchscreen.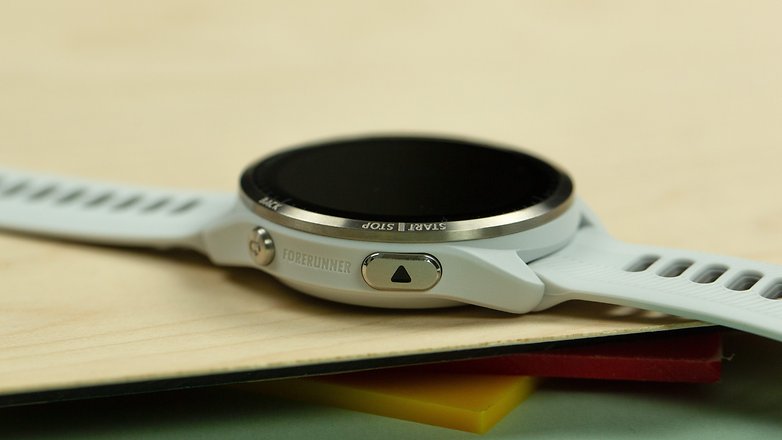 The Garmin interface has a vertical layout: You can choose to scroll through a long list of widgets with the buttons or by swiping your finger. You can determine their composition and order yourself. For example, there are widgets for notifications, sleep data, completed workouts, the weather forecast or the music player. Clicking on a widget always opens several screens with further information.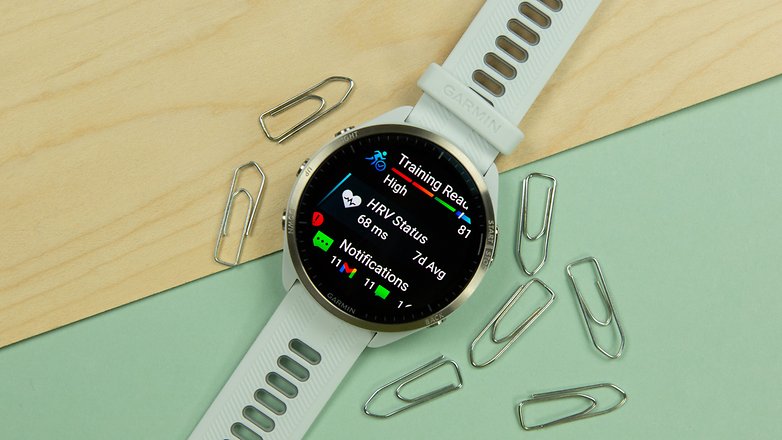 You can customize countless things on the Garmin watch to suit your own needs—from button shortcuts to touchscreen lock in certain sports. And the nice thing is: You can also make almost all settings via the smartphone and do not have to navigate through the long dialogs on the watch.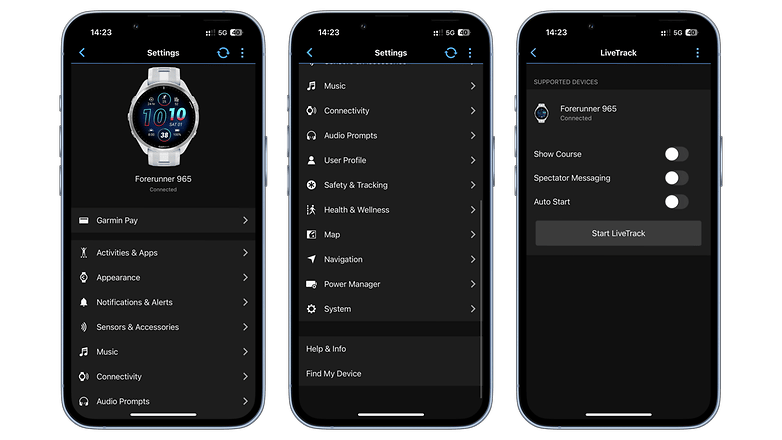 Before we get into the smart features in the next section, a few words about the materials. Garmin relies on a plastic case for the Forerunner 965. The bezel is made of titanium, and the display is protected by Gorilla Glass DX. There is no IP certification, but Garmin certifies that the Forerunner 965 is water-resistant at up to 5 ATM.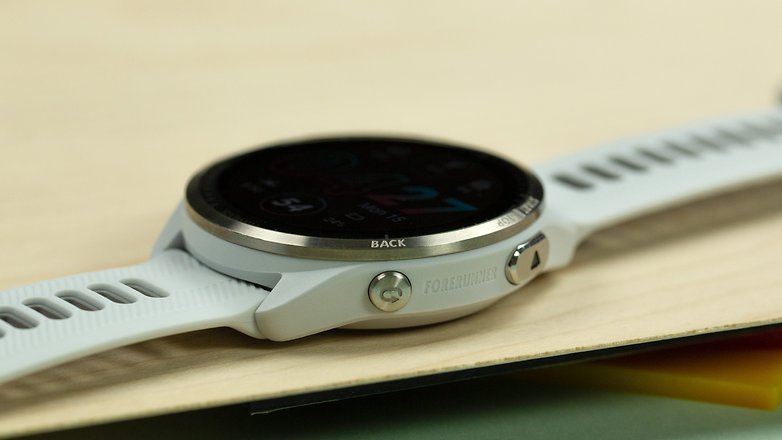 Smartwatch features
Garmin tries hard to keep up with Apple, Samsung, and the like in terms of smartwatch features. However, a more colorful interface is not enough. While there is a fairly well-stocked app store, Garmin lags behind in mobile payments, connectivity, and other smart features.
---
Pros:
ConnectIQ store has many apps and watch faces.
Cons:
Garmin Pay doesn't support all countries equally well.
No hands-free calling is possible on the wrist.
No LTE version available in 2023.
---
Admittedly, anyone not named Apple or relying on WearOS in 2023 does not have it easy. Even the smartwatch giant Huawei has difficulties getting its watches really smart across the board. Garmin is making a good effort here and also has some successes to show.
For its eponymous store, Garmin has its own smartphone app called ConnectIQ. Here you can find thousands of apps in various categories. For example, Spotify and Amazon Music for entertainment, or AccuWeather so that you are not lost in the rain during your trips.
However, you should not expect a selection as you find on the smartwatches from Samsung and Google or the Apple Watch models. You can browse the ConnectIQ Store in the browser here. Besides apps, there is also a considerable selection of watch faces and data fields for workouts.
Otherwise, the smart features are quite basic: Notifications are available, but not interactively. This means that you cannot respond via text or voice input on the watch—the latter does not work due to the lack of a microphone. Accordingly, the Forerunner 965 does not have a voice assistant or a hands-free function, both of which Garmin already installed in the Venu 2 Plus in 2021.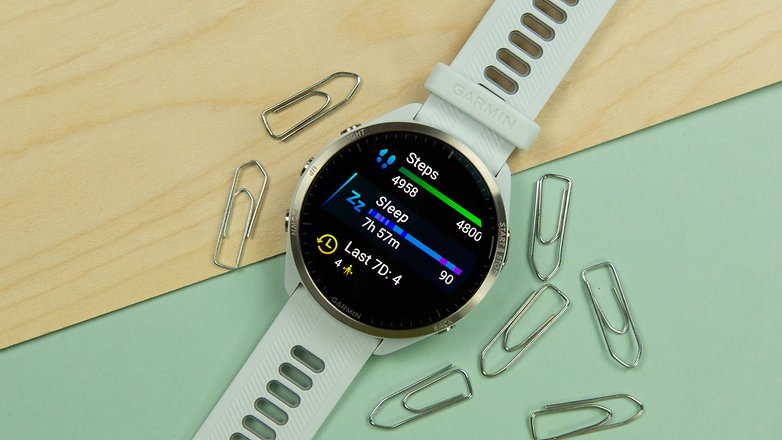 What is also not available is mobile internet. The Forerunner 945 LTE remains the only model in Garmin's sports watch portfolio with cellular connectivity, which is a real shame in 2023. NFC is on board, but Garmin Pay still suffers from a lack of banking support. I have accounts with three banks in Germany, and none of them are supported, your luck will vary depending on your country, of course.
Sensors and tracking
From its biggest weakness to its biggest strength, the Forerunner 965 offers nearly the full lineup of Garmin's sports and tracking features, making it a truly incredibly powerful training watch across virtually all sports. For runners in particular, the Forerunner 965 offers an exciting new feature.
---
Pros:
Extremely comprehensive sports features.
Multi-band GPS is unbeatably accurate.
Powerful functions for endurance athletes.
Cons:
Unclear range of functions.
---
A note beforehand: Like all Garmin smartwatches, the Forerunner 965 always syncs your data via the Garmin Cloud. From there, you can then access them via the Garmin Connect app. The app is basically clearly structured, but it can be quite overwhelming at first due to the enormous range of functions.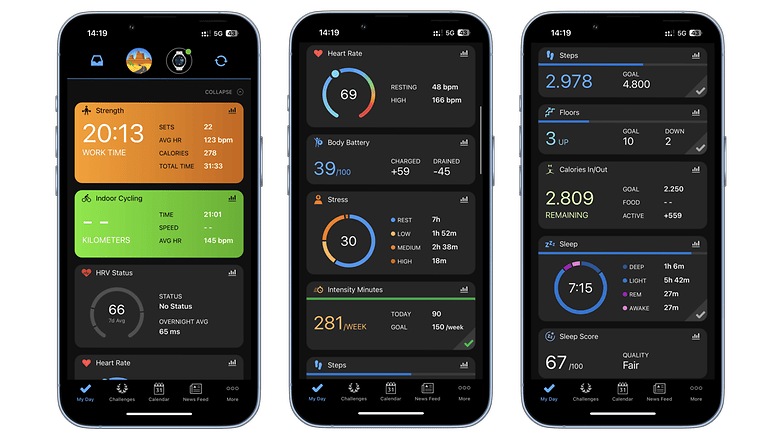 Outdoor & Endurance Sports
Garmin's Elevate V4 sensor, which is also found in the Fenix 7, Epix 2, or Forerunner 955 and 265, takes care of tracking pulse, heart rate variability, and SpO2. The accuracy is extremely high for outdoor sports like running or cycling. The pulse readings do not deviate more than one heartbeat per minute from the readings of the Apple Watch Ultra, which is also extremely accurate, either on average or at the maximum during running and cycling.
Speaking of the comparison between the Forerunner and Apple. After Apple introduced the advanced running metrics last fall, Garmin is now following suit. The Forerunner 965 now measures vertical movement while running and ground contact time even without a Running Dynamics chest strap. If you want to optimize your running style, minimize these values to put as much energy as possible into your propulsion.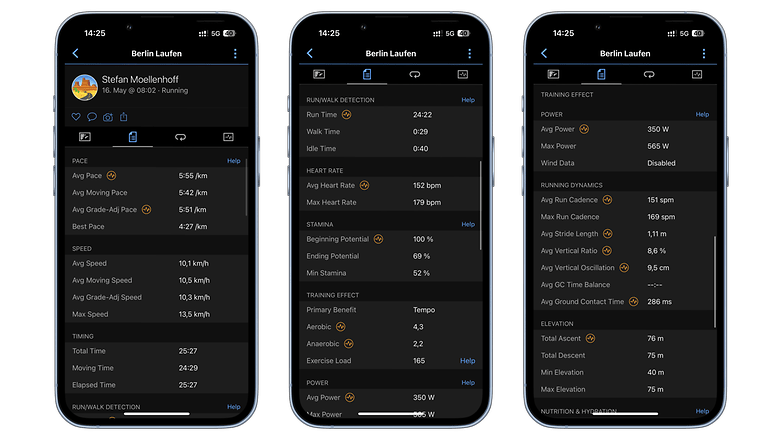 In addition, the Forerunner 965 compiles a stack of other metrics from the data, including the following metrics that we already know from the Forerunner 955 or Epix 2:
Body Battery: your body's energy storage, which is drained by training and stress and replenished by sleep.
Training Readiness: Your current training potential with a focus on the physical condition of your body.
HRV Condition: Your current cardio fitness, influenced by cardiovascular efforts, whether cold or hard training.
Training Effect: Describes your current training focus, such as endurance, speed or power, or aerobic or anaerobic training.
Acute Exertion: Effort over the past ten days of training.
Training State: Combines Acute Exertion, HRV State, Training Effect, and VO2Max Trend into one metric and spits out a current diagnosis for you, such as: Recovery, Unproductive, or Loaded.
And because that's not enough, the Forerunner 965 gets two new metrics:
Chronic Stress: The average of Acute Stress over the past 35 days.
Load Ratio: This ratio of acute and chronic load shows you whether you are currently increasing your training level or letting it slide.
The big challenge now is how you can work on yourself with these values. But who knows, maybe we'll soon see an AI-powered virtual trainer in the Connect app that turns all that data chaos into really helpful advice.
Until then, you'll largely benefit from the app predicting specific times for your runs based on your daily form and training condition and also using the Stamina value to determine when you're running out of breath. In this way, you can, for example, optimally distribute your strength during a long-distance run.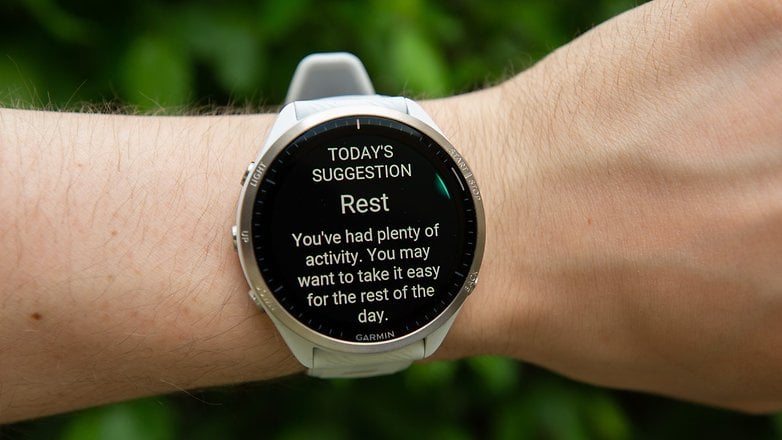 GPS & Navigation
The multi-band GPS is also an old acquaintance from the Garmin 955 or Epix 2. Small innovation: the 965 has a new mode called SatIQ, which automatically switches between the different GPS modes and thus optimizes accuracy and battery consumption.
For example, during a run through a dense forest with an altitude difference of just under 80 meters, both the Apple Watch Ultra and the Garmin Forerunner 965 measure a distance of 4.30 kilometers. And indeed, both watches beep impressively at the same time as the last kilometer split is marked while running.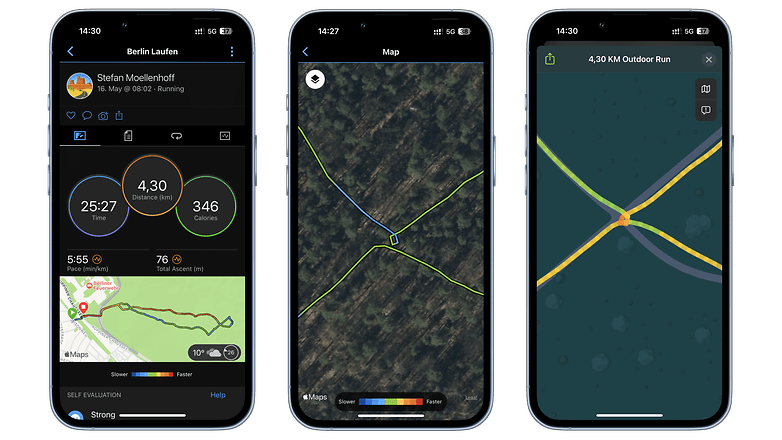 Another exciting feature of the Forerunner 965 is the 32 GB memory for maps. That much is otherwise only available on the Sapphire Solar models in the Fenix 7 series for at least $899. The map material is Garmin's global TopoActive maps, even if they do not all fit on the watch at the same time. The maps of Europe and North America alone take up around 10 GB each, while Taiwan is rather slim at 96 MB. One advantage of the maps over the 955 is that you can see more details on the watch thanks to the higher resolution.
You can then start turn-by-turn navigation on the maps, for example to specific coordinates, along imported routes, or to points of interest (POI) in the surroundings. You can also simply tell the Forerunner 965 that you want to run a circuit to the north with a total length of 8 kilometers from your current position, and the smartwatch will create a suitable running route including turn-by-turn navigation. In addition to TopoActive, SkiView and CourseView maps for ski resorts and golf courses are also available.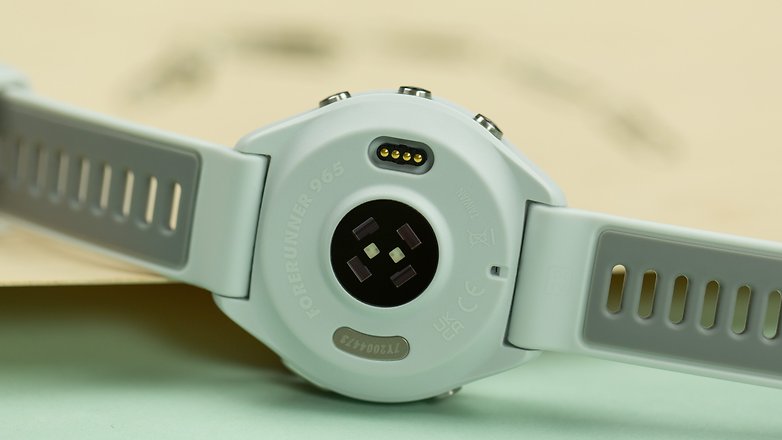 Indoor sports & fitness
Even though the name "Forerunner" refers to outdoor sports, the 965 offers plenty of features for fitness & indoor sports. For example, you can create your own HIIT or weight training routines from hundreds of exercises or just generically track your weight training including (more or less accurate) recognition of the individual exercises and counting of the repetitions.
If you want to measure your heart rate during fitness training, you have to expect a few compromises with the Forerunner 965—and with all smartwatches that measure your heart rate via the wrist. This is because tight or bent wrists impede the blood flow and make the readings less accurate.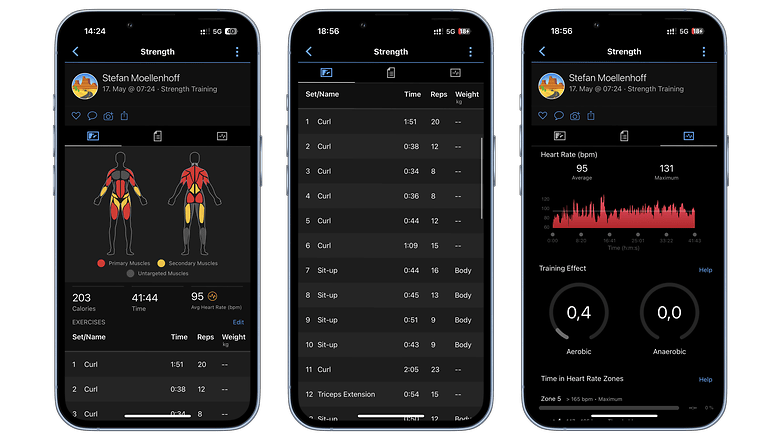 While the measurement for arms training is still quite accurate, even the most precise heart rate monitors, including the Apple Watch, deliver inaccurate values for burpees and other exercises. This is where Garmin's incredibly large accessory set comes in handy, which includes numerous chest straps as well as cadence sensors for bicycles or golf clubs, for example.
Another exciting feature for the gym: You can also broadcast your heart rate, for example to a peloton bike. By the way, there is no ECG feature.
Sleep tracking
Last but not least, the Garmin Forerunner 965 measures your sleep. The recorded times of falling asleep and waking up coincide relatively well with my actual bedtimes. Since I usually fall asleep within a few minutes, the smartwatch also has an easy time with sleep times. Compared with an Apple Watch Ultra, there are usually less than 10 minutes between the detected fall asleep and wake-up times.
Battery life & charging
Like all Garmin watches, the Forerunner 965 offers an excellent battery life. We managed just under a week of intensive use without the always-on display, and recharging was also very fast. We do miss one feature, though.
---
Pros:
Very good battery life despite AMOLED display.
Charging cable with USB-C port.
Fast charging is available.
Cons:
No solar option available.
No wireless charging.
---
Garmin users can only smile wearily about the daily charging constraints of many smartwatches. Garmin promises up to 23 days of battery life for the Forerunner 965. 30 to 60 minutes of exercise per day and intensive use "only" gives us 14 days, but that's still impressive. If you activate the always-on display, the runtime is roughly halved again.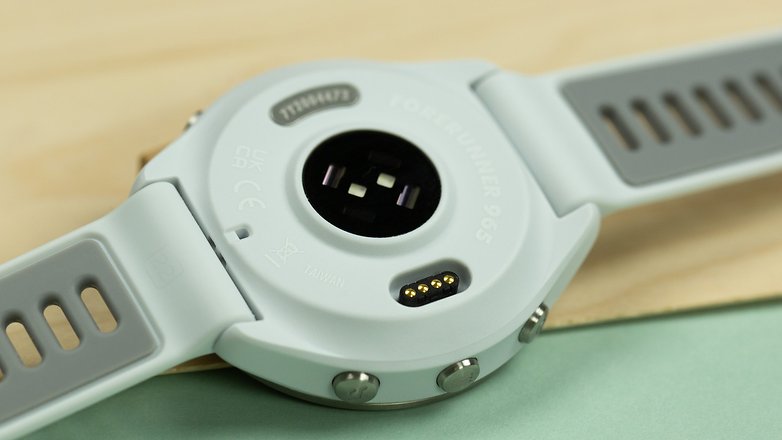 Charging is also quick. The battery is brought from 3 to 21% in just 10 minutes, which is enough for a few days. After 20 minutes, the counter is at 39%, after 30 at 55%, and after 70 minutes finally at 99%. You have to use Garmin's included proprietary charging cable for recharging.
At least the connection plug is the same for almost all current Garmin watches, and Garmin supplies a charging cable with a USB-C connector at the other end for the Forerunner 965 for the first time. Wireless charging, however, will still reside in the land of wet dreams along with LTE in 2023.
Final verdict
Garmin is not afraid to torpedo its much more expensive Epix with the Forerunner 965. In fact, the 965, which was actually designed as a running watch, has practically the entire feature set of the Epix 2, which costs at least $400 more, apart from the fancier case. Accordingly, the Forerunner 965 never feels artificially throttled despite its position somewhere in the upper middle of Garmin's smartwatch portfolio but is simply an all-around great sports watch.
As far as sports features are concerned, Garmin's watches are still the absolute benchmark in 2023—you won't find more variety anywhere. The manufacturer only has some catching up to do when it comes to smart functions. The AMOLED panel of the Forerunner 965 looks really flashy and the smooth touchscreen is really fun to use. However, the lack of an LTE option, the partly stiff apps, and the weak Garmin Pay (at least here in Germany, your mileage may vary) were and remain issues.
If you can do without the latest smartwatch features and focus on the sports watch functions, you are absolutely right with the Forerunner 965. Otherwise, you can find more smart options in our big smartwatch best list.