Xiaomi 13 Review: The Best in the Series!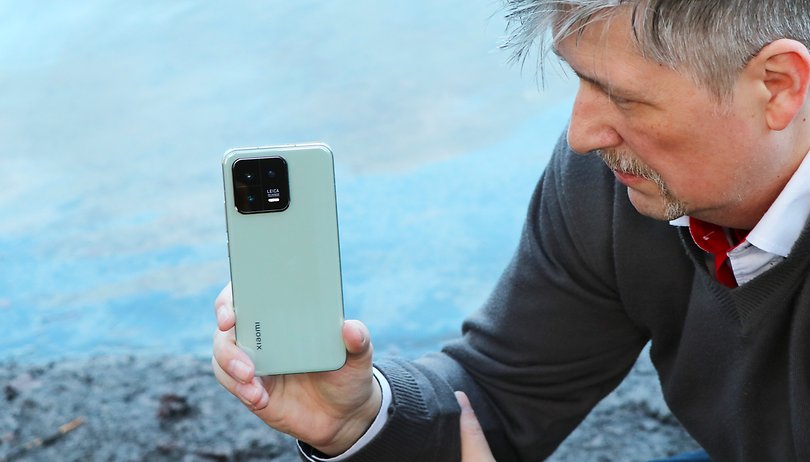 On December 11, the Xiaomi 13 including the Pro model was officially unveiled in China. Elsewhere around the world, the wait continued until MWC 2023 in Barcelona. Now, the Xiaomi 13 arrived in the NextPit editorial office and to our surprise, the detailed review showed differences from the Chinese model. However, much of it remained the same, including the base model being the best choice of the trio.
Good
Familiar Apple-like design

Brilliant AMOLED display

Superior camera results

Snapdragon 8 Gen 2 runs well

Stereo speakers offer good sound

MIUI 14 is easy to use
Bad
Slippery as an eel

Average battery runtime
The Xiaomi 13 in a nutshell
The Xiaomi 13 has been introduced in four different storage configurations in its home country China: 8/128, 8/256, 12/256, and 12/512 GB. As expected, the global model does not have that many choices, arriving in only one 8/256 GB model. In terms of colors, Xiaomi gives international customers a choice between black, white, and Flora Green shades, of which the latter is what our review unit came in.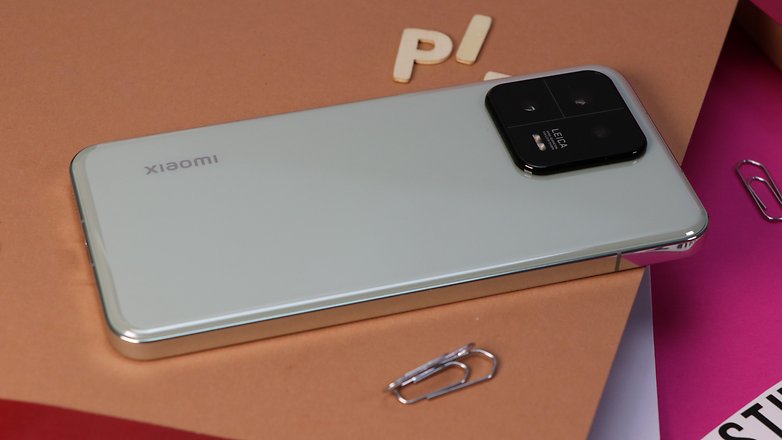 The Xiaomi 13 is not available in the US officially. However, those living in Europe will be able to pick it up from official sales channels for €999.90 since March 8. In other words, this handset does not break the psychological €1,000 barrier.
Summary
In my humble opinion, the Xiaomi 13 is the best option of the entire series so far after taking into consideration the base model which we are reviewing, the Xiaomi 13 Lite, and the Xiaomi 13 Pro that was reviewed by Antoine. All hopes now lie on the Xiaomi 13 Ultra, which according to Xiaomi founder and acting CEO Lei Jung, is also expected to be released globally after having seen numerous leaks hit the news.
The Xiaomi 13 offers a good balance between specs at an acceptable price. Although you always have to keep an eye on the handset considering how slippery it is, the 6.36-inch AMOLED display (120 Hz/1,900 nits peak brightness), 50 MP Leica triple camera, as well as the 4,500 mAh battery, and the Snapdragon 8 Gen 2 all make an extremely convincing impression. However, I would like to point out the strange behavior of Qualcomm's octa-core processor at this point as I dive into it deeper in the Performance segment.
Display & Design
Three things immediately catch your eye when you first see the Xiaomi 13: the flat display, the square camera array on the top left of the back, and the angular flanks. This design basically only allows one visual association: that of the Apple iPhone 14 Pro. Yes, I apologize for also using this cliché, but it is simply unmistakable when you look at it.
This is not a personal statement to provoke anyone, but it is probably not far from the truth as some will assume. Xiaomi's history shows a certain affinity to the Cupertino company, with its smartphones sharing some visual references back from the beginning, all the way to its operating system icons which were basically a 1:1 copy of Apple's iOS.
Pros:
Clear edges.
IP68 certification.
Buttons are well positioned.
Excellent Samsung display.
Very bright OLED display.
Cons:
No 3.5 mm jack.
No microSD support.
Extremely slippery.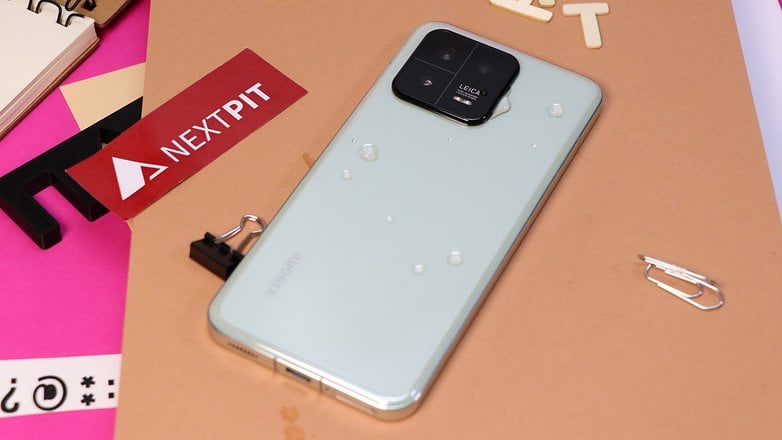 Back to the here and now: I would never have thought about it beforehand, but the flat display, together with the chrome-polished aluminum frame does look pleasing all the way. To my surprise, the "angular" design also offers a very good feel in the hand, just don't tell anyone about this lest you receive dirty looks! In the right light, the glass back reveals your fingerprints.
What is worse is the fact that the Xiaomi 13 comes off on the back like an eel. In other words, despite the clearly protruding, square (with rounded corners) camera array, the IP68-certified Android smartphone slides all too easily on any kind of inclined surface.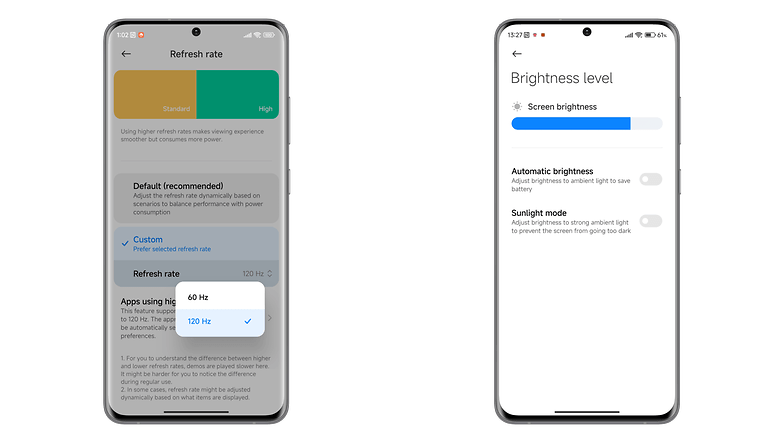 In front, 2,400 x 1,080 pixels are spread over 6.36 inches, offering us a high-contrast and crisp AMOLED display. Although Xiaomi has dispensed with the energy-saving LTPO feature on the base model, unlike the Xiaomi 13 Pro (which switches between 1 to 120 Hz), at the end of the day you can rely on Samsung's E6 panel.
The maximum brightness is specified at 1,200 nits, which is sufficient by itself; and there is even 1,900 nits brightness in "Sunlight Mode". Here is a fun fact: Despite the larger display, the Xiaomi 13 is smaller than its predecessor at 152.8 x 71.5 x 8 millimeters.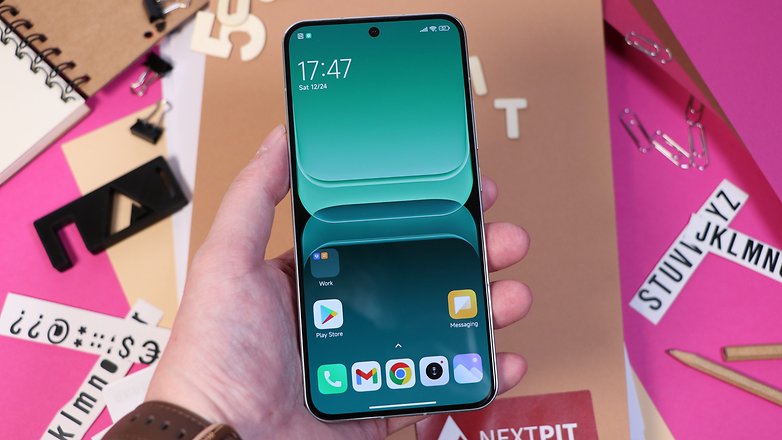 Xiaomi 13 software
The Xiaomi 13 smartphone comes with the latest MIUI 14 operating system, which is of course based on Android 13. I have to admit that I did not notice any major differences compared to MIUI 13, but they do exist! For example, the so-called "Super icons" offer different sizes individually according to the user's preference. The same applies to the folders, which can now be displayed in two sizes.
Pros:
Decent update to the user interface.
Useful nice to have's.
Good update policy.
Cons:
The most recent Android security patch is dated January 1, 2023. Xiaomi recently announced that it would deliver three Android versions and five years of security updates for its flagship line. While there is no doubt that this is not quite the level that Samsung or Google offers us, it is still good value for a Chinese manufacturer which also provides a certain sense of guarantee for the end user.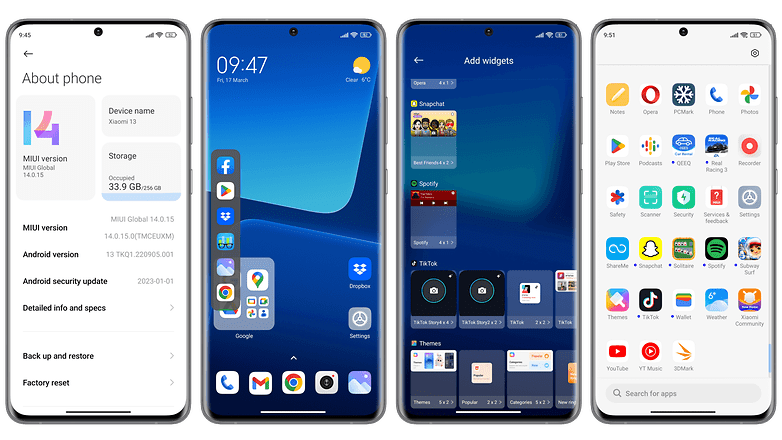 We have already written an extensive post about MIUI 14 and its new features. Nevertheless, allow me to interject with one or two thoughts at this point: At first glance, the differences in MIUI 13 seem marginal to me. It is not a new design, but rather, a fine-tuning effort. Among other things, this applies to the folder size, since the software now also allows large folders on the desktop. However, that is more Android 13 than anything else in my opinion.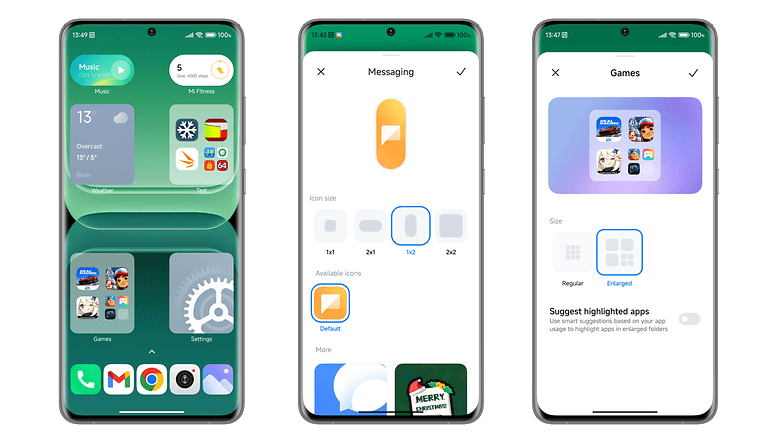 I don't want to leave the software category before I draw your attention to the sidebar and the voice control of the camera. Both were created in an Oscar-worthy manner by colleague Antoine with the Xiaomi 13 Pro but are 1:1 identical to the Xiaomi 13 base model.
It shows that apps that are launched from the sidebar automatically start in minimized window mode and can be moved or even enlarged or switched to full mode if desired. Regardless, the freely positionable sidebar has proven to be quite practical in daily use.
Actually, the feature demonstrated in this video belongs to the camera category, but since we are already on the topic of software, your attention should also be directed to the option of voice controls for the camera. This feature is quite useful if you want to avoid the "selfie arm" in your photos, or if you don't want the photographer to be missing from the shot. Just position the camera, ensure everyone is in the frame, and say "Cheese" at the right moment—voila!
However, there was one thing that I found to be rather unpleasant in the end: It's the unnecessary pre-installed bloatware. I mean, we are talking about a €1,000 smartphone here. Do we really have to pay for applications like Netflix, Booking.com, Facebook, Genshin Impact, LinkedIn, TikTok, Qeeq, Snapchat, Spotify, and others?
Before you go canceling a purchase order because of all the bloatware, fret not—you can uninstall everything. However, why should you have to do that? I'd say no, give the choice to the consumers on what they want to install. Read our article that explains how you can remove ads from your Xiaomi phone.
CPU & memory
To the delight of the NextPit editorial team, the Xiaomi 13 (Pro) is the first Android smartphone in our hallowed halls to land in the test lab with the Snapdragon 8 Gen 2 SoC. And this much is revealed in the second sentence: The latest and most powerful Qualcomm processor runs fast, damn fast.
Pros:
Processor is extremely fast.
Prepared for all situations.
Cons:
It can also run very hot.
Thermal throttling is spotty.
Performance levels dropped compared to the Chinese version.
The processor, manufactured using a 4-nanometer process, is currently considered to be the pinnacle of the Android offerings today. The unusual 1+2+2+3 core structure consists of:
1x Cortex-X3 @ 3.2 GHz
2x Cortex-A715 @ 2.8 GHz
2x Cortex-A710 @ 2.8 GHz
3x Cortex-A510 @ 2 GHz
A fast GPU (Graphics Processing Unit) is required, especially for gaming activities, where you get an Adreno 740. If we were to trust the latest benchmark tests, it is currently the fastest GPU on the market. And yes, I mean faster than the iGPU in Apple's A16 Bionic chipset, thanks to hardware-accelerated ray tracing, game post-processing accelerator, and a Vulkan 1.3 API (Application Programming Interface).
However, only one fact is actually important for us: Does the SoC, which is up to 35% faster than its predecessor, get outrageously hot, especially with the conductive glass back and aggressive throttling performed by the software just like in the Snapdragon 8 Gen 1?
While everything went rather smoothly during our hands-on with the Chinese variant of the Xiaomi 13, the global version gave me a bit of a headache. For example, the back got so hot during a "3D Mark Wild Life Stress Test" (unfortunately, I did not have a FLIR camera at hand) that the test was aborted by itself due to overheating issues.
However, this is not a reproducible phenomenon, although it is very damaging for the components when they reach ranges of 48 degrees and more. Nevertheless, the CPU stress test does not show the typical throttling of older Qualcomm processors.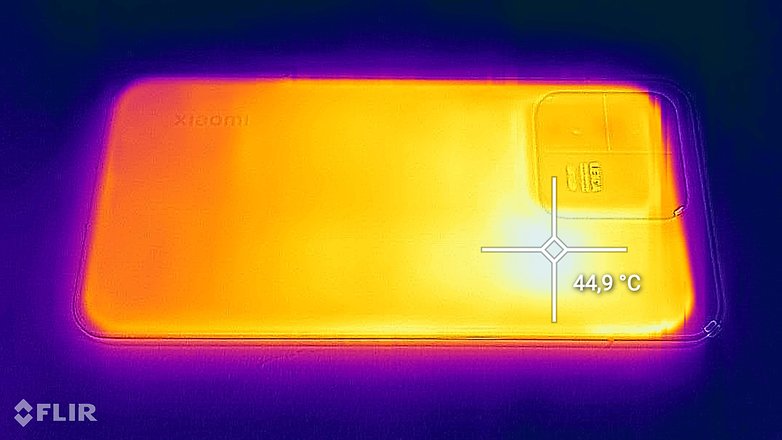 To our surprise, the Geekbench 5 scores have improved with 1,480 in the single-core and 5,121 points in the multi-core score. The "3D Mark Wild Life Stress Test" on the other hand, sank from 12,914 to 10,292 in the best loop and from 10,432 to 10,125 in the worst loop. That would be worse than the Motorola Edge 30 Ultra we reviewed with its Snapdragon 8+ Gen 1.
Xiaomi 13
Motorola Edge 30 Ultra
Asus Zenfone 9
Samsung Galaxy S22 Ultra
Samsung Galaxy Z Fold 3
3D Mark Wild Life
Too powerful
8,108
Too powerful
5,682
5,683
3D Mark Wild Life Stress Test
Best Loop: 10,292
Worst Loop: 10,125
Best Loop: 10,524
Worst Loop: 5,617
Best Loop: 5,782
Worst Loop: 3,267
Best Loop: 5,741
Worst Loop: 3,351
Best Loop: 5,579
Worst Loop: 3,435
Geekbench 5
Single: 1,480
Multiple: 5,121
Simple: 1,325
Multiple: 4,310
Single: 1,263
Multiple: 3,899
Single: 1,155
Multiple: 3,356
Single: 1,095
Multiple: 3,239
Since there is only one memory configuration to choose from, you are not spoilt for choice. Unless you look at third-party importers, you will not be able to obtain the other configurations. Be that as it may, Xiaomi did not drop the ball when it came to storage capacity. You get 8 GB LPDDR5X RAM and 256 GB internal UFS 4.0 program storage, where the former is the fastest for smartphones right now. Of course, there is no option to expand the storage via a microSD card, which is a bummer.
As long as Android smartphones with this kind of memory expansion still exist, I will also mention it as a shortcoming in reviews, but I will not have it weigh in on the overall rating. Google was one of the first manufacturers to realize that such slow storage does not really offer any added value, unless you are in the desert and have no way to export/save your shot videos or photos.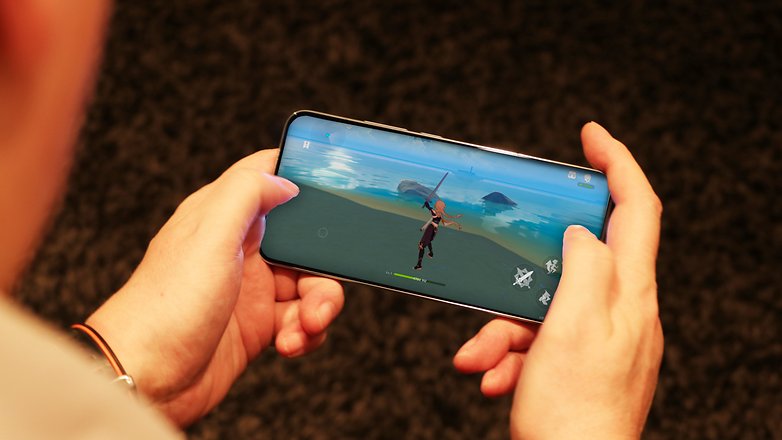 Xiaomi 13 camera
The Xiaomi 13 is equipped with a solid 50 MP triple camera at the back. It impressed with day and night pictures right from the very beginning. We certainly have Sony's IMX800 image sensor to thank for that. A big camera comparison test with some other candidates is still to come here in the coming week, which will hopefully provide confirmation of my subjective impression.
Pros:
No 2MP macro camera.
Finally, another telephoto zoom camera.
For a semi-flagship, it captures very good shots overall.
8K/24 fps videos are possible.
Cons: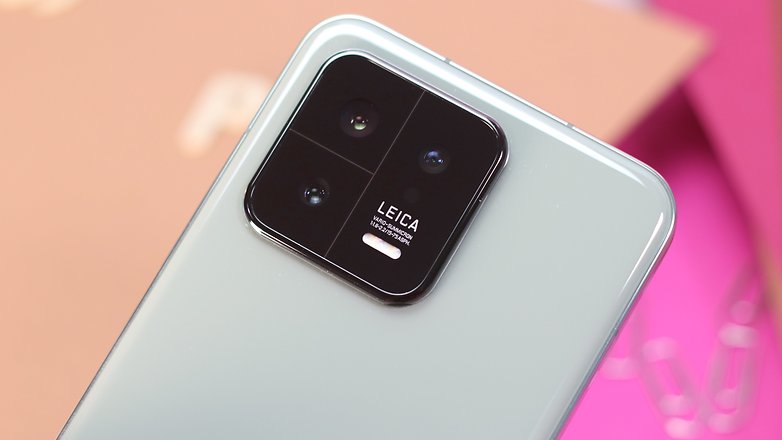 Granted, you guys voted the Leica camera in the Xiaomi 12S Ultra into first place in NextPit's most recent blind test, but this isn't the same 1-inch Sony IMX989 image sensor after all. No, the 50 MP main camera is equipped with the 1/1.49-inch IMX800 sensor. The optics offer an equivalent focal length of 23 millimeters and an aperture of f/1.8.
Adding to the mix is a 12 MP ultra-wide-angle camera with a 1/3.1-inch OmniVision OV13B10, whose front-facing optics have a 120-degree field of view with an aperture of f/2.2. And to make the colorful potpourri complete, there's also a 10 MP telephoto zoom camera, which offers 3.2x lossless magnification. Samsung's ISOCELL S5K3K1 is used as the image sensor here. The 1/3.9-inch sensor is already familiar to us from some Samsung flagships and offers an equivalent focal length of 70 millimeters and an aperture of f/2.0. Finally, another telephoto zoom camera in a Xiaomi flagship!
The main and telephoto cameras feature optical image stabilization. The triple camera configuration of the Xiaomi 13 is the first globally available smartphone camera from Xiaomi that advertises the Leica logo and has two modes—Leica Authentic and Leica Vibrant.
The former is supposed to give your pictures the typical Leica look, while the Vibrant mode adds a bit more color and dynamics to your photos. Xiaomi also allowed itself to include a small feature in the lens system. The Chinese manufacturer offers a 35 mm black-and-white, a 50 mm swirly bokeh, a 75 mm portrait, and a 90 mm soft-focus lens.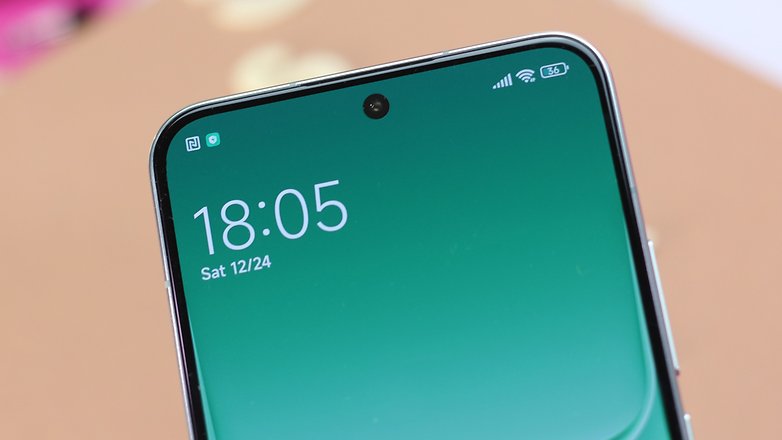 Before I even "get" to the actual photo results, for the sake of completeness, let's mention the 32 MP front camera placed in the top center, whose sensor is a 1/3.2-inch Omnivision OV32C. The equivalent focal length here is 22 millimeters, with an aperture of f/2.0.
So friends, now we'll let the euphoria run free: There is a telephoto zoom camera after three years of missing out. And it's from Samsung, too. Okay, I already said that—but please take a look at the test photos of the Red City Hall in 30x magnification. This is digital magnification because "only" up to 3.2x magnification, everything remains lossless. So you get a combination of optical and digital magnification in addition to optical stabilization.
Wide and normal photos show no noticeable color differences or possible distortion or fraying at the sides. Night shots are poetic in nature! And the daytime shots look fantastic anyway, although it's a shame to take photos in these winter lighting conditions. I'll keep it short and sweet: I'm simply thrilled with the photos. No matter if it is day or night, and equally no matter if you are close, far, or shooting in wide-angle, this camera convinced me right from the start.
Xiaomi 13 battery
To our disappointment, the Xiaomi 13 is equipped with a 4,500 mAh battery. That sounds a bit like nitpicking to the extreme since that was still quite a considerable capacity a few months ago. But these days a flagship, unless it is a foldable, should have at least a 5,000 mAh battery in my opinion.
Unless you use your smartphone sparingly and manage energy consumption very well. This also seems to be the case with the Xiaomi 13. The reason for this could be the special Surge chip, which helps with energy management. Thus, the Xiaomi 13 does not last for two days, but only one and a half days on a single battery charge in normal use.
Pros:
Good to average battery runtime.
50-watt wireless charging.
Cons:
Battery should have a higher capacity.
First of all, we have the hard facts of our "PC Mark Work 3.0" battery test. Our Xiaomi 13 with flight mode and a display brightness of 200 nits still had 20 percent battery capacity left after 14 hours and 38 minutes. That was actually better than what we expected. Especially since the Xiaomi 13 Pro has a 4,820 mAh battery and didn't perform as well.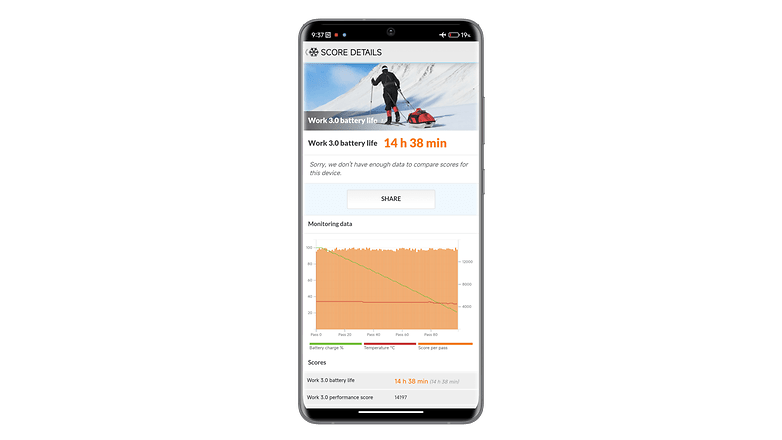 A 67-watt HyperCharge power supply is included, which also charges with less power than the 120-watt SuperCharge charger of the Pro model. However, they have 50 watts of wireless charging and 10 watts of reverse charging in common. I tracked a complete charging cycle (0 to 100%) for you. The result was 48 minutes for a total charge, and 50% full after 20 minutes. Brushing your teeth for 5 minutes will yield a 21% charge when it is plugged in then.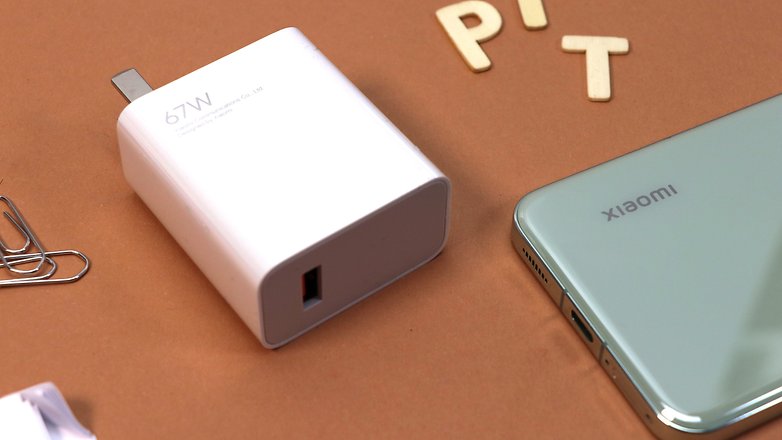 It is a shame that Xiaomi intentionally included differences (power supply and total capacity) to differentiate it from the Pro model.
Xiaomi 13 technical specifications
Technical data
Name of the device
Figure

Screen
6.36-inch E6 AMOLED display
2,400 x 1,080 pixels (FHD+) at 413 PPI
120 Hz refresh rate
240 Hz touch response
Corning Gorilla Glass 5
Dimensions
152.8 x 71.5 x 8.0 mm
60.1 x 28.1 x 3.1 in
Weight
189 g | 0.4 lb (incl. battery)
SoC
Qualcomm Snapdragon 8 Gen 2
Memory
8 GB LPDDR5X RAM
256 GB UFS 4.0 ROM
Software
MIUI 14 based on Android 13
Expandable memory
No
Main camera
50 MP | f/1.8 aperture | 1/1.56 inch | equivalent focal length 23 mm
HyperOIS, Portrait Night mode, ProFocus
Ultra wide-angle camera
12 MP | f/2.2 aperture | 1/3.06 inch | equivalent focal length 15 mm | 120° angle of view
Telephoto camera
10 MP | f/2.0 aperture | 1/3.75 inch | equivalent focal length 75 mm | 3.2x optical zoom
OIS
Selfie
32 MP | f/2.0 aperture | equivalent focal length 26 mm | 89.6° angle of view
PDAF, Dual Pixel
Video
8K @ 24 fps | 4K @ 24/30/60 fps | 1080p @ 30/60/ fps
Super Slow Motion 1080p @1020 fps
Stereo, EIS
Audio
Stereo Speaker
Dolby Atmos
Battery
4,500 mAh
Charging via cable
67 watts
Wireless charging (Qi)
50 watts
10 watts (reverse)
IP certification
IP68
Connectivity
802.11 a/b/g/n/ac/6e 2.4/5G, WiFi 7, 5G,
Bluetooth 5.3 (aptX HD, aptX, LDAC, LHDC, AAC, SBC),
GPS (dual band), GLONASS, GALILEO (dual band), Beidou
USB Type-C
NFC
Colors
Black, White, Flora Green
Early Verdict
The Xiaomi 13 captivated me from the start. And don't let anyone say that it's because of the edgy Apple iPhone design. Never! I am downright surprised at how much I liked the Xiaomi 13 in all aspects and was convinced by its performance. Really, any prior criticism about it has been eliminated. There is now IP68 certification, a sharp AMOLED display from Samsung, which is as flat as the back to the delight most of our audience.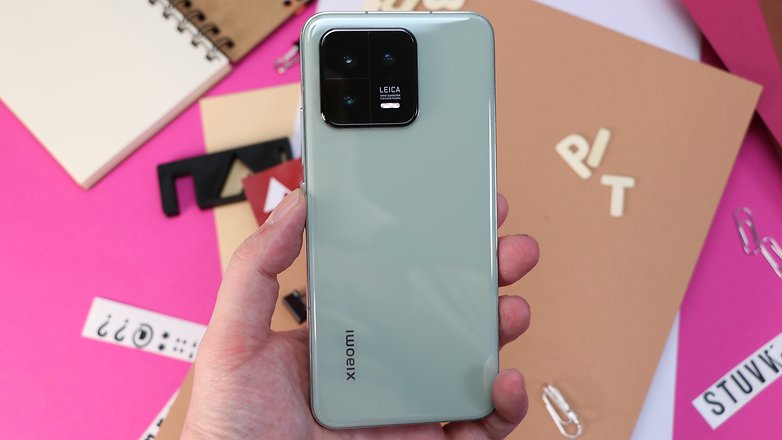 Xiaomi offers a telezoom camera again after almost three years, which is just as impressive as the 50 megapixels of Sony's IMX800 main image sensor. No matter if you are taking standard, zoom, wide-angle, portrait, day, or night shots. The photos simply look good all the time. Should the Leica cooperation not be just marketing drivel at the end of the day after all? The Xiaomi 12S Ultra has already convinced you in the blind test. The Xiaomi 13 (Pro) will now be the first Xiaomi smartphone in this country that benefits from its cooperation with the German brand Leica.
However, I still have one point of criticism: the 4,500 mAh battery. Its performance is unfortunately only mid-range for such a perfect flagship. Does that hurt? No, because the included 67-watt HyperCharge power supply can pump up the Xiaomi 13 from 0 to 100 percent in less than an hour.
Perhaps the almost €1,000 asking price will hurt its potential sales in one way or another. Alternatively, the Samsung Galaxy S23 (review) can be considered at a slightly higher price. If you are undecided between the two smartphones, then wait for our camera comparison test next week, which could possibly help you make your mind between the two.